Find Our Latest Video Reviews on YouTube!
If you want to stay on top of all of our video reviews of the latest tech, be sure to check out and subscribe to the Gear Live YouTube channel, hosted by Andru Edwards! It's free!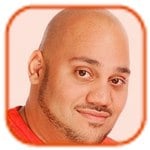 Posted by Andru Edwards Categories: Portable Audio / Video, Software,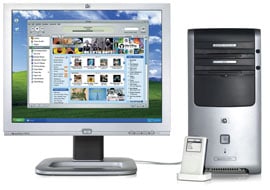 I am now back from Gnomedex, ready to rock and roll as always. I know a bunch of you missed me, but how about dropping me some email next time letting me know how the lack of my presence affects your day
life? Nonetheless, one tidbit that I brought back with me is that iTunes 4.9 is likely going to launch tomorrow, June 28. I heard this talking to Adam Curry, and Dave Winer also mentioned it on Scripting News making mention of its support of RSS enclosures. What does this mean? Well, aside from being able to have a major one-stop podcasting client, it also means that whateven Apple has going on July 7 has nothing to do with the iTunes 4.9 launch. You may now proceed to scratch your chin.
Posted by Devin Categories: Corporate News, Internet, Software,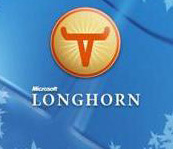 Microsoft announced Friday that its next version of the Windows operating platform would include built-in support for Internet data feeds. Even though RSS isn't currently in widespread use, Microsoft believes that in the future this increasingly popular way to get news will become a mainstay. Of course, we reported our take on this a few minutes after the Gnomedex announcement.
In the long-delayed Windows upgrade, code-named Longhorn and expected to be released late next year, an RSS icon will appear in the Internet Explorer Web browser to make it easy for people to find, much like Apple Computer Inc. has done with its Safari browser. Longhorn will store all data downloaded to a computer via RSS in a single place. It will maintain a central list of all of a computer user's RSS subscriptions, from Web log entries to photos pulled from an online family picture gallery.
Read More

| USA Today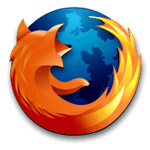 Security company Secunia is warning that many major Internet browsers contain a vulnerability that could allow cybercriminals to steal personal information. The problem has to do with the fact that JavaScript boxes do not show where they originate, so users could be tricked into putting their information into a form they believe is from a trusted site. The browsers that are reportedly affected are latest versions of IE, IE for Mac, Safari, iCab, Mozilla, Mozilla Firefox and Camino. Opera 7 and 8 are affected, but not 8.01, according to Opera. Even though Secunia has labeled the problem as "Less Critical", most companies are already trying repair the problem.
To take advantage of the flaw, a cybercriminal would have to direct a Web user from a malicious site to a genuine, trusted site such as an online bank, in a new browser window. The malicious site would then open a JavaScript dialog box in front of the trusted Web site, and a user might then be fooled into sending personal information back to the malicious site.
Read More

| ZDNet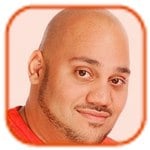 Posted by Andru Edwards Categories: Corporate News, PC / Laptop, Software,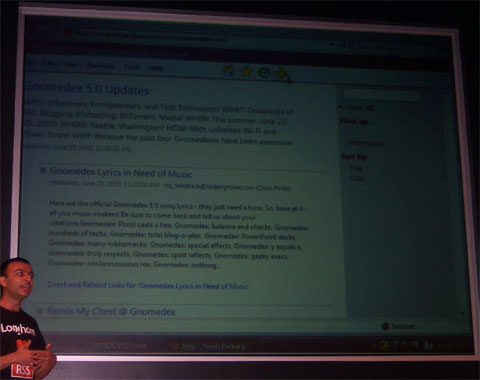 Okay, I just snapped these pictures while sitting here at GnomeDex 5.0. Check this out, what you see above is Internet Explorer 7 running on a very new Longhorn build. When you visit a website that has an RSS feed, an orange and white RSS button will appear in the toolbar. If clicked, you will then be brought to the screen you see above. You can increase and/or decrease the size of each post, as well as subscribe to the feed. IE 7's visual implementation of RSS is what I would call extremely similar to Tiger's Safari 2.0. That being said, I am really happy about the fact that Longhorn will be featuring a central feed location. In layman's terms, any feed subscribed to will be stored in a central location within the OS. The beauty of this is that any application can be written to access this feed with your permission. As an example, Dean Hachamovitch showed how the Longhorn screen saver displaying a slide show of images downloaded from an RSS feeds enclosures. When showing the images, there was a caption on the bottom right which consisted of the first paragraph or so of the blog post in which the images were sent in. Read more at my post on Venturus. Here is an image of the Longhorn screen saver using RSS: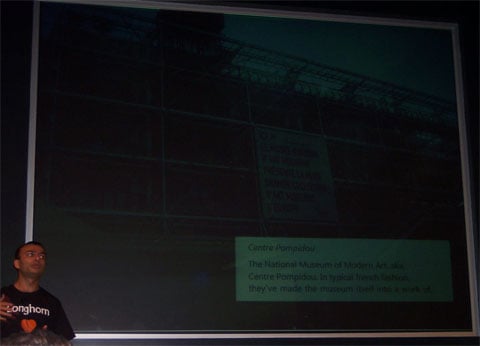 Posted by Oscar M. Cantu Categories: Software,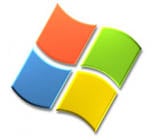 Microsoft is once again offering a block utility for one of their service packs. Just like its Windows XP SP2 block they offered last year, this one blocks SP1 for Windows Server 2003 until March 30, 2006. This will give companies plenty of time to prepare and test their systems for company wide deployment of the service pack. While this utility blocks SP1 it does not block the rest of Microsoft's security updates. The utility is available for download from the Microsoft website.
Read More

| Windows Server 2003 SP1 Block Utility
Posted by Devin Categories: Corporate News, Software,

A company called Contois Music Technology has hit Apple Computer, Inc. with a lawsuit over Apple's iTunes software. The suit, filed early last week in Vermont, alleges that the iTunes software design infringes on Contois' six-year old patent (US Patent No. 5,864,868) Computer Control System and User Interface for Media Playing Devices. Contois says that 19 aspects of the iTunes interface are in violation of the patent, including iTunes abilities to transfer music to a portable music player and sort music files by artist, genre, or album.
Read More

| AppleInsider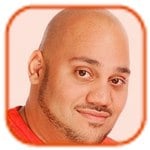 Posted by Andru Edwards Categories: Software,
If you are a Windows user, you probably know that QuickTime 7 For Windows Preview is available for download. It seems that there are quite a few bugs in the code that Apple still needs to work on, like the amount of resources it takes to even watch a movie encoded in H.264 in the first place. A few people on the forums are talking about how QT7 for Windows runs on their PC's. Let us know how it's working for you.
Read More

| Gear Live Forums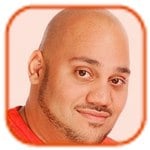 Posted by Andru Edwards Categories: Mods / Hacks, Software,

Now this I like. Not that it will change any of my, um, habits or anything. It is basically an interface that trys to keep you conscious of exactly how much illegal content you are downloading, with a robust statistics system. If you want to know how much money you owe based on your practices, just check CrimeWire. It will even give you an allowance of sorts if you punch in your wage, basically telling you that since you only make $5.50 an hour, you shouldn't feel guilty about downloading a maximum of 18 songs per day, or something to that effect. CrimeWire is a skin for the LimeWire P2P client.
Read More

| The CrimeWire Project

Posted by Kristin Wenzel Categories: Internet, Software,

Opera software unveiled Opera 8 web browser for Macintosh today, to moderate fanfare and a few raised eyebrows from those who wonder whether it can take on Firefox, or Apple's native browser for OS X, Safari.
The features of the new version of Opera were detailed in a somewhat dubious press release:
"With Opera, Mac users can surf fast, comfortably and efficiently using a full-featured browser that is not tied to the operating system (OS)," says Jon von Tetzchner, CEO, Opera Software. "Rather than incurring costly upgrades to your OS to get the newest features, Opera allows Mac users to browse, e-mail, download and chat using one program, requiring minimal system resources due to Opera's small size."
Costly upgrades to the OS to get new features? Since when? Firefox is free, for crying out loud, and as far as I know, Safari doesn't charge per update or anything ridiculous like that. Obviously von Tetzchner hasn't done his homework in this case — I can't think of any browsers, regardless of platform, that require "costly upgrades to [the] OS" for new features.
Click to continue reading Opera 8 Released for Mac

Posted by Kristin Wenzel Categories: Corporate News, PC / Laptop, Software,
Michael Dell, of Dell Computers, has noted that should Apple "decide to open the MacOS to others," they'd be glad to offer it up over at Dell.
Over Steve Jobs' dead body, I'm guessing the answer will be. Some of the panicked mac-enthusiasts, however, are blinded by paranoia after the announcement that Intel will be Apple's new chip supplier starting in 2006, and see a bleak future for the OS. I'm going to put a stop to this here and now, everyone. When are people going to get it through their heads that just because Intel is going to be Apple's new chip supplier, the world isn't ending? It's hardware, the OS is to remain the same. Apple isn't going to offer MacOS on non-Apple computers, they've already said it. I believe MacDailyNews said it best:
It's a processor. A lump of silicon. Would we have preferred to have PowerPC if it could deliver what Apple needs? Sure. But, if Apple thinks they can get better performance in the future from Intel than from International "Where's That 3GHz G5 You Promised Us Last year?" Business Machines, so be it. What's next, are some Mac users going to burst a blood vessel if Apple changes hard drive suppliers?
Seriously. If people really think that just because Apple switched to a different supplier for one of their components, we're likely to see MacOS X running on Dell's computers, I've got a mile of oceanfront property in Nevada to sell them. Ain't gonna happen.
Dell Would Sell OS X

| TUAW.com
Read More

| MacDailyNews.com
© Gear Live Inc. – User-posted content, unless source is quoted, is licensed under a Creative Commons Public Domain License. Gear Live graphics, logos, designs, page headers, button icons, videos, articles, blogs, forums, scripts and other service names are the trademarks of Gear Live Inc.