Posted by Alex Grahmann Categories: Software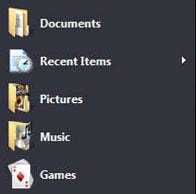 As info on Windows Vista continues to stream in, Extremetech.com has posted an excellent look at three Vista features and how they will affect the gaming abilities of the new OS. First, the addition of "Games Explorer" integrates the gaming experience into the OS and puts gaming on par with the usual Window's foci of Pictures, Music, and Documents. This feature also offers extensive parental control. Another core tool is "WinSAT," which helps software customize itself to the exact specifications of your system. Finally, the article points to the new DirectX 10 as a source of potential graphical wonder, but also admits that it may carry stringent hardware requirements. Extremetech.com's final verdict is that Vista looks like a positive step forward for the world of PC gaming.
Read More

| ExtremeTech

Posted by Oscar M. Cantu Categories: Internet, Software

Yahoo has finally released its toolbar for all Firefox lovers – be it in the Windows, Mac OS X or Linux world. Now we can all enjoy all the benefits our IE neighbors have enjoyed such as having all the Yahoo! content available at a mouse click away (opening in a new tab), adding RSS feeds to My Yahoo!, saving web site links to My Yahoo! (similar to del.icio.us), blocking pop-ups and fighting spyware.
Read More

| Yahoo! Toolbar Firefox Download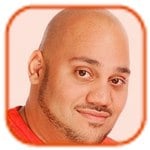 Posted by Andru Edwards Categories: Corporate News, Software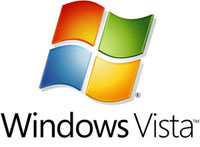 Surprising just about everyone, Microsoft has begun distribution of the Windows Vista Beta 1 software. Many expected the product to go out on August 3, which is actually a date given by Microsoft themselves. Apparently, they are trying to show that they will do whatever it takes to get this thing out on time - that being the end of 2006. About 500,000 developer subscribers will receive the beta, and I assume thousands more will find it via other methods. Vista Beta 1 includes Internet Explorer 7 beta, a built-in desktop search tool that appears just above the Start button, translucent desktop appearance, and improved power management. Beta 2 will add web search from the desktop, communications features, and a one-click hibernation feature above the Start button.
(Thanks Veronica!)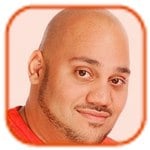 Posted by Andru Edwards Categories: Corporate News, Software
Yesterday, Microsoft launched Windows Genuine Advantage, a worldwide program it hopes will combat software piracy. During a customers first visit to Microsoft Download Center, Windows Update or Microsoft Update they will be asked to download an ActiveX control which checks your Windows to see if it is authentic and, if it is, stores a special download key on your computer for future reference. If your software turns out to be pirated, Microsoft gives you two options. The first allows you to submit a piracy report, provide proof of purchase, and mail in your counterfeit discs, and in turn they will send you a genuine copy of the software absolutely free. The second option, for those who only submit a piracy report, but provide no proof of purchase or counterfeit discs, allows the user to purchase a genuine copy of XP Home Edition for $99, or XP Professional for $149 with their choice of receiving it online, or in the mail on a CD.
"Microsoft has created a program that is fair to customers and reseller partners," said Michael Cherry, lead analyst, Windows and Mobile, at Directions on Microsoft. "While Microsoft is requiring customers to validate, they're putting their best foot forward to help customers out, in terms of simplifying the process, creating software incentives and offering to help customers replace counterfeit software they acquired unwittingly."
Read More

| Tech News World

Posted by Sparky Categories: Misc. Tech, Software

Phil Zimmermann, creator of the the popular Pretty Good Privacy (PGP) email encryption program is hard at work to bring secure communications to the masses via VOIP. He is currently working on an improvement of his PGPfone voice encryption software that was used with modems to create secure VOIP applications. It is conceivable that the company he is currently trying to fund would be able to develop plugins for popular networks like Skype and Gizmo. Because PGP uses a PKI infrastructure it becomes easy to trade public keys with the people you wish to communicate with while keeping your private keys secure - thus making eavesdropping on your conversation virtually impossible.
Read More

| Secure Communications
Posted by Edwin Soto Categories: Software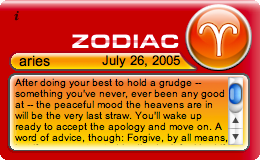 What better way to read your fortune every day than on your dashboard. Well, Cristiano Verondini, has thrown out all his newspapers and created this handy widget that take the information from www.astrology.com and puts it right on your dashboard. Makes me really wish for a fortune cookie widget - they are more accurate.
Read More

| Verodini
Posted by Alex Grahmann Categories: Internet, Software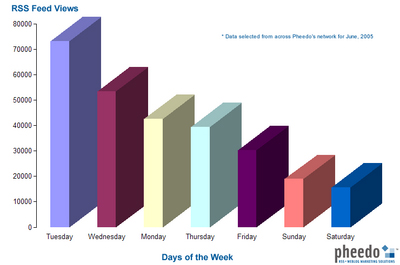 Pheedo, a weblog marketing company, has released a few choice points of data about the way readers use RSS. Highlights from their report include:
RSS is most active on Tuesdays and least active on Saturdays.
The most content is viewed early in the morning.
The most click-throughs occur late at night.
Bloglines is the most popular RSS reader, with only 5 programs being used to read 70% of RSS feeds.
Pheedo's posted information represents only an initial analysis of the data they've collected over the course of their work with their blogging clients. Pheedo is promising a follow-up program of more formalized reports called "Pheed Reads." Check back here for more insights as these reports are released.
Read More

| Pheedo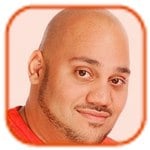 Posted by Andru Edwards Categories: Corporate News, Internet, Software

You know, it was only a matter of time before Konfabulator was snapped up by someone big, and it has finally happened. Yahoo! has bought the product, along with the company behind it - Pixora. Yahoo! didn't delay on rebranding it as soon as they could, as there is already a Yahoo! Widgets site up and running. They are keeping the product free, and already have the library of PC and Mac widgets available for download. This is a smart move for Yahoo! in our opinion, a great way for them to get back on the desktops of computer users via information delivery.
Read More

| Yahoo! Widgets

Posted by Kristin Wenzel Categories: Corporate News, PC / Laptop, Software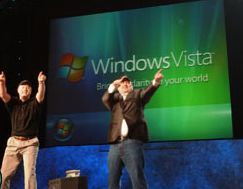 The powers that be at Microsoft have decided on an official name for their long-overdue follow-up to Windows XP: "Windows Vista."
Microsoft employees and lay-people like myself alike stood back stunned for a moment at the sheer… monumental… absurdity of the name. As if "Longhorn" wasn't easy enough to snicker about, "Vista" is such a "fluffy" sounding name that it's hard to believe that they are serious. It's hard to say without sounding like you have a serious lisp, implies a frothy nothingness, and conjures mental images of vast, empty space stretching for miles. Granted, I'm not the biggest fan of the Windows OS, but seriously. "Vista?!" Watch the announcement here.
Straight from the horse's mouth — I can't make stuff like this up.
Read More

| Windows Vista

Posted by Oscar M. Cantu Categories: Software

Our favorite internet apps just received updates. Trying to always stay one step ahead of security flaws, these new versions include security fixes and functionality fixes as well.
Firefox update addresses:
Restore API compatibility for extensions and web applications that did not work in Firefox 1.0.5.
Thunderbird update addresses:
Thunderbird 1.0.6 is a stability update which Mozilla urges everyone to download.
Camino update addresses:
The v0.9a2 update contains too many updates and fixes to list. Most of the updates are for memory optimization and speed. Visit the homepage to view all the updates and fixes.
Read More

| Firefox Release Notes
Read More

| Thunderbird Release Notes
Read More

| Camino Browser Release Notes
© Gear Live Inc. – User-posted content, unless source is quoted, is licensed under a Creative Commons Public Domain License. Gear Live graphics, logos, designs, page headers, button icons, videos, articles, blogs, forums, scripts and other service names are the trademarks of Gear Live Inc.