Find Our Latest Video Reviews on YouTube!
If you want to stay on top of all of our video reviews of the latest tech, be sure to check out and subscribe to the Gear Live YouTube channel, hosted by Andru Edwards! It's free!

Posted by Sparky Categories: Portable Audio / Video, Software,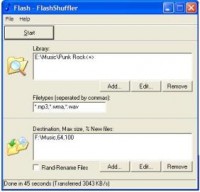 C-Flash software has produced a great application (although their choice of VB6 as a programming language is somewhat suspect) in their FlashShuffler software. FlashShuffler is a simple application that provides the functionality of an iPod shuffle to any UMS (USB Mass Storage) compliant device. It's operation is simple: you select a number of megabytes that you want it to fill, the location of your music collection, and the location of your player once it's plugged in and FlashShuffler will randomly select the correct amount of music and transfer it to your MP3 player. Every day when you plug in your device and run FlashShuffler it will change the selection of music for you automatically.

Read More

| C-Flash via DAPreview


Om Malik has a great little write up on his blog about 10 'must have' apps for the Mac. A while back Lockergnome had a great article that a lot the new killer apps were moving over to the Mac and Gear Live has to agree. This list includes most of the tools used day to day to write, communicate, and consume information needed to create Gear Live. The one tool that I was surprised to not see on the list is Photon - a great (now open source) plugin for iPhoto that lets you easily publish an image directly to your blog. If you have 'made the switch' you should check out this list of great applications. In additon, let us know which programs you consider to be hidden gems.

Read More

| GigaOm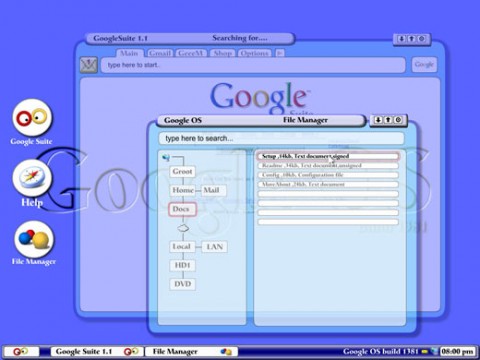 Google may be about to release the GoogleOS. A screenshot has emerged claiming to be of the operating system and displaying hits of a GoogleSuite and advanced search technology. The GoogleSuite would be a word processor, and spreadsheet application - coupled with Gmail, Gtalk, and an internet browser most of the average users needs would be met. We don't think that this is really going to happen and are of the mindset that the screenshot is a photoshopped fake - the UI is too primitive to be a reality, and Google seems better served by providing everything as a web application. The one way that Google could really be on to something here is if they can polish it up and make it into a LiveCD that a user could stick into any computer and run to have an instant copy of the GoogleOS without harming the hard drive. Assuming that the computer had a fast internet connection when the computer booted the user could log into their Gmail account and load all of their settings, preferences, and files. Then when you are done, eject the CD and walk away. Over at Gear Live we are not holding our breath but we certainly will watch this to see if it develops into something interesting.

—Update—
It looks like our guess about a LiveCD was not too far off. Gizmodo has provided additional information that it will be installed onto a USB keychain hard drive. While not a lot of details about this exist at the moment it's looking like more and more of a possibility that this is real. While the new details emerging seem technically sound (and even quite advanced in some respects) hopefully Google will polish the UI a bit more before they would release a useful product like this onto the marketplace.

Read More

| Grooan via Gizmodo
Posted by Edwin Soto Categories: Software,

Someone at the Genius Bar had a great interaction with a customer due to Pieter Hartzenberg's iSpeak text-to-speech widget. What was the big deal? Well, here is the letter from the Apple Retail Store Genius to Pieter:
My name is Derek Rose, and I work at an Apple Retail store in Nashville, TN. Just wanted to let you know that I just had a customer come in to the Genius Bar with fears that they had been "Hacked" by your widget. I know that sounds silly, but the reason she thought that is because her young son downloaded the widget, and then when the widget said "Hey sexy, What would you like me to say?" she thought that some Internet pervert hacker was talking to her son through the widget.

I just wanted to notify you of that issue, and maybe suggest you change the default text to something else, just because it will invariably be used by other kids, and other parents may find it inappropriate as well. I was able to change the default text in the JS file for this customer, but just wanted to let you know about that interesting visit from the customer. 😊
(Thanks falcoboy7!)

Read More

| Pieters Blog via TUAW


Opera's award winning browser (now in version 8.02) is free for one day to celebrate their 10th anniversary. From 12 AM Tuesday, August 30 to 12 AM Wednesday, August 31 2005 (PDT), you can send an email to registerme@opera.com to receive a free registration code for their professional quality and fully standards compliant browser - a $39 value. As a long time Opera fan I just have to say what a fantastic deal this is. Opera is the fastest, most stable browser I've ever used and with it's consistent interface across Mac/Win/Linux/BSD/Solaris and great integrated feature set. Get your self on down to download.com and grab a copy - just do it before August is over or you will be out $39 for the pleasure.

Read More

| Download.com

Posted by Sparky Categories: Mods / Hacks, PC / Laptop, Software,
The open source developers behind WINE, the Windows library emulation layer for Linux are working to make their libraries work with the Intel version of OS X. If they succeed then you would be able to run Windows applications from within OS X - no need for emulating a Windows VM - just run the application natively. If they can really pull this off I'll be compressed - it will have taken away the last reason for people to run Windows over Apples popular operating system by enabling all Windows enterprise applications and games to run seamlessly within the Aqua GUI.

Read More

| OS X86 Project Forums

Posted by Kristin Wenzel Categories: PC / Laptop, Software,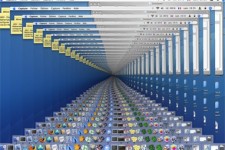 Hilarity ensued when I found this little gem on Apple's download site. To quote: "A stupid OpenGL screensaver that is likely to make you feel sick in a very short time."
No, there's no point. Just a weird, obnoxious screensaver which is, according to an informal poll of my housemates, "Ughh." or "Trippy."

Read More

| SickSaver Download
Posted by Devin Categories: PC / Laptop, Software,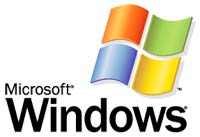 Those of you with Windows XP who have ever had the misfortune of having your system crash are certainly not alone. According to an article by John C. Dvorak, there are an estimated 24.5 million XP crashes a day, for a total of 30 billion each year throughout the world. If you add in estimated crashes for operating systems like ME, 98 and any other Windows platforms, the magic number jumps to 70 million crashes a day. Since kicking your computer won't fix the situation, the next time you see the Blue Screen of Death you can at least take some comfort knowing you're not the only one. Or you could just buy a Mac…
Read More

| PC Mag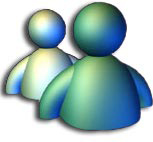 MSN Messenger 7.5 is still in beta, but that doesn't mean Microsoft can't begin work on 8.0, right? According to The Hotfix a third party source who supposedly works for Microsoft was kind enough to provide them with the a list of possible, and most certainly rumored, features for MSN Messenger 8.0:
• Change of Messenger Skins
• Real-time Emotions
• Messenger Built Internal Windows Media Player 10
• Pause/Resumed File Transfers (File Blocked Extension Applied)
• Detailed File Transfer (Download/Upload Speed)
• Animated Display Pictures (.gif .jpg .png (File Support under Consideration))
• Mood Status
• Faster Contact List Loading and scrolling
• Public Profile and MSN Spaces Combined
• More MSN Space features
• New Hotmail and MSN Messenger Integration
• Downloadable MSN Messenger on Mobile
• News Updates according to Location
• Top 10 MSN Music Radio
• New Stylish Notifier Pop-up
• Downloadable Skins for MSN (Contact Window & Conversation Window)
• Complete Integration with Windows XP® & Windows Vista® Codename: Longhorn®
• Offline Voice/Message Machine
• Animated Buddy Icon Helper
• Display Picture Ratings
The source also claims that 8.0 will be in BETA by the end of this year, and we can expect the official release in 2006. What do you think of the features? Improvements to a popular IM client, or just more junk you won't use anyways?

Read More

| The Hotfix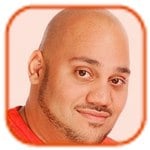 Posted by Andru Edwards Categories: Home Entertainment, Software,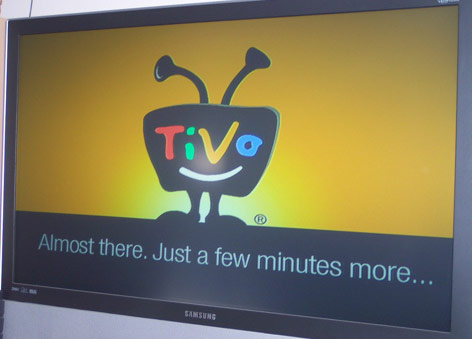 Man, TiVo has been on a roll over the past few days. Ever since TiVoToGo launched back in January, I have been waiting for them to upgrade my Pioneer DVD player with integrated TiVo so that I could use mess around with the feature. A few months later, a newer TiVo Desktop was released, which I could not use due to my TiVo being incompatible. Well, the wait is over, as I finally received a software upgrade during my daily TiVo check-in, complete with the new and more vibrant boot sequence (above). My device was upgraded from software version 5.0 to 7.2. TiVoToGo, HME features, and the new TiVo Desktop 2.2 are all compatible. If you own a Pioneer, Humax, or Toshiba TiVo DVD player, you can request the upgrade using the link below if you don't already have it.

Read More

| TiVo Software Priority Request
© Gear Live Inc. – User-posted content, unless source is quoted, is licensed under a Creative Commons Public Domain License. Gear Live graphics, logos, designs, page headers, button icons, videos, articles, blogs, forums, scripts and other service names are the trademarks of Gear Live Inc.