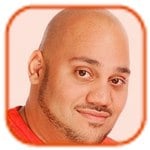 Posted by Andru Edwards Categories: Apple, Software
If you are running Tiger, run Software Update to download the freshly-released OS 10.4.5 software. This one weighs in at 40.6 MB:
The 10.4.5 Update is recommended for all users and includes general operating system fixes, as well as specific fixes for the following applications and technologies:
iChat video conferencing
Safari rendering of web pages
usability of Dashboard and widgets
viewing of QuickTime streaming media behind a firewall
printing to some Epson printer models
iDisk and Portable Home Directory syncing
time zone and daylight savings for 2006 and 2007
VPN connections to Cisco servers when using NAT
compatibility with third party applications and devices
previous standalone security updates
For detailed information on this Update, please visit this website: http://www.info.apple.com/kbnum/n303179.
For detailed information on Security Updates, please visit this website: http://www.info.apple.com/kbnum/n61798.

Posted by Frank Bisono Categories: Software, Video Games

Heads up fellow Mac fans. Are you one of the lucky ones with a tasty Xbox 360? Does the lack of integration with your Mac have you down? Well fret not, there is no need to run out and get a Windows Media Center box, Connect360 is here.
Connect360 automatically indexes your iTunes and iPhoto libraries and shares them to your Xbox 360. You can then use the Xbox 360 Dashboard to browse and play your media, organized in the exact same way that it is on your Mac.
Be advised that this is still in BETA, but you can grab your copy for free and if you want a real bargain, you can pay for the license now (only $10) and you'll be good to go for version 1.0 without any price hike. Requirements are:
Mac OS X 10.3.9 or later
An Xbox 360 with a network connection
iTunes for iTunes sharing (free download from Apple's site)
iPhoto for iPhoto sharing (part of Apple's iLife)
Full details and features are available at Nullriver's Website…

Read More

| Nullriver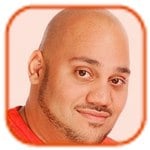 Posted by Andru Edwards Categories: Apple, Software

Apple just released an upgrade to their backup utility, which is aptly named, Backup:
Backup 3.1 delivers added support for some backup destinations and addresses file restoration and other issues. Backup 3.1 is recommended for all users of Backup 3.0. Significant areas addressed are:


Improved support for iDisk, local hard drives, and some network destinations (Mac OS X Tiger only)
New iWeb QuickPick and updated iLife plan
Addresses issues with restoring files
For more information about Backup 3, visit the .Mac website at: http://www.mac.com

For Backup 3 support information, visit http://www.apple.com/support/dotmac/backup/

Requirements
Macintosh computer with a PowerPC G3, G4, G5 or Intel Core processor.
Mac OS X v10.3.9 or Mac OS X v10.4.2 or later.
Run Software Update to get the download.
Posted by John Goulden Categories: Internet, Misc. Tech, Software

Conspiracy theories are born of concepts like this. Riya Photo Search is a photo-sharing website similar in nature to Flickr, SmugMug and Picturetrail, but with a twist. That twist is Riya's software that performs facial recognition of the subjects in your photos. It works like this: you upload your images to Riya, go through those images and select the faces of people in them and associate names with those faces. Riya will then allow you to search your photo collection (as well as other's publicly shared photos) for images that match who you're looking for. Looking for that picture of Aunt Sally? As long as you have tagged a prior photo of her, Riya will pick out every photo that she is in. The software is also capable of text recognition so searching for street and business names becomes a reality. Riya's beta phase starts soon and they are taking applications for people who want to give the service a try. Neat concept, but very creepy. We have hung with a few of the Riya peeps (like Tara Hunt) in the past - their team is damn cool.

Read More

| Riya Photo Search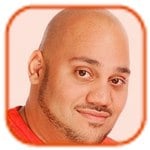 Posted by Andru Edwards Categories: Apple, Rumors, Software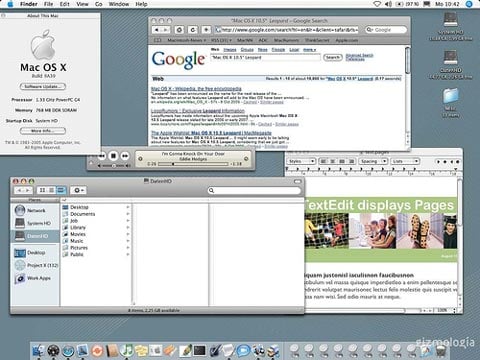 We have had quite a few people send this in to us this afternoon, hoping that it was a screenshot of OS X Leopard. Nice try, but this is just a skinned version of Tiger. Still, there are some subtle changes in the screenshot that we like - namely, the orange and white iSync logo and the "burnt aqua" GUI, signaling an even further (or complete) departure from brushed metal. The subtle Finder changes are fine as well, but with Spotlight, we see direct Finder usage continually dropping. In the meantime, if you want to make your Mac look similar, go ahead and use the UNO Gui, linked below.

Read More

| UNO Gui via Flickr

Posted by Frank Bisono Categories: Software
Last week we told you about the possibility of VMware releasing GSX into the wild for free. Well folks, it has arrived! You can grab your copy of VMware Server Beta here.
Start experiencing the benefits of server virtualization
VMware Server is a robust yet easy to use product for users new to server virtualization technology. VMware Server enables companies to partition a physical server into multiple virtual machines, and to start experiencing the benefits of virtualization.

Posted by Frank Bisono Categories: Hot Deals, Software
If you have worked in an enterprise environment, have probably heard about this company called VMware. For those of you new to VMware, these guys make a product that allows you to run multiple servers from ONE box, all done virtually. It's what's referred to as "virtualization" and is the ultimate in geekdom for an enterprise. More importantly, it can really make an administrators life a lot easier if implemented correctly, and save the company a boat load.
Cnet has published an article referencing a rumor that VMware will be releasing one of their core products into the wild for FREE next week. This is HUGE news. The idea behind this is that since VMware is now seeing some stiff competition heading their way, they are going to cut it off at the pass by using the "crack head" effect. In short, hook on a free sample, and sell them on the big products. Sounds like a logical enough plan. If this pans out to be true, we could be in for some interesting times in the IT world. The only missing link in VMware's product line is being able to run OS X, if they can accomplish that, their stock is going to skyrocket.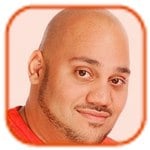 Posted by Andru Edwards Categories: Apple, Internet, Software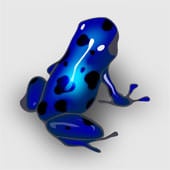 Imagine my horror when I went to boot up Azureus on my iMac Core Duo a little while ago, only to watch the icon quickly appear and then disappear, mocking me in the process. After a bit of snooping, turns out that Azureus flat out won't work on a Core Duo Mac. Determined to find something, I did a bit of sleuthing, which eventually led me to find a patched version that works perfectly. In fact, it seems to work a bit faster than Azureus on the G5. I know, many a Mac user sides with Tomato Torrent when it comes to bittorrenting on OS X, but if you are an avid Azureus user with a Core Duo Mac, grab the patched version at the link below.

Read More

| Patched Azureus for Intel Macs
Posted by Edwin Soto Categories: Internet, PC / Laptop, Software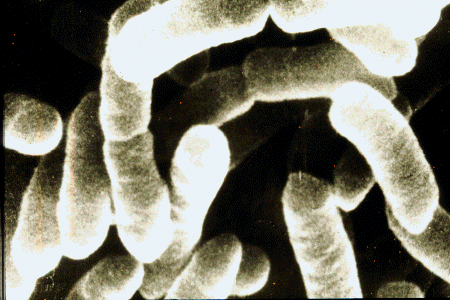 We would hate for our readers to be unprepared for a virus attack that is scheduled to begin on February 3rd. Be wary of strange emails, as Win32/Mywife.E@mm is on its way - malware that is sure to send everyone in your address book an nice infection as well. Make sure you are running the latest version of your antivirus software. Reports say the man behind the virus is too busy to stop the attack because of his many scheduled divorce hearings. Oh, Mac users can disregard this message as usual.

Read More

| Microsoft Security Advisory

Posted by Frank Bisono Categories: Apple, Design, Software
I know there are a lot of Mac users reading the blog, so for those of you (like me), who use Adobe apps as part of your daily workflow, you may want to read this. The following is from an Adobe employee blog written by John Knack.
We've posted an FAQ concerning Adobe's plans to ship Intel-native (Universal) Mac applications. Highlights:

Yes, we are working on Universal versions of our tools. The FAQ includes a list of those being converted.
No, we don't plan to update CS2/Studio 8 to be Universal. That means native support will come in a future version, which is some time off. (The FAQ cites an 18-24 month historical cycle for product updates. CS2 shipped in April 2005, Studio 8 in September.)
Yes, most of today's applications will run in Rosetta (the emulation layer for PowerPC code running on Intel), though that's not a configuration Adobe has tested extensively. The Version Cue server component won't run on Rosetta.

The Lightroom beta, made available first on Mac, will be available in Universal form very soon.
It's important to make a few things clear: We're working really hard, together with Apple, to make this conversion. Apple staff are on site at Adobe every day and have been for quite some time, helping our teams make the required move to the Xcode development environment & taking our feedback on how to make Xcode support large projects like Photoshop.

Everyone—Mac users, Adobe, and Apple—wants to get Adobe apps running natively on Mactel as soon as possible, but doing so while maintaining their quality will take time. If we knew how to do this more quickly, we would do it.

I'd like to make one other point: in the first 18 months that Mac OS X was in the market (starting with the shipment of 10.0.0), Adobe released (by my recollection) 13 OS X-native applications. That averages out to better than one release every six weeks for a year and a half. Name another company that showed up for the game on that scale. Please bear that history in mind the next time someone on a user forum starts raising doubts about Adobe's commitment to the Mac.
So the short of it is, if you are working as a professional designer or anyone who uses Adobe's apps fairly frequently, make sure you know what you are getting into when buying that new Mactel. I for one am looking forward to a new MacBook Pro soon - real soon - but I absolutely must have Adobe's apps work on my machine from day one. I hope they pound this out pronto.

Read More

| John Knack Blog
© Gear Live Inc. – User-posted content, unless source is quoted, is licensed under a Creative Commons Public Domain License. Gear Live graphics, logos, designs, page headers, button icons, videos, articles, blogs, forums, scripts and other service names are the trademarks of Gear Live Inc.