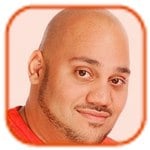 Posted by Andru Edwards Categories: Corporate News, Microsoft, Software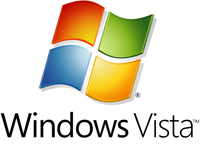 Just when it looked like Microsoft was on track with Windows Vista, the OS sees another delay. In a fantastically positive press release, Microsoft said that the consumer version of Windows Vista would not ship until January 2007 - a full two months after they originally hoped to get it on the market. Business customers will still be able to purchase and run Vista in November 2006, but Microsoft wants to make sure security issues are ironed out before releasing the product to the masses.

Read More

| Vista Press Release

Posted by Kristin Wenzel Categories: Google, Internet, Software

On March 14th, Google boldly went where no search engine has gone before: to Mars. With the launch of Google Mars, they extend their Google Maps service to interplanetary lengths, allowing you to search and discover Mars all on your own. Want to play astronaut? You can zoom, pan, and switch between elevation, infrared and photographic views of the Martian landscape. Cool!

Read More

| Google Mars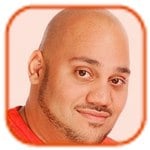 Posted by Andru Edwards Categories: Apple, Microsoft, Mods / Hacks, Software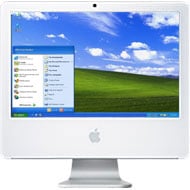 We had a few people write in who were salivating over the video we posted yesterday of Windows XP being installed and running on an Intel iMac. Your wait is over, dear friends. narf2006 and blanka have claimed the championship, and will soon be the proud recipient of $13,854. In the meantime, you can download the instructions and files needed to get Windows XP up and running on your Intel-based Mac (be it an iMac, MacBook Pro, or mini) here.

Read More

| XP on Mac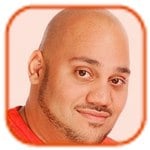 Posted by Andru Edwards Categories: Apple, Microsoft, Mods / Hacks, Software
So, narf2006 seems to have cracked the code, so to speak, on getting Windows XP to run on an Intel Mac. Using one of the new iMacs, narf recorded a video of the installation of Windows XP, followed by the rebooting of the platform, creating user accounts, logging in, and checking out the Device Manager. We must say, this one is very convincing. He goes out of his way to prove that this is authentic, and has sent his instructions to Colin Nederkorn (who has raised over $10,000 to award to the first person to get this figured out.) Once they are validated, and the check is cut, we can all hack up our iMacs to dual boot, despite all the roadblocks we have faced.
Back to reality for a moment. We don't see what the practical, real-world benefit of this is. In our offices, we have Macs and PCs right next to each other. If we need to get to something in the other OS, there is no need to shut down, and reboot. What we need is a version of Virtual PC that is fast, and runs on the Intel Macs. Better yet, we need to be able to run Windows programs on the Mac. When that happens, give us a call. We will squeal like schoolgirls.

Read More

| OnMac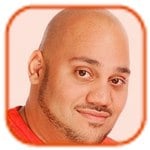 Posted by Andru Edwards Categories: Google, Internet, Software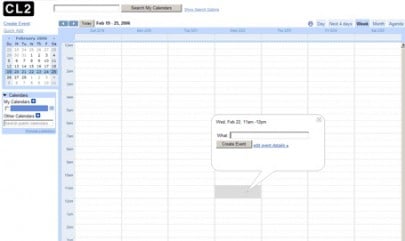 The image above is a shot from Google CL2 Calender web application.
About CL2

CL2 makes it easy — even effortless — to keep track of all the events in your life and compare them to what your friends and family have going on in theirs. We've designed a calendar that works for you — helping you add events from email, friends, and other public calendars — so you don't have to spend all your time maintaining your schedule. CL2 even helps you discover new events you might be interested in. We think it's a great tool for managing your daily schedule, keeping track of what everyone in your family is doing, organizing events for a club or team, or creating public events that you can promote to the world.
Of course, this one is going to be tightly integrated with Gmail and Google Talk. The screenshots look smooth and familiar to anyone who has used any of Google applications. Do note that these shots were leaked, and may not necessarily reflect the final product, which he hear is nowhere near launch. Check the link below for more.

Read More

| TechCrunch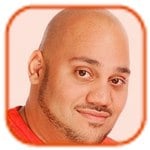 Posted by Andru Edwards Categories: Microsoft, Software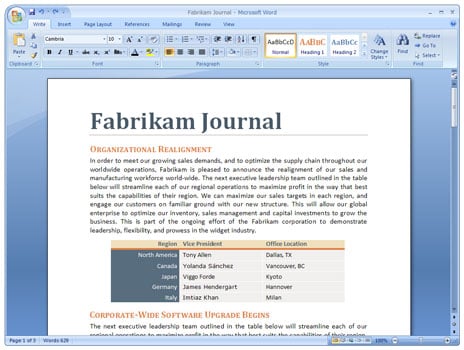 Earlier this morning at CeBIT, the Microsoft Office team revealed the new user interface of Office 2007. Now, while the screenshots of the various Office programs do look pretty sweet, they just look so Apple-esque to us. I mean, look at the background of the Microsoft Word image above. One of the new additions is the 'Office button,' which is to provide access to all of the document and system-level functionality within whichever Office program you are using. According to Microsoft, this is where you head to start and finish a document. Hey - it's like a start menu, but for documents. And it gets its own corner radius, which throws things off from our view. Still, it is nice to see Office 2007 coming along.

Read More

| Jensen Harris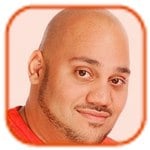 Posted by Andru Edwards Categories: Cell Phones, CES, CES 2006, Features, Podcasts, Software, Video Games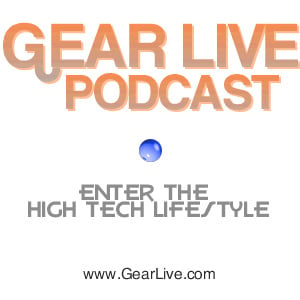 Today we feature the next audio version of our Bleeding Edge video show, featuring:
Here's how to get the show:
|Subscribe| - iTunes
|Subscribe| - RSS
|Download| - Enhanced AAC [Mirror]
|Download| - MP3 [Mirror]
Voices: Andru Edwards, Sparky
Length: 35:25, 17.1 MB

IMPORTANT: We are surveying the listeners of our podcast to see what it is that people like, and more importantly, what they don't like. It is anonymous, and just takes a couple of minutes. If you have the time, we would appreciate it!
Don't forget to vote for us on Podcast Alley! Also, be sure to check out the Gear Live Odeo Channel, and subscribe there are well.
Posted by John Goulden Categories: Apple, Microsoft, Mods / Hacks, Software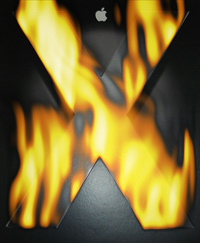 Windows detractors are generally more than happy to point fingers at Microsoft's failings in making their operating systems secure. It's hard to blame them, as it does seem that barely a day goes by without some new exploit popping up. However, one has to look at the percentages of installed systems. With Microsoft products commanding the vast majority of the market share, they make prime targets for anyone with too much free time or a grudge to bear. In contrast, Mac OS X and Linux seem to blend quietly into the background noise, with nary a peep to be heard with regards to security problems. Okay, that's oversimplifying things a tad, but the basic idea remains the same - Microsoft products appear to have more security holes than their competitive counterparts due in part to market share and their public presence.
As a case in point, an obliging Mac user set a Mac mini up and told would-be hackers to give it their best shot. Within six hours, the mini had been compromised and root-level access obtained. Total time to actually hack the mini? Less than 30 minutes. Granted, there aren't a lot of details as to patch level, security measures taken, etc., but the hacker claimed the use of an unpublished hack that would have worked regardless of counter-measures implemented.
With regards to recent viruses and exploits related to Mac OS X, a senior director of Symantec's Security Response Division is quoted as saying, "The lesson here is that if we look at Mac OS X and compare it to, say, Windows XP, we find that, in terms of the number of vulnerabilities, they are actually quite comparable."
Keep in mind that we're not out to bash the Mac by any means, and many Gear Live members love the Mac. Would an equivalently configured Windows or Linux system have fared any better? Not likely. Therefore it's important to be mindful, that regardless of your operating system of choice, security holes do exist and it's better to be as prepared as possible than sorry due to blissful ignorance.
EDIT: Turns out, this is a lot less important that it first seemed. Check out the comments section, and you will find that the "hack" was made to be extremely simple - this is not something that took place in a real-world scenario.

Read More

| Top Tech News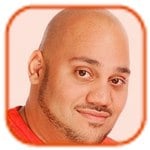 Posted by Andru Edwards Categories: Corporate News, Home Entertainment, Software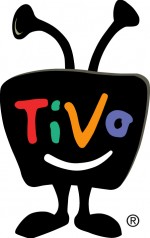 It seems people are wondering what is up with TiVo booking the Museum of Television and Radio for a big announcement tomorrow. Luckily, we have some peeps on the inside who have given us the good stuff. It doesn't look like the Series 3 will be given a date, or that the Netflix downloads will be starting anytime soon. Instead, TiVo is going to announce their new KidZone service that aims to give parents guidance and control over what their kids watch on TV. Now, this isn't your standard, run-of-the-mill parental control feature. KidZone actually creates virtual TiVo menus and virtual channels, specifically targeted to the children. TiVo partnered with leading parenting and family groups including Common Sense Media and The Parents TV Council to select kid-friendly content for the new service.
Parents have the ability to select from an entire menu of weekly recommendations and automatically record all of those shows. When TiVo is in KidZone mode, it locks out all other programming access by children. Parents get password-protected ability to decide what's best for their children to watch and kids get their own space on TiVo to enjoy their favorite shows. The service will be launched in June 2006.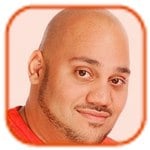 Posted by Andru Edwards Categories: Apple, Software
Anyone running a Mac out there, be sure to run Software Update. You will receive updates to iTunes, iPhoto, and Front Row, along with a security update. What's stands out about these updates is the fact that the new Bonjour technology that Steve Jobs talked about yesterday is here. Now your Front Row Macs will be able to communicate to each other without the hassle. The iPhoto and iTunes updates also look to be a direct correlation to making sure they work right in Front Row sharing mode. As for the security update, here are the details:
Security Update 2006-001 is recommended for all users and improves the security of the following components:

apache_mod_php
automount
Bom
Directory Services
iChat
IPSec
LaunchServices
LibSystem
loginwindow
Mail
rsync
Safari
Syndication
© Gear Live Inc. – User-posted content, unless source is quoted, is licensed under a Creative Commons Public Domain License. Gear Live graphics, logos, designs, page headers, button icons, videos, articles, blogs, forums, scripts and other service names are the trademarks of Gear Live Inc.