Posted by Jared Hislop Categories: Household, Misc. Tech, Science, Transportation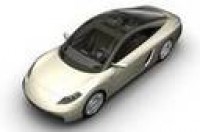 German company Loremo AG has introduced a new vehicle which they claim gets 157 miles per gallon. The new car uses state-of-the-art aerodynamics combined with a lightweight body to combat gas guzzling. While some of the fuel efficient cars use smaller engines that deliver less power, this car doesn't play around in the power department. The base model uses a 2 cylinder 20 hp turbo diesel engine that reaches a top speed of 100 MPH with a 0 to 60 time of 9 seconds, and the GT model boasts a top speed of 135 MPH. Loremo has a new technology that they call "linear cell structure" that makes the car light without sacrificing strength. Both models meet static/dynamic requirements for crash safety. Standard features on both models include airbags, particle filter, dashboard computer, and air conditioning. Loremo AG plans to sell the Loremo LS for less than 11,000 euros and the GT for 15,000 euros. With the rising costs of gas in the US we would like to see a vehicle like this available. Unfortunately this car is still dependant on gas, and we doubt its strength in a crash, as tiny car + low weight = death.

Read More

| If Energy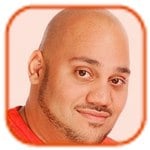 Posted by Andru Edwards Categories: Misc. Tech, Product Reviews, Science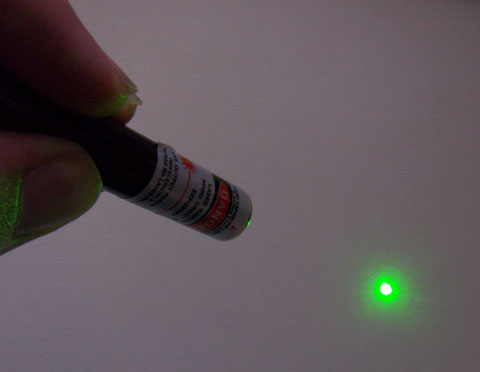 Our boy, David Ponce, over at OhGizmo has just posted up a review of the Wicked Laser Nexus. This is the green laser that we featured in Episode 4 of The Bleeding Edge, and in our quick review of Wicked Laser products. These things are, um, Wicked in every sense. Check out the full review over at OhGizmo.

Read More

| OhGizmo
Posted by Jared Hislop Categories: Design, Misc. Tech, Mods / Hacks, Science, Transportation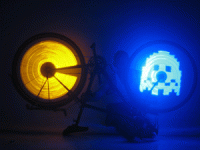 POV uses LED lights on a spinning device to create an image. There have been several devices recently that demonstrate this technology, but none as awesome as the do it yourself SpokePOV kit. Basically, SpokePOV turns the wheels of your bike into fancy LED displays. The kit comes with all of the parts needed including a circuit board, electronics, 60 bright LEDs (30 for each side of the wheel), and 1K of memory (enough for one static image). The memory can be upgraded to 4K for use in an animated display. The documentation appears to be quite good and even a beginner should be able to complete this project. The kit retails for $37.50 here.

Read More

| SpokePOV
Posted by Jared Hislop Categories: Google, Internet, Misc. Tech, Science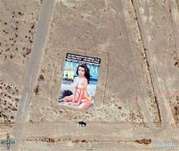 Users of Google Earth have yet another sweet Easter egg to scout out. In celebration of their 100th issue, Maxim has reproduced one of their magazine covers to the measure of 75 feet by 100 feet, featuring a scantily-clad Eva Longoria. The headline reads "The only magazine big enough to be seen from space—and only in Vegas!" This is one, um, big publicity stunt.

Read More

| CNET
Posted by John Goulden Categories: Misc. Tech, Science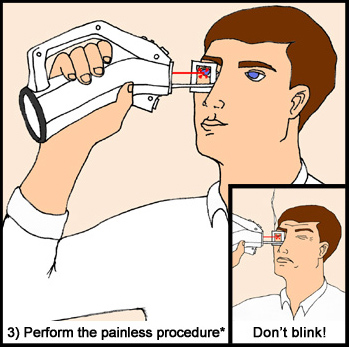 This is one of those things that you read about, do a double-take to make sure you read it right, then stare at in disbelief. Introducing the LASIK@Home corrective eye surgery kit. Designed to let you perform LASIK surgery on your own eyes, in the comfort of your own home. The kit comes complete with the Scal-Pal Hand-Operated Combination Femtosecond/Excimer Laser, a mild sedative (diazepam 4mg), No-Blink brand eye drops, a protective post-op sleep mask, detailed instructions and a QuickStart Guide.
If you're not familiar with LASIK (Laser-Assisted In Situ Keratomileusis), here's a quick rundown courtesy of the FDA. "LASIK is a surgical procedure intended to reduce a person's dependency on glasses or contact lenses. LASIK . . . permanently changes the shape of the cornea, the clear covering of the front of the eye, using an excimer laser. A knife, called a microkeratome, is used to cut a flap in the cornea. A hinge is left at one end of this flap. The flap is folded back revealing the stroma, the middlesection of the cornea. Pulses from a computer-controlled laser vaporize a portion of the stroma and the flap is replaced."
The "Four Easy Steps" illustration provided on LASIK@Home's website speaks volumes. Apparently drawn by someone with an aptitude for art equivalent to a pig's ability to fly, it certainly does elicit a chuckle as well as a sad shake of the head for the ignorant individuals who will be duped into purchasing the product (assuming it really exists). A quick check of some of the information provided by LASIK@Home turns up little (as in zero) corroborating evidence. The Bennett Eye Care Institute in New York City must be in a parallel world as it seems to be missing from this one, as is the good Dr. Khadim. The "Walton Group Manufacturing" who purportedly "makes the the (sic) LASIK equipment used by more clinics nationwide"? Strangely enough, they don't seem to exist either, and none of their lasers show up on the FDA's approved laser list . . . imagine that.
The price for
potentially
ruining the only pair of eyes you have? A mere $99.95 USD. Should you choose to proceed down this road of self-mutilation, remember - "Don't blink!".

Read More

| LASIK@Home via dlmag.com
Posted by Jared Hislop Categories: HDTV, Home Entertainment, Science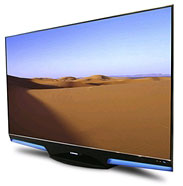 Mitsubishi has announced that there is a new breed of HDTVs on the way. These new DLP displays use red, blue, and red
green lasers to create deep, bright images on super thin screens. The laser-based HDTV is expected to have a very small footprint, and should be incredibly lightweight. By using lasers rather than a lamp in these sets, a wider range of intensity in color can be achieved. Even better, these units should consume one third of the power of a conventional HDTV. Lastly, the lasers are expected to last the lifetime of the TV (rather than burning out like DLP lamps.) Exptected to hit retail late next year, we should at least have more information on the prototype later this week.

Read More

| New York Times
Posted by Jared Hislop Categories: Corporate News, Misc. Tech, Rumors, Science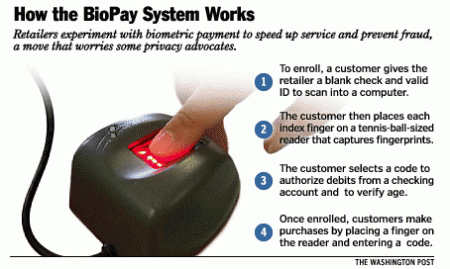 Newly released research by Sanford Bernstein analyst Emme Kozloff, found that by using "electronic wallets" companies like Wal-Mart could save big. By using customer's fingerprints as a payment method, companies could speed up the checkout process; reduce the potential for fraud and identity theft, and most importantly save money by lowering the transaction fee. This type of system is already in use by Albertsons, Cub Foods, and Piggly Wiggly. While this might save time at the checkout, privacy advocates are still very concerned about the process.

Read More

| CNN
Posted by Jared Hislop Categories: Editorial, Internet, Misc. Tech, Science
So, let's be honest - we have all heard of RFID technology by now. To further your education, Spychips is a site dedicated to informing the masses against the possible dangers that exist with this new technology. RFID has infiltrated everyday life, unbeknownst to most. Stores like Wal-Mart use RFID for things like inventory management, and as an anti-theft device. Some of the things that Spychips.com reports on are a bit one sided, but its interesting to see how this technology could be potentially damaging to our privacy. If you do not look out for your civil liberties, and privacy, no one else will.

Read More

| SpyChips

Posted by Kristin Wenzel Categories: Misc. Tech, Science
Life imitating sci-fi: University of Texas at Dallas nanotechnologists have created super strong artificial muscles, capable of superhuman feats.
University of Texas at Dallas nanotechnologists have made alcohol- and hydrogen-powered artificial muscles that are 100 times stronger than natural muscles, able to do 100 times greater work per cycle and produce, at reduced strengths, larger contractions than natural muscles.
The buff synthetic muscles could be used in many situations, including autonomous robotics. The muscles, like real muscles, convert chemical fuel to mechanical energy, getting rid of the need for batteries or wired power.

Read More

| Physics Org
© Gear Live Inc. – User-posted content, unless source is quoted, is licensed under a Creative Commons Public Domain License. Gear Live graphics, logos, designs, page headers, button icons, videos, articles, blogs, forums, scripts and other service names are the trademarks of Gear Live Inc.