Posted by Jared Hislop Categories: HDTV, Home Entertainment, Rumors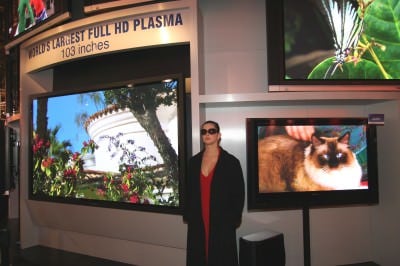 Panasonic recently released its plans to sell a 103-inch Plasma TV. The new TV's display measures 7.5 x 4.2 feet with the standard 16:9 aspect ratio and a 1920x1080 resolution. As is expected by today's HDTV enthusiasts, the new TV will be a 1080p device. While most people don't need the biggest plasma TV in the world, it would be nice to watch Firefly in 103-inch Plasma goodness, no? Nothing has been said about pricing, but we are sure this is one of those things where, if you have to ask, you probably can't afford it. Panasonic has hinted around at a December 2006 release date, but no date has been officially set.

Read More

| Daily Tech
Posted by Jared Hislop Categories: Apple, Corporate News, Portable Audio / Video, Rumors

It seems that some companies are attempting to pass off counterfeit iPods to unsuspecting consumers. Apple warns that the two players that are most likely to be ripped off are the iPod nano and the iPod shuffle. It has been noted that several of the fakes are even stamped with legit serial numbers, one of which is 6U545TK2TJT. The fake iPods also lack a dock connector, and often have non standard headphone jacks. Apple said that the counterfeit nanos also ship without the standard USB cable, and have a screen that is slightly longer than that of the real thing.
One key mark to look out for is a play/pause symbol on the center select button. The players that are similar to the shuffle lack a battery or status indicator light, and have a power switch that lacks a repeat option. The counterfeit packaging is the same as Apple packaging except that the counterfeit package has the words "Digital Music Player" on the top of the box. Some of the counterfeit players have also known to have documentation included that asks the user to copy their music to a directory on the device rather than using iTunes. Apple is taking this matter very seriously and has released a bulletin to its service providers asking them to photograph the fake iPod, find out where the buyer purchased the fake iPod, document the serial number, and pass the information along to Apple's technical support group.

Read More

| Apple Insider
Posted by Jared Hislop Categories: Cell Phones, Rumors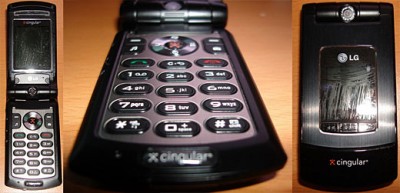 These days it seems like everyone and their mother is trying to rip off Motorola's RAZR design, and LG is no different. The CU500 is a slim clamshell with an internal antenna. It is a quad-band GSM/EDGE (850/900/1800/1900) and tri-band UMTS (WCDMA) (850/1900/2100) phone. Rumor has it that the only supported US bands are UTMS 850 and 1900 which means it is a perfect candidate for Cingular's HSDPA high speed data network. The included 1.3 megapixel camera swivels and eliminates the need for a second camera for video calling. There are also external buttons to control music playback. The phone is expected to be officially announced by Cingular soon. We will keep you updated with details as more details about this handset become available.

Read More

| Phone Arena via Gizmodo
Posted by Jared Hislop Categories: PC / Laptop, Rumors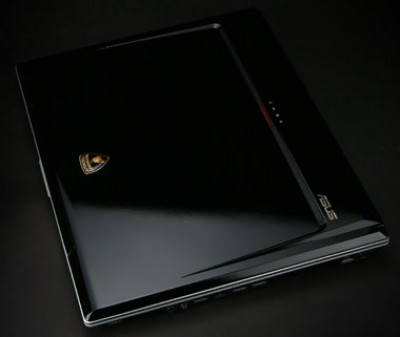 Asus has released the details on its new Lamborghini notebook. Unfortunately the specs are disappointing, and do not justify the higher price tag. The VX1 sports a 2GHz T2500 processor, while most would think that a notebook of this caliber would feature one of Intel's new Core Duos. Intel's 945PM chipset and 3945ABG 802.11a/b/g Wi-Fi adapter are onboard along with 1GB of 667MHz DDR 2 SDRAM, a 120GB hard drive, and a dual-layer DVD±R/RW optical drive. A 15-inch 1400x1050 display (powered an Nvidia GeForce Go 7400 with 256MB of dedicated graphics memory) rounds this one out. The notebook also has the ability to grab 256MB more from system memory thanks to Nvidia's TurboCache system. The new price is expected to be $2,354.62 rather than the $1,935.75-$2,177.87 that was previously announced. Expect to see the new laptop around the end of April.
Read More

| Reg Hardware
Posted by Jared Hislop Categories: Handhelds, PC / Laptop, Portable Audio / Video, Rumors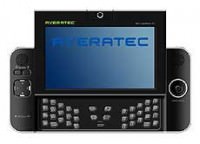 If you have been keeping your eye out for a UMPC that doesn't seem like it will suck, keep an eye on the Averatec AHI. While other manufacturers are designing UMPCs that look pretty much the same, Averatec is mixing it up a bit. Most other UMPCs have 7-inch touch screens, while the AHI has a smaller 5-inch touch screen. With a 7-inch screen, the complaint arises that the device is hard pressed to be considered "ultra-mobile." Averatec's approach solves that. In fact, it seems to solve a host of complaints that many have had with other UMPC devices. For example, located directly under the screen is a slide out keyboard. The device also boasts a SXGA 1280 X 1024 display. Connectivity will not be a problem, as it has integrated Bluetooth, Ethernet, 802.11g WiFi, and a dial-up modem. Even better, it should also have 3G functionality, and a GPS receiver as well. A 2 megapixel camera, 2 USB ports, and an SD/MMC slot add to the ultra-portable goodness.
For those that want to use their new UMPC for fun, the AHI boasts a dock that gives it DVD functionality. All these innovative features come at a cost - the Averatec UMPC will not be running the special version of Windows designed for UMPCs; it will be running the Tablet PC version of Windows instead. You can expect to see the AHI by Christmas. Pricing is not yet known, but it's expected to be available in multiple configurations in the $600-1100 range.

Read More

| The Register
Posted by Jared Hislop Categories: Cell Phones, Rumors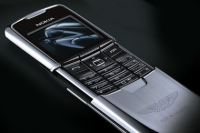 For those car lovers in the audience comes the Aston Martin Nokia 8800. The handset features the Aston Martin logo laser etched on its stainless steel case. Included with the phone is a special ringtone of the Vantage's V8 engine revving up. There are also several Aston Martin branded screen savers and wallpapers bundled with the phone. The handset is a tri-band GSM/GPRS supporting EDGE, and has a 208 x 208, 262,144 color display and a megapixel camera. Software is included that supports the playback of MP3s and AAC songs. With a 600mAh battery that is good for around three hours of talk time and eight days of stand-by. The phone is based on Nokia's Series 40 UI, and is quite sleek. We doubt the $1640.00 price tag will attract too many customers.

Read More

| Reg Hardware
Posted by Jared Hislop Categories: Google, Internet, Rumors, Software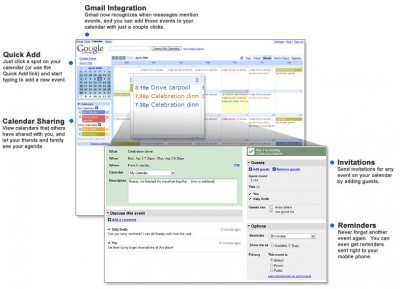 Google Calendar has gone beta to the public.
Simplify. Organize. (And relax.) Organizing your schedule shouldn't be a burden. That's why we've created Google Calendar – our free online shareable calendar service. With Google Calendar, it's easy to keep track of all your life's important events – birthdays, reunions, little league games, doctor's appointments – all in one place.
The feature set on this free service is quite impressive:
XML/ICAL feeds for public and private calendars.
Share your calendar
Auto-add invitations.
Notifications via email, SMS and Pop-up (No GTalk notification?).
Import iCal or CSV (MS Outlook).
Gmail Integration
Mobile access
Event publishing (share your organization's events with the world).
It was only a matter of time before Google added a calendar feature to their impressive list of services. The fact that you can share a RSS feed of your calendar with the public seems to have a lot of potential.

Read More

| Google Calendar
Posted by Jared Hislop Categories: Microsoft, Rumors, Video Games
Seems that Microsoft has caught soccer (or football to you non-Americans) fever. The special edition Xbox 360 Blue is set to be released in celebration of the 2006 FIFA World Cup. The Xbox 360 Blue will have all of the same features and accessories as the Xbox 360 Premium, but will also include a sporty Adidas Japan blue faceplate, Adidas Japan blue bandana, and a copy of 2006 FIFA World Cup Germany. Microsoft is expected to ship 10,000 of these special edition units. Unfortunately it looks like these special Xbox 360s are only set to be released in Japan. This special edition Xbox 360 is set to hit stores on April 27th and is expected to cost around $430.00. I doubt Japanese electronics stores are ready for the flood of crazed soccer fans these units should create. Then again, we are talking about the Xbox 360 - in Japan.

Read More

| Gamespot
Posted by Jared Hislop Categories: Broadband, Cell Phones, Rumors, Wireless / WiFi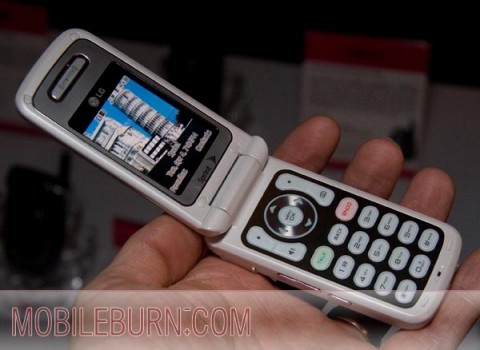 LG's new phone, the LG550, has a lot to get excited about. The new handset is an EV-DO capable 3G ready device. Some of the other features include music, video on demand, Bluetooth stereo support, a 1.3 megapixel camera, and a FM transmitter. The FM transmitter allows the handset to broadcast tunes to a nearby FM radio. A microSD/TransFlash slot is available for additional storage room. The screen is a 262,000 color, 176x220 TFT display. The phone also features an external 96x96 65,000 color TFT. Another interesting feature of this phone is that there are external music controls. While there are no official carrier plans, there have been rumors that Sprint will pick it up.

Read More

| MobileBurn
Posted by Jared Hislop Categories: Corporate News, Google, Internet, Music, Rumors
Google is preparing to launch a music download service, according to research firm Caris & Company. It is rumored that Google has been meeting with leading music executives for "networking opportunities." The new site is expected to gain support from the music industry, as iTunes does not offer flexible pricing or a subscription service. Rumors were also confirmed at a recent analyst meeting where Google highlighted plans to expand into downloadable media.

Read More

| Forbes
© Gear Live Inc. – User-posted content, unless source is quoted, is licensed under a Creative Commons Public Domain License. Gear Live graphics, logos, designs, page headers, button icons, videos, articles, blogs, forums, scripts and other service names are the trademarks of Gear Live Inc.