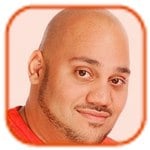 Posted by Andru Edwards Categories: Apple, Portable Audio / Video, Rumors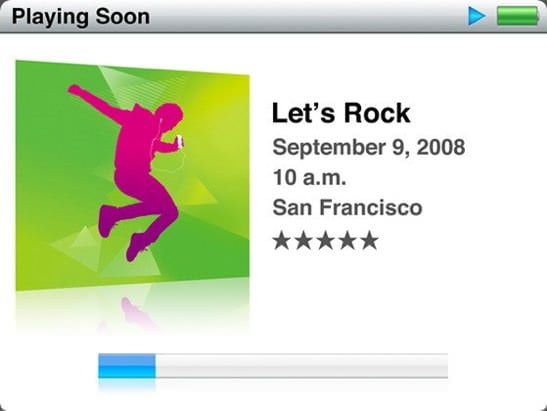 Well, what do you know? Looks like that Apple event that Kevin Rose speculated about a couple of weeks ago is finally official. This morning, Apple sent out notification of their next event, titled "Let's Rock", is set for September 9th. Now, looking at the graphic, we think it is pretty clear that this one is going to be focused on iPods. Apple is notorious for refreshing their portable media player line in September (heck, last September was when the iPod touch was announced) for the whole back-to-school and holiday vibe.
While we expect to see new models across the board, word on the street is that the iPod nano and iPod touch will be the ones to pay attention to this time around. That is, unless, you are like me and have tons of media that you want with you at all times. If that is you, then you are with me in hoping we see something akin to a 250GB iPod classic. Aside from that, though, some surprises would be nice. I know I've been asking for it for years now, and this probably isn't the appropriate place to announce it, but I sure as heck would just love it if Apple would also give us a new Cinema Display. Could happen, right? Yeah, I didn't think so either.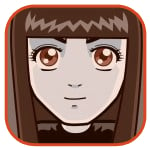 Posted by Sheila Franklin Categories: Music, Portable Audio / Video, Rumors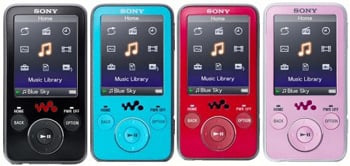 Rumors of Sony's new NW-E series Walkmen have reached the surface. The 8.5mm slim devices weigh only 50g each. Each has a 2.0-inch QVGA TFT LCD screen with 262,144 colors. The player supports MP3/ WMA/ AAC/Linear PCM and has an FM tuner. The device uses drag and drop, and each is compatible with both WMP and iTunes. The 2GB NWZ-E435 comes in black or pink, the 4GB NWZ-E436 will be available in black, blue, pink or red, and the 8GB NWZ-E438 is simply black.
Read More

| Sony Insider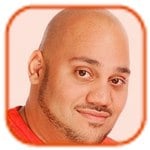 Posted by Andru Edwards Categories: Apple, Internet, Rumors, Software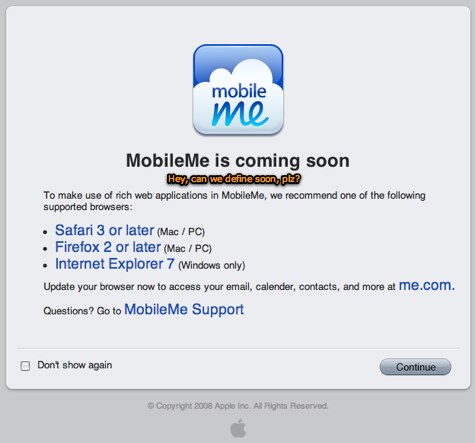 If you had any question of what browsers would play nice with Apple's upcoming MobileMe service, a slip-up by the company earlier today pretty much answers the question. Until pointed out by my pal Cory over at TUAW, the above image was viewable when trying to access .Mac from an iPhone. Apple quickly corrected the mistake, and you can check out the updated screenshot after the jump, but basically, it's just a .Mac help page.
On the MobileMe end of things, it's no surprise that Apple recommends Safari, followed by Safari, and lastly Internet Explorer 7. It will be interesting to see how many downloads of Safari for Windows MobileMe can help push through.
Click to continue reading Apple let's MobileMe browser requirements page slip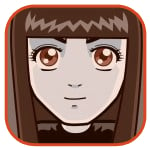 Posted by Sheila Franklin Categories: Editorial, Rumors, Science, Transportation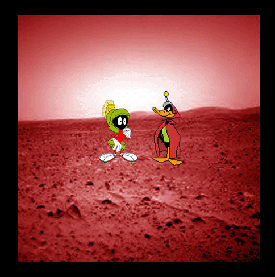 NASA believes that material found on Mars recently may really be ice. When images from the trench dubbed "Snow White 2" were received from the Phoenix Mars lander, scientists believed the white surface shown was either salt or ice clumps. Because many of them were gone the next day, the researchers ruled out the presence of salt, although the soil sample didn't yield evidence of water.
Because the Phoenix is undergoing adjustment to its software, it has been a bit lax in its duties. We suspect that when it gets going it will get right on it, unless those pesky Martians try to sabotage the project again before the 90 day time frame is complete.
Read More

| CNN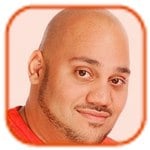 Posted by Andru Edwards Categories: Apple, Cell Phones, Handhelds, Rumors

It seems that there is a bunch of confusion surrounding the price of the newly announced iPhone 3G. I spent a while on the phone the other day chatting with my pal Chris Aarons over at Buzz Corps, and we debated how pricing would work. At the end of the conversation, I realized how silly it was that, despite a price being announce on stage at WWDC 2008, that people still weren't sure if they would be able to get the phone for the $199-299 that was quoted.
So, where does the confusion lie? Well, when dealing with cell phone companies in terms of subsidized phones (and the new iPhone 3G is a subsidized phone,) it all comes down to qualification. Don't believe us? Head on over to AT&T's iPhone 3G splash page. Next to the price of the phone, you will see a neat little asterisk. Scroll down to the fine print, and what do you find? The following:
*Qualified customers only. 2 year contract required. Based on 3G and EDGE testing. Actual speeds vary by site conditions. Based on iPhone 3G (8GB) and first-generation iPhone (8GB) purchases. Requires new 2-year AT&T rate plan, sold separately.
Did you get that? Qualified customers only. And yet, there is no mention of who qualifies. There lies the conundrum. When Steve Jobs announced the price of the iPhone 3G, he made no mention of any sort of qualification that had to be met, and many believed that $199 was the price anyone should expect to pay for the new iPhone. Luckily, InformationWeek was able to get some information out of AT&T's Mark Siegel, which should help in clearing all this up. Looking at what Siegel had to say, here is what we know to be true:
Click to continue reading iPhone 3G pricing: Who qualifies?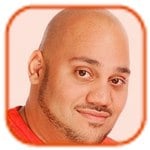 Posted by Andru Edwards Categories: Apple, Cell Phones, Rumors, Software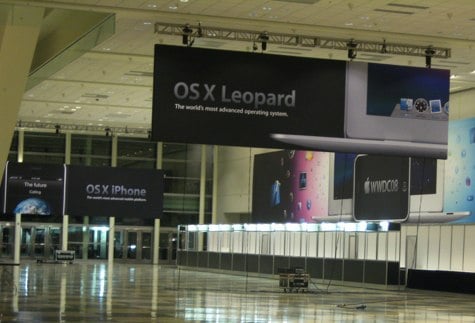 Apple's Worldwide Developer Conference starts on Monday. We already knew what the rumors are. 3G iPhone. OS X Snow Leopard. App Store. iPhone 2.0 firmware. Redesigned iMacs/MacBook Pros. Mac nano. Mobile Me service. Steve Jobs announced as Obama's running mate. Anything we missed?
Anyhow, one thing we can be certain of is that Apple is focusing on the operating system. As evidenced by the spy shot above, OS X Leopard and OS X iPhone should be getting some premium attention. Makes sense, being that this is a developers conference and all. We have one more spy shot for you after the jump.
Click to continue reading WWDC 2008 spy shot images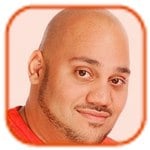 Posted by Andru Edwards Categories: Apple, PC / Laptop, Rumors, Software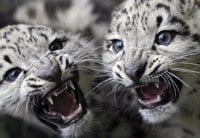 So, word on the street now is that Apple will be unveiling Mac OS X 10.5.6
10.6 in a mere five days at WWDC. Based on the fact that Steve Jobs said that they wanted to get back on track to releasing just about yearly, I started asking people if they thought the successor to Leopard would show up next week, and they all scoffed as if I were some sort of lunatic. Well, now with the reports that TUAW and Ars have receive, it appears that my hunch was correct. Oh, and what will the successor be named? We all know Apple likes to stick with the cats for OS X, and it appears that this time it is going to be "Snow Leopard." You see, this release is all about tightening up speed, stability, and security - not so much about dazzling new features like Time Machine. See? They want to take Leopard, and make it white as snow. That's almost as cute as an iPod nano…
We look to Monday to see what Steve brings us.
Read More

| TUAW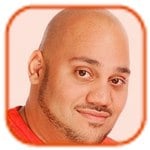 Posted by Andru Edwards Categories: Apple, Cell Phones, GPS, Handhelds, Rumors, Wireless / WiFi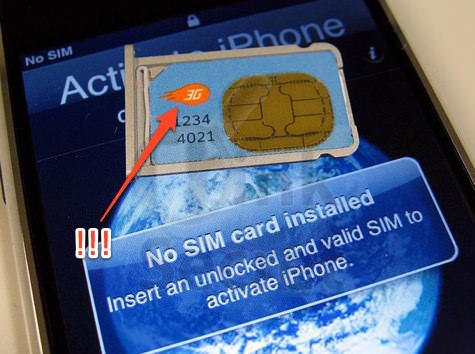 Get this - Fortune is saying that AT&T is going to be subsidizing the cost of the 3G iPhone by $200, which would mean that you could get one of the new phones for $199 USD with a 2-year contract. Now, that isn't as crazy as it seems, as they do this with just about every other phone that they offer. They just haven't been doing it with the first iPhone. Now, to be clear, if you made the decision to buy the phone from an Apple Store, you would be paying the full price.
Other tidbits in the Fortune article state that the new phone will be 2.5mm thinner than the current iPhone (which itself is 11.7mm thick), and that it will also include a GPS chip. Pricing will be $399 for the 8GB version, and $499 for the 16GB model, before subsidies. As with all Apple rumors, we take this one with a grain of salt, but hey, it's Fortune, right?
Read More

| Fortune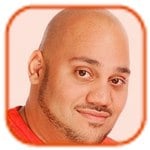 Posted by Andru Edwards Categories: Apple, Cell Phones, Features, Rumors
Gear Live Poll
Will you buy a 3G iPhone?
Thanks for voting in this poll!
Poll Results
Yes, I've been waiting for 3G before buying one

Yes, I will replace my current iPhone with a 3G model

No, I will stick with EDGE iPhone

Yes, I will buy the 3G model and keep my EDGE model

No, I will stick with my non-Apple cell phone

Something else (leave comment below)
Total Votes: 628
Alright, so we know that the 3G iPhone will be in our hands in the next couple of months. What we need to know from you guys is if it is enough to push you over the edge to buy. Do you already own an iPhone? Are you happy with it to the point where you won't be upgrading until it no longer works? Or are you the type to go sell it immediately so you can get the 3G version right away? We know there are even some of you out there who are disenchanted with this whole iPhone thing, and you guys stick with your Blackberrys, Windows Mobile phones, etc. In any case, let us know how all these recent iPhone rumors are affecting your psyche.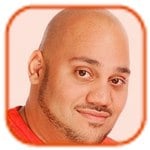 Posted by Andru Edwards Categories: Apple, Cell Phones, GPS, Handhelds, Rumors, Wireless / WiFi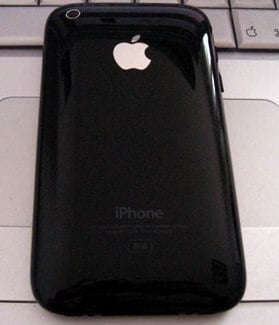 We've been trying not to stir the iPhone rumor pot too much lately, but it seems like details are starting to come out that we believe may just be legitimate. Ryan over at Engadget heard a few things from a trusted source that match up with a couple of things we've heard, plus he got a few things we weren't sure about.
For starters, we had heard that the 3G iPhone would likely be just a tad thicker than the current model, which seems to match up with what we read. Physically, Apple may be doing away with the two-toned back color of the iPhone, opting instead for a smooth black finish. The headphone jack will no longer be recessed into that hole of frustration, and lastly, the thing will have full-on GPS.
Engadget is saying that the next iPhone could ship as early as July. We are thinking it could be as early as June. We know for a fact that there is at least one person here in Seattle who has one, and that the person doesn't work for Apple. Apple typically doesn't seed these things outside of their organization until they are in the last phase of testing. That leads us to believe that these are just about ready to launch. What do you think? This is all a bit too exciting for us, as we die a little inside with each day that passes where we have to use EDGE on our iPhone.
Read More

| Engadget

© Gear Live Inc. – User-posted content, unless source is quoted, is licensed under a Creative Commons Public Domain License. Gear Live graphics, logos, designs, page headers, button icons, videos, articles, blogs, forums, scripts and other service names are the trademarks of Gear Live Inc.