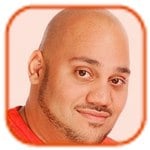 Posted by Andru Edwards Categories: Features, Music, Portable Audio / Video, Product Reviews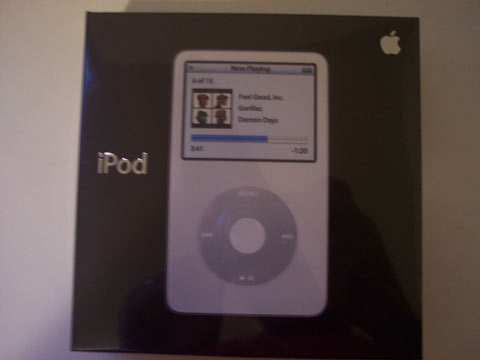 So just about everyone who could afford it picked up the new 5th generation iPod with video support, and it seems that it is a hit. Adding to the myriad of reviews out there, we figured we would do a no-nonsense "quick review" of the device. Not sure what that means? Well, after writing the full review twice and having it turn up as garbled text both times, we have shortened it to hit the keys point to save from further frustration that would result in throwing an iMac through the window.
Click to continue reading The Gear Live iPod video Quick Review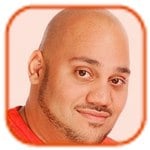 Posted by Andru Edwards Categories: Accessories, Features, Portable Audio / Video, Product Reviews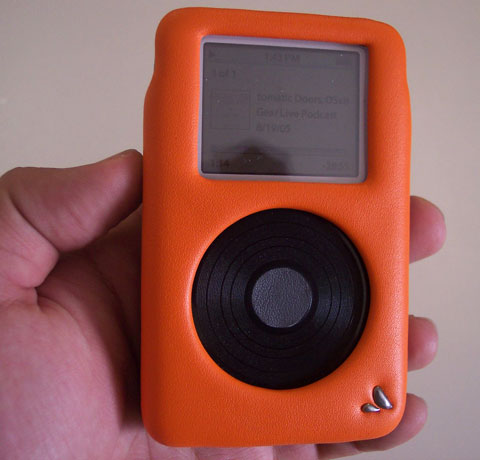 We have finally got our hands on one of those new Vaja iVod DJ cases for the 4th generation iPod, and this one was made using the Vaja Choice service. Vaja has enabled us to dress our iPod to the nines in Gear Live colors as you can see from the image above. We took tons of images, and give our full impressions, after the jump.
Click to continue reading Vaja iVod DJ With Vaja Choice Review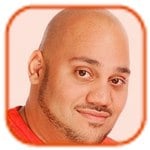 Posted by Andru Edwards Categories: Accessories, Features, Portable Audio / Video, Product Reviews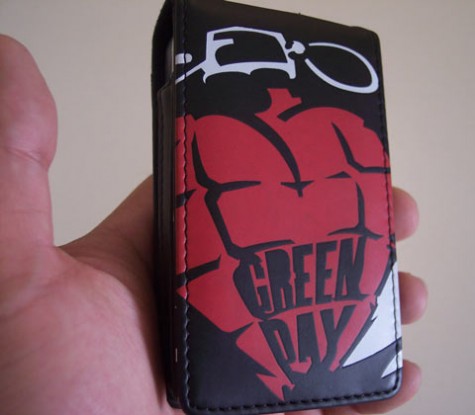 Check out this Green Day iPod case. I know, it is a little strange to carry around a case featuring the name of a band, but if you are a fan, this deserves a closer look. I have been testing the case for a few days, and I am impressed with the protection that it offers the iPod. I squeezed a 60 GB iPod photo into this thing, and immediately I knew that this thing could be dropped from a reasonable height without worry. The iPod pocket is lined with a very soft felt, eliminating the worry of scratching up your device by inserting and removing it from the case. The front flap covers the face of the iPod, and is held in place with a magnet just strong enough to hold the case closed - but not strong enough to get to your data.
Flipping the case open, you will find that the only portion of the iPod that is not protected is the click wheel, giving you full access to the functionality of the unit. On the underside of the flap are the words "American Idiot". Even with a closed case, the top and bottom ports of the iPod are available for your use. The Green Day case also has an integrated belt clip, one of the few that I have seen that isn't too bulky to be comfortable. The case is available at Circuit City, and comes with a $2 off coupon for a music purchase from the store, along with a card for two free music downloads, and a couple of fan club stickers. Check out the rest of the images after the jump.
Click to continue reading Green Day iPod Flip Case from Pacific Design
Posted by Rob Stevens Categories: Cell Phones, Features, Portable Audio / Video, Product Reviews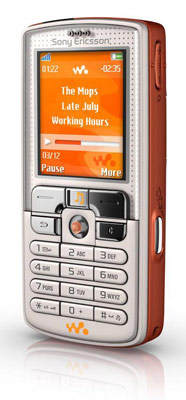 While the Motorola ROKR landed with a dull thud, SonyEricsson has launched the W800 with almost no noise at all. While the this phone doesn't have iTunes (although you can hack it to make it seem like it does), what it does have is far more features and versatility than the ROKR, and a price tag to match. Let's get the hard part out of the way. The W800i is going to cost you $499. No service providers in the US are offering the phone at this point, which means that you're not going to be able to get a subsidy to offset the cost of the phone. What do you get for your five Benjamins? Let's take a look ...
Click to continue reading SonyEricsson W800i Walkman Phone Review
Posted by Rob Stevens Categories: Cell Phones, Product Reviews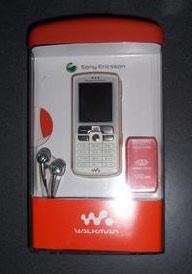 We got a new toy in the mail today, which will be reviewed in full soon enough here on Gear Live. First impressions are incredibly positive. The packaging is quite impressive, and there is what feels like a ton of stuff packed into the attractive "bubble". The headset cord comes in two pieces, with the microphone portion containing a standard 3.5mm headphone jack so that you can use any cans you want. The installed headphones are a variation on their popular in-ear headphones (of which I already own a pair), and the sound quality is excellent. Read on for more thoughts.
Click to continue reading Sony Ericsson Walkman W800i First Impressions

Posted by Kristin Wenzel Categories: Product Reviews, Software
I was skeptical at first, but I need to get organized - I'm moving soon. The biggest task is tackling my immense personal media library, from books to games to music. I'd heard some good stuff, and I was ready to pull my hair out, so I finally heeded the advice I'd gotten from some of my colleagues and checked out Delicious Monster to read about their award winning program, Delicious Library.
Get your Mac, a webcam, and Delicious Library and rediscover your home library. Just point any FireWire digital video camera, like an Apple iSight®, at the barcode on the back of any book, movie, music, or video game. Delicious Library does the rest. The barcode is scanned and within seconds the item's cover appears on your digital shelves filled with tons of in-depth information downloaded from one of six different web sources from around the world.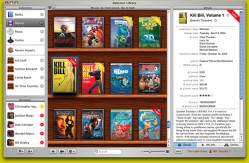 This claim of user-friendliness and siren's call of a more organized life were enough to draw me to Delicious Library, a one-stop media cataloguing program for Mac OS X.
I am anal about organization. However, being the flaky artist that I am, I get a little too distracted and the mess just piles up and then I get too frustrated to organize, and then become frustrated with the lack of organization, and it becomes a vicious circle. However, with the help of Delicious Libary, I may become one. Strong words? Maybe. But I've never had so much fun and been so productive at the same time. This brilliant, seamless piece of software may well turn my organizational life around – and that's no small feat.
Click to continue reading Tasty Reviews for Delicious Library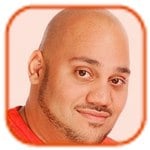 Posted by Andru Edwards Categories: Product Reviews, Video Games
Many have been looking forward to Burnout Revenge, which just hit stores today. Our sister site Playfeed has posted a look at the new game, citing that it just isn't evolutionary enough from the previous game in the series, Burnout 3. Anyone else pick up this title? Let us know your thoughts.
Posted by Devin Categories: Features, Movies, Product Reviews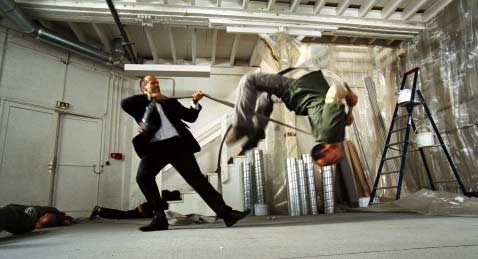 I decided on Friday night that, since I had nothing better to do, I would head to the theater in my little country town and hope that something decent was showing. How pleased I was to see that The Transporter 2 was on. I caught the first showing and was surprised that there was hardly anyone in the theater. From what little I knew about the film, I figured I'd have a good time, and by the time the film ended I knew I had figured right.
Like I had said in last weeks article, if you like to go to movies expecting everything you see to be 100% realistic, you probably won't enjoy this film - but if you're like me, willing to overlook a few slightly unbelievable and unrealistic scenes in hopes of being extremely entertained, you'll have a great time watching this story play out on the silver screen. Statham is great as Frank Martin, the driver for hire who's latest job has him chauffeuring the son of a government official to and from school. When a drug lord kidnaps the boy and injects him with a deadly virus, Frank takes it upon himself to find the antidote, a journey which brings quite a bit of fun to the screen.
Click to continue reading The Final Cut: The Transporter 2 Reviewed
Posted by Rob Stevens Categories: Accessories, Features, Peripherals, Product Reviews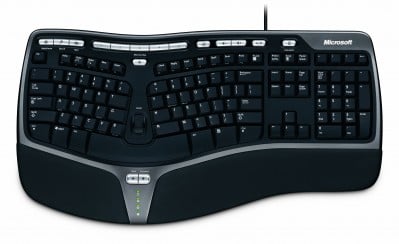 Let me get this out of the way; I'm a keyboard snob. I've been typing for a very long time, and still have fond memories of my IBM Selectronic (with its very nice "buckling spring" keys), and my old Northgate Omnikey, with those wonderful programmable keys. (Geek Cred +2) I hoard keyboards like they're going out of style, because you never know when a company will stop making the perfect keyboard and leave you out in the cold.
However, since developing some severe RSI in both wrists, I had to move to a more ergonomic keyboard; a standard "straight" keyboard would have my wrists in flames in less than 10 minutes. Microsoft was one of the first companies to perform major research into ergonomics, and developed the first of what would become known as a "split" keyboard, branded under the "Natural" moniker.
The first of the Natural keyboards, the Natural Pro, was a gift from the almighty himself. As with any new keyboard layout, it took some adjustment to get used to it, but I noticed right away that the RSI that I'd developed was gone. Spending a little more time practicing with the keyboard, and my typing speeds improved even over my previous scores, and the keyboard had a fantastic "aural" response. You could hear me typing on that thing from across the office. There were some differences in the key layout, however, that had some people up in arms. Microsoft would change the layout of the 3x2 key grouping that contained the Delete, Insert, Home, etc., to a 2x3 layout of only five keys … removing the Insert key entirely and doubling the size of the Delete key. It was a controversial change, but one I came to embrace.
A series of refinements came to the line, starting with the slimmer "Elite" model, which many people still swear by to this day, but which also came with a new key configuration for the arrow keys, changing the "inverted T" to a cross layout with smaller keys. The Natural Multimedia would come later, adding specific keys for commonly used programs, as well as a two-port USB hub, but it retained that wonderful loud "clackity" sound. After that, it seemed as if there was no further development into the ergonomic keyboard design, and rumors started to spread that they simply weren't selling as well as they should.
Finally, when Microsoft jumped into wireless technologies, they released a wireless desktop set called the Wireless Optical Desktop Pro. It features a wireless version of the Natural Multimedia with slick translucent keys, and while the sound had been reduced somewhat, it was still easy to hear when you were making good contact with the keys. They also introduced an "F-Lock button, which can convert your F-keys into dedicated keyboard shortcuts for New, Open, Close, etc. Today, I use the Natural Multimedia at work, and the Natural Desktop Pro at home. The wireless feature ended up being far more useful than I had anticipated … sometimes it's nice to be able to just grab the keyboard and toss it aside to give yourself more desk space.
Click to continue reading Microsoft Natural Ergonomic Keyboard 4000 Review

Posted by Sparky Categories: Cell Phones, Features, Product Reviews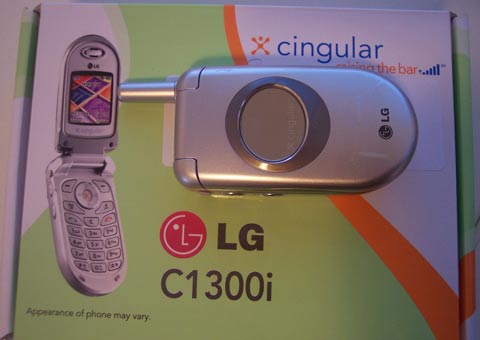 We recently got o ur hands on the LG C1300i, an entry level cell phone available from Cingular. The thought behind this was that not everyone absolutely needs the high-end phones out there, but do need something functional. The C1300i is a fairly low end phone, but has some great features - some of which go unadvertised. Being true gadget fans, we went into this review without high hopes and came away impressed with a few key points on this phone. Read the full Gear Live review after the jump for more.
Click to continue reading Cingular LG C1300i Cell Phone Review
© Gear Live Inc. – User-posted content, unless source is quoted, is licensed under a Creative Commons Public Domain License. Gear Live graphics, logos, designs, page headers, button icons, videos, articles, blogs, forums, scripts and other service names are the trademarks of Gear Live Inc.