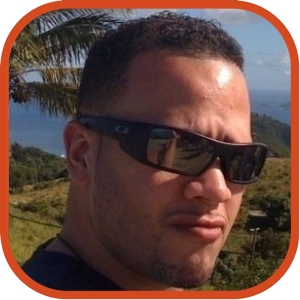 Posted by Jason Diaz Categories: Microsoft, PC / Laptop, Product Reviews, Software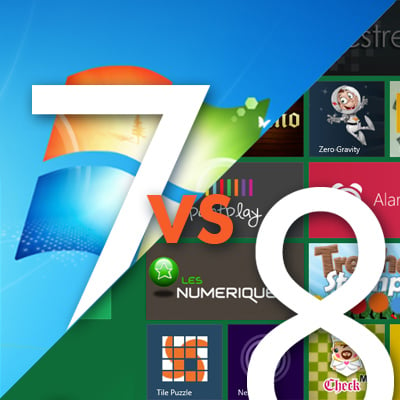 Consumer Reports thinks that, for the time being, you're better off sticking with Windows 7 and waiting on Windows 8. The consumer ratings publication provides pros and (mostly) cons of Windows operating systems, and ultimately comes to the conclusion that updating to Windows 8 is not worth the upgrade at its current state. Windows 8 has received mostly lackluster reviews from technology internet sites. Most of them being flummoxed as to what went into the decision-making at Microsoft. Still, according to Microsoft, Windows 8 is selling faster than when Windows 7 launched; but there's a question as to where these numbers came from. Here's an excerpt:
"A quick look at our newest computer Ratings tells an interesting story: Despite the release of the new Windows 8 OS, many Windows 7 computers are still available from a variety of retailers, and several top our Ratings. If you're shopping for a new computer right now, there are some good reasons to opt for Windows 7." - Consumer Reports
Read More

| Consumer Reports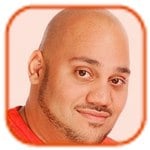 Posted by Andru Edwards Categories: Accessories, Features, Handhelds, Microsoft, PC / Laptop, Product Reviews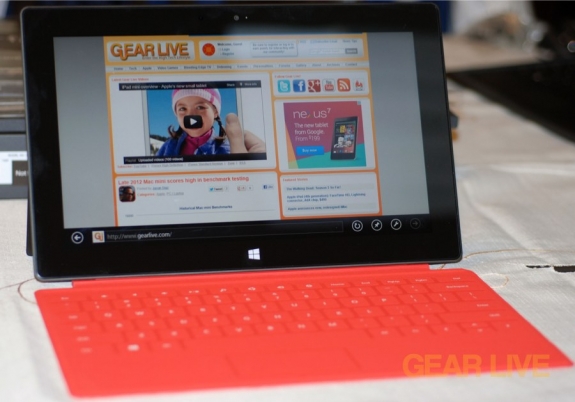 The release of the Microsoft Surface is a much bigger deal that the average consumer might perceive it to be. You see, Surface marks Microsoft's entry into the PC market. That might sound odd, but it's true--Microsoft may be the maker of Windows, but it's always been Microsoft partners who build the PCs. I'm talking about companies like Samsung, Toshiba, Dell, Lenovo, and others. Now, Microsoft is competing directly with its partners, hoping that consumers will flock to its Surface in a major way.
Similar to Apple's approach, Surface is the marriage of first-party software with first-party hardware. Microsoft controls the whole platform. If devices like the Mac, iPhone, iPad, and even Microsoft's own Xbox 360 have shown us anything, it's that when you have the ability to control the whole device as it pertains to software and hardware functionality, you can generally make a better product than you could using third-party ingredients. It's never a guarantee, but we think it puts you in a better spot to shine. That is the hope that Surface brings. Does Surface succeed in carving out its own niche, and filling a need that consumers are willing to pay to remedy? That's what we are here to discuss, so following along with us for our Microsoft Surface RT review.
Click to continue reading Microsoft Surface review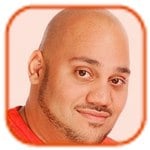 Posted by Andru Edwards Categories: Accessories, HDTV, Product Reviews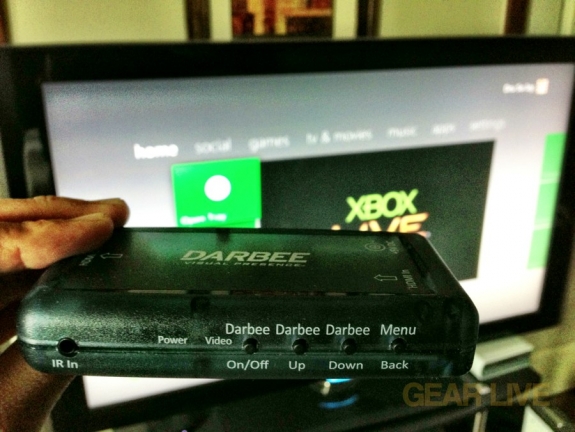 We always recommend that HDTV purchasers get their sets calibrated professionally--you just end up getting way more for your money when your television is optimized for your viewing environment. When we heard about the Darbee Darblet from DarbeeVision, we were skeptical. This is supposed to be a gadget that you integrate into your home theater setup that adds a level of sharpness and depth that's unreachable even with hours of calibration. Sounds like a cheap gimmick, right? Well, we decided to put the Darblet to the test, and…wow…we came away impressed. Join us in our Darbee Darblet review to find out why every videophile needs to pick one of these up!
Click to continue reading Darbee Darblet review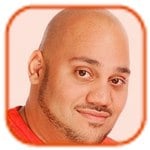 Posted by Andru Edwards Categories: Features, Handhelds, Product Reviews, Videos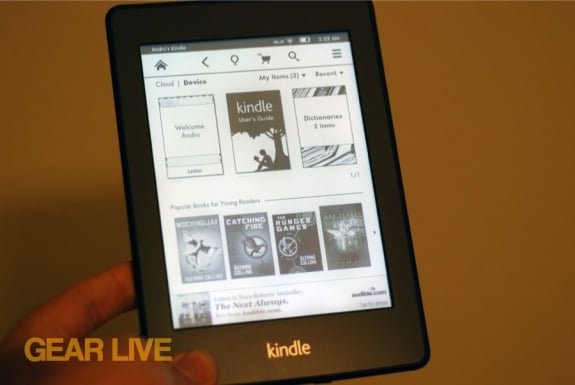 Amazon introduced the Kindle Paperwhite alongside the rest of the completely refreshed Kindle family at a special event on September 6, and some would argue that, despite three new Kindle Fire tablets being introduced, the star of the show was the Kindle Paperwhite. The Paperwhite takes the place as the top E Ink Kindle model. Avid readers still have an affinity towards E Ink displays, as they're much easier on the eyes than backlit tablets and smartphones. The problem with them is that they generally are unusable in the dark. Barnes & Noble solved that with its Nook Simple Reader with GloLight, and now Amazon has its own solution with the Kindle Paperwhite, which features a front-lit, touch-sensitive, E Ink display. Does it live up to the hype? Follow along in our unique take on a Kindle Paperwhite review to find out.
Click to continue reading Amazon Kindle Paperwhite Review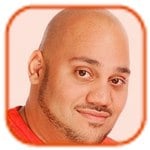 Posted by Andru Edwards Categories: Apple, Cell Phones, Features, Handhelds, Product Reviews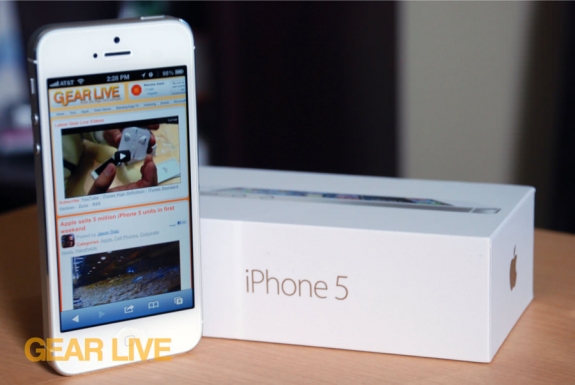 Apple unveiled the iPhone 5 to the world on September 12th, and just 9 days later, the smartphone launched. Pre-sales hit over 2 million in the first 24 hours alone, showing that there was massive demand for the newly redesigned iPhone. According to Apple, it's the best iPhone it's ever made, but does it live up to the hype? More importantly, os it worth your hard-earned cash? We've had a few days to use the iPhone 5 (as well as its built-in operating system, iOS 6,) and we're ready to break it all down in our iPhone 5 review.
Click to continue reading iPhone 5 review: This is the iPhone we've been waiting for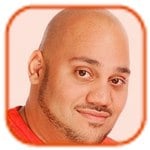 Posted by Andru Edwards Categories: Features, Handhelds, Product Reviews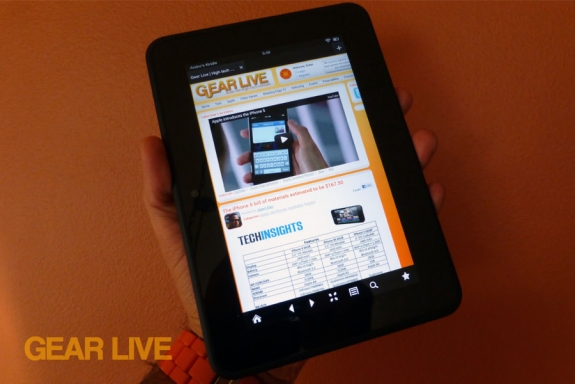 When Amazon announced the new Kindle Fire HD, it took a firm step into its transformation into a major player in the consumer electronics space. Jeff Bezos sold the fact that Amazon was in the unique position that allowed it to create a device that was about more than just the gadget itself--Kindle Fire is all about the services that are tied to it, and the Fire HD in particular is the cream of Amazon's tablet crop. Then the price was announced, and at $199 heads turned and ears perked. A high quality tablet that is completely tied in to Amazon's ecosystem with a great display, rock solid Wi-Fi, and stereo speakers for $199? Is it too good to be true, or is the Kindle Fire HD the king of the 7-inch tablet roost? Read on for our full Kindle Fire HD (7-inch) review.
Click to continue reading Amazon Kindle Fire HD review (7-inch)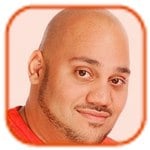 Posted by Andru Edwards Categories: Apple, PC / Laptop, Product Reviews, Storage, USB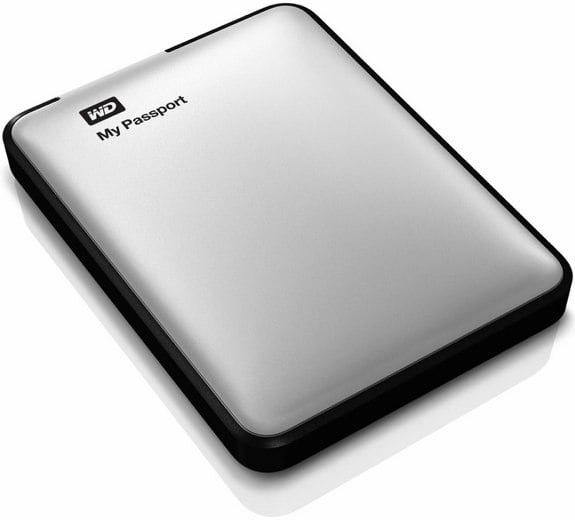 Western Digital recently released its updated My Passport for Mac 3.0 portable hard drive, which now offers increased storage capacity, a redesigned look, and the welcome addition of USB 3.0 compatibility. Western Digital wants this to be the drive you turn to if you want a drive that offers fast speeds, secure encryption, and a level of fashion. Does it live up to its promise? That's what we aim to cover in our My Passport for Mac review.
Click to continue reading Western Digital My Passport for Mac 3.0 review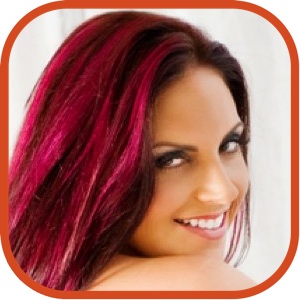 Posted by Taylor Peterson Categories: Features, Household, Product Reviews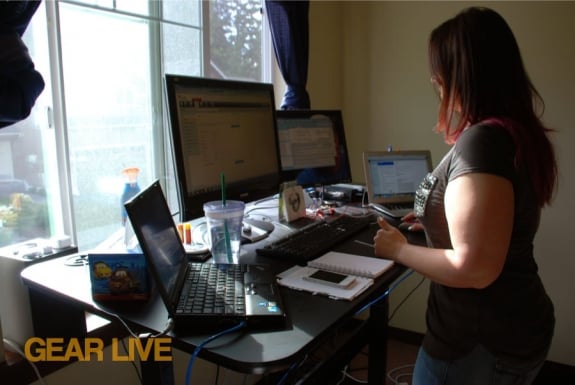 If we had to guess, we'd bet you're probably sitting down right now. The problem is that sitting down for extended periods of time, all day every day, may be killing us. You may have heard of stand-up desks, and maybe even know someone who works in an office where this is an option. They don't choose these just to be different--the goal is to keep your metabolism, and muscle electrical activity performing optimally. This is where GeekDesk comes in. The company sells two different models of desks that allow the user to stand or sit--the best of both worlds. We received the GeekDesk Max for review, and it just so happens that this feature would turn out to be more than a simple Gear Live gadget review. Sure, sitting down may be killing us, but my story isn't about life expectancy, but rather bad posture and what I referred to as "my pinch" for at least 6 months. Read on for more on that, along with our full GeekDesk Max review.
Click to continue reading GeekDesk Max review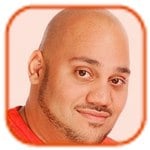 Posted by Andru Edwards Categories: Accessories, Features, Household, Product Reviews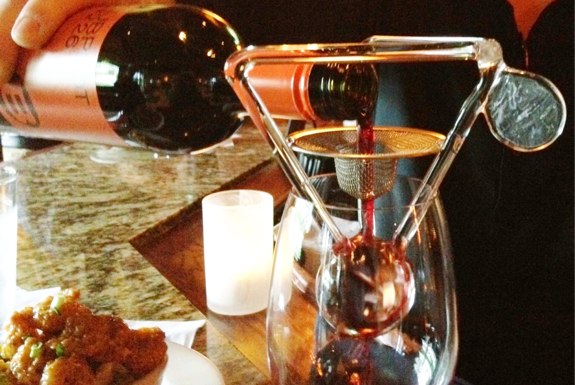 The Vinamor wine aerator, the concept of Gary DeJohn, was featured on ABC's Shark Tank with an impressive demo that showcased just how well the product can bring out all the flavors of a just-opened bottle of wine. The Vinamor has a stainless steel filter and a glass sphere that work together to aerate your wine. It sits atop your wine glass, and as you pour wine through the filter, it's exposed to the large surface area of the glass sphere, which in turn softens tannins and brings out flavor while the filter catches and sediment that may be present. Or, at least, that's the promise. How well does the $40 Vinamor actually perform? Join us in our full Vinamor review for our thoughts.
Click to continue reading Vinamor wine aerator review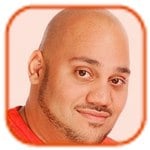 Posted by Andru Edwards Categories: Features, Product Reviews, Transportation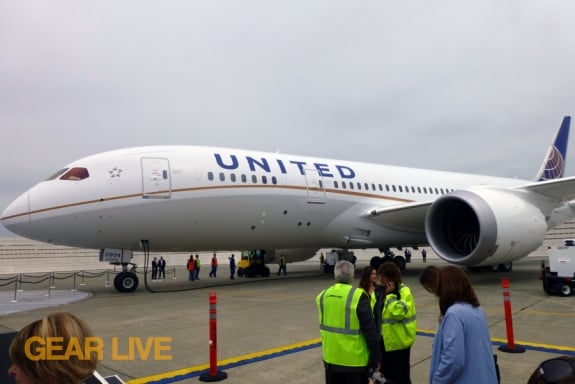 Yesterday morning we let you know that we'd be spending some quality time with Boeing's 787 Dreamliner, the current talk of the aviation world. While All Nippon Airways in Japan took delivery of its Dreamliner last year, we've been waiting to find out which US-based carrier would be the first to have its livery emblazoned across the fuselage of Boeing's current flagship aircraft. As it turns out, that carrier is United Airlines.
Click to continue reading Boeing unveils United 787 Dreamliner, gives us a tour of the new aircraft
© Gear Live Inc. – User-posted content, unless source is quoted, is licensed under a Creative Commons Public Domain License. Gear Live graphics, logos, designs, page headers, button icons, videos, articles, blogs, forums, scripts and other service names are the trademarks of Gear Live Inc.