Posted by Edwin Soto Categories: Mods / Hacks, Music, Video Games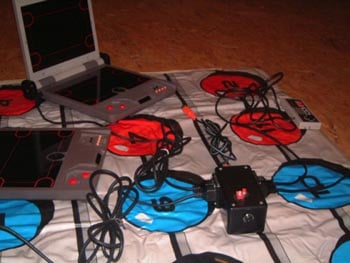 Assuming that you may not know what MIDI controller is, here's a quick explanation:
MIDI (Musical Instrument Digital Interface) is a computer based musical language that has been expanded since it's inception in the early 1980's. MIDI controllers come in many forms - most of them keyboard format. They are used to "control" the respective software integrated with the host computer.
So what did Jeff Hoefs do that is so special? He made a cool mod using a Nintendo Power Pad and Power Glove, which he can now use as a MIDI controller. Nerds unite and check out this site.
Read More

|MAKE: Blog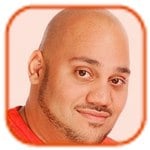 Posted by Andru Edwards Categories: Music, Portable Audio / Video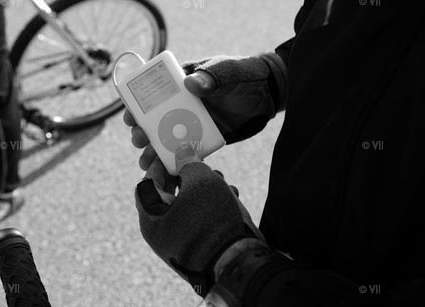 Interestingly enough, it turns out that some of the music on President Bush's iPod is pirated if you go by RIAA standards. You see, George made it public knowledge that a friend of his loaded some of his music onto his iPod. That would be like you syncing your iTunes library to your friends iPod. That would be a no-no, no matter how ridiculous it sounds. So the folks at Downhill Battle want to make an example. They have registered the domain name SueThePresident.com in the spirit of showing the RIAA how stupid all these lawsuits are. If they were so concerned about piracy, why not sue George Bush? After all, he admitted it. If you want to run SueThePresident.com, Downhill Battle is giving the domain away. They will even host it for you if your content is deemed worthy.
Read More

| Downhill Battle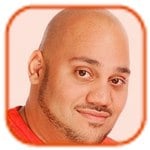 Posted by Andru Edwards Categories: Features, Music, Product Reviews

Another edition, another change to the Playlist format. From now on, we're going to be reviewing discs weekly, with two releases reviewed in each edition. This week we have a disc from indie rockers Hot Hot Heat, and another solo release from singer/songwriter Ben Folds, enjoy.
Click to continue reading Gear Live Playlist: Hot Hot Heat and Ben Folds Album Reviews
Posted by Edwin Soto Categories: Features, Music, Product Reviews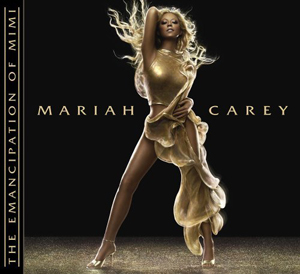 It has been promoted as The Return of the Voice. Saying that the "old" Mariah is back. She's been co-producing her own albums since 1990 and has more #1 hits than any other female artist in history. She is the #1 selling recording artist of the 1990's. Is she back? Where did she go? Does this album have what it takes to redeem her credibility as an artist? Producer? Singer? I decided to take a trip home with Mariah on her emancipation journey partly expecting to be disappointed, but also hopeful of all the hype this album has created. Does it live up? We take a track-by-track look at Mariah's latest.
Click to continue reading Mariah Carey: The Emancipation of Mimi Review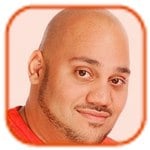 Posted by Andru Edwards Categories: Music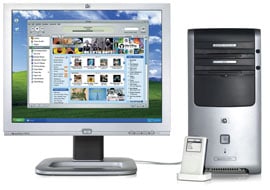 CNet has posted a good read on what you can and cannot legally do with the music that you purchase online or in-store. It was surprising to me that if you want to back up to cassettes, the Audio Home Recording Act (AHRA) of 1992 makes an explicit exemption for cassette backups. But it doesn't apply to backing up your collection to a computer. Which means, if you rip your collection to your computer and then upload to any of the various portable music players or backup to a CD you are performing an illegal copyright act. This is under the strictest interpretation of U.S. copyright law. There are exceptions such as iTunes, which encourages you to make as many custom CDs as you'd like - as long as the playlist changes.
Read More

| CNet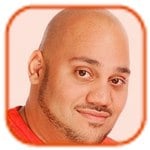 Posted by Andru Edwards Categories: Music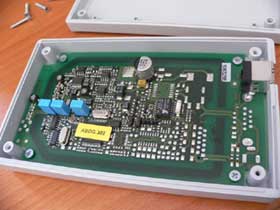 Dividuum at blOrg has found a way to use RFID tags with a reader to store and play back music. SID-files are stored on RFID tags. When you put the tag near the reader, the music is played on the stereo. A stack of tags placed near the reader will act as a playlist. Remove one of the playing tag, and the program will play the next SID-File in the stack. This could be the most awkward way of listening to music ever… but a great use of technology.
Read More

| bl0rg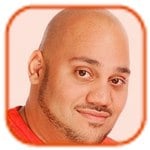 Posted by Andru Edwards Categories: Music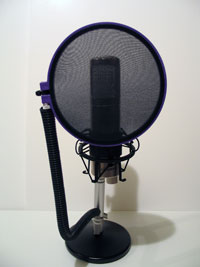 It's always a great joy to mod things for no real reason other than to be able to prove to yourself that you could do it. It's even better when the mod actually has a purpose, and can save you some serious cash at the same time. A perfect example of this is Jake Ludington's homemade microphone pop screen. You see, when talking into a mic, the p's and b's can sometimes spike the audio signal which distorts the sound. A pop screen solves this problem, as it absorbs whatever it is that causes that spike in the first place. I have casually shopped for pop screens before, and they aren't cheap. That is what makes Jake's so appealing. All you need is a 6" embroidery hoop, generic pantyhose, 1/2-inch split flex tubing, 2 feet 10-2 wire, 7.5" black zip ties, 1 1/4" compression fitting (from plumbing), and a 1" spring clamp. Get all this together, and it will cost less than ten bucks. Full assembly instructions at Jake's site.
Read More

| Jake Ludington's MediaBlab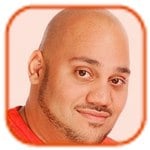 Posted by Andru Edwards Categories: Features, Music, Product Reviews

We have a schizophrenic Playlist this time, with rappers and beach bums, with soul singers and pop bands. 50 Cent is back, as is Jack Johnson, both trying to improve over their last successful releases. Sage Francis furthers the cause of underground hip-hop, and Sam Cooke is our collection essential, putting a little soul in this dreary winter. Enjoy the Playlist, and let me know what you think in our forums or by emailing me.
Click to continue reading Gear Live Playlist: 50 Cent, Jack Johnson, Sage Francis, Aberfeldy, Sam Cooke

Posted by Oscar M. Cantu Categories: Music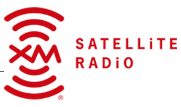 XM has announced a price increase for their satellite radio service effective April 2, 2005. The increase will raise the now current rate for their basic service of $9.95, to $12.95 per month. They are also going to include two premium services free of charge. Those two premium services are XM's online radio access, and the show "High Voltage". These two services are currently offered at a price of $3.95 and $1.95 respectively. What seems to be a good deal deserves a second look. Sirius, XM's competitor, offers online satellite radio free of charge on its basic plan of $12.95 and states it will allow subscribers to listen to Howard Stern free of charge when his program launches next year. If you are a current subscriber, you may lock in the rate of $9.95 for the next 5 years. Now that these two services will be the same price, the decision on what service to purchase will be based on what truly matters – hardware price and quality. Expect to see hardware price cuts in the coming months.
Read More

| Reuters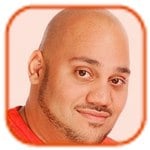 Posted by Andru Edwards Categories: Music, Portable Audio / Video

You know, I have been playing around with Napster To Go for about a day or so, and I must say it is growing on me. The interface could use a little work, but the fact that I can pull up and listen to just about any song at any time is the real draw (and, the point actually) of Napster To Go. You can queue music up to play tracks one after another, or download the music to be transferred to a portable audio device. The price here is very minimal as well - you pay less for Napster To Go than you would buying one CD per month. I am going to continue messing around with it, and let you know what I think after the trial is over.
© Gear Live Inc. – User-posted content, unless source is quoted, is licensed under a Creative Commons Public Domain License. Gear Live graphics, logos, designs, page headers, button icons, videos, articles, blogs, forums, scripts and other service names are the trademarks of Gear Live Inc.