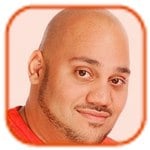 Posted by Andru Edwards Categories: Accessories, Music, Portable Audio / Video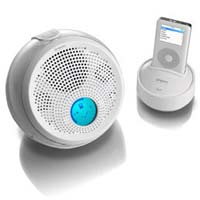 Defenitly one of the most uniquely designed iPod accessories we have seen - the iBall. Made by Oregon Scientific, the iBall is a wireless speaker system that uses 2.4 GHz technology to broadcast up to 100ft. It runs 6-8 hours after a full charge or you can plug in the AC adapter as well. The iBall will be out later this year for a mere $300.

Read More

| Oregon Scientific via Gizmodo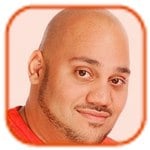 Posted by Andru Edwards Categories: Music, Software

Apple just released iTunes 5.0.1 into the wild:
iTunes 5 features a new even more powerful instant search, including the new Search Bar which helps you find exactly what you are looking for in iTunes or from among 2 million songs on the Music Store, folders for organizing playlists, and new Parental Controls for music, music sharing and podcasts. iTunes 5.0.1 features several stability improvements over iTunes 5.
Those stability problems mentioned include disappearing music and random crashes. Here's to hoping all that is taken care of. Mac users, check Software Update for the download.

Read More

| iTunes

Posted by Kristin Wenzel Categories: Music, Peripherals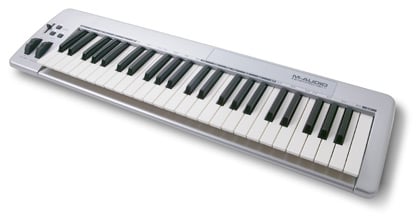 I recently purchased the M-Audio Keystation 49e midi controller and I'm very pleased with it. For the price (129.99) you can't really beat the quality, which doesn't surprise me given M-Audio's impressive track record.

The keys are slightly weighted, making them feel a lot more like a real piano, and they are thankfully noiseless no matter how hard you tend to rock out when you play, avoiding that irritating clicking that can come with some midi keyboards. Another great feature: it's USB powered, so you don't need to plug it in. However, if you feel the need, it takes a fairly standard 9V DC power adapter. For even more flexibility, you can connect via USB or MIDI, so even if you lack MIDI capability on your current system, you can still use the device. That's a great feature for people looking to try out electronic music production without buying a ton of gear. Along with a 49 key spread, it features pitch blend and modulation wheels, foot-pedal input compatibility, the keyboard is velocity sensitive, and has a volume control knob. It includes drivers for not only previous versions of Windows, but also for Mac OS 9, making it a very versatile device.

The Keystation 49e is a great choice for seasoned electronic musicians as well as beginners just looking into having a keyboard to play with. On a scale of 10, I'd give it a 10, for sure.

Read More

| M-Audio Keystation 49e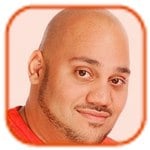 Posted by Andru Edwards Categories: Cell Phones, Music, Portable Audio / Video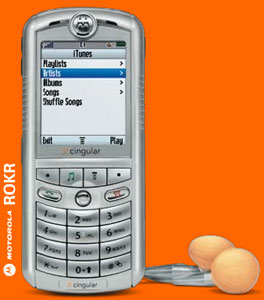 Finally, after months and months of speculation and delay, the Motorola ROKR E1 iTunes Phone has been unveiled. The phone can hold up to 100 tracks which can be accomplished in one of three ways - random autofill through iTunes, purchased over the air at $2 per track (double what it would cost if you just waited and did it at home), and manual loading over USB. Interestingly, the phone features external stereo speakers which can be used to play music, but also includes a headphone plug. In fact, the phone comes with headphones (pictured above) that also have a mic built-in. This makes it easy to set up the phone to pause the current track to allow you to take a call without having to bust out the phone. The bad news? The only way you will be able to use this one is if you are already - or are willing to become - a Cingular customer. It's $250 USD with a 2-year contract. Here are a few more details:
iTunes player with dedicated key
850/1800/1900 MHz Tri-band GSM/GPRS
Weight: 3.77 oz
Dimensions: 4.25 x 1.81 x .80 in
Display: 176 x 220, up to 262 colors TFT
VGA Camera, 4x Zoom, flash and video record
Music Tones
Bluetooth Capable for voice calls
Speakerphone
Talk Time: Up to 9 hours/560 min
Standby Time: Up to 9 days/230 hrs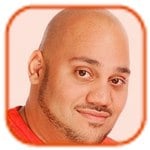 Posted by Andru Edwards Categories: Music, Portable Audio / Video, Software

Steve keeps the goods coming with the announcement of an iTunes update that will be available later today. iTunes 5.0 includes a host of updates, some major, others subtle. One change within the Music Store is the addition of album reviews. There are already at least 1000 album reviews in version 5.0, so it shouldn't be too hard to see what they look like once the download becomes available. On the Windows side of things, iTunes will now be able to sync Outlook contact and calendar data to the iPod (iTunes Mac has been doing this with Address Book and iCal). There are also improvements to how iTunes handles shuffled music, adding in a Smart Shuffle feature, allowing you to tweak just how random you want the music to be.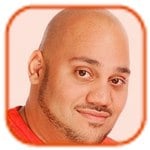 Posted by Andru Edwards Categories: Music, Portable Audio / Video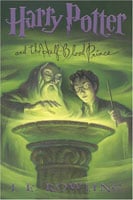 During this morning's keynote, Steve Jobs just announced a new iPod that is inspired by a third party. With the announcement that all six Harry Potter novels will be available in audio form exclusively to the iTunes Music Store, Steve also made it known that Apple has made a Harry Potter iPod, which will have Hogwart's crest etched into the back. The Apple Store is now down, which means that we can expect to see the Harry Potter iPod, along with the other new products being introduced, within the next couple of hours.
Posted by Edwin Soto Categories: Internet, Music
The Music Genome Project is behind this service. It used to be an invitation only service, similar to Gmail, and its features that sound pretty impressive. It uses an end-user rating system where you rate whether you like what is playing or not.
A new service allowing you to create your own radio station, shareable with friends, and made up with as many, custom-created and personalized music-channels as you like has made its public debut in the last few hours.
Basically, it's like Yahoo! Launch, except extremely customizable and sharable. This cool service costs $36 for a year or $12 for 3 months.

Read More

| Pandora via Lockergnome

Posted by Kristin Wenzel Categories: Corporate News, Music, Portable Audio / Video

Those pesky music industry execs are at it again - and this time they're looking not to take on file-swapping college kids or bootlegged CDs. Their next target? Apple's wildly popular iTunes music service, which revolutionized and breathed life back into the (legal) music market with their simple pricing scheme (.99 per song, no matter what song it is) and easy-to-use service. The industry, who once hailed iTunes as a savior of sorts, now seem to have changed their… well… tune.
A sore point for some music executives is the fact that Apple generates much more money selling iPod players than it does as a digital music retailer, leading to complaints that Mr. Jobs is profiting more from tracks downloaded to fill the 21 million iPods sold so far than are the labels that produced the recordings.

Andrew Lack, the chief executive of Sony BMG, discussed the state of the overall digital market at a media and technology conference three months ago and said that Mr. Jobs "has got two revenue streams: one from our music and one from the sale of his iPods."

"I've got one revenue stream," Mr. Lack said, joking that it would require a medical professional to locate. "It's not pretty."
Excuse me while I laugh myself stupid. I'm sure Mr. Lack is nowhere near the soup kitchen, if he's the chief executive of Sony BMG. I read things like this and just about always fail to see where these top-dollar executives find the sense of entitlement they always seem to develop as soon as anyone besides them is making any money.
Read More

| NY Times

Posted by Sparky Categories: Accessories, Music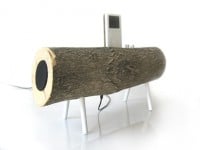 Our sister site, I4U News, has a great story on a post of a more literal sense - the iPod dock made from a tree. The dock is made from an actual log and features stereo speakers poking out from either end, used to play music from the iPod which can be docked in it's top. This brings to mind a calming evening at home listening to the classics on an audiobook. Were I to have one I would keep it in the fireplace - the perfect statement about technology and nature blended together.

Read More

| House Special via I4U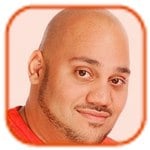 Posted by Andru Edwards Categories: Music, Portable Audio / Video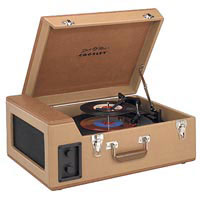 This one is a throwback to the days of simpler, static-ier, music. The Crosley Traveler Turntable is a portable, all-in-one jukebox that will hold and switch out 6 records of similar size and speed using Crosley's Stack-O-Matic technology. The turntable even has speakers built-in to the sides, so all you need to add is the electricity (AC adapter provided) and music. At $180 USD, it's like an iPod shuffle for Grandpa!

Read More

| Crosley Radio via Cool Hunting
© Gear Live Inc. – User-posted content, unless source is quoted, is licensed under a Creative Commons Public Domain License. Gear Live graphics, logos, designs, page headers, button icons, videos, articles, blogs, forums, scripts and other service names are the trademarks of Gear Live Inc.