Posted by Hector Martinez Categories: Accessories, Cameras, Cell Phones, Handhelds, Misc. Tech, PC / Laptop, Portable Audio / Video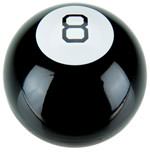 When I first read MobilePC's "Greatest Gadgets" article in the magazine's print edition, I remember thinking to myself: "This is one of the best gear articles I have ever read. Thank God I didn't cancel my subscription." Two days later, I find out that anyone can find the same article for free at the magazine's website. Highly informative, entertaining, and a must-read for anyone with even a remote interest in consumer technology. I still won't cancel my subscription…just in case something else comes up.
Read More

| MobilePCMag.com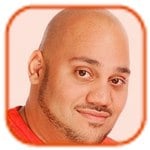 Posted by Andru Edwards Categories: Cell Phones, Misc. Tech

Well, maybe it isn't really much of a hack since all it takes is for Paris to leave her mobile device laying around. Nonetheless, this is a great find. Why? You get to see all the pictures Paris takes using her Sidekick, which includes girl-on-girl action. You get to see the kind of notes she leaves to herself, which reveals that she even had unprotected sex once (gasp!), as she needed to remind herself to get a "birth control kill pill". Oh, and you also get a peek at her entire address/phone book - and she has quite a few you might know of. Ashlee Simpson, David Lechapelle, Ashley Olsen (where's Mary Kate?), Christina Aguilera, Vin Diesel…or you can see the email addresses of people like Usher. I, for one, am still waiting for a call back from Lil Jon. Careful with the link, as some content may not be appropriate for minors - or for work.
Read More

| HiltonHacked.com
Posted by Hector Martinez Categories: Misc. Tech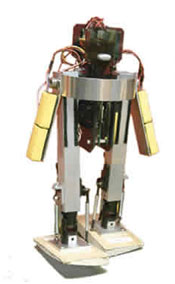 It looks like robots are getting better at replicating the human walking motion, just another one of those things we take for granted until we hurt our backs shoveling snow. Recently, three concept robots were unveiled by researchers from Cornell University, the University of Michigan and Massachusetts Institute of Technology in the US and Delft University in the Netherlands. While walking robots are nothing new, these are doing it with much more efficiency by utilising the natural dynamics involved. In fact they use about the same amount of energy a human being would, where Honda Motor Co.'s ASIMO, was using approximately 10 times that. I would love to see a movie of the new robots in action, as the article describes the walking as "awkward but amiable." Very cute.
Read More

| New Scientist
Posted by Hector Martinez Categories: Misc. Tech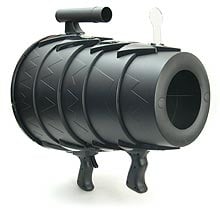 Other than for driving your cat and co-workers crazy, I can't quite think of a reason for this thing. But maybe those are reasons enough! This device is an air launcher used to shoot a focused blast of air up to 20 feet away. It uses no electiricity, requiring no charging or batteries. Simply pull on an elastic launcher, and instant hilarity ensues. It's also pretty quiet, for maximum surprise effect. Measuring at about 17 inches x 15 inches by 11 inches, it's yours for $24.99 - and it's probably safer than airborne paperclips and rubber bands.
Read More

| Gadget Madness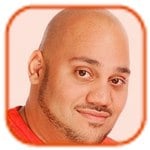 Posted by Andru Edwards Categories: Misc. Tech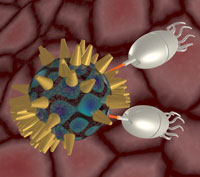 It seems that author and scientist Ray Kurzweil believes that human immortality is a mere twenty years away. Rather than chasing the fountain of youth, however, Ray believes that nanobots are the secret ingredient needed to keep a person alive forever - barring a major accident. Nanobots are microscopic robots which are the size of a human blood cell. They swarm through the body repairing brain cells, bones, muscles, and arteries. In fact, Kurzweil believes that you can download programs to these nanobots which will then have them compensate for genes that may cause health problems. Sounds odd, I know - until you see that he is an extremely accomplished scientist and inventor.
Read More

| CNN
Read More

| Howard Lovy's Nanobot Blog
Posted by Hector Martinez Categories: Misc. Tech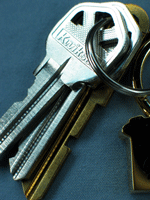 Residential door hardware companies will soon be shifting to radio-signal devices, if it follows the trend in the automotive industry, experts say. Consider the 2006 Lexus GS sport sedan, on sale next month. USA Today reports that when a driver carrying an electronic fob steps within a few feet of the GS, the doors or trunk can be opened without a key. Of course, there are already naysayers that claim the system is hackable, though Texas Instruments claims that there has never been a security breach. The article also cites the similar example of hotels, which now almost exclusively use electronic cards for room entry. Yeah, except for when a magnetic device in your pocket renders the card useless and you're stuck outside. Still, the concept of electronic house keys may yet be an inevitable evolution of our way of life.
Read More

| USA Today
Posted by Hector Martinez Categories: Misc. Tech
I can't wait to take a trip to Japan someday. They always seem to get the coolest stuff first out there. Take this new Professor's Cube, for instance. Having one of these sitting on your desk will show everyone you're just too smart for the regular edition. I'd love to let some friends try it, just to see them go permanently insane from the frustration. I don't get it…all you have to do is rearrange the stickers.
Read More

| Japan Today
Posted by Categories: Misc. Tech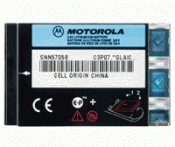 High octane MP3s are soon to be a reality. DTI Energy of California has joined the small group of licensees trying to create fuel cells using methanol as a base. Methanol, air and water are combined to create a thermodynamic (heat releasing) reaction between the hydrogen in methanol and oxygen, which produces electricity. These fuel cells are estimated to be 5 times more powerful then standard batteries, and when they run out, you simply refill the methanol. Estimates say these cells are ten times more powerful than Lithium Ion batteries.
Read More

| DTI Energy

Posted by Oscar M. Cantu Categories: Misc. Tech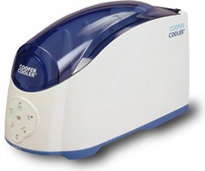 How many times have you wandered to the refrigerator to get yourself a nice chilled beverage and find that there are none? No one wants to put more warm ones in there and wait until they cool down. Thanks to the Cooper Cooler, you won't have to wait that much longer. With some water and ice, you can "Chill-On-Demand" any beverage of your choosing to a cold drinking temperature of 43 degrees fahrenheit. According to the website, this little gadget can chill a can in 1 minute, bottles in 3.5 minutes, wine bottles in 6 minutes - plus it will not cause carbonated beverages to foam or fizz over upon opening. This is definitely a great product for those who throw parties often or have pesky roommates that never refill the refrigerator when they take the last beer
soda. You can grab one for $89.99 USD.
Read More

| Cooper Cooler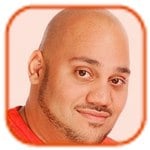 Posted by Andru Edwards Categories: Misc. Tech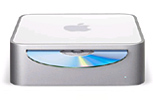 Our favorite free site network (aside from our own) is back at it again, this time upping the ante and offering some more expensive electronics for free. OfferCentric has launched three brand new sites offering notebook PC's, Mac mini PC's, and iPod shuffle MP3 players. Click the links to sign up, and if you complete an offer, we will add your referral link to this story. Also, feel free to post your link in the comments. Good times.
Oh, and don't forget to use Gear Live QuickTrade! to make getting referrals simple.
Member referral links:
Scilynt - http://www.notebooks4free.com/default.aspx?r=167470
Scilynt - http://www.macminis4free.com/default.aspx?r=168003
i7believe - http://www.macminis4free.com/default.aspx?r=170117
Duncanma - http://www.macminis4free.com/default.aspx?r=171215
Watcher - http://www.notebooks4free.com/default.aspx?r=168099
© Gear Live Inc. – User-posted content, unless source is quoted, is licensed under a Creative Commons Public Domain License. Gear Live graphics, logos, designs, page headers, button icons, videos, articles, blogs, forums, scripts and other service names are the trademarks of Gear Live Inc.