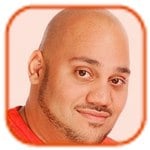 Posted by Andru Edwards Categories: Apple, Microsoft, Mods / Hacks, Software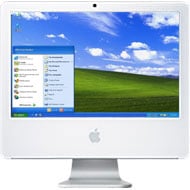 We had a few people write in who were salivating over the video we posted yesterday of Windows XP being installed and running on an Intel iMac. Your wait is over, dear friends. narf2006 and blanka have claimed the championship, and will soon be the proud recipient of $13,854. In the meantime, you can download the instructions and files needed to get Windows XP up and running on your Intel-based Mac (be it an iMac, MacBook Pro, or mini) here.

Read More

| XP on Mac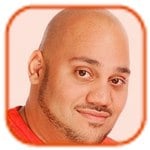 Posted by Andru Edwards Categories: Apple, Microsoft, Mods / Hacks, Software
So, narf2006 seems to have cracked the code, so to speak, on getting Windows XP to run on an Intel Mac. Using one of the new iMacs, narf recorded a video of the installation of Windows XP, followed by the rebooting of the platform, creating user accounts, logging in, and checking out the Device Manager. We must say, this one is very convincing. He goes out of his way to prove that this is authentic, and has sent his instructions to Colin Nederkorn (who has raised over $10,000 to award to the first person to get this figured out.) Once they are validated, and the check is cut, we can all hack up our iMacs to dual boot, despite all the roadblocks we have faced.
Back to reality for a moment. We don't see what the practical, real-world benefit of this is. In our offices, we have Macs and PCs right next to each other. If we need to get to something in the other OS, there is no need to shut down, and reboot. What we need is a version of Virtual PC that is fast, and runs on the Intel Macs. Better yet, we need to be able to run Windows programs on the Mac. When that happens, give us a call. We will squeal like schoolgirls.

Read More

| OnMac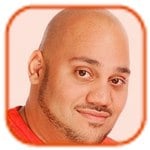 Posted by Andru Edwards Categories: Microsoft, Software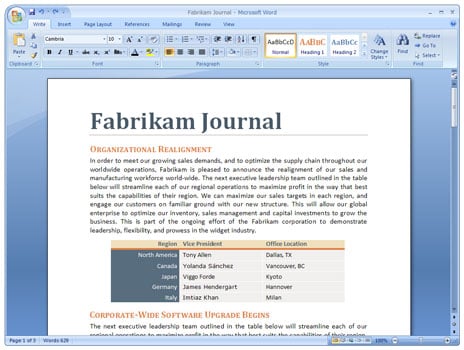 Earlier this morning at CeBIT, the Microsoft Office team revealed the new user interface of Office 2007. Now, while the screenshots of the various Office programs do look pretty sweet, they just look so Apple-esque to us. I mean, look at the background of the Microsoft Word image above. One of the new additions is the 'Office button,' which is to provide access to all of the document and system-level functionality within whichever Office program you are using. According to Microsoft, this is where you head to start and finish a document. Hey - it's like a start menu, but for documents. And it gets its own corner radius, which throws things off from our view. Still, it is nice to see Office 2007 coming along.

Read More

| Jensen Harris
Posted by John Goulden Categories: Corporate News, Handhelds, Microsoft, Peripherals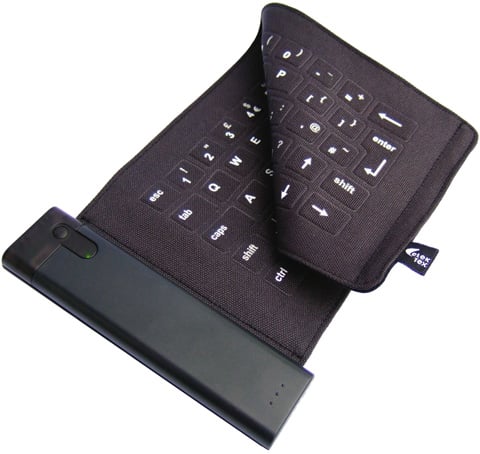 Be prepared for what will surely be an onslaught of peripherals for Microsoft's Ultra-Mobile PC platform. Eleksen, makers of fabric-based interface devices, has introduced a trio of products aimed at users of the new UMPCs. Bluetooth and USB-equipped keyboards will be available, as will a carrying case that has a keyboard and other controls integrated into it's soft exterior. The keyboards are designed around Eleksen's ElekTex technology, which allows touch sensitive interfaces to be placed in a variety of textiles. The Bluetooth keyboard even has drivers to allow its use with smartphones and PDAs, further broadening its usefulness.
Flexible keyboards may be nothing new, but with Eleksen's products being incorporated into textiles, the possibilities are just about limitless. In fact, the company also has their interface technology designed into jackets (the Kenpo iPod jacket), backpacks and other items that have controls for audio players built right in.

Read More

| Eleksen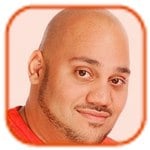 Posted by Andru Edwards Categories: Corporate News, Handhelds, Microsoft, PC / Laptop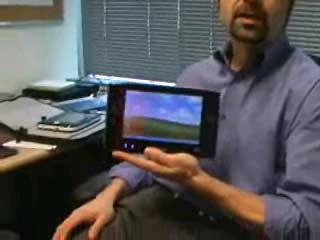 Okay, so we were waiting for Thursday to arrive so that we could get the full scoop on Origami, and that time has arrived. From this day forth, Origami devices will be referred to as Ultra Mobile PCs - or UMPCs - and Channel 9 has posted a great piece showing off the platform. Robert Scoble sat down with Otto Berkes, the General Manager of the UMPC division, to get all the deets. The video is about 40 minutes long, and goes in-depth into what exactly brought the UMPC to fruition, and what we can expect from the platform in the future.
From our perspective, these first-generation devices may not have lived up to the hype that was generated across the Internet over the past couple of weeks, but we can see the potential going forward - especially once we have the Windows Vista-enabled UMPCs hitting the market. We do have to wonder, with Microsoft expecting pricing to range from $599 to $999 USD, where does DualCor stand in all this? Their device is a bit smaller, but they expect to hit retail at $1500 or so. This will certainly be an interesting one to watch.

Read More

| First Look At Ultra-Mobile PCs
Posted by John Goulden Categories: Corporate News, Google, Internet, Microsoft

Microsoft, in their continuing quest to dominate Google, has made available the beta of their new search engine dubbed Windows Live. With functionality similar to that of its arch nemesis, Windows Live is able to search for images, news, RSS feeds, e-mail (Windows Live Mail and Hotmail) and more. For better or worse, some things have been spiced up a bit such as the Image search feature. When you hover your mouse pointer over a search result it increases in magnification and provides detailed information about the image. On the flip side for you minimalists, a nice feature is the ability to disable or hide just about everything on the page short of the search box.
What good would a search engine be anymore without a corresponding toolbar? Microsoft delivers on that angle as well with the Windows Live Toolbar. In addition to the standard search capabilities, it offers protection from phishing and pop-ups.

Read More

| Windows Live
Posted by John Goulden Categories: Apple, Microsoft, Mods / Hacks, Software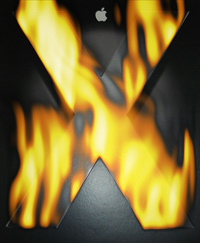 Windows detractors are generally more than happy to point fingers at Microsoft's failings in making their operating systems secure. It's hard to blame them, as it does seem that barely a day goes by without some new exploit popping up. However, one has to look at the percentages of installed systems. With Microsoft products commanding the vast majority of the market share, they make prime targets for anyone with too much free time or a grudge to bear. In contrast, Mac OS X and Linux seem to blend quietly into the background noise, with nary a peep to be heard with regards to security problems. Okay, that's oversimplifying things a tad, but the basic idea remains the same - Microsoft products appear to have more security holes than their competitive counterparts due in part to market share and their public presence.
As a case in point, an obliging Mac user set a Mac mini up and told would-be hackers to give it their best shot. Within six hours, the mini had been compromised and root-level access obtained. Total time to actually hack the mini? Less than 30 minutes. Granted, there aren't a lot of details as to patch level, security measures taken, etc., but the hacker claimed the use of an unpublished hack that would have worked regardless of counter-measures implemented.
With regards to recent viruses and exploits related to Mac OS X, a senior director of Symantec's Security Response Division is quoted as saying, "The lesson here is that if we look at Mac OS X and compare it to, say, Windows XP, we find that, in terms of the number of vulnerabilities, they are actually quite comparable."
Keep in mind that we're not out to bash the Mac by any means, and many Gear Live members love the Mac. Would an equivalently configured Windows or Linux system have fared any better? Not likely. Therefore it's important to be mindful, that regardless of your operating system of choice, security holes do exist and it's better to be as prepared as possible than sorry due to blissful ignorance.
EDIT: Turns out, this is a lot less important that it first seemed. Check out the comments section, and you will find that the "hack" was made to be extremely simple - this is not something that took place in a real-world scenario.

Read More

| Top Tech News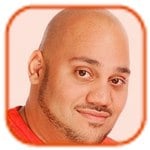 Posted by Andru Edwards Categories: Handhelds, Microsoft, Portable Audio / Video, Rumors, Wireless / WiFi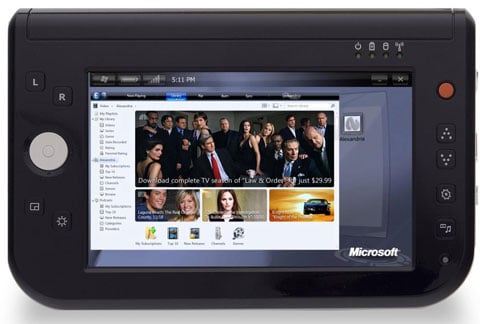 We have held off on all the Origami Project speculation, as it has mostly remained a mystery. Earlier today, the image above started circulating around the internets, and it grabbed our attention. Of course, we have no real proof that this is Origami, but if it isn't, we do hope that it is a real product. The thing just looks amazing. As for what Origami really is, we are not yet sure. However, Scoble is quick to tell us what it is not. Okay, not an iPod/OQO/PSP/Nokia N90/Treo 700w/Palm killer. We are cool with that, but mostly because no matter what Origami turns out to be, it wouldn't kill any of the aforementioned products. It also isn't a portable Xbox, which we didn't even consider, seeing as how new game consoles have a ton of fanfare behind them before ever being shown.
So what is it? If the image is even close to being real, we gather that Origami is a smart way to carry around your digital life. Sure, that will include music and video - but we think that also includes contacts, email, RSS, and email - all wrapped up in wireless mobile broadband. Our bet is that Origami is an extension of your home computing experience, but not a replacement for it.

Read More

| Origami Portal
Posted by John Goulden Categories: Cell Phones, Microsoft, Portable Audio / Video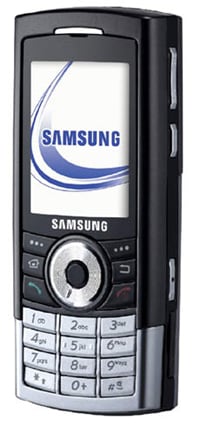 It seems one can barely turn around before a new cellphone has been released to supplant an older model. In this case, Samsung is releasing their SGH-i310 with 8GB of memory and Windows Mobile 5, to replace their 3GB model the SGH-i300. With it's whopping 8GB it can hold 2,000 songs and has dedicated keys for music playback functions. Music features aside, the phone also has a 2MP camera, Bluetooth with A2DP support, a microSD memory card slot, and EDGE.
Scheduled for release to the European market in the second half of 2006, there's a good chance that the phone will make it's way over the big pond and land here in the US. After all, it has EDGE support, and here in the US, that means Cingular.

Read More

| Chosun via Digital Tech News
Posted by John Goulden Categories: Apple, Internet, Microsoft, Movies, Portable Audio / Video
There's something peaceful and serene about Apple's current iPod packaging. Their design works on the basis that less is more, and indeed it is. Now visualize in your mind just about any product from Microsoft, and the packaging it came in. Certainly a jarring contrast in styles isn't it? The Microsoft packaging is a visual flurry of activity, bordering on a graphical trainwreck. This movie, certainly a parody, and rumored to be an internal Microsoft marketing movie (presumably to shake things up, if that's possible), is quite humorous and sadly, very true.

Read More

| The Apple Blog via OhGizmo!
© Gear Live Inc. – User-posted content, unless source is quoted, is licensed under a Creative Commons Public Domain License. Gear Live graphics, logos, designs, page headers, button icons, videos, articles, blogs, forums, scripts and other service names are the trademarks of Gear Live Inc.