Find Our Latest Video Reviews on YouTube!
If you want to stay on top of all of our video reviews of the latest tech, be sure to check out and subscribe to the Gear Live YouTube channel, hosted by Andru Edwards! It's free!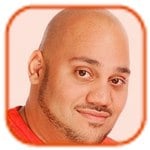 Posted by Andru Edwards Categories: Design, Microsoft, Portable Audio / Video, Video Games,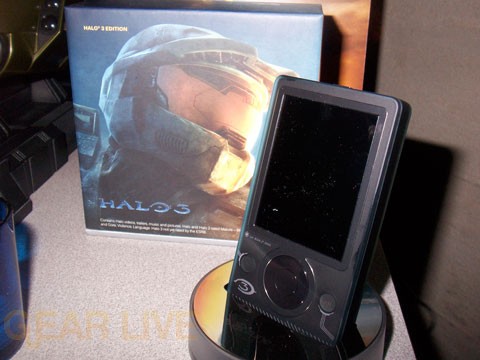 We see that a bunch of you enjoyed our Halo 3 Edition Zune unboxing gallery, so we figured you might be interested in knowing a few more details on the device. We just got official word from the Microsoft Zune team on these facts, so you can pretty much bank on the following. First of all, the Halo 3 Edition Zune will only be available in one color - black with a blue double-shot. Obviously, it has all the external markings that distinguish it from the normal black Zune, but don't go expecting any Master Chief green units.
The Zune Halo 3 Edition will be launching on June 15, 2007, and will be exclusively available from Gamestop stores. That means if you want one, you aren't going to be able to order one from Amazon or pick one up at Best Buy - you gotta head to the wretchedness known as Gamestop. For those wondering about price, the Halo 3 Zune will run for $249.99 - same price as all the other Zunes out there. What's cool about that, though, is the fact that you get a lot of pre-loaded content on the Halo 3 Edition Zune. We aren't just talking about the custom wallpaper either - you can expect a collection of content from Halo, Halo 2, and Halo 3, including videos, full soundtracks, trailers, and artwork. You can check the full list of content on the Zune Halo 3 edition after the break.
Click to continue reading Zune Halo 3 Edition Details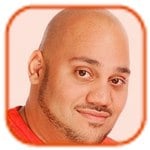 Posted by Andru Edwards Categories: Features, Microsoft, Portable Audio / Video, Video Games,
We were able to get our hands on one of the soon-to-be-released Halo 3 Edition Microsoft Zunes, and we figured you guys might be interested if we put it through one of our Unboxing Ceremonies. We did just that, and the results can be found in our Halo 3 Zune Unboxing Gallery. For those who haven't heard, Microsoft will be making a special edition Zune available, with both the hardware and software featuring Halo 3-themed elements, to build up excitement for the impending release of Halo 3 for the Xbox 360. Check out the gallery, and let us know what you think.
Read More

| Halo 3 Edition Zune Unboxing Gallery via Unboxing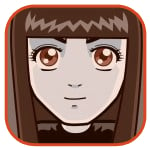 Posted by Sheila Franklin Categories: Corporate News, Microsoft, Movies, Video Games,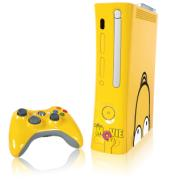 We have already seen some of the advertising hype brought on by the upcoming "Simpsons Movie" coming out July 27. Add to that an Xbox 360 Pro, which is available in a limited edition of 100. Another hundred are also to be given away. Partnering with Fox, the Microsoft game systems are based on the older Premium system. Don't get too excited. Although there is an announcement and mention of new Simpson games, you won't find much information on the give-away at this point.
Read More

| Microsoft Gaming via PR Newswire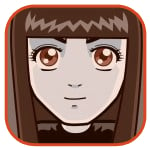 Posted by Sheila Franklin Categories: Design, Microsoft, PC / Laptop,

Microsoft StartSomething PC Design competition brought in plenty of new concepts, but we found this one particularly odd. Finalist Ben Arent's EnergyTree actually contains a living tree. If the owner is especially energy efficient, the tree with be allowed nutrients and water. If not, the device poisons and malnourishes the tree until its demise. The winners of this contest are to be released this month.
Mr. Arent, couldn't you just be content to design something that would just help us become more energy efficient instead of punishing those that are not? And while you are at it, please take that poor EnergyTree and plant it in a decent outdoor environment.
Read More

| Ben Arent via StartSomething Finalists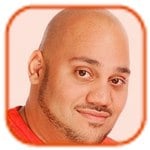 Posted by Andru Edwards Categories: Editorial, Features, Microsoft, Software, Video Games,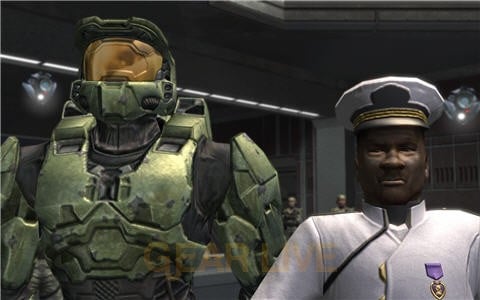 So, Halo 2 for Windows Vista is launching on May 8, 2007, and we have been able to spend some time reviewing the title. Since everyone is familiar with Halo 2, we felt a full review wasn't in order. Instead, we wanted to clue you in on the ten best improvements we experienced while reviewing the game. These ten features raise the bar for Halo as a whole, and may be a foreshadowing of things to come in Halo 3:
Achievements: If you are looking for something fun that adds another level of fun and challenge to the Halo 2 world, this is it. We have said it before, and we will say it again - Microsoft hit a gold mine with the notion of achievements. No sooner than when we finished a multiplayer deathmatch did we rack up a total of three achievements. Meleeing five people from behind (and thusly earning the Ninja achievement) was nice, but Meleeing someone who already had the Ninja achievement (and thus earning the Flaming Ninja achievement) was even better. We have the achievement to prove it. For those wondering, yes, the achievements you earn in Halo 2 for Vista (or any other Games for Windows game) is counted towards your Xbox Gamerscore.
Continue Reading: Top Ten Halo 2 Vista Improvements…
Read More

| Playfeed

Posted by Lolita Beckwith Categories: Household, Microsoft, Misc. Tech, Software,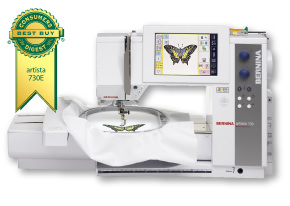 OK, people…Mother's Day is just around the corner. Need a gift idea? We suggest the new low-priced PSP Core System for Mom (trust us, it's been done before), but if you prefer a more traditional gift—and have $8200 lying around—we propose the Bernina Artista 730E, a Windows-powered sewing machine. It comes complete with a large color display that offers tutorials, on-screen help and a library of over 850 stitches. There's even a "My Artista" portal, where you can swap designs with other Artista users. And the 730E doesn't just sew: it can also be used for quilting and embroidery as well. The Artista 730E has been selected as a "Best Buy" by Consumers Digest magazine, so you can plunk down that $8200 USD with confidence.
Read More

| Bernina via ChipChick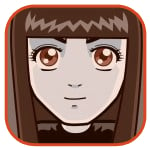 Posted by Sheila Franklin Categories: Corporate News, Microsoft, PC / Laptop, Software,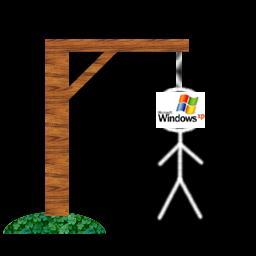 Microsoft has decided to put an end to Windows XP, even though many of its customers are really not sure they want to purchase Vista. From January 2008 on, mega-PC companies such as HP, Dell, and Toshiba will no longer be able to purchase licenses for the software. In a poll from Harris Interactive of 2,223 Americans, findings suggest that although 87% had heard of the operating system, only 12% of those who knew of it were planning to install it. Perhaps this would be a good time to consider some of the competition for our next PC.
Read More

| BBC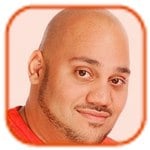 Posted by Andru Edwards Categories: Accessories, Microsoft, Peripherals, Video Games,
So, yesterday we told you about the newly announced Xbox 360 QWERTY Keyboard Attachment, which it seems many wrote off as being a well-done Photoshop job. However, Microsoft has confirmed that the product is real, and that it will be making it's way to store shelves this summer at a still-unannounced price point. Contrary to what some believe, the keyboard is an attachment to the current Xbox 360 controller, not a stand-alone keyboard/controller combo. The keyboard will also be backlit, which fits right into the reality that many a gamer enjoy playing in the dark. We were able to see this product at a couple of different stages in it's development, and think it will be a hit, so long as the backlit display doesn't suck up battery usage too much.
We have put up a photo gallery of the Xbox 360 keyboard attachment. Click on to check it out in all it's glory.
Read More

| Xbox 360 Keyboard Attachment Gallery via Gamerscore Blog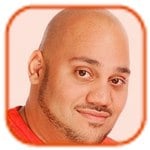 Posted by Andru Edwards Categories: Accessories, Microsoft, Video Games,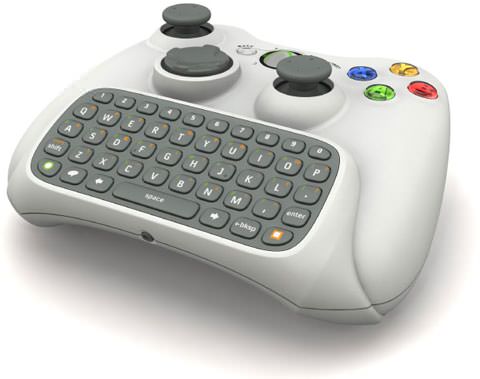 Wow, seems like we have been sitting on this one for months. After seeing a few prototypes, we are glad to see that what looks to be the finalized Xbox 360 QWERTY keyboard controller attachment looks a lot more sensible than what we saw. Now obviously, this makes perfect sense for a while lot of reasons. First and foremost, as seen in the leaked Xbox 360 Spring 2007 Dashboard Update video (if it is to be believed,) Microsoft is planning on integrating Windows Live Messenger contacts directly into your Xbox 360 dashboard. A QWERTY keyboard would be the saving grace of that feature, as the current methodolgy of typing on the Xbox 360 is mundane at best. Of course, it will also come in handy for games where typing to your teammates is an added feature as well. Look for this one to drop this summer, pricing still unknown. Check out another image of the attachment after the jump.
Click to continue reading Xbox 360 QWERTY Keyboard Controller Attachment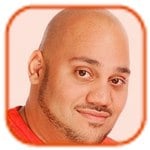 Posted by Andru Edwards Categories: Microsoft, Rumors, Software, Video Games,
If this one is a fake, it's a darn good one. The guys over at MyGamerCard.net are saying this was leaked on Gamespot, and subsequently pulled, but not before it was downloaded and placed on YouTube for our benefit. What you will find above is a video walkthrough of the Xbox 360 Spring 2007 Dashboard update. Claiming that it will be released on May 7, 2007, it boast quite a few new features, including:
Ability to add up to 600 Windows Live Messenger contacts to your Friends List.
Text chat with up to 6 Live Messenger contacts at once during games or movies.
The Marketplace will be getting its own Dashboard Blade.
The Marketplace will be skinned independently of the Dashboard, for special events.
The Marketplace will be getting a new, easier-to-navigate remake.
Achievement Pop-ups will now display how many points and which Achievement you have gained.
Low-power downloading (fans off) and auto-off after finishing queued downloads.
View partially downloaded video files.
What we like most? The fact that you can start watching movies files before they finish downloading, along with the fact that when you earn an acheivment, you get the details in the pop-up notification instead of having to hit the guide button for the full scoop. Everything else seems to be fluff for the most part, unles you have tons of Windows Live contacts. Our main question? Where the hell is Internet Explorer?
Let us know what you think of the video in the comments.
Read More

| MyGamerCard.net
© Gear Live Inc. – User-posted content, unless source is quoted, is licensed under a Creative Commons Public Domain License. Gear Live graphics, logos, designs, page headers, button icons, videos, articles, blogs, forums, scripts and other service names are the trademarks of Gear Live Inc.