Posted by Edwin Soto Categories: Household, Internet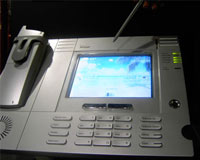 Verizon enticed us to check out the unveiling of their new phone - Verizon One. Essentially, the 5.8 GHz phone looks okay and is packed with plenty of features to make it worth the $149.99 price tag. The Verizon One is supposed to be a conglomerate of all of your communication needs in one device. For the price, the phone also has an integrated 802.11g 4-port router along with a beautiful touch screen where you can manage contacts, address books, and schedules for each family individual. Since it already has an Internet connection, you can also use Verizon SuperPages to find restaurants, theaters, locksmiths, etc. It does a pretty good job in mapping results out for you, too. While impressive, this product does have a massive downside - it's only available to Verizon DSL customers. Good going Verizon, way to isolate potential consumers.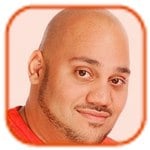 Posted by Andru Edwards Categories: Household, Toys, Transportation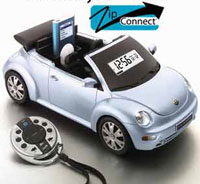 Now this is off the hook, especially for those VW Beetle fanatics out there. Check it - it's a Volkswagen Beetle replica with a digital alarm clock built-in to the windshield. Now, the fun doesn't end there, as it (like all ZipConnect speaker systems) includes a ZipConnect module (with convenient retractable 18-inch cable and mini stereo plug) for playing any iPod, MP3, portable CD or satellite radio — any audio source with a headphone jack. The Beetle has working headlamps and taillights, with stereo speakers hidden in the wheels.

Read More

| Sharper Image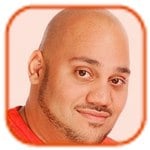 Posted by Andru Edwards Categories: Household, Mods / Hacks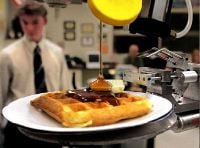 So you got me - I am a waffle lover. While they don't come close to French toast, they do destroy the pancake in overall tasty goodness. That being said, combining waffles with technology certainly does get my attention. Jesse Klein, from right here in Washington State, has shown his waffle making robot to Arlington High School (from where he recently graduated.) What's more, in addition to cooking the waffles up, the robot will slather on butter, pour on the syrup, and spray on the whipped cream as well. And people wonder why I love technology…
Read More

| HeraldNet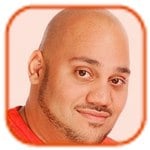 Posted by Andru Edwards Categories: Household, Mods / Hacks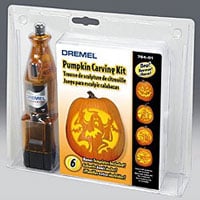 While we haven't been at the pumpkin carving forefront over the past few years, we certainly welcome the opportunity to use a Dremel tool on something that, if ruined, we won't cry about. That is what makes the Dremel Pumpkin Carving Kit such a draw. Complete with detailed instructions for carving elaborate designs into the squash, the Dremel tool sells for $30. Is there a happier way to get into Halloween? We think not.

Read More

| Dremel via OhGizmo!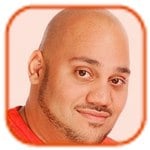 Posted by Andru Edwards Categories: Household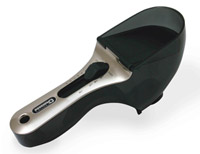 This has to be one of the greatest kitchen inventions ever conceived. The Nuscüp is an ergonomically correct measuring spoon that can be dynamically resized by moving the slide up and down with your thumb. Despite the movable part, it can be used to measure both liquids and solids, and gives you millileter, ounces, and cup sized measurement increments. What's more, there is an integrated magnet which allow it to be stored on the side of your fridge if it strikes your fancy.

Read More

| pollen design via Cool Hunting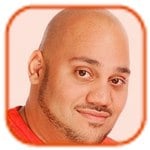 Posted by Andru Edwards Categories: Household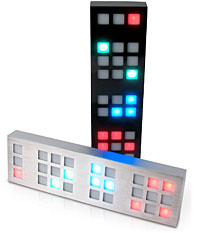 It took me about 5 minutes to figure out how cool this clock is. For the uber-technocentric geeks out there it's a must have - sadly, that might be us. The TIX LED Clock has lights that display the time in a very unique way. Unless told it was a clock, you would never even be the wiser. The blinking lights represent a number for each section, meaning that if there is 1 light in the first section and 2 in the following 3 sections (7 lights total), the time would be 12:22. Confused? So are we - and it's going to cost us £39.95. Yeah, you know you want it, too.

Read More

| Firebox via GadgetryBlog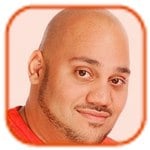 Posted by Andru Edwards Categories: Household, Misc. Tech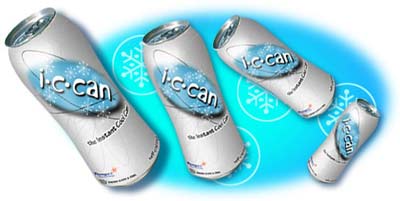 Have you ever had the urge to drink a nice cold beer or soda immediately, only to find that your roommate didn't take the time to throw the six-pack in the fridge? Soon enough, this problem may be a thing of the past. Through a partnership of Tempra Technology and Crown Holdings, the world's first self chilling can, the I.C. Can, is here!
Proprietary engineering creates a temperature drop proven to reduce the I.C. Can's™ contents by a minimum of 30° Fahrenheit (16.7° C) in just three minutes. When activated, the all natural desiccant contained within a vacuum draws the heat from the beverage through the evaporator into an insulated heat-sink container. It is this patented vacuum-power which lowers the temperature so dramatically and quickly, leaving the beverage inside cool and refreshing.
The can is non-toxic and 100% safe, using no compressed gases, and is also environmentaly friendly. The development of a system to mass produce I.C. Cans is in its final stage, so you can expect to see this new technology on store shelves soon.

Read More

| TempraTech
Posted by Edwin Soto Categories: Household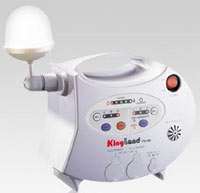 This product doesn't have the fanciest name but it is straight to the point. It functions as an emergency light - no surprise there. Alas, there are three other things you can do with this gadget. First, you can deter insects and mosquitoes with one light which is cool for camping tents and summer BBQs I suppose, you can deter mice with a different setting, and - most uniquely - you can charge the internal battery and use it to power things, like a laptop. That's pretty neat.
Read More

| Kingland Multi Purpose Light Product Page via TRFJ
Posted by Edwin Soto Categories: Accessories, Household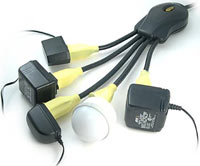 The PowerSquid Outlet Multiplier can be viewed as both geeky and creepy. Its design looks like some perverted alien hand, yet the functionality is brilliant. We are all for making life easier in any way possible, and while this may not be the most beautiful design, it definitely gets the job done. For $14.99 you get 5 grounded extensions that combine into one plug. Why? Don't you have power adapters bigger than life that reside in the same room?

Read More

| ThinkGeek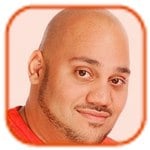 Posted by Andru Edwards Categories: Household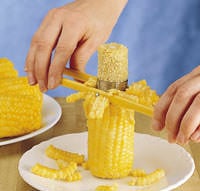 Taking all the fun out of those summer barbeque's (but hey, summer's over any, right?), the Corn Cob Cutter is available from Miles Kimball. Simply put, it's an easy way to get the corn kernels off of the cob. The vinyl unit features a circular blade that should perfectly shave the corn away. Heck, you can even adjust the diameter of the thing. Baby corn anyone? Grab it for $2.49.

Read More

| Miles Kimball
© Gear Live Inc. – User-posted content, unless source is quoted, is licensed under a Creative Commons Public Domain License. Gear Live graphics, logos, designs, page headers, button icons, videos, articles, blogs, forums, scripts and other service names are the trademarks of Gear Live Inc.