Find Our Latest Video Reviews on YouTube!
If you want to stay on top of all of our video reviews of the latest tech, be sure to check out and subscribe to the Gear Live YouTube channel, hosted by Andru Edwards! It's free!
Posted by Jared Hislop Categories: Household, Misc. Tech, Science, Transportation,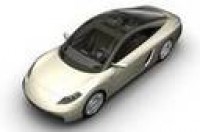 German company Loremo AG has introduced a new vehicle which they claim gets 157 miles per gallon. The new car uses state-of-the-art aerodynamics combined with a lightweight body to combat gas guzzling. While some of the fuel efficient cars use smaller engines that deliver less power, this car doesn't play around in the power department. The base model uses a 2 cylinder 20 hp turbo diesel engine that reaches a top speed of 100 MPH with a 0 to 60 time of 9 seconds, and the GT model boasts a top speed of 135 MPH. Loremo has a new technology that they call "linear cell structure" that makes the car light without sacrificing strength. Both models meet static/dynamic requirements for crash safety. Standard features on both models include airbags, particle filter, dashboard computer, and air conditioning. Loremo AG plans to sell the Loremo LS for less than 11,000 euros and the GT for 15,000 euros. With the rising costs of gas in the US we would like to see a vehicle like this available. Unfortunately this car is still dependant on gas, and we doubt its strength in a crash, as tiny car + low weight = death.

Read More

| If Energy
Posted by John Goulden Categories: Household,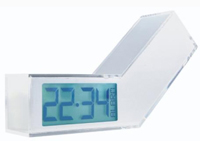 I've always been rather fascinated with clocks. Fascinated by, but not terribly fond of, as they're rather blatant in telling me how late I am for wherever I was going. Regardless, Lexon has put an interesting twist, or tilt as the case may be, on what would otherwise be a rather average alarm clock. With the LCD in the horizontal position the alarm is primed and ready for action, and when it starts wailing to wake you out of dreamful bliss, you simply tilt the clock onto its other side to silence it. Simple . . . yet maybe too simple, as the all important snooze feature seems to be a no-show.
Available in 6 different colors, the acrylic-housed clock was envisioned by Danish designer Nina Tolstrup and sells for $36.50 USD.

Read More

| Unica via Product Dose
Posted by Jared Hislop Categories: Design, Household, Misc. Tech,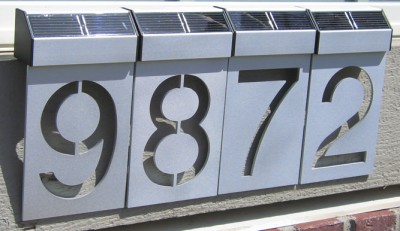 We have all been there when driving to an unknown home late at night. Most house numbers are hard to see in the dark. Matterinc has set out to change that with new solar LED address numbers. Each number is laser cut out of anodized aluminum. The solar arrays on top of each number provide power to the included batteries, and two white LEDs shine in the darkess, lighting the number below. On a full solar charge, the LEDs provide eight to ten hours of light - enough to last a full night just about anywhere. Matterinc recommends placing the device in full sunlight for best results. The numbers are available in either black or silver, and are viewable up to 40 feet away. They retail for $17.99 USD and come with all of the necessary hardware for mounting.

Read More

| Digital Toys Review
Read More

| Product Page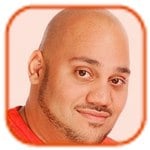 Posted by Andru Edwards Categories: Design, Household, Misc. Tech,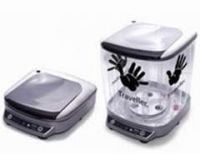 For anyone constantly on the go, we know that doing laundry can get in the way. Apparently, Astone knows that as well, as they are set to start selling this portable washing machine this June. Weighing in at about four-and-a-half pounds, this puppy can hold up to 1.7 gallons of water once it's inflated. The word is that it will do everything a standard washing machine can do, just at a much smaller scale. At $70 USD, it doesn't sound like too bad a deal.

Read More

| NewLaunches
Posted by John Goulden Categories: Household, Misc. Tech,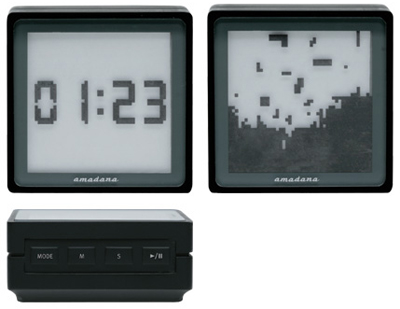 What is it about Tetris that still fascinates so many people to this day? Brought to life in 1985 by a Russian programmer, the game has spawned innumerable clones, as well as offshoot products like the Tetris Kitchen Timer we're looking at today. As with a traditional timer you can let it perform the countdown with a display of digital numbers, but that sucks all the fun out of things. No, the quirky nature of the timer comes into play when you can put it into Tetris mode. In this mode the familiar little shapes work their way down the screen, and when the screen is completely filled up, your time (and that of your food) is also up.
Provided you can read Japanese, the timer is available for approximately $42 USD.

Read More

| Amandana via Gizmodo
Posted by John Goulden Categories: Accessories, Design, Household,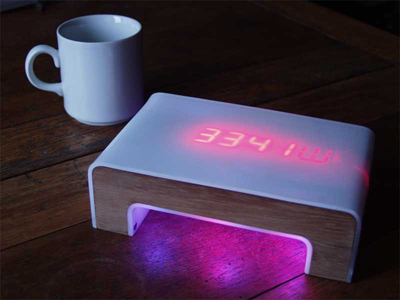 Curious as to how much power you use throughout your home? Do family members traipse through the house, flipping on light switches and leaving a blazing trail of wasted energy in their wake? If so, maybe the Wattson can help educate them as to the tangible change in power usage when electrical items are left on (or off as the case may be). Wattson delivers the information in numerical and non-verbal modes, and can also be connected to your computer for charting energy usage over time and sharing the data with a community of Wattson users.
The numerical display shows you exactly how much power your home is using at that very moment, and can display the result as an annual monetary cost, or in watts. This mode can help demonstrate what the real impact is of high-wattage bulbs instead of energy saving fluorescents, or how much power (and money) your SLI-equipped gaming rig really consumes. The non-verbal method uses colored lights and patterns to display the changing status of power consumption, and is useful for children and as a "quick glance" status indicator.
The Wattson device itself is wireless, and receives information from a sensor that is installed near the electrical panel in your home. The sensor is said to be easy to install, "with no need for any expert knowledge or assistance", although the company does offer installation services.
Built to order, the £350 (~ $610 USD) device requires 8 weeks prior to shipping and is currently available only in the UK.

Read More

| DIY Kyoto
Posted by John Goulden Categories: Household, Misc. Tech,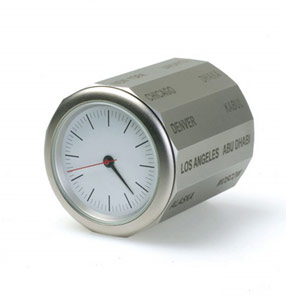 Maybe you consider yourself a word traveler, or possibly you're into day trading, but whatever the need, a clock capable of keeping track of the time in major cities around the world can be quite useful. Simplicity has its place as well, and that brings us to the Charlotte van der Waals Stainless Steel World Time Clock. Okay, so simplicity isn't in the name, but it is in the clock. In the shape of a dodecagon (er, 12 sides that is), the clock has two major cities on each side which covers the 24 global time zones. To check the time in any one of those cities, merely rotate the clock till that city is on top, and the correct local time will be shown. If stainless steel isn't your thing, three other variations on the theme are offered with two made from plastic, and a disc-shaped travel version made from aluminum.
The stainless steel model is priced at $190 USD, and available here.

Read More

| Ameico via Cool Tools
Posted by John Goulden Categories: Household,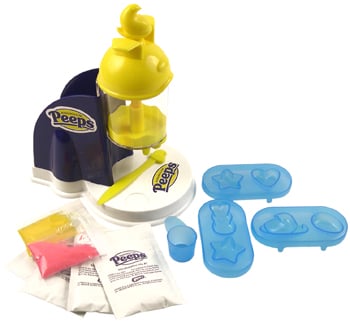 With Easter fast approaching, the inevitable onslaught of chocolate rabbits, creme-filled eggs, fake grass, and jellybeans is upon us. However, no collection of Easter candy products is complete without the spongy, sugar coated product known as Peeps. What once started as merely a marshmallow chick, has evolved to include bunnies and now covers not just Easter but Valentine's Day, Halloween, and Christmas as well. Love 'em or hate 'em, an estimated 700 million Peeps will be sold this Easter, although that gives us no idea how many will actually be eaten.
If you can't wait for a holiday that Peeps has infiltrated, you can now make your own at home. The Peeps Marshmallow Maker, or Peeps Machine as we like to think of it, comes with marshmallow mix, yellow and pink sugar (what, no purple?), and Peeps molds with a variety of fun shapes.
Satisfy the Peeps freak in your life by picking one up for $26 USD for the machine, and $8 USD for the mix. Obviously not intended as a cheaper alternative to buying them pre-made.

Read More

| FredFlare via Kitchen Contraptions
Posted by Jared Hislop Categories: Household, Misc. Tech,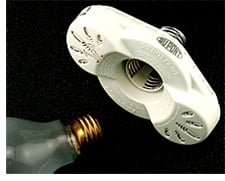 An interesting household gadget has arrived in the Dupont Self-Charging Smoke Alarm. We will be the first to admit it, changing the batteries in a smoke alarm can be a bit of a hassle. With this new smoke alarm, all you have to do is screw it into a light socket. The unit charges when the light is turned on, and is capable of going 30 days without a charge. Oh, andjJust in case you forget to charge it, an audible alarm will alert you when the unit is low on power. If that happens, turn on your light for a while, and you are good to go. The other great feature of this smoke alarm is that it can be tested (or silenced) by merely flipping the light switch. No more fumbling around trying to replace a battery, or finding the test button.

Read More

| Dupont via OhGizmo

Posted by Kristin Wenzel Categories: Accessories, Household, Misc. Tech, Peripherals, Rumors,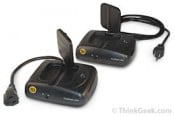 Good Lord! Is this for real? ThinkGeek has introduced wireless extension cords, which use microwave technology to beam power (wirelessly) up to three hundred feet.
Just plug the Wireless Extension Cord (WEC) base unit into a standard wall outlet, and plug whatever you need into the satellite unit. The WEC uses microwaves in the 7.2GHz range, so it won't interfere with wireless networks, Bluetooth components, etc. Now, all you need to do is adjust the antennae on the two units so they are aimed at each other. Turn everything on and you have the power! The distance the WEC units can broadcast differs from situation to situation (due to interference of such things as walls, power lines, and microwave ovens), but we've beamed power over 300 feet!
These puppies will run you about $35 at ThinkGeek. Have a good time trying to get through checkout though…

Read More

| ThinkGeek
© Gear Live Inc. – User-posted content, unless source is quoted, is licensed under a Creative Commons Public Domain License. Gear Live graphics, logos, designs, page headers, button icons, videos, articles, blogs, forums, scripts and other service names are the trademarks of Gear Live Inc.