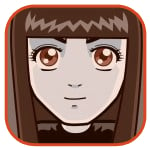 Posted by Sheila Franklin Categories: Household, Misc. Tech, Science

"The HydraCoach Thinks While You Drink." Such is the claim of Sportline, the makers of the HydraCoach "interactive" water bottle. It tracks your fluid consumption and calculates your "personal hydration needs." We didn't even know we possessed such needs. We just assume that when we get thirsty, we drink water.
Other Product Capabilities:
Paces an individual to ensure hydration goals are met.
Monitors and motivates an individual to stay properly hydrated.
"With the launch of the world's first 'intelligent' water bottle, we intend to revolutionize the water bottle and hydration industry," said Brian Anderson, president of Sportline. "The benefits of proper hydration are sought after by athletes, fitness and outdoor enthusiasts, people trying to lose weight, the elderly, individuals on medication, and everyone who is generally health conscious."
The HydraCoach goes on sale in December with a MSRP of $29.99. That's big bucks for a bottle of water. We are thinking of substituting tequila to see how it calculates those personal hydration needs.
Read More

| Hydracoach Product Page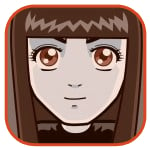 Posted by Sheila Franklin Categories: Household, Misc. Tech, Science, Toys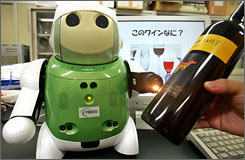 NEC and Mie University have teamed up in Japan to create the 2-foot Winebot, a cute little bugger that can not only discern good wine from bad, it can also name the brand and suggest a cheese.
"There are all kinds of robots out there doing many different things," said Hideo Shimazu, director of the NEC System Technology Research Laboratory and a joint-leader of the robot project. "But we decided to focus on wine because that seemed like a real challenge."
Speaking in an underage voice, the robot names the brand and adds a comment to its taste. It can also be programmed to recognize wine that its owner prefers. Because of its ability to analyze the chemical composition of wine or food placed next to it, it could caution its owner about such health-related factors as fat or salt content.
Winebot doesn't come cheap. "Buying one of these would cost about as much as a new car," Shimazu said. "We'd like to bring that down to 100,000 yen ($1,000) or less for the tasting sensor if we were to put it on the market."
We figure that if you can afford the wine and cheese, you can afford the Winebot.
Read More

| USA Today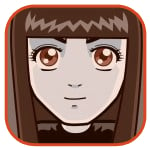 Posted by Sheila Franklin Categories: Corporate News, HDTV, Home Entertainment, Household, Music, Portable Audio / Video

Gee Sung Choi, President of Samsung Digital Media Business Electronics, delivered the opening address "The Next Step in the Digital Renaissance – Creating Rich Digital Experiences" at Berlin's IFA 2006 consumer electronics exhibition this past Friday.
"By displaying Samsung's products matched to European furniture and interiors, customers can really feel the experience of the newest designs of digital products," Choi said.
An amazing array of products will be displayed at the IFA, including a full HD 1080p LCD TV, the first Blu-ray disc player for the European Market, a new concept MP3 player, and an extensive array of products for mobile TV. In addition, the company also is exhibiting 70" full-high-definition LCD panels, 82" digital information displays (DIDs) and other cutting-edge products.
Read More

| Samsung Press Release

Posted by Brian Viele Categories: Accessories, Cell Phones, Household, Peripherals, Transportation, Wireless / WiFi, Gizmatic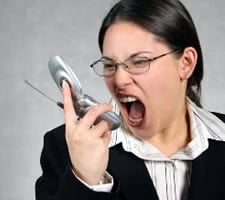 In today's world, land line phones are becoming ancient technology. More and more customers are leaving phone line systems for VoIP systems, while others, myself included, operate solely through their cellular service. It never ceases to amaze me, however, that the quality of cellular service at home leaves something to be desired. I have moved three times in the past two years, and haven't been able to average more than a 2-bar signal in any of my homes. Excessive dropped calls, poor reception and sound quality, and the especially hated voice mail notice from calls that never rang. Sound familiar? Well it may be time to invest in an amplification system to boost cellular signal while around the house.
The setup is simple, intuitive, and available for purchase from several manufacturers. It consists of a pair of antennas, one high gain and one low gain, and an amplification system. The system works best if the large gain antenna is mounted outside of the house, but it is not necessary. The system improves your service by relaying the signals from the high gain antenna, through the amplifier, through a smaller antenna mounted somewhere inside the home and out to your cellphone . Transmitting works in the reverse fashion starting from the cell phone, to the small antenna, then through the amplifier and out the large antenna to the service tower. The benefits to be gained here are two fold. First, the antenna that communicates directly with the tower will have a much stronger response (higher gain) to the signals, both in and out, than the cell phone because of its sheer size. Secondly, the signal is being amplified again through an in-line amplifier. The result is a serious increase in local signal to your cell phone resulting in better battery life, fewer dropped and missed calls, and just plain better quality service. This type of setup is not limited to the home either. There are also systems available for installation in your vehicle which operate on the same principle.
Popular Science has a full length article describing these setups and even points out some manufacturers and models of devices available today.
Images:
Home Configuration
Automotive Configuration
Read More

| Popular Science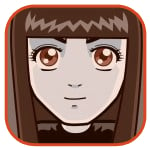 Posted by Sheila Franklin Categories: Design, Home Entertainment, Household, Movies, Music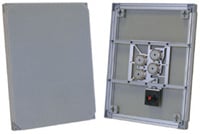 Talk about getting plastered! NXT has announced the US debut of Amina Technology Ltd's In-wall loudspeakers. With a combination of high definition audio reproduction and some serious designing, these 16" speakers can be placed within any wood or metal stud-work wall. Sounds are recreated in a less directional, more evenly based way than traditional cone speakers so that no matter where you sit, you get the same great sound as everyone else.
The AIW5 can handle 80 watts of continuous power while generating 105 db of sound after applying plaster. Check with Amina for pricing and special sizing. The loudspeakers will be formally introduced at Denver's CEDIA Expo 2006 starting September 13. In the meantime, think about all that room you will have for your next party.
Read More

| AIW5 Speaker Product Page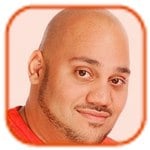 Posted by Andru Edwards Categories: Accessories, Design, Household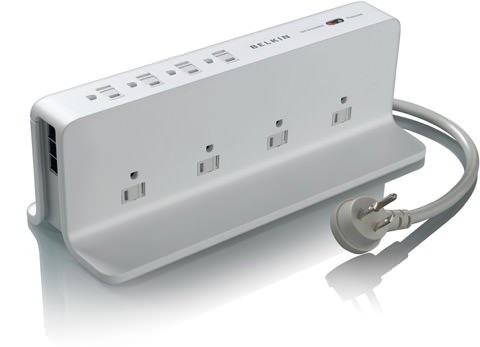 Belkin continues their surge protecting ways with the Compact Surge Protector. This one uses a unique design, offering a total of 11 outlets - 6 regular, 4 BlockSpace, and 1 convenience (for cell phone chargers, etc.) - in a compact (go figure) enclosure. The Compact Surge Protector offers a six-foot cord, a closing cover to protect pets and the kiddies, 1-in/2-out phone/fax/modem protection, and 1-in/1-out for coaxial cable and ethernet. Oh, and if it messes up your gear, you can rest easy knowing that it comes with a $300,000 Connected Equipment Warranty, sho 'nuff. The compact surge protector will hit retail for $39.99 USD.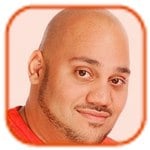 Posted by Andru Edwards Categories: Design, Household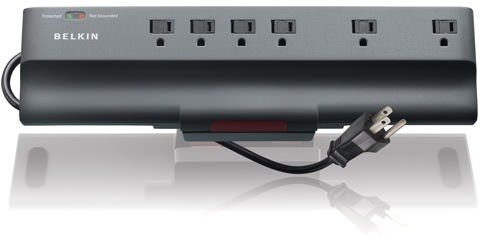 Belkin aims to please those who hate crawling under their desk to plug things in. The Clamp-On Surge Protector is the first of it's kind, hooking on to the edge of your desk, workbench, or other similar area, allowing you to simply plug and unplug things from the comfort of your chair, if you so choose. Aside from the whole clamp thing, the surge protector also has a ten-foot cord, and 6 outlets - four normal, and two "BlockSpace."
"Most of the time, surge protectors are made for placement on the ground," says Kelly Berg, Sr. Product Manager for Belkin. "By adding the clamp-on feature, you can move and mount the Surge Protector to an easy-to-reach spot—whether it's your computer desk or your workbench in the garage."
The Belkin Clamp-On Surge Protector will retail for $34.99 USD, and will ship in North America in October, with launches in Asia, Europe, and Australia to follow shortly thereafter.
Posted by Dave White Categories: Home Entertainment, Household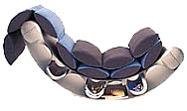 Want to hunker down for a good read without having to get up every so often to get something else to peruse? A design company called Umamy has you covered.
The name of this super-comfortable couch is the Groovy Banana. We're guessing that it's named that because of it's look. We're also guessing that we'd be very comfortable rocking back and forth in its rubbery depths. Notice the "shelves" underneath, on which you can store your books, magazines, even an e-reader or laptop.
You certainly would not want to do tricks on this baby. For one thing, your books would go flying. For another, you might not be able to get back up if the Groovy Banana landed on you. Better not to monkey around.
Wondering about price? So are we ...
Read More

| Umamy

Posted by Dave White Categories: Accessories, Household, Wireless / WiFi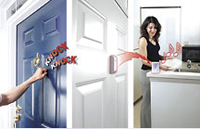 When is a door chime not a door chime? When it's a knock.
Check out the Knock-Knock Door Chime, a device that doesn't show itself off as itself. You install it on the inside of your front door, on an adjoining wall, or up to 100 feet away, and let the chime do the rest. When a friend or neighbor or door-to-door salesman knocks on the front door, the chime sounds inside the house, alerting you to the presence of someone you do or do not want to see. No wires are needed, and you can pick one up for $49.99 USD.
Read More

| Gizmocity via Coolest Gadgets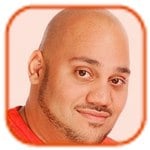 Posted by Andru Edwards Categories: Design, Household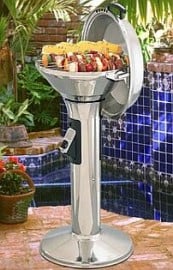 As summer continues to melt our non-air conditioned office, we often find ourselves thinking about technology related to the season. When we were sent news about the Del Mar Magma Grill, we laughed at how much it resembled a podium, but then realized the draw. Most grills are either too small, or just way too big and bulky. The Del Mar Magma grill goes against the grain. This thing has a small footprint, and is made out of 18-9 stainless steel. Standing 41-inches tall, it takes a very functional approach to grilling and can be doubled as an oven or stove, and you can choose from natural gas or propane models. If you want one, they sell for $400 USD. A bit pricey, but that is the cost of style, we guess.
Read More

| Magma Products

© Gear Live Inc. – User-posted content, unless source is quoted, is licensed under a Creative Commons Public Domain License. Gear Live graphics, logos, designs, page headers, button icons, videos, articles, blogs, forums, scripts and other service names are the trademarks of Gear Live Inc.