Posted by John Goulden Categories: Household, Misc. Tech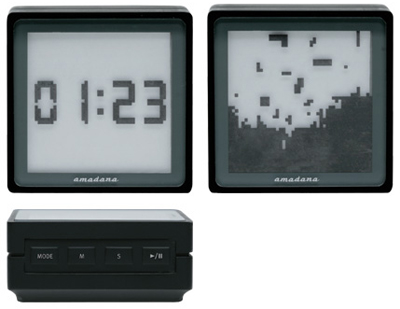 What is it about Tetris that still fascinates so many people to this day? Brought to life in 1985 by a Russian programmer, the game has spawned innumerable clones, as well as offshoot products like the Tetris Kitchen Timer we're looking at today. As with a traditional timer you can let it perform the countdown with a display of digital numbers, but that sucks all the fun out of things. No, the quirky nature of the timer comes into play when you can put it into Tetris mode. In this mode the familiar little shapes work their way down the screen, and when the screen is completely filled up, your time (and that of your food) is also up.
Provided you can read Japanese, the timer is available for approximately $42 USD.

Read More

| Amandana via Gizmodo
Posted by John Goulden Categories: Accessories, Design, Household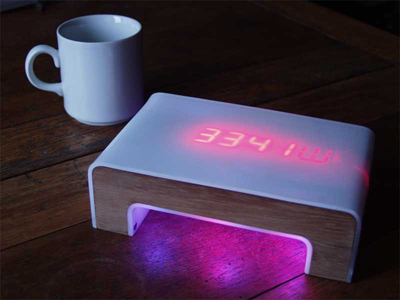 Curious as to how much power you use throughout your home? Do family members traipse through the house, flipping on light switches and leaving a blazing trail of wasted energy in their wake? If so, maybe the Wattson can help educate them as to the tangible change in power usage when electrical items are left on (or off as the case may be). Wattson delivers the information in numerical and non-verbal modes, and can also be connected to your computer for charting energy usage over time and sharing the data with a community of Wattson users.
The numerical display shows you exactly how much power your home is using at that very moment, and can display the result as an annual monetary cost, or in watts. This mode can help demonstrate what the real impact is of high-wattage bulbs instead of energy saving fluorescents, or how much power (and money) your SLI-equipped gaming rig really consumes. The non-verbal method uses colored lights and patterns to display the changing status of power consumption, and is useful for children and as a "quick glance" status indicator.
The Wattson device itself is wireless, and receives information from a sensor that is installed near the electrical panel in your home. The sensor is said to be easy to install, "with no need for any expert knowledge or assistance", although the company does offer installation services.
Built to order, the £350 (~ $610 USD) device requires 8 weeks prior to shipping and is currently available only in the UK.

Read More

| DIY Kyoto
Posted by John Goulden Categories: Household, Misc. Tech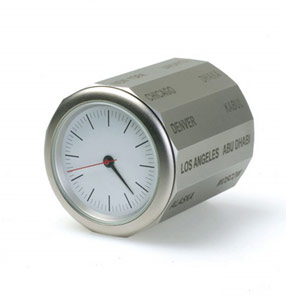 Maybe you consider yourself a word traveler, or possibly you're into day trading, but whatever the need, a clock capable of keeping track of the time in major cities around the world can be quite useful. Simplicity has its place as well, and that brings us to the Charlotte van der Waals Stainless Steel World Time Clock. Okay, so simplicity isn't in the name, but it is in the clock. In the shape of a dodecagon (er, 12 sides that is), the clock has two major cities on each side which covers the 24 global time zones. To check the time in any one of those cities, merely rotate the clock till that city is on top, and the correct local time will be shown. If stainless steel isn't your thing, three other variations on the theme are offered with two made from plastic, and a disc-shaped travel version made from aluminum.
The stainless steel model is priced at $190 USD, and available here.

Read More

| Ameico via Cool Tools
Posted by John Goulden Categories: Household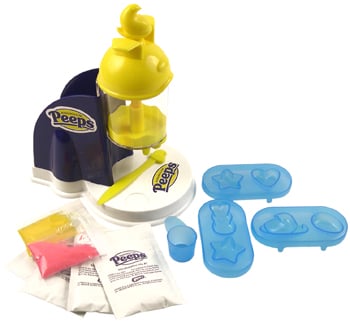 With Easter fast approaching, the inevitable onslaught of chocolate rabbits, creme-filled eggs, fake grass, and jellybeans is upon us. However, no collection of Easter candy products is complete without the spongy, sugar coated product known as Peeps. What once started as merely a marshmallow chick, has evolved to include bunnies and now covers not just Easter but Valentine's Day, Halloween, and Christmas as well. Love 'em or hate 'em, an estimated 700 million Peeps will be sold this Easter, although that gives us no idea how many will actually be eaten.
If you can't wait for a holiday that Peeps has infiltrated, you can now make your own at home. The Peeps Marshmallow Maker, or Peeps Machine as we like to think of it, comes with marshmallow mix, yellow and pink sugar (what, no purple?), and Peeps molds with a variety of fun shapes.
Satisfy the Peeps freak in your life by picking one up for $26 USD for the machine, and $8 USD for the mix. Obviously not intended as a cheaper alternative to buying them pre-made.

Read More

| FredFlare via Kitchen Contraptions
Posted by Jared Hislop Categories: Household, Misc. Tech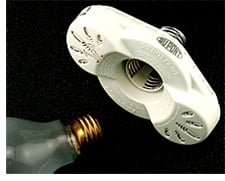 An interesting household gadget has arrived in the Dupont Self-Charging Smoke Alarm. We will be the first to admit it, changing the batteries in a smoke alarm can be a bit of a hassle. With this new smoke alarm, all you have to do is screw it into a light socket. The unit charges when the light is turned on, and is capable of going 30 days without a charge. Oh, andjJust in case you forget to charge it, an audible alarm will alert you when the unit is low on power. If that happens, turn on your light for a while, and you are good to go. The other great feature of this smoke alarm is that it can be tested (or silenced) by merely flipping the light switch. No more fumbling around trying to replace a battery, or finding the test button.

Read More

| Dupont via OhGizmo

Posted by Kristin Wenzel Categories: Accessories, Household, Misc. Tech, Peripherals, Rumors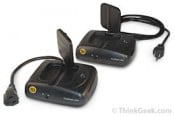 Good Lord! Is this for real? ThinkGeek has introduced wireless extension cords, which use microwave technology to beam power (wirelessly) up to three hundred feet.
Just plug the Wireless Extension Cord (WEC) base unit into a standard wall outlet, and plug whatever you need into the satellite unit. The WEC uses microwaves in the 7.2GHz range, so it won't interfere with wireless networks, Bluetooth components, etc. Now, all you need to do is adjust the antennae on the two units so they are aimed at each other. Turn everything on and you have the power! The distance the WEC units can broadcast differs from situation to situation (due to interference of such things as walls, power lines, and microwave ovens), but we've beamed power over 300 feet!
These puppies will run you about $35 at ThinkGeek. Have a good time trying to get through checkout though…

Read More

| ThinkGeek
Posted by John Goulden Categories: Wearables, Household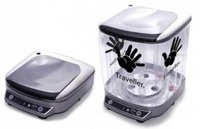 For those who travel frequently, and like to have clean clothes (and who doesn't?), Astone introduces the Traveller. The Traveller is a portable washing machine that you inflate to use, and just as easily deflate to stuff into your luggage. Holding approximately 1.7 gallons of water, it might be enough to wash a few pairs of socks, or maybe a shirt, but not much else. Interesting in theory, but arguably doomed in practical use. Now all they need is a portable dryer, and no, the hotel hair dryer does not count.
Available this June for $70 USD.
Posted by John Goulden Categories: Home Entertainment, Household, Misc. Tech
This is one of those things that just has to be seen to be appreciated. If you remember the MIT project where a dance floor was made using 1,500+ LEDs, way too much cabling, and a series of controller boards, then think of this as a scaled down version. Spending approximately $1000, David Worden has cobbled together one of the coolest looking bars around, utilizing 128 RGB LEDs, 250' of cable, and other assorted paraphernalia. Essentially bringing the visualizations from Winamp to life, the Disco Bar can display a myriad of colors and patterns. Don't take our word for it though - watch it for yourself!

Read More

| The Disco Bar via digg
Posted by John Goulden Categories: Home Entertainment, Household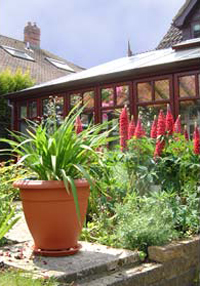 Not long ago we brought you the Bloom! LED Flower Pots that can be used as accent lights around your home. Today, we bring you the singing and dancing (okay, no dancing) Tubthumpers. Tubthumpers are flower pots with speakers in them for use with your home audio system. Far more discrete than the average fake rock speaker, the Tubthumpers are waterproof and can be left outside year round. Granted, the speakers may survive the winter, but will your plants?
Available for approximately $175 USD per pair.

Read More

| MJB Audio via T3 Magazine

Posted by Kristin Wenzel Categories: Design, Household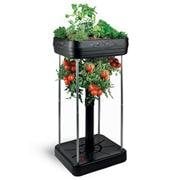 File this under "weird-but-cool." Most of the time, tomatoes are notoriously hard to grow. However, the Upside Down Tomato Garden could change that - and it looks "space age" at the same time.
This ingenious planter takes the toil out of growing tomatoes by elevating the planting bed and allowing your vines to grow downward from holes in the bottom.
And, as a bonus, the top side of the planter can be used to grow herbs, flowers, or anything else you might think of putting up there.

Read More

| Hammacher Schlemmer
© Gear Live Inc. – User-posted content, unless source is quoted, is licensed under a Creative Commons Public Domain License. Gear Live graphics, logos, designs, page headers, button icons, videos, articles, blogs, forums, scripts and other service names are the trademarks of Gear Live Inc.