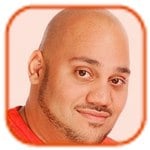 Posted by Andru Edwards Categories: Design, Features, Household, Product Reviews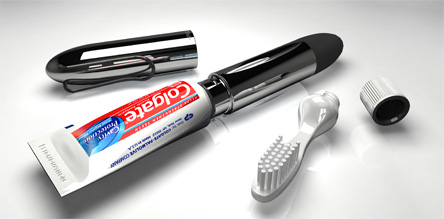 When a non-electric toothbrush calls for a product review, you know something about it has to be special, right? Well, just trust us. We have taken the OHSO Marko travel toothbrush and put it through the paces to show what a little ingenious, outside-the-box thinking can add to a practice that we didn't expect to see much innovation come in to. If you ever have to go somewhere where you think you might need your toothbrush, we tell you why the OHSO is the only solution you will ever need to that problem.
Click to continue reading OHSO Marko Pocket Toothbrush System Review
Posted by John Goulden Categories: Design, Household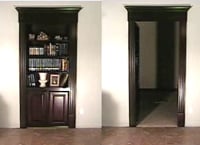 Hidden passageways are the sort of things kids dream of. The ability to sneak from one room to another, a place to hide from your pesky brother/sister, or a cool thing about your house your friends don't have. Creative Home Engineering creates and installs hidden passageways, and has also designed a DIY kit for those willing to tackle the project on their own.
Imagine every type of hidden passage you've seen in the movies, or read about in a book, and the folks at Creative Home Engineering can make it a reality. Revolving fireplace? Check. Stairs that lift to reveal a hidden entrance? You betcha. A candlestick on the mantle as the triggering switch? Piece of cake. In fact, from looking at the movies and animations on their site, you'll get a glimpse of how varied hidden passages can be. Fulfilling one's childhood fantasies isn't the only reason for a hidden passageway. Security plays a major role as thieves can't steal what they can't find. Technology also has it's place with biometrics, optical scanners, and voice recognition as optional items.
Prices can range upwards of $10,000 USD, and the DIY kits start at $1,500 USD.

Read More

| Creative Home Engineering via The Red Ferret
Posted by John Goulden Categories: Design, Household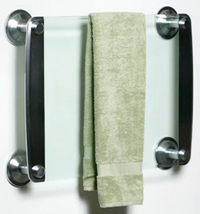 Walk by your typical window during the middle of winter (assuming you don't live in the tropics) and you can feel the cold pouring off of it. Even multi-paned, gas filled, low-E windows are still poor thermal barriers and let in as much cold as they let heat out. To increase comfort and efficiency, Engineered Glass Products (EGP) has come out with Hot Glass. Hot Glass is a double-pane window with a transparent film that allows the inside pane to radiate heat. You can set the window to provide just enough warmth to offset any heat-loss, and put the inside of the glass at room temperature. Alternatively the controls can be configured (similar to a standard thermostat) to allow the windows to give off increased heat, helping to warm the room they're in.
Oh, and that picture of the towel warmer? Well, it happens to be just one of the additional uses of their heated glass technology, and a good looking one at that.

Read More

| EGP via Luxury Housing Trends
Posted by John Goulden Categories: Design, HDTV, Home Entertainment, Household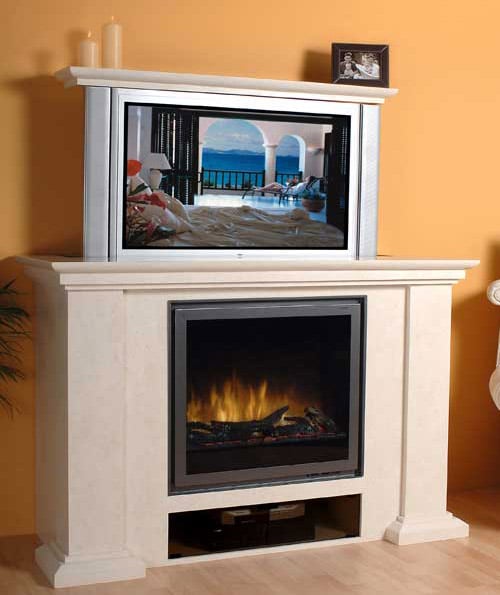 There are those that like to show off their home theater gear, and others who prefer a more discrete approach. For the latter group comes a plasma television cabinet that also happens to be a fireplace. Similar to other motorized display cabinets, the plasma screen is situated on a lift that raises and lowers it on command. Sadly, the included fireplace isn't really a fireplace by the true definition of the word. Actually, its called a flame effect fire that has no real flame, but does contain an electric convection heater that churns out 2kW (approx. 6800 BTUs) of heat. (So much for roasting chestnuts over an open fire.)
A variety of styles are offered and prices range from approximately $3,700 to $9,100 USD. Ouch.

Read More

| Picture House via CEPro
Posted by John Goulden Categories: Accessories, USB, Household
Of all the stupid
great ideas out there, the USB Air Purifier is one of the latest. One more USB device isn't going to kill your computer, but it might help clean the air around it. There's no mention of how it cleans the air, but since there's not much room for a filter, we can surmise that it operates as an ionic model. If that's the case, in exchange for supposedly cleaner air, your little air purifier will be sitting on your desk happily churning ozone into your immediate vicinity. Excess ozone is bad for you, but whatever it's method of air purification, we can all use cleaner air, and for a small area this tiny critter just might do the trick. Priced around $27 USD.

Read More

| Product Page
Posted by John Goulden Categories: Household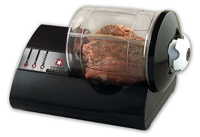 The Reveo MariVac Food Tumbler is bound to keep your canine friend entertained for
hours
minutes
seconds as it sits on your kitchen counter, happily tossing a raw piece of meat around in it's acrylic container. Of course it's not intended to keeps your pets occupied, and a complete cycle only lasts 20 minutes, but it is designed to cram as much marinade as possible into every nook and cranny of your meat of choice. With only three buttons, On/Off, Vacuum, and Tumble, the MariVac is easy to use. Insert marinade and meat, allow the machine to create a vacuum inside the container, and tumble your way into marinaded bliss. Of course, such happiness comes at a price - $200 USD in this case.
Posted by John Goulden Categories: Design, Household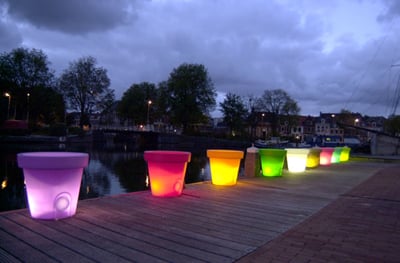 LEDs (light emitting diodes) are literally everywhere today. In fact, if you were to turn off the lights in just about any room in your home, odds are that a little glowing LED would be emanating from some object. With the theory that a little excess never hurt anyone, BLOOM! introduces their lineup of LED flower pots that are designed to light up your boring old plants with a splash of color. Although you can get their smallest pot with low-voltage halogen lighting (why even bother?), their two larger pots (26-inches and 41-inches in diameter) are both fitted with LEDs. There are four, 1-watt, white LEDs (Luxeons maybe?) utilized in the 26-inch pot, whereas the larger pot has twelve colored LED's installed in a rotating ring. Should the need arise, the LEDs are even replaceable, but with a listed lifespan of 50,000 hours, their demise won't be anytime soon.
A steep $199 is the price to pay for the privilege of owning the 26-inch pot, and we can only wonder what the 41-incher will set you back.

Read More

| Bloom! via Luxury Housing Trends
Posted by John Goulden Categories: Design, Household
No, that's not a periscope sticking up out of the cooktop above, it's the pop-up ventilator for Gaggenau's Modular Cooktop System. A short time ago we brought you the Kuppersbusch Cooktop which was smooth and sleek, but as some of you pointed out, lacked the one thing professional and aspiring chefs prefer - gas burners. Well, the Gaggenau system isn't nearly as svelte, but it does have the versatility factor covered. You can assemble your own cooktop design with everything from gas burners to glass-ceramic cook surfaces, steamers, deep fryers, dedicated wok burners, griddles, and even a conventional downdraft system should the pop-up ventilator prove too strange looking.
Prices aren't listed, but if it's anything like the Kuppersbusch system, if you have to ask, you can't afford it.

Read More

| Gaggenau via Trendir
Posted by John Goulden Categories: Accessories, Home Entertainment, Household, Portable Audio / Video
iPod this…iPod that. Every time you turn around it seems as though another iPod accessory has come out. Many are merely variations on a theme (seriously, how many different iPod docks are there?), but every now and then there's something slightly different (heavy emphasis on slightly). A quick search on the web turns up more than one iChair, with none of them being the same thing. It almost makes you wonder why there isn't some kind of copyright litigation going on, but I digress. The iChair from Pottery Barn Teen has a micro-suede finish, a pocket to hold your beloved iPod, and a volume control built right in. Speakers located on both sides of the chair's headrest, plus a subwoofer (if you can call a 3-inch speaker a subwoofer) directly below your posterior envelop you with a "surround sound effect" - their words, not ours. All yours for $399.

Read More

| Pottery Barn Teen via BornRich
Posted by John Goulden Categories: Household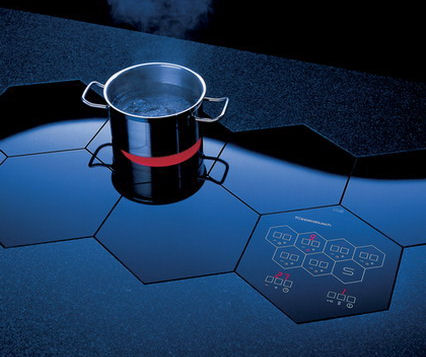 So you've got your swank kitchen - hand-rubbed cherry cabinets, as much stainless steel as you can get away with, monster SubZero fridge, dual Miele dishwashers, dedicated wine cooler/warmer and you're still using a run-of-the-mill built-in cooktop. Try something a little spiffier like the Kuppersbusch Electric Honeycomb Cooktop. The system uses a series of honeycomb-shaped pads that are able to be recessed flush with the surface of your counter-top. One of the honeycomb shapes works as a touch-sensitive interface, and with no unsightly knobs or buttons, cleanup is a snap. The heating elements can be arranged into a wide variety of layouts, are made of a ceramic glass material, and are expandable up to 6 total elements. A child-safety interlock ensures that while it will still be easy enough for you to set fire to dinner (and potentially your house), your children will at least be semi-challenged to do the same. List pricing for the control interface is $1750, with the heating elements going for between $550 and $650 depending on the type.

Read More

| Kuppersbusch USA via Trendir
© Gear Live Inc. – User-posted content, unless source is quoted, is licensed under a Creative Commons Public Domain License. Gear Live graphics, logos, designs, page headers, button icons, videos, articles, blogs, forums, scripts and other service names are the trademarks of Gear Live Inc.