Posted by John Goulden Categories: Accessories, Home Entertainment, Household, Portable Audio / Video
iPod this…iPod that. Every time you turn around it seems as though another iPod accessory has come out. Many are merely variations on a theme (seriously, how many different iPod docks are there?), but every now and then there's something slightly different (heavy emphasis on slightly). A quick search on the web turns up more than one iChair, with none of them being the same thing. It almost makes you wonder why there isn't some kind of copyright litigation going on, but I digress. The iChair from Pottery Barn Teen has a micro-suede finish, a pocket to hold your beloved iPod, and a volume control built right in. Speakers located on both sides of the chair's headrest, plus a subwoofer (if you can call a 3-inch speaker a subwoofer) directly below your posterior envelop you with a "surround sound effect" - their words, not ours. All yours for $399.

Read More

| Pottery Barn Teen via BornRich
Posted by John Goulden Categories: Household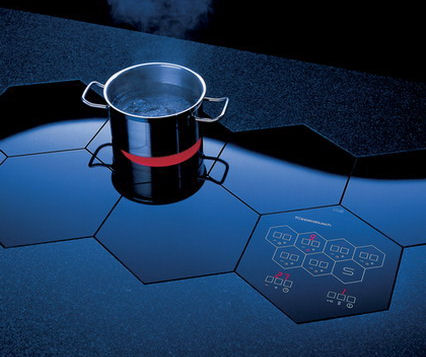 So you've got your swank kitchen - hand-rubbed cherry cabinets, as much stainless steel as you can get away with, monster SubZero fridge, dual Miele dishwashers, dedicated wine cooler/warmer and you're still using a run-of-the-mill built-in cooktop. Try something a little spiffier like the Kuppersbusch Electric Honeycomb Cooktop. The system uses a series of honeycomb-shaped pads that are able to be recessed flush with the surface of your counter-top. One of the honeycomb shapes works as a touch-sensitive interface, and with no unsightly knobs or buttons, cleanup is a snap. The heating elements can be arranged into a wide variety of layouts, are made of a ceramic glass material, and are expandable up to 6 total elements. A child-safety interlock ensures that while it will still be easy enough for you to set fire to dinner (and potentially your house), your children will at least be semi-challenged to do the same. List pricing for the control interface is $1750, with the heating elements going for between $550 and $650 depending on the type.

Read More

| Kuppersbusch USA via Trendir
Posted by John Goulden Categories: Design, Household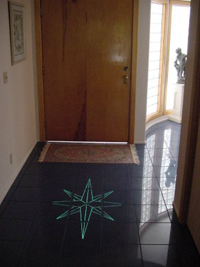 Fiber optics, in their various forms, are everywhere these days. From communications cabling to fabric materials, children's toys to lighting and custom home theater ceilings with star fields, the proliferation of the product can be a bit overwhelming. Leave it to Fiberoptic Floors, Inc. to find a way to install fiber optics in your tile floor. They utilize a waterjet process to drill holes into ceramic tile and a halogen or LED-based light source for powering the fiber. Designs can be as simple or complex as you desire, and animations are even within the realm of possibility. No word on price, but this sounds like one of those products where, if you have to ask…

Read More

| Fiberoptic Floors, Inc. via Luxury Housing Trends
Posted by John Goulden Categories: Household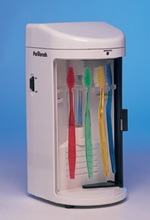 They say that a dog's mouth is cleaner than yours. A subjective observation to be sure, as most humans aren't known for licking, ummm, well, various places that we won't go into detail on. Regardless, the human mouth is a breeding ground for bacteria, and the lowly toothbrush is even more so. Since a toothbrush is damp for most of it's life, it makes a fine place for viruses and bacteria (like Strep and E-Coli) to flourish. The Purebrush Antibacterial Toothbrush Purifier is out to change that. Armed with an ultra-violet light, the Purebrush sanitizes up to four toothbrushes at once. The Purebrush is different from other toothbrush sanitizers in that it will clean not only a standard toothbrush, but also the powered heads from Braun, Interplak and others. With claims of a 99.9% effective elimination rate for viruses and bacteria, the Purebrush seems to be an ideal weapon in the war on the microscopic critters that are out to get you.

Read More

| Murdock Laboratories via Kevin Kelly Cool Tools
Posted by John Goulden Categories: Design, Household, Transportation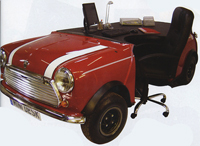 What do you get for the person who seems to have everything? How about a desk made out of a Mini Cooper (the original, not the BMW remake). If you're willing to part with $4,500, you too can own (or gift) a nostalgic piece of automotive history. Of course, for around that same amount of money you can buy yourself a whole Mini Cooper to actually drive.

Read More

| Uber-Review
Posted by John Goulden Categories: Household, Misc. Tech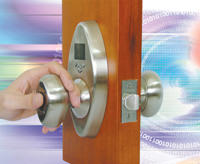 At some point in time, everyone has been locked out of their home at least once. It's a frustrating feeling as you stand there pondering what part of your domicile to break (window, door?) to gain admittance. To avoid this kind of scenario, Tychi Systems presents the BioKnob. The BioKnob works on the principle of biometrics in that it uses your fingerprint for verification. The BioKnob will allow up to 100 users to be programmed for entry and uses a rechargeable battery that lasts for approximately 1000 openings. When battery power gets low (less than 50 entries left), the knob will alert the user who can then plug an AC adapter into it for charging. Additional features include the support of temporary users, choice of two colors, and adaptibility to practically any standard door. Sounds like a great product as long as Tychi Systems has taken steps to counteract the Play-Doh problem wherein biometric devices could be fooled 90% of the time with a fake, Play-Doh finger. No word yet on pricing or availability.

Read More

| Tychi Systems via Gizmag

Posted by Frank Bisono Categories: Household, Mods / Hacks

So you don't feel like paying those high prices for "real" PBX systems? Maybe your just an uber nerd like most of us, and want a totally kick-ass wicked phone system for your crib. We've got the answer for you. Ward Mundy over at Nerd Vittles has been writing about geeky things like this for quite some time. I'd say it's safe to say he has perfected the art of installing and tweaking Asterisk, the PBX system for nerds. He has written the most comprehensive guide to installing Asterisk@Home that I have seen anywhere on the net. Head over to Nerd Vittles and get your uber geek fix for the day.

Read More

| Nerd Vittles
Posted by John Goulden Categories: Household, Misc. Tech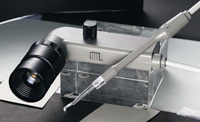 File this under "what in the heck?!". A Japanese company has developed what is essentially an endoscope for home use called the Earscope GXL. The device is designed to allow you to see inside your ears as you clean them. Ignoring what we've heard all our lives about never sticking anything inside our ears, the Earscope will provide you a larger-than-life view of your eardrum seconds before you pierce it. Other uses for the Earscope abound and we'll just leave those up to your imagination. Videos of the Earscope in action can be had for your viewing
disgust
pleasure
amusement on Coden's website.
Posted by John Goulden Categories: Cameras, Design, Household, Misc. Tech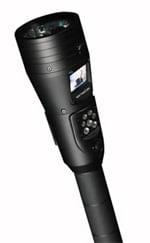 Apparently nothing is sacred anymore. Take the humble flashlight for example. A ubiquitous device, the flashlight as we know it has its origins in 1896. Along the way it has received various upgrades - LED technology and magnetic induction come to mind. However, the core idea of a simple object that spits out light on demand, has remained the same - until now. Enter the MII Flashcam - an 85,000 candlepower LED flashlight that adds the ability to record audio/video as well as take digital still shots. For covert operations it has a ring of infrared LED's to light up your subject, and all video can be viewed on it's 1.5" TFT-LCD. For storing your audio and video the Flashcam has 1GB of integrated memory which will allow for up to 2 hours of footage. Seeing as how the Flashcam is being marketed toward the law enforcement industry, it comes as no surprise that the light is shock resistant (handy when the need arises for incapacitating a fugitive). If you can afford it ($2,500) the MII Flashcam can be yours, but don't expect to be allowed the privilege to record audio unless you're a member of law enforcement. Video functionality on the other hand is seemingly "a-ok" regardless of who the purchaser is.

Read More

| MII Flashcam via Ubergizmo
Posted by John Goulden Categories: Household, Misc. Tech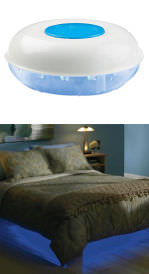 Are you scared of the dark…or more importantly, what can be hiding in the dark under your bed? Does the morning light bring the sweet relief of being able to sprint into the bathroom because you were too frightened to get up during the night? If so, then Solutions may have the answer to your problem (no, not a porta-pottie). It's the diminuative (5" diameter) Blue Moon Night Light. This UFO-shaped object is comprised of 14 blue LED's (because red LED's would have made it look like hell was under your bed), and has a clear ABS bottom for the light to radiate around your room. If you're only slightly scared of the dark (instead of insanely petrified by it), then you'll appreciate the ability to dim the intense blue light to a softer, more soothing glow. It can be yours for $29.95.

Read More

| Solutions via Strange New Products
© Gear Live Inc. – User-posted content, unless source is quoted, is licensed under a Creative Commons Public Domain License. Gear Live graphics, logos, designs, page headers, button icons, videos, articles, blogs, forums, scripts and other service names are the trademarks of Gear Live Inc.