Posted by Alex Grahmann Categories: Home Entertainment, Music, PC / Laptop, Peripherals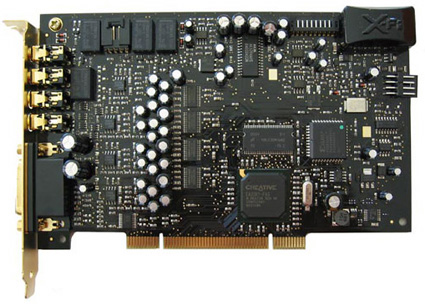 First revealed at this year's E3, the X-Fi line of Sound Blaster sound cards are now ready for the market. The new cards are designed specifically to power Creative's new Xtreme Fidelity audio standard, which promises to hit new heights of audio versatility and performance. Creative has long been the leader in the sound card business, and will release four versions of the new card to Best Buy stores later this month, the Elite Pro ($399), the Fatal1ty ($279), the Platinum ($199), and the XtremeMusic ($129). As is the common rhetoric in the high-tech world these days, Creative is promising that these new cards will "eventually and completely replace the old hi-fi equipment in the home."
Now, the cards seem great, but my question is this: How many of our readers really are replacing standard living-room audio/visual entertainment components with PC upgrades? We'd love to hear from those of you parting with your more traditional home theater elements and what you're using instead.
Read More

| Creative Press Release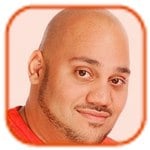 Posted by Andru Edwards Categories: Home Entertainment, Video Games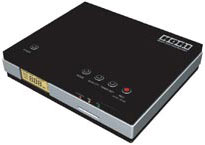 You know, something can be said for having a dedicated hardware device that can do one thing well, as opposed to a PC software equivalent that can't seem to get it quite right. Take the Hori Memory Stick PRO Duo Video Recorder for example. It allows one to record video content directly to a Memory Stick, rather than having to go through a clunky conversion process using software that sometimes works and sometimes doesn't. The device allows for four different recording preferences, the following being for a 1GB Stick:
150 minutes - 320x240, 30fps, 768kbps/128kbps, Stereo
270 minutes - 320x240, 15fps, 384kbps/128kbps, Stereo
530 minutes - 320x240, 15fps, 192kbps/64kbps, Stereo
1070 minutes - 116x112, 15fps, 96kbps/32kbps, Mono
Takes me back to the days of SP, LP, and SLP. Nonetheless, the price on this one isn't bad either - about 11,800 YEN in Japan, which roughly comes out to about a hundred bucks in the US.
Read More

| PSP 411

Posted by Oscar M. Cantu Categories: Home Entertainment, Internet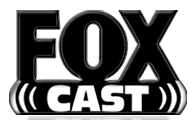 Fox has now joined the bandwagon that is Podcasting, or blogcasting. The FOXcasts are narrated by Michael Krogmann, and are free to download. This idea is nice since you don't have to be tied to a TV set to get an idea of what an episode is about. Only problem is that the site lacks updates, or content for that matter. Hopefully they'll get on the ball and give us some more.
Read More

| FoxCast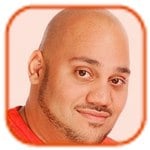 Posted by Andru Edwards Categories: Home Entertainment, Video Games
We all know that the Xbox 360 is going to be a go-between for digital content. You will be able to use it as a Media Center Extender, even for high definition content. In fact, this console will most likely be the reason that I purchase a Media Center PC. The following quote, albeit by a Microsoft representative, puts it all into perspective:
Over the next 10 years, there is a revolution that's going to take place in TV moving to 16-by-9 screens and moving to high-definition format. And Xbox 360 is going to be a driving application for people to get high-definition television. Every Xbox 360 game will play on a regular TV, but they will all also support high-definition TV, and once you see a game in high definition, you never want to go back…every Xbox 360 will be what's called a Media Center Extender, and that means if you have content on your Media Center in the home and you have a network, you'll be able to play that content on your Xbox on the TV that the Xbox is connected to, which gives you the ability to distribute your music, your photos, your video, throughout the home. You'll also be able to take a camera, a digital camera, a digital music player, plug it into an Xbox 360, see your photos, play your music."
That's from Robbie Bach, Xbox Chief Officer, Home and Entertainment Division. The launch just can't come soon enough for me.
Read More

| DigitalTechNews
Posted by Alex Grahmann Categories: Home Entertainment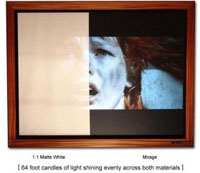 Screen Innovations is set to unveil its newest projection screen creation at the Custom Electronic Design & Installation Expo in Indianapolis this September. The "Mirage" screen employs a patented filter that removes the nuisance of ambient light, including the brightness associated with daylight viewing. What remains is a clear, crisp picture from the desired projection source. If the screen operates as promised, and is within a somewhat-decent price range, it could greatly increase the market for front-projection home theaters. More details will follow as the expo draws closer.
Read More

| Screen Innovations

Posted by Sparky Categories: Home Entertainment, PC / Laptop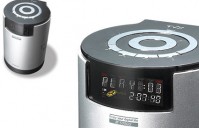 For those not yet able to afford both the Hi-Definition TV and a good media center to go with it a company called TViX has the perfect solution for you. The TViX-HD M-5000U not only features a tongue twister of a product name, but also the power to display 720p and 1080i content from a portable USB hard-drive of from a share on your network on your TV via component video or DVI/HDMI connection. The small cylindrical device is capable of playing WMV9 hi-definition content, and can play .TS files directly that have been downloaded from a cable box or satellite provider for delayed playback. The M-5000U will also work as an HDTV tuner with an added tuner box. Supporting WMV9, DivX, XVid and MPEG 1/2 as well as AAC, MP3, WMAM, PCM, OOG and every common static image format this seems to be an all in one wonder that can bridge your living room with your office. The only things missing from their website are a launch date and a price, although I'm sure it will be cheaper than a Windows Media Center - the only real competition when it comes to getting your computer based Hi-Def content on your screen.
Read More

| TViX HD-5000U

Posted by Oscar M. Cantu Categories: Home Entertainment, Hot Deals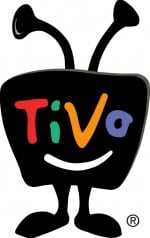 So you are digging Tivo but haven't bought one yet for whatever reason. Well now's your chance to get your hands on one for free if you pay for a full year of the Tivo service up front. They are probably giving the 40 hour version away since its being discontinued. Nonetheless, it's a very good deal for a service you'll end up paying for anyways – so why not get something in return? Offer ends on 7/27/05 so get it quick.
(Thanks Kidd!)
Read More

| Tivo Offer Page

Posted by Sparky Categories: Home Entertainment, Peripherals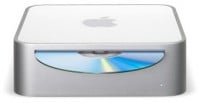 Elgato systems just announced the EyeTV for DTT, a highly portable USB2.0 digital TV tuner for the Mac. The EyeToy is bus powered and thus requires no external power supply or adapter. The Eye Toy comes bundled with software to enable the user to perform PVR functionality - pause, repeat, and recording live TV for later transfer to a Sony PSP, iTunes, DVD-R's, or other digital video devices. With a small and powerful tuner like this for digital TV broadcasts Apple's brand is one step closer to having the Digital Media Trinity. I wonder how Sony feels about their use of the name Eye Toy?
Read More

| Elgato EyeToy via Macminute
Posted by Devin Categories: Home Entertainment, Misc. Tech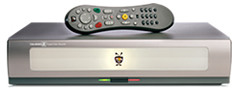 TiVo knows that its customers skip commercials, and we've seen them try to get us involved in watching them by offering the "Thumbs Up" option on some commercials, allowing us learn more about a certain product, show, or movie simply by pressing the little green button. I can't say I haven't tried it once or twice merely to see what would happen when I pressed the button, but I can tell you for sure I most definitely won't be trying TiVo's latest form of interactive advertising. Soon, viewers will have the option of hitting a button during a commercial which will send their information to an advertising firm which will in turn add the viewer to a mailing list. No thanks TiVo…my mailbox is full of enough junk mail already.
Read More

| Tech Dirt

Posted by Sparky Categories: Home Entertainment, Portable Audio / Video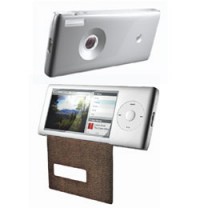 With rumors flying around about a video iPod and an Apple videos store (iMovies?) Gear Live would like to take the following opportunity to speculate wildly that Apple would secure dominance in the emerging digital multimedia market place if they do the following things:
Launch an Apple videos store - not just music videos like iTunes has now, but full feature length movies from all the major movie houses available in (sadly a necessity) DRM'ed H.264. Apple already has the store infrastructure in place through iTunes, and the bandwidth, media savvy, and codec to pull this off.
Apple then must produce a multimedia focused set top box - A slightly modified Mac Mini would be perfect for this. The device will need to be able to browse the movies store on a TV screen, and include a remote. They might want to include PVR software and a TV tuner, but that is neither here nor there.
The final spire of Apple's digital media trinity would be the video iPod to allow consumers to take (compressed) versions of their content with them wherever they go.
With all three of these key points presented to the marketplace at the same time with Apple's legendary user interface ease of use and industrial design skills they could not only make a big splash, but gain iTunes dominance in yet another new marketplace. If they are going to do it they had better do it quick though as Microsoft is trying to make hollywood connections to do the same thing with their Windows Media Center and Portable Media Center platform, Sony has the PSP and store infrastructure and Tivo is rumored to be in the works with a video download service as well.
This coming digital media revolution will be far reaching - within 5-10 years physical media like DVD's, HD-DVD's, Blu-Ray, and CD's will disappear entirely. CD sales are already starting to sag under the legal downloaded music juggernaught. Whoever gets there first with this "digital media trinity" will certainly end up with the lions share of a market that is set to replace every visual entertainment sales and rental business that we know of.
Did you hear it here first? Did Gear Live call it? Well we will have to wait and see - the industry analysts are saying to expect a big announcement come September.
Read More

| TUAW Video iPod
Read More

| Wired Video iPod
© Gear Live Inc. – User-posted content, unless source is quoted, is licensed under a Creative Commons Public Domain License. Gear Live graphics, logos, designs, page headers, button icons, videos, articles, blogs, forums, scripts and other service names are the trademarks of Gear Live Inc.