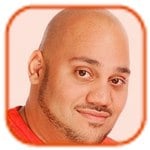 Posted by Andru Edwards Categories: Home Entertainment, Hot Deals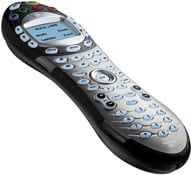 They have 700 of these new activity based remote controls to give away, and you can score one simply by filling out a very short survey on their site. We recently reviewed the Harmony 688, and walked away impressed. Logitech has a good thing going with the Harmony remote line. If you have multiple components and use a bunch of remotes to control them, this contest is for you - that is, if you are at least 18 and live in the United States.
Read More

| 100 Remotes a Day Giveaway
Posted by Categories: Home Entertainment, Wireless / WiFi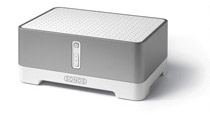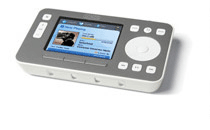 Their tagline says it all,"All your music. All over your house. All from the palm of your hand." Starting with the basics, the Sonos unit is a wifi distribution system plus more. The zone players are also amplifiers, with speaker and line outs on the back of the unit. Bring it with you where you want it. On the back of the unit is a 4 port ethernet switch, but have no fear, it's also wifi-enabled so the rj45's aren't mandatory. It will connect to up to 16 computers to be sure it has all your music. They also speak to other units wirelessly. You can listen to a song in multiple rooms with no echo or delay, or you can listen to multiple songs in multiple rooms. It will also stream internet radio station and allow for a line in connection from another audio device. 50watts per channel and it weighs 10lbs. It's made of alluminum to keep it light and mobile. Add the Sonos desktop software and it links all your music together in the hot looking hand held controller. With an iPod styled control section and a 3.5" backlit LCD so you can browse your collection by Artist, Album, Genre, Track Name, Composer, or Playlist. You can build and edit playlists and setup multiple playlists for each zone. The Li-ION polymer battery will last for a week and only takes two hours to charge. As for the price, you can grab the Introductory Bundle which includes two zone player and the controller for a cool $1200 USD.
Read More

| Sonos

Posted by Oscar M. Cantu Categories: Home Entertainment

Most of us love Digital Video Recorders for their ability to record television shows to a hard drive and see them at a more convenient time. Not to mention the ability to fast forward, rewind, and pause live T.V. What do you do when you want to take that T.V. show you recorded and see it on another T.V. or give it to a friend that missed the show? Well now there's a way to do it. Humax introduces the DRT800. Equipped with a hard drive able to record 80 hours of television and a DVD Recorder, you are able to record television entertainment to DVDs. No longer do you have to delete old shows and never watch them again, at least until a re-run, now you are able to record DVDs to free up space and take them with you so you may watch them anywhere you want. This DVR requires a subscription to TiVo which costs $12.99 a month or $299 for a lifetime service.
Read More

| Humax
Posted by Hector Martinez Categories: Home Entertainment, PC / Laptop, Portable Audio / Video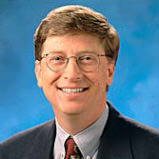 USA Today has a brief interview with the main man at Microsoft. It's really amazing how much we depend on our PC for all our gear. Anyway, no new information regarding the XBox2, but he does offer some interesting scenarios on the future of video playback, along with why he supports the subscription-based model for digital music. Oh, and there's no portable XBox in the works, but I guess that's what our Pocket PC's are for.
Read More

| USA Today
Posted by Categories: Home Entertainment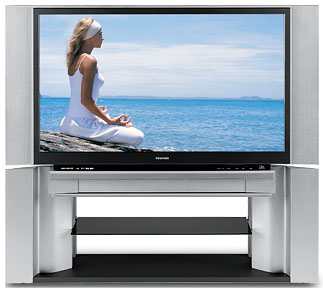 How would you like to be able to buy a flat panel TV that costs less than a Plasma or LCD, and has a better picture? Various companies are trying to perfect the technology that will rely on diamonds or carbon nanotubes to produce images. This type of display would also consume less energy than today's TV's. As quoted from the article:
"The concept of a nanotube TV will give you image quality similar to CRTs (cathode ray tubes), and the best image quality is still found on CRT TVs," said Tom Pitstick, vice president of marketing at Houston's Carbon Nanotechnologies. "All the major display manufacturers are looking at nanotube TVs."
The article goes into depth on how the technology works. A recommended read for all you TV buffs.
Read More

| ZDNet
Posted by Categories: Home Entertainment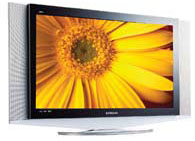 Samsung announced Tuesday that it had developed the largest single-panel active matrix-based organic light-emitting diode (OLED) display for TVs. Recently, Phillips had that claim with it's 20 inch screen. Samsung's 21 inch OLED display offers brightness of 400 nits, a contrast ratio of 5000:1, and color gamut of 75, making the product ideal for viewing HD-resolution video images.
Read More

| EE Times

Posted by Oscar M. Cantu Categories: Home Entertainment
Canon announced Tuesday that it will start producing rear projection televisions this year. Canon, a Japanese camera and office equipment maker, wants a part of the rapidly growing big screen TV market. Along with rear projection TVs, they will also be working with Toshiba, Hitachi, and Matsushita Electric Industrial Co. Ltd in producing a new type of LCD panel. They plan on offering rear projection TVs on a commercial basis by the end of this year. Rear projection TVs are the second flat-panel TVs that will be offered by Canon, the first being SED TVs which will also be available this year. This comes as good news for the end-user. Bigger variety of TVs to choose from, more competition leads to cheaper prices, and better quality as a result of quality research on the part of TV makers. Be sure to be on the look out next holiday season for these TVs, they are sure to be among many people's wish list.
Read More

| Reuters
Posted by Hector Martinez Categories: Cameras, Cell Phones, Handhelds, Home Entertainment, Misc. Tech, PC / Laptop, Portable Audio / Video, Software, Video Games, Wireless / WiFi

Pretty soon, we're going to be flooded with lots of news on all the new gear products coming out later this year and beyond. It's because the annual Consumer Electronics Show opens up this week in Las Vegas. The show runs January 6-9, and features a messload of exhibits showcasing the latest in everything from BlueTooth technology to home theatre to WiFi. Some of the major products that debuted in past CES shows include plasma TV's, HDTV, CD's and DVD's. It's just huge, with some 129,000 attendees. Special events to look out for this year include a pre-show keynote speech by Bill Gates, and a show-floor gaming competition. Speaking of games, PSXExtreme reports that details on the Sony PSP's US launch, pricing, and titles will all be revealed at the show.
Posted by Categories: Corporate News, Home Entertainment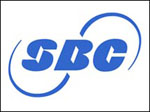 SBC announced today their plans to provide digital set-top boxes for consumers that would provide DVR-like capabilities. In conjunction with Dish Network, Cingular, Yahoo, SBC broadband DSL, and other SBC owned companies, the devices would allow customers to record TV, listen to internet radio, view pictures from their computers, and program their DVR remotely from the internet. Also planned is the ability to program the DVR from your Cingular wireless phone.
Perhaps the most appealing part of their plan is the waiving of a monthly fee for usage; consumers will pay a one time fee for the device, and only continue to pay the standard subscription fees to Dish Network and SBC Yahoo DSL, all of which can currently be rolled into a single bill from SBC. This convenience is a contrast to the monthly fees charged by TiVo.
Read More

| Forbes
Posted by Categories: Home Entertainment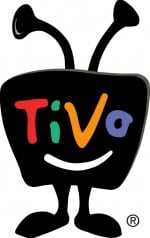 This should excite all of you Tivo users, because now you can take your recorded video on the road with you. In case you have been living under a rock for the past few years, Tivo is a pioneer in the Digital Video Recorder industry. DVR technology allows you to record live video from your TV directly to a hard drive, effectively eliminating the need for a VCR. TivoToGo allows recorded shows to be transferred to Windows XP or 2000 based PCs or laptops via a home computer network. Users would have to download free desktop software from the TiVo Web site onto their computers. TiVoToGo will be part of a free TiVo update, which you may have already received. Unfortunately, if you use a DirecTiVo, you don't get to play with the rest of us. One other nice feature is that users will be able to burn DVD's of their favorite shows; however, this feature will not be available till shortly after launch.
Edit: If you have a Humax, Pioneer, or Toshiba TiVo/DVD
Player
Recorder, it looks like you will have to wait until later this year to receive the TiVoToGo update. Damn.
Read More

| Silicon Valley
© Gear Live Inc. – User-posted content, unless source is quoted, is licensed under a Creative Commons Public Domain License. Gear Live graphics, logos, designs, page headers, button icons, videos, articles, blogs, forums, scripts and other service names are the trademarks of Gear Live Inc.