Posted by Edwin Soto Categories: Home Entertainment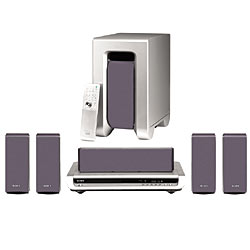 This "dream" system could be yours for just under $400 USD. This home theater system comes equipped with some pretty nice features, including an FM and AM Tuner which is not found on most units. The design is very sleek, and silver is always a nice addition to any decor. All the satellite speakers, aside from the heavy subwoofer, weigh less than 3 pounds. The best part: they are all wireless.
Here are some basic specs given by Sony Style's web site
750 watts total system power
5-disc slot loading DVD/SACD/CD changer
S-Master™ full digital amplifier
CD-R/RW1, Super Audio CD (Multi), MP3 and JPEG Playback
Silver finish
What we don't like? Home Theater systems that integrate the DVD player into the receiver.
Read More

| Sony Style
Posted by Devin Categories: Features, Home Entertainment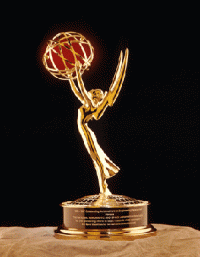 The 2005 Emmy Award Nominations were announced early Thursday morning by the Academy of Television Arts & Sciences from the Leonard H. Goldenson Theatre in Hollywood, California. A total of 434 separate nominations covering 88 categories and areas were announced, with HBO taking an astounding 93 nominations, followed by CBS (59), NBC (54), and ABC (51). Desperate Housewives and Will & Grace topped the list with 15 nominations each, including Outstanding Comedy Series. Take a look at the nominees in the top categories, and a couple other categories that might be of interest.
Click to continue reading The Final Cut: 2005 Emmy Nominations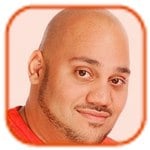 Posted by Andru Edwards Categories: Home Entertainment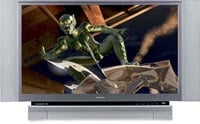 I can't say I am saddened by the news, but everything is now a go for broadcasters to begin using purely digital broadcast methods. This means that analog TV will be a thing of the past in another four years. This will then allow the government to sell off the analog spectrum for an estimated 30-70 billion, and would likely be re-used for high speed wireless and data services. In 2007, all new televisions should have a built-in digital tuner.
Read More

| USA Today
Posted by Rob Stevens Categories: Home Entertainment, Peripherals

Microsoft's Hardware division unveiled some fun new products today. First up is the Remote Keyboard for Windows XP Media Center Edition, designed for those of you that want a wireless keyboard with Media Center-specific functions to help replace that remote control. It's got a 30-foot wireless range, and a key lock to prevent accidental activation. The media keys are backlit, to aid controlling the media center in a darkened room. It's even got a pointer nub and mouse buttons (on opposite sides of the keyboard) so that you can mouse-around without putting down the keyboard. No word on whether or not it is popcorn or soda proof, but I doubt it. MSRP is $104.95, but expect it to hit stores around $99.95.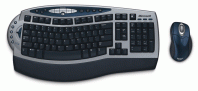 The other new keyboard is an update to Microsoft's Wireless Desktop package. The Wireless Desktop 5000 has keys dedicated to photo editing, and the mouse features Microsoft's new "High Definition" optical technology (which we assume is simply a higher scan rate for the mouse, aiding in precision). The keyboard has the same "comfort curve" as the Wireless Desktop Comfort Edition that was released last year. Finally, Microsoft's Digital Image Standard 2006 software is bundled in, so you can get started putting mustaches on your grandmother right away. It should retail for the same price as the Remote Keyboard.
Read More

| Microsoft Entertainment Hardware

Posted by Sparky Categories: Home Entertainment, Music, Portable Audio / Video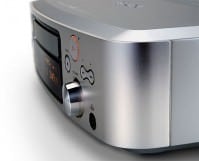 One of Gear Live's favorite audio manufacturers, Denon, has released their new S301 and S101 high end audio receivers. Both of them have the much requested feature of including a true iPod dock. You can plug your iPod into the system and control it fully though the remote control. Now like most Denon equipment, this blend of great audio and stunning functionality won't come cheap - $999 for the 'low end' S-101 and the S-301 commands a $1599 price tag. The perfect solution for the bleeding edge early adopter.
Read More

| Playlist Magazine
Posted by Devin Categories: Home Entertainment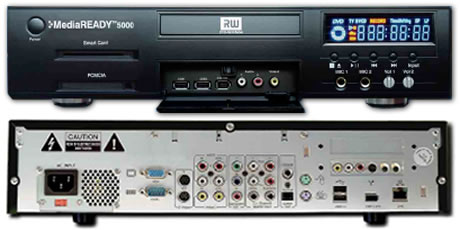 The MediaREADY 5000, an advanced digital media center, is ready to ship according to a recent announcement by Video Without Boundaries, Inc. The TiVo-like recorder also features the ability to burn CD's and DVD's, and is capable of playing Real Media, DVD/CD, WAV, MP3, MPEG's 1, 2 and 4, not to mention storage and retrieval of audio, video and picture files from its onboard hard drive(120 GB to be specific), MP3 players, digital cameras, and personal computers on the same network. Oh, and let us not forget its' ability allow users to surf the 'net, check email, stream video and audio, games, karaoke, and even a media jukebox. Wow! The unit retails for $699.
The MediaREADY 5000 is the digital home entertainment product millions of consumers have been waiting for," said Jeffrey Harrell, CEO and President of VWB. "With this unit, consumers will finally be able to connect all of their digital entertainment products and accessories into one unit for easy living room functionality and use." The company also commented that media and industry reviews of this product are extremely favorable, validating its sales and marketing efforts.
Read More

| eHomeUpgrade via engadget
Posted by Devin Categories: Home Entertainment, Internet

Monday was the day that Google officially launched their new in-browser video playback site, Google Video. The site features content from CNN, The Weather Channel, Fox News, Food Network, The Discovery Channel and many more, many of which charge a fee to view. If you're more interested in free content, you can search for videos from Greenpeace, Gamespot, PS3, breakdancing and a few other topics and see what comes up. The site offers a general search function (ex. New York) or advanced search functions that allow you to look for a specific show (ex. Title:Nightline).
Our mission is to organize the world's information, and that includes the thousands of programs that play on our TVs every day. Google Video enables you to search a growing archive of televised content - everything from sports to dinosaur documentaries to news shows.

Read More

| Google Video
Posted by Devin Categories: Home Entertainment, Internet, Movies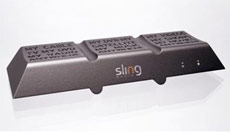 Blake Krikorian, CEO of Sling Media, has announced that the Slingbox Personal Broadcaster will be available at from at least two national retailers come June 30th. CompUSA and another unannounced name have already agreed to carry Slingbox for around $250. The official announcement from Sling Media will be made on June 30th as well. Just in case its function slips your mind, or your unfamiliar with the product, the Slingbox will allow you to stream TV content from your satellite, cable, or DVR to a computer with a high-speed Internet connection.
Read More

| engadget
Posted by Devin Categories: Accessories, Home Entertainment, Movies, Portable Audio / Video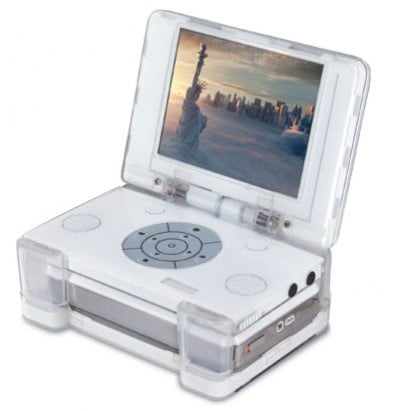 Ever since the iPod was released, companies from all over have come out with various gadgets to further enhance Apple's top selling portable music player. Nyko has come up with a device to help turn your iPod into a movie player. That's right, come November you'll be able to fill up your iPod with as many movies as you can, then watch them on the go with the Nyko Movie Player. The player is expected to retail anywhere between $200-$250 and will feature a 3.6" high resolution screen, 2 headphone ports, a video-out port allowing you to view your movies on any TV, and a video-in port giving you the ability to record directly from your television. As you can see, the iPod plug right into a slot beneath the control panel.
Read More

|iPod Lounge
Posted by Devin Categories: Home Entertainment, Misc. Tech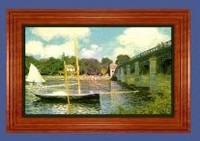 I would think most people with a Plasma or LCD television would want to proudly display it on the wall for everyone to see, but for those who are a little shy about showing off, a company called BEI has a solution for hiding your TV without taking it off the wall and sticking it in the closet. The BEI Motorized Artwork System allows users to cover their screen with a choice of either one of 300 different pieces of art - from Monet to Rembrandt to Van Gogh - or a custom high resolution image. This thing doesn't just throw up some digital image on the screen and leave it at that however. A rolled up piece of canvas slides down over your screen with the image imprinted on it. All the user has to do is simply press a button or flip a switch to turn the TV into a beautiful piece of framed artwork. So how much will this baby set you back? It sells for about $2,600, which is kind of steep, but still cheaper than purchasing that Renoir you've always wanted.
Read More

| BEI Online via Red Ferret
© Gear Live Inc. – User-posted content, unless source is quoted, is licensed under a Creative Commons Public Domain License. Gear Live graphics, logos, designs, page headers, button icons, videos, articles, blogs, forums, scripts and other service names are the trademarks of Gear Live Inc.