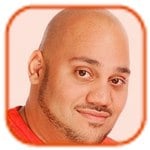 Posted by Andru Edwards Categories: Design, Home Entertainment, Misc. Tech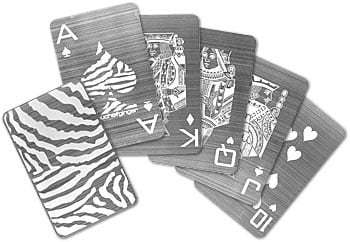 You know, there are some items that you can expect will just be relegated to the famous and the uber-collectors as far as ownership is concerned. Case in point, these stainless steel playing cards. The card designs are etched into the metal, and arrive at your door in sheets of metal rather than in a deck of cards. The sheets can be displayed on a wall, which would be great for a poker room, or you can press the cards out of the metal sheet which will leave you with a $313.95 USD deck of standard-sized playing cards.
(Thanks, munkyxtc!)

Read More

| Steel Cards Product Page

Posted by Chris Cardinal Categories: Home Entertainment, Video Games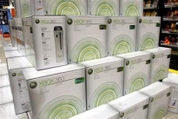 It looks like I wasn't too far off the mark with the future woes of the 360. Reuters is reporting that a man in Chicago is suing Microsoft for rushing the Xbox out the door and delivering a substandard, overheating box that's good for cooking breakfast, but not much else. (Our words, not his.) It'll be interesting to see if this develops into a class-action, but Microsoft maintains they have received only a few "isolated" claims of problems that represent a small portion of their total sales.
Read More

| Yahoo! News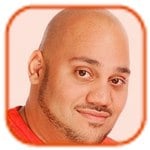 Posted by Andru Edwards Categories: Home Entertainment, Internet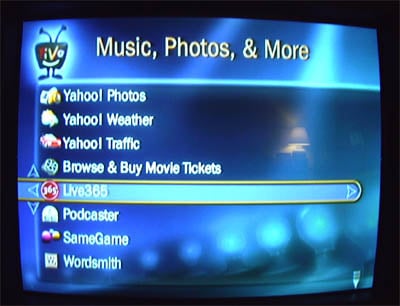 Looks like TiVo is set to make another go of this whole DVR thing, as they are readying a bunch of new services that will be integrated into the TiVo HME client. As can be seen in the image above, not only will Yahoo! Photos (read, Flickr,) Yahoo! Weather, and Yahoo! Traffic be available, but so will Internet radio, a podcasting client, and even a Fandango interface for browsing and buying movie tickets. If and when they ever get their non-DirecTV HD TiVo out the door, along with these value added features, they may be in the race again. Of course, the whole Comcast deal could turn out to be their saving grace as well.

Read More

| Zatz Not Funny

Posted by Chris Cardinal Categories: Home Entertainment, Video Games

*Phew.* It's a good thing I didn't rush out and freeze for a day to buy something that can't even stay online for more than a week at my local Wal-Mart. Camped in a nice, cozy, lexan-encased display case, no less. No, I'll leave that task to Andru, thankyouverymuch. And in case you were wondering, the TV was on—the Xbox 360 wasn't. Let's hope this isn't a sign of things to come for the new console.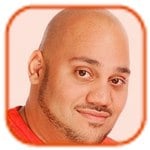 Posted by Andru Edwards Categories: Home Entertainment, Video Games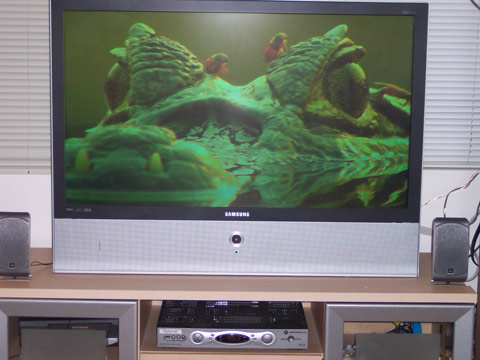 Okay, so the Xbox 360 is set to launch in less than 24 hours. We are getting ready to head out and wait in line at the Best Buy in Bellevue, WA - yeah, the one where Bill Gates will be on hand to kick off the launch. This will be the first time that I haven't pre-ordered a console, opting instead to try my luck on launch day. The result is me having to brave the cold for a good 24 hours.
For those wondering, we have a full-featured testing lab for Xbox 360 launch. The high definition display in our lab is a Samsung 46" HLP-4663 DLP unit. As for sound, we went overkill with a 7.1 surround sound JBL system, powered by a Yamaha 7.1 HTR-5890 receiver. We are certainly ready to roll, and would have been bringing impressions to you by now had Microsoft gotten our Xbox 360 review unit and debug kit to us in time. Alas, no dice there.
The next generation in gaming begins very, very soon.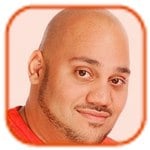 Posted by Andru Edwards Categories: Cameras, Home Entertainment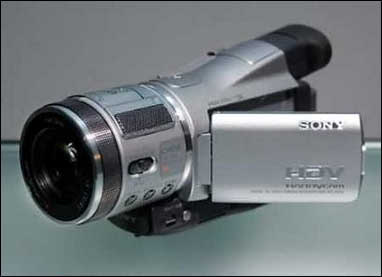 The Sony HDR-HC1 has taken the top honor of the 2005 CamInfo Select list, and understandably so. It comes in at just under $2,000, making it the cheapest high definition camcorder around. JVC, Everio, and Canon also get mentions on the list, which just so happens to be a great tool for anyone looking to buy a camcorder for a special someone this holiday season.

Read More

| CamInfo Select 2005 via DigitalTechNews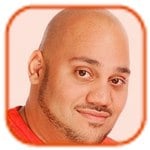 Posted by Andru Edwards Categories: Announcements, Home Entertainment
While we at Gear Live are happy to tell you what sort of television you should invest in, which DVR to buy, and how to stream video via your Xbox 360, we aren't experts when it comes to the actual programming that you will find on a daily basis when channel surfing. Instead, we leave that job to the newest site in the Gear Live Media Network, TV Envy. Headed up by Veronica Santiago and Rhys Alexander, these girls will definitely lay down the law when it comes to shows like Lost, Nip/Tuck, Top Model, and Desperate Housewives.
Go give them a warm welcome, and check them out regularly!

Read More

| TV Envy
Posted by Mark Harrison Categories: Home Entertainment, Video Games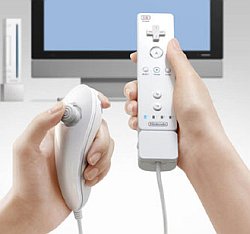 Of all the next generation game consoles coming out, the only one I'm really excited about is the Nintendo Revolution. With the recent rumors surrounding the Revolution's release, it got me thinking back to when the controller was first announced. Upon seeing the controller, I was taken aback. My gut reaction was that it had to be a joke, or some kind of mistake. Then when I read what the thing is capable of, I hopped on board. The possibilities it represents are staggering. Sure, the Revolution might not get a lot of the games featured on the PS3 or 360, but then again, the Revolution is going to have some pretty awesome exclusives.
Click to continue reading Will You Join The Revolution?
Posted by Mark Harrison Categories: Corporate News, Home Entertainment, Internet, Portable Audio / Video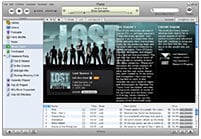 Yesterday, Apple announced that they have sold more than one million videos via the iTunes music store in the brief time since they began selling them. For the moment, Apple has proven the doubters wrong once again. This is interesting news, but it begs further discussion. Will Apple begin selling higher quality content for a broader audience?
We believe that they will. Apple helped legitimize legal music downloading and they seem poised to do the same for television and movies. With more and more people going to broadband and tapping into things like BitTorrent, content providers have to start think about solutions that will continue to generate revenue. Apple has mindshare right now and they also have a successful infrastructure in place. They have already shown that even with a small video library that they have a viable business model.
One thing is clear though. To continue being a trailblazer in this area, Apple has to greatly increase the size of its offerings; both in quantity and in quality. What remains unclear is whether or not the industry will follow Apple's lead. With the the way the music executives are chomping at the bit, it is far from certain if their counterparts will be so eager to get into bed with Apple. What do you think?

Read More

| Apple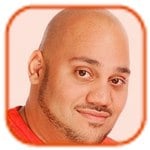 Posted by Andru Edwards Categories: Home Entertainment, Internet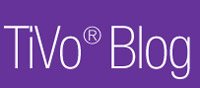 TiVo, trying to maintain their self-professed hip image, has jumped on the blog bandwagon with the launch of "TiVo Blog." The blogger's name is Nova, and she went from TiVo user to official TiVo blogger at their corporate headquarters. They did put in RSS, RSS 2.0, and Atom feeds despite the fact that nowadays having all three is not necessary, and they also stick in a huge disclaimer which will be on seemingly every post regarding commenting:
Guidelines for Posting on TiVo Blog:
By submitting my comments and by participating in the TiVo Blog, I agree to allow TiVo Inc. to use my name and comments in whole or in part for publicity purposes on the TiVo Website or other promotional materials without further permission or compensation. I understand that my submitted comments becomes property of TiVo Inc. and will not be returned, and that I release all rights and claims to the content submitted for the TiVo Blog. I also state that the content submitted is of my own original creation and style and acknowledge that my comments will be subject to review by TiVo and edited in whole or in part by TiVo prior to publication.
Sheez - that doesn't look too welcoming.

Read More

| TiVo Blog
© Gear Live Inc. – User-posted content, unless source is quoted, is licensed under a Creative Commons Public Domain License. Gear Live graphics, logos, designs, page headers, button icons, videos, articles, blogs, forums, scripts and other service names are the trademarks of Gear Live Inc.