Posted by Chris Cardinal Categories: CES, CES 2006, Home Entertainment, Household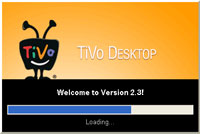 I was definitely excited to see and explore the new TiVo Desktop. More than just an incremental upgrade, the new Desktop introduces auto-scheduling of transfers. Desktop detects if a show is part of a Season Pass and allows you to tell your Desktop client to automatically grab any new episode of that series your TiVo records. Perhaps the most exciting new feature is the inclusion of automatic transcoding and transferring to your portable devices. If you have an iPod Video, for instance, you indicate that you want your scheduled transfers to be used for your iPod. TiVo Desktop will automatically grab the shows from your TiVo, transcode them to iPod Video's preferred format, and even transfer it directly to your iTunes library and straight to your device, if it's docked. Another such option exists for the PSP and the ability for other portable devices is definitely there. It's about to enter beta testing and they estimate its release date will hit around sometime Q1 2006. (Or "very soon.")
Oh, and watch this space for an in depth video interview and hands on shot of the Series 3, along with some extra-juicy information that only we have.

Posted by Chris Cardinal Categories: CES, CES 2006, Features, Home Entertainment, Household, Wireless / WiFi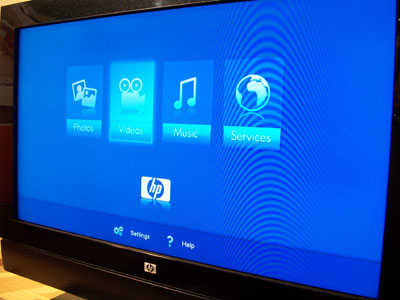 Stopping by HP's rather large booth in South Hall's upstairs, we stumbled upon their SLC3760N 37" LCD HD TV. It's quite a mouthful no matter how you try to say it, but the TV had some stellar features that looked to function brilliantly. The TV is a uPNP device that allows you to hop on your local wireless (802.11a/b/g) or wired (100-base) network and instantly start watching media from your home's PCs. It's able to playback MPEG-1, MPEG-2, DivX, XviD (or, at least, MPEG-4), MP3s, AOL Radio and Rhapsody, and whatever photo formats you can throw at it.
It also features a 176° viewing angle, which looks quite stunning, and a 6,000:1 contrast ratio on a 720p screen. Release date is set tentatively for "early Spring" with a price "to be announced." After trying a bit harder to eek a price out of him, he mentioned that the LCD on its own, minus all the connectivity functions, is (of course) absolutely top of the line, so you can expect to pay what a similar-quality tv might cost. He mentioned that the connectivity stuff adds only about $300 to the cost, which is pretty reasonable for such a flexible device.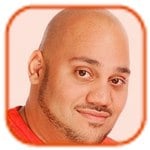 Posted by Andru Edwards Categories: CES, CES 2006, Home Entertainment, Music, Wireless / WiFi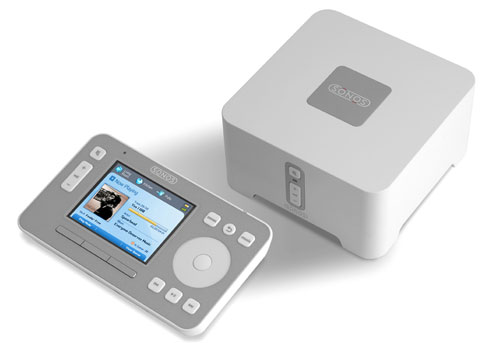 Sonos, Inc., the developer of wireless multi-room music systems for the digital home, has just introduced a new ZonePlayer to complement their original music system. The Sonos ZonePlayer ZP80 allows you play all your digital music, all over your house, on all of your favorite audio equipment – a home theater system, powered speakers, a premium table top radio, etc. By connecting a ZP80 to any amplified audio device via the analog or digital outputs, that device instantly and seamlessly becomes part of a wireless, multi-room digital music system. This provides the consumer with the power to use the full-color Sonos
iPod
remote control to manage all of their music, in all of their rooms. "We created the ZP80 because many of the rooms where consumers want to listen to digital music already have an amplifier," said John MacFarlane, chief executive officer, Sonos, Inc. "Our goal is to provide digital music lovers with a range of products for building a wireless digital music system throughout their homes." These will be available in Spring 2006 at $349 USD a pop.

Read More

| Sonos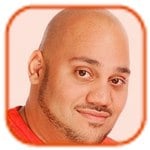 Posted by Andru Edwards Categories: Accessories, CES, CES 2006, Home Entertainment, Video Games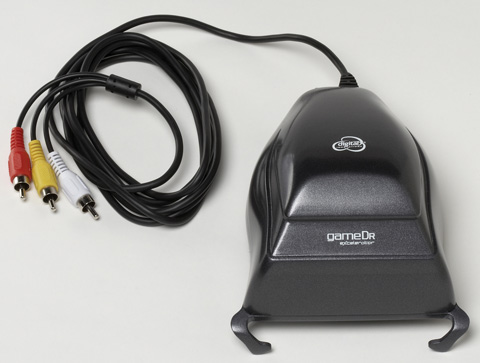 For Sony PSP fans frustrated by the inability to connect their extra-small dream machines to larger viewing screens, Digital Innovations is set to release the GameDR Excelerator Series ScreenMax for PSP Video Transmission System, which the company is touting as the first product that makes it possible to play PSP games and movies on any TV or computer monitor. You can pick it up in stores for $69.99 USD.
In addition to the ScreenMax, DI will launch several new exciting product lines at CES on January 5th. All new products will be available for demo and review. Digital Innovations will also hold a press conference at the LVCC on January 5th at 3:00 PM CT to launch the winner of their 1st Annual D.O.C. Awards (Design, Originality, Creativity).

Read More

| Playfeed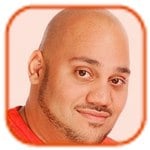 Posted by Andru Edwards Categories: Design, Home Entertainment, Misc. Tech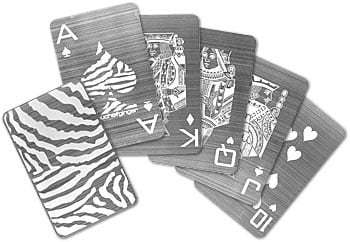 You know, there are some items that you can expect will just be relegated to the famous and the uber-collectors as far as ownership is concerned. Case in point, these stainless steel playing cards. The card designs are etched into the metal, and arrive at your door in sheets of metal rather than in a deck of cards. The sheets can be displayed on a wall, which would be great for a poker room, or you can press the cards out of the metal sheet which will leave you with a $313.95 USD deck of standard-sized playing cards.
(Thanks, munkyxtc!)

Read More

| Steel Cards Product Page

Posted by Chris Cardinal Categories: Home Entertainment, Video Games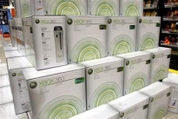 It looks like I wasn't too far off the mark with the future woes of the 360. Reuters is reporting that a man in Chicago is suing Microsoft for rushing the Xbox out the door and delivering a substandard, overheating box that's good for cooking breakfast, but not much else. (Our words, not his.) It'll be interesting to see if this develops into a class-action, but Microsoft maintains they have received only a few "isolated" claims of problems that represent a small portion of their total sales.
Read More

| Yahoo! News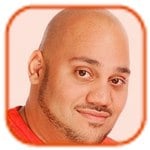 Posted by Andru Edwards Categories: Home Entertainment, Internet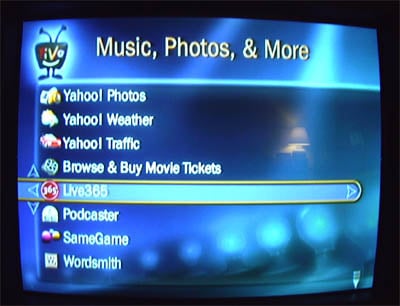 Looks like TiVo is set to make another go of this whole DVR thing, as they are readying a bunch of new services that will be integrated into the TiVo HME client. As can be seen in the image above, not only will Yahoo! Photos (read, Flickr,) Yahoo! Weather, and Yahoo! Traffic be available, but so will Internet radio, a podcasting client, and even a Fandango interface for browsing and buying movie tickets. If and when they ever get their non-DirecTV HD TiVo out the door, along with these value added features, they may be in the race again. Of course, the whole Comcast deal could turn out to be their saving grace as well.

Read More

| Zatz Not Funny

Posted by Chris Cardinal Categories: Home Entertainment, Video Games

*Phew.* It's a good thing I didn't rush out and freeze for a day to buy something that can't even stay online for more than a week at my local Wal-Mart. Camped in a nice, cozy, lexan-encased display case, no less. No, I'll leave that task to Andru, thankyouverymuch. And in case you were wondering, the TV was on—the Xbox 360 wasn't. Let's hope this isn't a sign of things to come for the new console.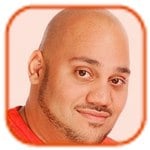 Posted by Andru Edwards Categories: Home Entertainment, Video Games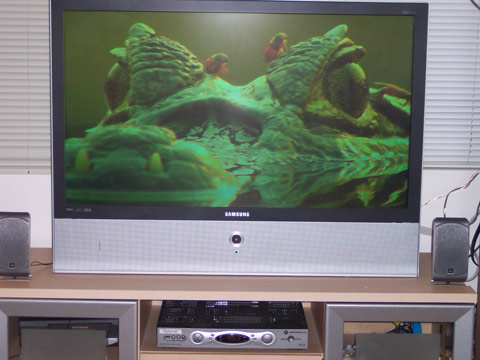 Okay, so the Xbox 360 is set to launch in less than 24 hours. We are getting ready to head out and wait in line at the Best Buy in Bellevue, WA - yeah, the one where Bill Gates will be on hand to kick off the launch. This will be the first time that I haven't pre-ordered a console, opting instead to try my luck on launch day. The result is me having to brave the cold for a good 24 hours.
For those wondering, we have a full-featured testing lab for Xbox 360 launch. The high definition display in our lab is a Samsung 46" HLP-4663 DLP unit. As for sound, we went overkill with a 7.1 surround sound JBL system, powered by a Yamaha 7.1 HTR-5890 receiver. We are certainly ready to roll, and would have been bringing impressions to you by now had Microsoft gotten our Xbox 360 review unit and debug kit to us in time. Alas, no dice there.
The next generation in gaming begins very, very soon.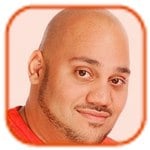 Posted by Andru Edwards Categories: Cameras, Home Entertainment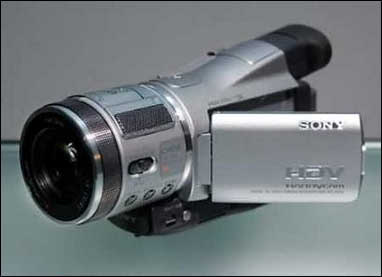 The Sony HDR-HC1 has taken the top honor of the 2005 CamInfo Select list, and understandably so. It comes in at just under $2,000, making it the cheapest high definition camcorder around. JVC, Everio, and Canon also get mentions on the list, which just so happens to be a great tool for anyone looking to buy a camcorder for a special someone this holiday season.

Read More

| CamInfo Select 2005 via DigitalTechNews
© Gear Live Inc. – User-posted content, unless source is quoted, is licensed under a Creative Commons Public Domain License. Gear Live graphics, logos, designs, page headers, button icons, videos, articles, blogs, forums, scripts and other service names are the trademarks of Gear Live Inc.