Posted by Jared Hislop Categories: Handhelds, Home Entertainment, Portable Audio / Video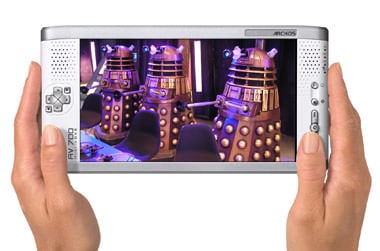 The Archos AV700 handheld video device is the first to sport two DTT tuners. With 40 GB of hard drive space, the device is capable of recording 35 hours of digital TV programs. The DVR software records shows to the hard drive in MPEG-2 TS format. There is also onboard scheduling software, allowing you to look through an episode guide so that you won't miss a show. Archos designed this device for the road, and claims that TV can be viewed in the car while traveling up to 80 mph - something that isn't possible with standard single-antenna DTT receivers. The AV700 also comes with the Mophun mobile phone games engine, but the focus here is truly on video. The device is also capable of playing MP3, WMA, and WAV files. All of this mobile media goodness comes with a pretty steep price tag though, as the AV700 is expected to retail at about $841.00. Detailed specifications after the jump.

Read More

| RegHardware
Click to continue reading Archos AV700 Twin Tuner DVR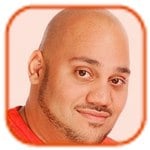 Posted by Andru Edwards Categories: Corporate News, Handhelds, Home Entertainment, Movies, Rumors, Video Games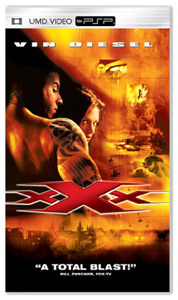 It's a shock, we know. As it turns out, those Hollywood movie releases that have been released on UMD over the past year or so? It seems no one is interested in buying them. While we are not sure if this is a surprise to anyone buy Sony, it just makes sense to us that the media would sell poorly. I mean, why would I buy a movie that I can only play on one dedicated device - especially when that device isn't my television? If Sony was smart about the whole idea, they would have done a bit more planning. If I buy Spider-Man: The Movie, I want the game in there as well. Or vice versa. Otherwise, I am buying the DVD and ripping it to my Memory Stick. Anyways, expect to see Wal-Mart drop shelf space for UMDs altogether very soon. Even better, know that Universal and Paramount Pictures have already stopped UMD production.

Read More

| Playfeed
Posted by Jared Hislop Categories: Handhelds, Microsoft, Product Reviews, Software
With Windows Mobile 5.0 released, and with Windows Mobile 2003 still around, many people have discovered that Windows Media Player for Windows Mobile has some flaws. With Windows Media Player (WMP) unable to play .divx files or .ogg files, many users are left needing software capable of features that WMP does not offer. Enter Beta Player, free software for your Windows Mobile device that can do all the things WMP can not and then some.
Supported file containers:
AVI (*.avi)
Matroska (*.mkv, *.mka)
MP4 (*.mp4, *.m4a)
Ogg Media (*.ogg, *.ogm)
ASF (*.asf)
Supported audio codecs:
Mpeg 1 Layer III
Ogg Vorbis
Musepack
Windows Media Audio (on Windows Mobile devices)
AC-3
AMR
Adpcm, uLaw
Supported video codecs:
DivX
XviD
MPEG4-SP (plus B-frame support)
MPEG1
M-JPEG
Windows Media Video (on Windows Mobile devices)
Beta Player is considered open source software, and has a very active community. It's also available for a variety of different devices, so even if you don't have a Windows Mobile device, you can still usethe product. I personally use Beta Player on my Windows Mobile device, the software was easy to install, and I have experienced no issues with it.

Read More

| Beta Player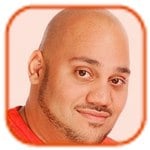 Posted by Andru Edwards Categories: Cell Phones, Features, Handhelds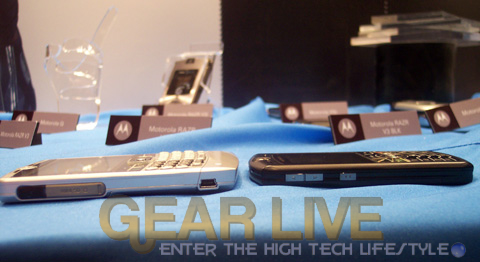 We have received a few messages over the past month or so where you readers have been asking about the thinness of the Motorola Q. We know that telling you the dimensions, which happen to be 4.57" x 2.52" x 0.47", may not exactly make it easy to visualize in your head. To compare it to a phone that is out and available, we took the Motorola Q that we went hands-on with and put it next to the Motorola SLVR. Now, the SLVR is insanely thin, but as you can see in the image above, the Q definitely holds its own in the size area. We will give you more on the Q and the SLVR soon on The Bleeding Edge.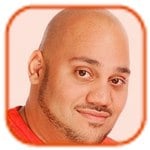 Posted by Andru Edwards Categories: Handhelds, Home Entertainment, Portable Audio / Video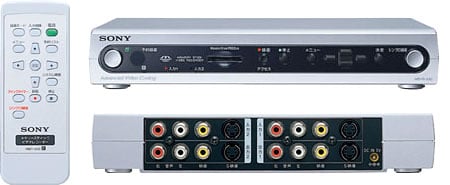 Sony is finally starting to make it somewhat easily to get TV and DVD video onto our PSPs. They have just introduced their MSVR-A10 digital video recorder which records television, DVD, and whatever else you can connect to it's composite and S-video inputs, and puts the content right onto a Memory Stick Pro Duo. Put the Memory Stick into your PSP, and you are good to go. No need to wait hours on end for last week's Lost to finish downloading over BitTorrent. This one should hit retail in April at a price of $215 USD.

Read More

| Memory Stick Recorder
Posted by John Goulden Categories: Corporate News, Handhelds, Microsoft, Peripherals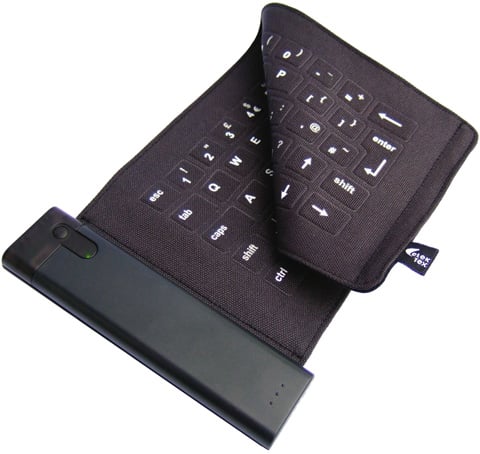 Be prepared for what will surely be an onslaught of peripherals for Microsoft's Ultra-Mobile PC platform. Eleksen, makers of fabric-based interface devices, has introduced a trio of products aimed at users of the new UMPCs. Bluetooth and USB-equipped keyboards will be available, as will a carrying case that has a keyboard and other controls integrated into it's soft exterior. The keyboards are designed around Eleksen's ElekTex technology, which allows touch sensitive interfaces to be placed in a variety of textiles. The Bluetooth keyboard even has drivers to allow its use with smartphones and PDAs, further broadening its usefulness.
Flexible keyboards may be nothing new, but with Eleksen's products being incorporated into textiles, the possibilities are just about limitless. In fact, the company also has their interface technology designed into jackets (the Kenpo iPod jacket), backpacks and other items that have controls for audio players built right in.

Read More

| Eleksen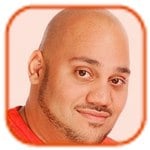 Posted by Andru Edwards Categories: Corporate News, Handhelds, Microsoft, PC / Laptop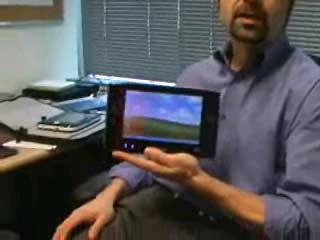 Okay, so we were waiting for Thursday to arrive so that we could get the full scoop on Origami, and that time has arrived. From this day forth, Origami devices will be referred to as Ultra Mobile PCs - or UMPCs - and Channel 9 has posted a great piece showing off the platform. Robert Scoble sat down with Otto Berkes, the General Manager of the UMPC division, to get all the deets. The video is about 40 minutes long, and goes in-depth into what exactly brought the UMPC to fruition, and what we can expect from the platform in the future.
From our perspective, these first-generation devices may not have lived up to the hype that was generated across the Internet over the past couple of weeks, but we can see the potential going forward - especially once we have the Windows Vista-enabled UMPCs hitting the market. We do have to wonder, with Microsoft expecting pricing to range from $599 to $999 USD, where does DualCor stand in all this? Their device is a bit smaller, but they expect to hit retail at $1500 or so. This will certainly be an interesting one to watch.

Read More

| First Look At Ultra-Mobile PCs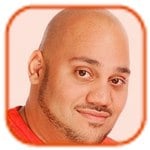 Posted by Andru Edwards Categories: Handhelds, Microsoft, Portable Audio / Video, Rumors, Wireless / WiFi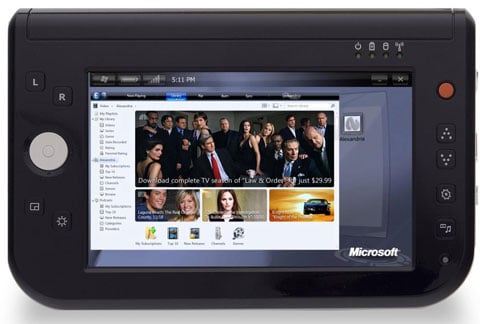 We have held off on all the Origami Project speculation, as it has mostly remained a mystery. Earlier today, the image above started circulating around the internets, and it grabbed our attention. Of course, we have no real proof that this is Origami, but if it isn't, we do hope that it is a real product. The thing just looks amazing. As for what Origami really is, we are not yet sure. However, Scoble is quick to tell us what it is not. Okay, not an iPod/OQO/PSP/Nokia N90/Treo 700w/Palm killer. We are cool with that, but mostly because no matter what Origami turns out to be, it wouldn't kill any of the aforementioned products. It also isn't a portable Xbox, which we didn't even consider, seeing as how new game consoles have a ton of fanfare behind them before ever being shown.
So what is it? If the image is even close to being real, we gather that Origami is a smart way to carry around your digital life. Sure, that will include music and video - but we think that also includes contacts, email, RSS, and email - all wrapped up in wireless mobile broadband. Our bet is that Origami is an extension of your home computing experience, but not a replacement for it.

Read More

| Origami Portal
Posted by John Goulden Categories: Handhelds, Portable Audio / Video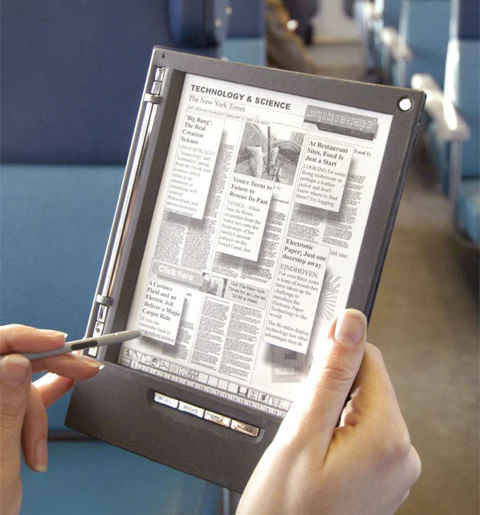 Imagine being able to carry around your entire personal library with you wherever you go. Instead of stuffing a couple of paperbacks into your briefcase for those long business flights, you would merely grab your iRex Iliad E-Reader and load it up with a few electronic books. Sure, you can do the same thing with just about any PDA, but products that utilize electronic ink technology (like the Iliad) offer up a couple of unique benefits. E-Ink (or e-paper) as the technology is commonly referred to, uses very little power, allowing battery powered devices to go for days (if not weeks) between recharges. The viewing surface also delivers outstanding contrast making text easy to read even in direct sunlight.
The Iliad can currently make use of PDF, XHTML, MP3, and TXT files with more to be introduced as time progresses. An 8.1-inch screen with a 1024x768 (160dpi) resolution makes reading easy on the eyes, and a wealth of interfaces (USB type A, CF, 802.11g Wi-Fi, SD/MMC, and 10/100 Ethernet) are available for getting data into the device. The display is also touch-enabled allowing you to write notes directly on your reading material for later reference. A 400MHz XScale processor means War and Peace won't make the Iliad break a sweat, and 64MB RAM and around 224MB of available ROM memory allows the storage of a large quanity of literature.
The Iliad will be available in April for a yet to be determined price.

Read More

| iRex Technologies
Posted by John Goulden Categories: Cell Phones, GPS, Handhelds, Wireless / WiFi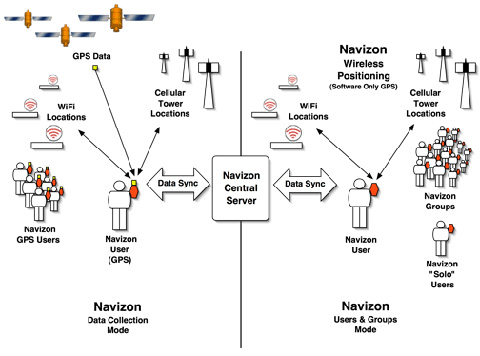 Sadly, not every phone or PDA comes equipped with the wonderful feature that is GPS. Someday maybe, but not yet. Until then, there are many different options for getting a GPS signal to your mobile device of choice, but an extra device isn't always practical. With peer-to-peer functionality all the rage, Navizon has capitalized on the concept with a wireless positioning system that can operate sans a hardware GPS.
Utilizing Wi-Fi and cellular capable devices, Navizon's software triangulates your position based on data provided by the items that surround us all (access points, cell towers, etc.). In essence, Navizon's software mimics a hardware-based GPS, at least as far as your navigation software is concerned. Data is transmitted back to Navizon and it uses said data to help triangulate the location of other people using the service in your area. If you're concerned about the Big Brother aspect of things, you can purchase a Solo editon of the software that doesn't transmit any data back to the mother ship. Naturally, the Solo version is a bit more feature limited since a number of options rely heavily on community supplied data, but it helps end conspiracy theories if nothing else.
Navizon's software is available free of charge for Windows Mobile and Pocket PC devices as well as Symbian Series 60 platforms. Their Solo version costs $19.99 USD.

Read More

| Navizon via NaviGadget
© Gear Live Inc. – User-posted content, unless source is quoted, is licensed under a Creative Commons Public Domain License. Gear Live graphics, logos, designs, page headers, button icons, videos, articles, blogs, forums, scripts and other service names are the trademarks of Gear Live Inc.