Posted by John Goulden Categories: Corporate News, Google, Software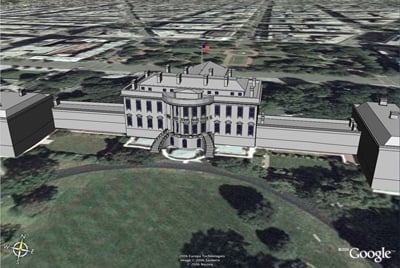 Last month Google acquired @Last Software, makers of a neat piece of software called SketchUp. SketchUp is a 3D modeling tool that is simple enough for just about anyone to use, yet offers powerful tools for professionals as well. Speculation about SketchUp's future pricing began the moment news of the acquisition was released, and true to Google's track record, there's now a free version of the software. The free version, entitled Google SketchUp, is licensed only for non-commercial use and is missing a few features compared to the standard version, which is now called SketchUp Pro and provides the full feature set and naturally the full price tag of $495 USD.
Sure, there are differences between the free and Pro versions, but for someone just looking to dabble with 3D modeling, or thinking about creating some buildings for Google Earth, the free version will do nicely. The differences are summed up as:
• Pro users are able to print and export raster images at higher-than-screen resolution.
• Pro users have access to the following 3D export formats: DWG, DXF, 3DS, OBJ, XSI, VRML and FBX.
• Pro users are able to export animations and walkthroughs as MOV (Mac) or AVI (Windows) files.
• Pro users get the Sandbox Tools (for organic modeling of terrain, etc) and the Film & Stage Tools (for pre-viz work).
• Pro users have access to free email tech support for two years after they buy SketchUp Pro.
• Finally, only SketchUp Pro is approved for commercial use; the Free version is licensed for personal use only.
Currently available only for Windows-based machines, a Mac version is in the works.

Read More

| Google SketchUp via Ars Technica
Posted by Jared Hislop Categories: Google, Internet, Rumors, Software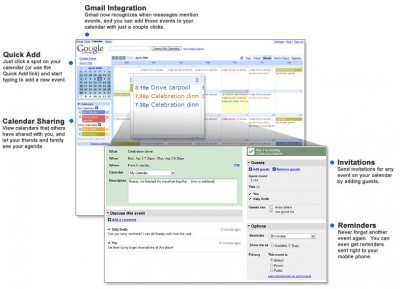 Google Calendar has gone beta to the public.
Simplify. Organize. (And relax.) Organizing your schedule shouldn't be a burden. That's why we've created Google Calendar – our free online shareable calendar service. With Google Calendar, it's easy to keep track of all your life's important events – birthdays, reunions, little league games, doctor's appointments – all in one place.
The feature set on this free service is quite impressive:
XML/ICAL feeds for public and private calendars.
Share your calendar
Auto-add invitations.
Notifications via email, SMS and Pop-up (No GTalk notification?).
Import iCal or CSV (MS Outlook).
Gmail Integration
Mobile access
Event publishing (share your organization's events with the world).
It was only a matter of time before Google added a calendar feature to their impressive list of services. The fact that you can share a RSS feed of your calendar with the public seems to have a lot of potential.

Read More

| Google Calendar
Posted by Jared Hislop Categories: Google, Internet, Misc. Tech, Science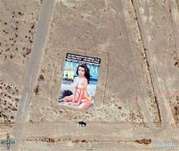 Users of Google Earth have yet another sweet Easter egg to scout out. In celebration of their 100th issue, Maxim has reproduced one of their magazine covers to the measure of 75 feet by 100 feet, featuring a scantily-clad Eva Longoria. The headline reads "The only magazine big enough to be seen from space—and only in Vegas!" This is one, um, big publicity stunt.

Read More

| CNET
Posted by Jared Hislop Categories: Corporate News, Google, Internet, Music, Rumors
Google is preparing to launch a music download service, according to research firm Caris & Company. It is rumored that Google has been meeting with leading music executives for "networking opportunities." The new site is expected to gain support from the music industry, as iTunes does not offer flexible pricing or a subscription service. Rumors were also confirmed at a recent analyst meeting where Google highlighted plans to expand into downloadable media.

Read More

| Forbes

Posted by Oscar M. Cantu Categories: Google, Internet, Rumors

"Pin All Your Romantic Hopes on Google" - That's right ladies and gents, Google wants to help you find that special someone (or at least, that regular someone) all for free. Finding your soul mate can be hard work, but everyone knows that Google can find anything you look for, so why not your soul mate? Best of all, searching is a very simple process:
What is Soulmate Search?
Here on the Google Romance team, we follow the philosophy "Don't be medieval," so we brought only the latest psychographic and search algorithms to bear on the problem of hooking up our users. First you fill out an extensive personal profile carefully designed by a team of both married and single Google engineers for the express purpose of gathering and analyzing romantic information. Then you fill out an equally obscure and elaborate profile describing various attributes of the person with whom you wish to spend the rest of your life and click 'Search Romance.' It's that simple.
What are you waiting for? Take the tour now! Remember to read the FAQs before committing to any life changing decisions.

Read More

| Google Romance
Posted by Jared Hislop Categories: Corporate News, Google, Internet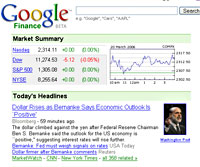 Google has introduced a new feature, Google Finance, which promises to provide up-to-the-minute quotes, financial news, charts, data, and groups. Once again Google, goes head to head with rival Yahoo!, and while Yahoo!'s finance portal offers a few things that Google Finance does not, the product is still in beta. Google Finance still lacks the polished look we have come to expect of Google's pages, but the information supplied there is formatted in a pleasant manner. Google does not plan on coming up with its own information about financial matters, rather opting to rely on sources such as Reuters, Hoovers, and Morningstar, to provide charts and data.

Read More

| Google Finance
Posted by John Goulden Categories: Cell Phones, Corporate News, Google, GPS, Portable Audio / Video, Transportation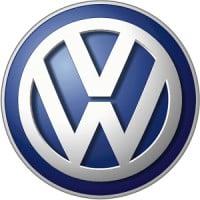 Convergence. It's been one of the holy grails of the electronics industry for quite some time. The idea is simple enough - empower one device to act as a central point of reference for multiple devices and/or incorporate those multiple devices into one mega unit that does it all. Depending on what portion of the industry you look at, the ideal concept of convergence might be a single point of control or reference, for multiple devices. By approaching convergence as a many-to-one scenario, it allows individuals to choose their own devices according to preference or need. Instead of being forced into using an all-in-one device that may not have all the features desired, a control device would simply make use of what devices the user has brought with him or her.
As a case in point, Volkswagen has been working on an automobile computer that takes devices such as the iPod and Treo, and provides a single point of control for them. The concept, named Gypsy, is a separate project from the in-car media center project that Microsoft and Volkswagen introduced at CeBIT. Volkswagen's Electronics Research Lab (ERL) is working with Google to utilize Google Earth as the mapping system of choice, and sees the system as being extensible through the use of widgets. C|Net has an interesting, if lightweight, video of the Gypsy product in action. It only scratches the surface of what is possible, but it brings to mind what will one day be possible. The roadblocks to successfully implement such a wide-reaching device are abundant, but given a common set of communication standards, and a lot of luck, we can hope for the best.

Read More

| C|Net

Posted by Kristin Wenzel Categories: Corporate News, Google, Internet

A federal judge has ruled allowing the government a peek into Google's search engine, but dramatically scaled back from the list of personal information and specific search requests that the government originally requested. Instead, they'll provide the government with a list of 50,000 randomly selected websites indexed by the search engine. A victory for advocates of personal privacy and freedom of information, Google will not have to disclose specific search terms or personal information.
"This is a clear victory for our users," Nicole Wong, Google's associate general counsel said in a statement Friday.

Read More

| ABC News

Posted by Kristin Wenzel Categories: Design, Google, Misc. Tech, PC / Laptop


The One Laptop Per Child program was started at MIT and features truly innovative and inexpensive designs, meant to make technology accessible to everyone, and put laptops in the hands of children and communities in developing countries, and rural areas all over the world. The program, backed by Red Hat and Google, would make use of bleeding edge innovations in the technology world, including wireless broadband, DVD capability, and flash memory instead of a hard drive. And, it's electricity-optional, since it charges with a manual crank, not unlike some emergency flashlights and similar items.
The proposed $100 machine will be a Linux-based, with a dual-mode display—both a full-color, transmissive DVD mode, and a second display option that is black and white reflective and sunlight-readable at 3× the resolution. The laptop will have a 500MHz processor and 128MB of DRAM, with 500MB of Flash memory; it will not have a hard disk, but it will have four USB ports. The laptops will have wireless broadband that, among other things, allows them to work as a mesh network; each laptop will be able to talk to its nearest neighbors, creating an ad hoc, local area network. The laptops will use innovative power (including wind-up) and will be able to do most everything except store huge amounts of data.
This project should be one to watch - it's great to see technology being put to a use that can contribute to the greater good.

Read More

| One Laptop Per Child

Posted by Kristin Wenzel Categories: Google, Internet, Software

On March 14th, Google boldly went where no search engine has gone before: to Mars. With the launch of Google Mars, they extend their Google Maps service to interplanetary lengths, allowing you to search and discover Mars all on your own. Want to play astronaut? You can zoom, pan, and switch between elevation, infrared and photographic views of the Martian landscape. Cool!

Read More

| Google Mars
© Gear Live Inc. – User-posted content, unless source is quoted, is licensed under a Creative Commons Public Domain License. Gear Live graphics, logos, designs, page headers, button icons, videos, articles, blogs, forums, scripts and other service names are the trademarks of Gear Live Inc.