Find Our Latest Video Reviews on YouTube!
If you want to stay on top of all of our video reviews of the latest tech, be sure to check out and subscribe to the Gear Live YouTube channel, hosted by Andru Edwards! It's free!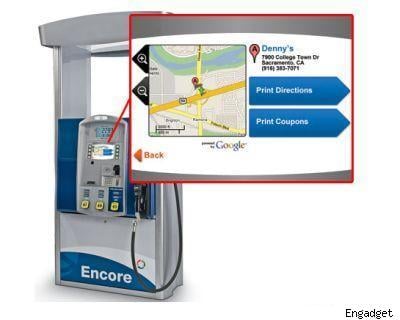 Maps and directions are available on cell phones, PDA's, GPS units, Onstar, or heaven forbid: actual paper maps. This doesn't stop people from getting lost from time to time, so Google is partnering with gas companies to embed the Google Maps application into gas pumps at 3,500 gas stations across the United States starting next month.
The newly teched-out gas pumps will feature an Internet connection and the Google Maps application. By providing this at the pump motorists will be able to both fill up on gas and get directions to their destination. The participating gas stations will likely get a boost in business from drivers too stubborn or embarrassed to ask for directions from anything other than a shiny, all-knowing machine. This sounds like a win for retailers, motorists, and Google alike.
Read More

| LA Times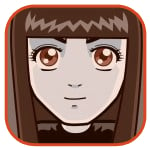 Posted by Sheila Franklin Categories: Corporate News, Editorial, Google, Internet, Science,

The U.N. has gotten together with Google and Cisco Systems to launch a site this week that they say will let us know of the planet's poverty fighting efforts. The Millenium Development Goals site gives statistics on health, education, malnutrition and women's equality. Google Earth maps will show by satellite where the areas are established.
The U.N. is hoping that by 2015 the MGD Monitor will aid in accomplishing such goals as beginning to reverse HIV/AIDS, cutting child mortality by 2/3, and reducing people without safe drinking water by half. While we applaud the plan, we hope any money spent creating the MDG is justified by not spending it on the project itself.
Read More

| Googland


Google has just announced some behind the scenes code changes to Gmail and other Google applications aimed at enabling great new information services in the near future. The new version of Gmail is rolling out to all users within the next few weeks, and brings a significant re-architecture to both their back end servers as well as the client side JavaScript.
The new JavaScript will make email pre-load in the background for faster access, unify the Gmail and Pages HTML editor boxes, provide richer keyboard shortcut support, and introduce a better contacts manager. While these might seem like minor features, Google promises that the upgrades will make it easier to roll out future (and as of yet unannounced) functionality, so keep your eyes peeled for a bigger, better Gmail 2.0 just around the corner.
Read More

| Official Gmail Blog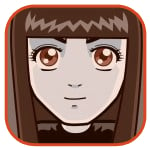 Posted by Sheila Franklin Categories: Wearables, Google, GPS,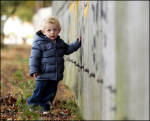 The British clothing company Bladerunner has created a coat for children that features a GPS SiRF III in its lining. Originally made for mountain climbers and other sports fanatics, the jacket operates by the use of Google Earth maps and therefore can be used worldwide. Updated every 10 minutes, the image will narrow the view down to within 4 square meters. It also features Bladerunner's slash-resistant lining and 2 dedicated buttons for emergencies. Considering that the outerwear has a price of $500.00 and $20.00 a month for the technology, we just hope you have one of those kids that is not the first to leave his/her coat at the local playground.
Read More

| Toronto Sun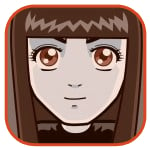 Posted by Sheila Franklin Categories: Corporate News, Google, Microsoft,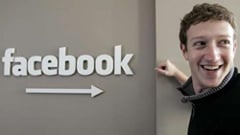 Take that, Google! Microsoft has managed to one-up Google by investing $240 million for a 1.6% share in Facebook. It also has the rights to sell ads on the site outside of the U.S. Some experts say that they are hoping that the company will expand and become a "hub" for its various Net applications. So far, Facebook has about 50 million subscribers and claims that it receives 250,000 new ones every day. Microsoft hopes that it will reach a forecasted 300 million. We figure that MS is partying hearty over this one since Google beat them out last year with its acquisition of YouTube.
Read More

| Reuters

Posted by Sparky Categories: Google, Internet, Misc. Tech, Software,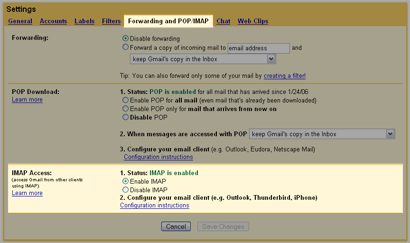 Gmail, Google's popular web based email solution is likely about to get IMAP features - a welcome addition for email power-users. It appears that some users are seeing options to IMAP-enable their account in the settings page. This will help Google's service compete with Yahoo Mail which has offered IMAP access for some time now.
We don't yet have the option on our accounts here at Gear Live, but we definitely look forward to trying it out. If your account has the new option, be a pal and leave a comment to let the world know what you think.
Read More

| Download Squad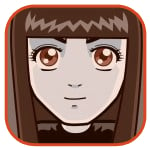 Posted by Sheila Franklin Categories: Corporate News, Google, Home Entertainment, Internet, Movies, Music,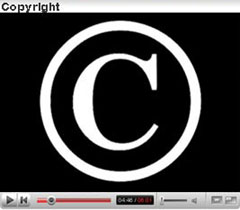 YouTube has finally released the means to automatically remove copyrighted clips. Although it has been eliminating most of those videos per request, the site is hoping that this will have a more positive impact on complaints such as Viacom's suit against them. Working with its parent Google, the technology also allows companies to sell ads on their material if they will allow them to remain on YouTube. Unfortunately, the method of copyright protection requires copies of the videos that need protecting to be given to YouTube for comparison. This certainly doesn't appear to be the solution that the studios desire and we suspect that YouTube will have to go back to the drawing board on this one.
Read More

| ABC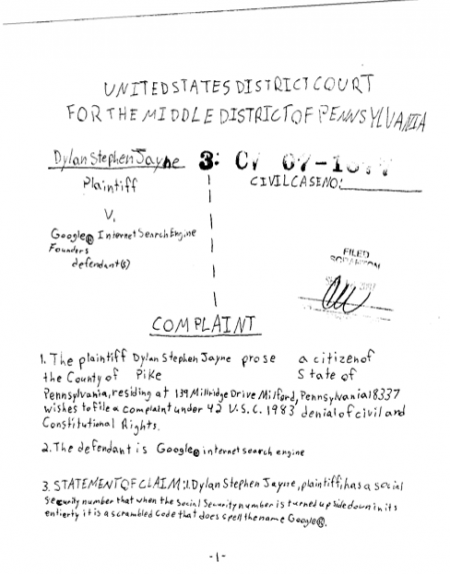 Citing claims of privacy invasion and terrorisim, a one Dylan Jayne has filed a (handwritten) suit against Google. Mr. Jayne (who gives one of our favorite Firefly characters a bad name) seems a bit off his rocker on this one. He states that not only has Google failed to fight terrorisim, but they also seem to have invaded his privacy as indicated by the following statement: "I, Dylan Stephen Jayne, plaintiff, has [sic] a social security number that when the social security number is turned upside down in its entirety it is a scrambled code that does spell the name Google®."
Last time I checked Google's business model didn't seem to cover stopping terrorism, leaving that job to the 'professionals' over at Homeland Security. His claims of privacy invasion also seem a little far fetched - it's hard to think a fortune 100 company would pick it's name based soley on the Social Security number of a lone loser from Pennsylvania.
In a way it's a sad statement about the United States legal system that a case like this will even be heard by a judge. If Mr. Jayne can't even be bothered to type up his Complaint can he really be considered compentent enough with computers to really even understand what exactly it is that Google does? Check out the Ars Technica article for more information on this weird little case and keep your eyes peeled here late breaking news as it percolates through the Justice system.
Read More

| Ars Technica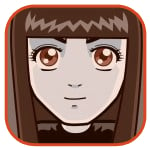 Posted by Sheila Franklin Categories: Google, Internet, Misc. Tech, Science,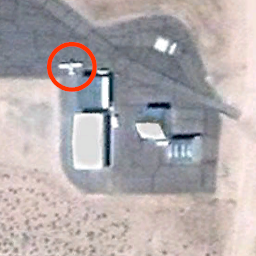 Adventurer Steve Fosset and his plane still have not been recovered after about 2 weeks. A few organizations teamed up to find him with the use of a GeoEye satellite that is tracking the Nevada territory where he was last thought to be. Using Google Earth, you can get in on the search. You will have to download a KML file and cut and paste the coordinates in the "Fly To" box. Think of the ramifications for finding others missing that using this technology will be able to accomplish in the not so very distant future.
Read More

| Live Science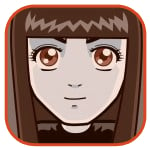 Posted by Sheila Franklin Categories: Corporate News, Google, Misc. Tech, Science,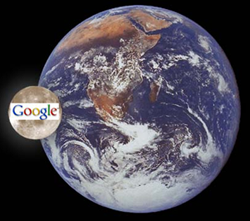 We suppose that Google is not satisfied with its new Sky, but then again maybe they have just gone a tad space loony. The company has offered a $30 million reward to the first private company that sends a robotic rover to the moon and sends back a gigabyte of images.
Partnered with the X Prize Foundation, who hosted the contest that sent non-astronauts into space, Google says that the rules involve the device traveling at least 1,312 feet across the surface and having high-def video and still cameras to send self-portraits, panoramic views, and near-real time videos. More details will become available during the WIRED Nextfest in LA this week.
Read More

| ABC
© Gear Live Inc. – User-posted content, unless source is quoted, is licensed under a Creative Commons Public Domain License. Gear Live graphics, logos, designs, page headers, button icons, videos, articles, blogs, forums, scripts and other service names are the trademarks of Gear Live Inc.