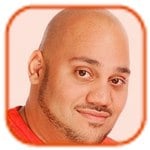 Posted by Andru Edwards Categories: Announcements, Features, Video Games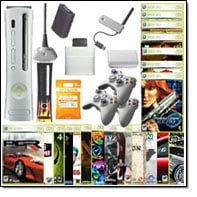 Okay, so I was discussing Gamestop's ridiculously amazing, and horrendously overpriced Xbox 360 Omega Bundle on The Chris Pirillo Show last week. Before the end of the segment, Chris had convinced me to give one of these monsters away here on Gear Live. Thank him, because this is what we are giving away:
360 Premium Pack ($399.00): Xbox 360 Game Console, Wireless Controller, Combination High-Definition Component & Standard A/V Cable, 20GB Hard Drive, Ethernet Cable, Headset, Universal Media Remote, Xbox Live Silver, Xbox Live Gold 30-Day Trial
Omega Bundle Games: Perfect Dark Collector's Edition, Project Gotham Racing 3, Elder Scrolls IV: Oblivion, Dead or Alive 4, Call of Duty 2, GUN, Quake 4, Tony Hawk's American Wasteland, Condemned, Madden NFL 2006, Kameo, Amped 3, Ghost Recon, NBA 2K6, NHL 2K6, Ridge Racer 6, Top Spin 2, Need for Speed: Most Wanted, Tiger Woods 2006, Frame City Killer
Omega Bundle Accessories: Extra Wireless Controller, Extra Wireless Controller, Extra Wireless Controller, Wireless Network Adaptor, Memory Unit, Fuego Faceplates, Play & Charge Kit, Rechargeable Battery, Xbox Live 12 Month Card, 1-Year Product Replacement Plan
This contest starts now, and will end a week before Xbox 360 launch. Here is how it will go down. In order to enter, you need to be a registered user on the site, and must place your mailing address in the signup form in the Sync Magazine box. No worries, as your address will only be used to mail you your Bundle, and send you a Sync subscription if you check that box. Once this is done, be sure you are logged in and leave a comment here in this post. What we want to know is the following:
1) Which game are you looking forward to the most in this bundle?
2) Which game are you looking forward to the least in this bundle?
Be sure to tell us why you are excited about (or not looking forward to) the games you choose. The winner will be someone who follows the instructions, and will be chosen at random. Once again, this one is only for those located in the good ol' USA. There you have it. Someone is about to be buried in Xbox 360 games.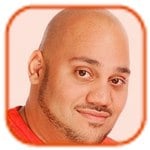 Posted by Andru Edwards Categories: Wearables, Features, Portable Audio / Video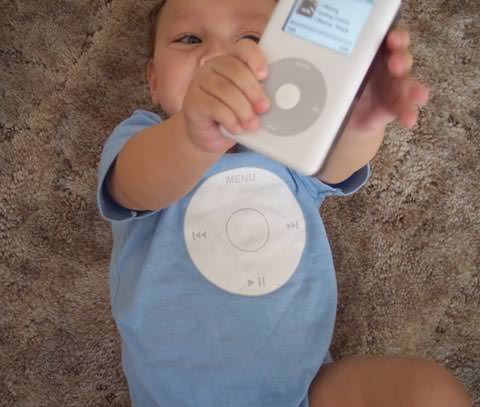 So, at the beginning of August we came across a service/internet store called iPod My Baby. After talking about it, I said to myself "Hey, I have a baby - why not iPod him?" After waiting three times longer than the site said it should take for shipping, the package finally arrived, and the results are oh-so-cute, as you can see. Of course, Alijah is known as the gadget baby - it took a combination of a cell phone and iPod to get him to crawl, and a Nintendo DS to get him to say his first word - that being "Apple", the name of my Golden Retriever pup in Nintendogs. Jump down for a couple more images. Oh, and if you have images of your baby in one of these, please send them in. We would love to post more.
Click to continue reading So, I iPodded My Baby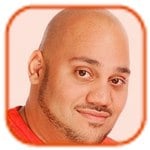 Posted by Andru Edwards Categories: Features, Mods / Hacks, PC / Laptop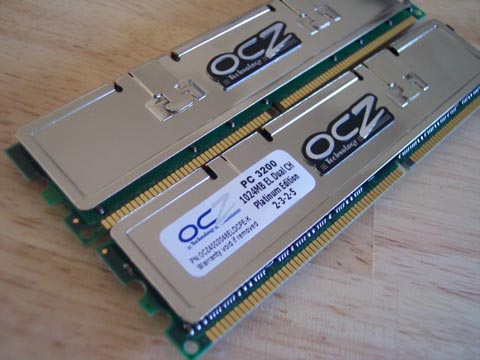 Boy, am I glad that's over. What a freaking ordeal. You see, a few days ago I continued my Mac switch (which, up to that point, included a Mac mini and 12" PowerBook G4) with the purchase of a 20" 2.0 GHz iMac G5. The thing costs about $2,000 after taxes are said and done, and maxing out the RAM would have cost an extra $400. Of course, I have upgraded RAM in many a computer - heck, I have built plenty of computers from scratch. Looking on Newegg, I saw a great deal for 2 sticks of 1 GB OCZ Platinum PC3200 RAM. With that purchase, I saved about $200 doing it myself instead of having Apple do it. The RAM arrived today, and the war between me and my iMac began.
Click to continue reading Installing OCZ Platinum RAM in iMac G5 Makes Me Mad
This week, The Final Cut takes a closer look at two of this weekends great releases- Red Eye, with Rachel McAdams and Cillian Murphy, and The 40 Year Old Virgin with Steve Carell and Catherine Keener. Also out this Friday are Valiant, an animated film about a pigeon set during World War II, and Supercross, a story about two brothers who take a motocross championship by storm after the death of their father. Check out The Final Cut's recommendations after the jump, and as always, if you've seen one of this weekends releases feel free to voice your opinion in the comments section.
Click to continue reading The Final Cut: A Closer Look At Red Eye, The 40 Year Old Virgin

Posted by Sparky Categories: Accessories, Wearables, Features, Product Reviews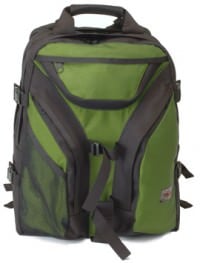 Recently we had the opportunity to review the Tom Bihn Monolith and Brain Bag. Today we are proud to present our thorough review and impressions of the Brain Bag - Tom Bihn's carry all rough and tumble backpack. When you need to haul your your stuff in style, the Brain Bag is your friend. Check out after the jump for the full review.
Click to continue reading Tom Bihn Brain Bag Review

Posted by Sparky Categories: Accessories, Features, PC / Laptop, Product Reviews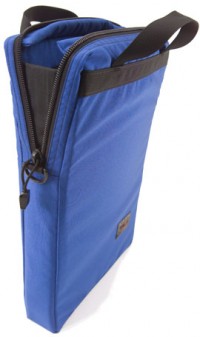 Gear Live has reviewed bags made by the Washington State based Tom Bihn, and we have been quite impressed by them. We recently had the opportunity got to check out two more of their bags - the Monolith and the Brain Bag. The review is being done as a two part series and this first part is focusing on the laptop toting Monolith - a great solution for todays widescreen laptops. For a through review of the Monolith and our impressions over the last two weeks, read on.
Click to continue reading Tom Bihn Monolith Review
Posted by Mac Harris Categories: Features, Internet, Movies, Podcasts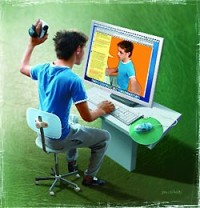 Video Blogging, or Vlogging, is quietly gaining momentum in the weblog community. For those of you not in-the-know, Vlogging is basically taking the idea of podcasts to the next level. A video broadcast (yes, people also call them vodcasts) is placed into an RSS/Atom enclosure and syndicated around the web in the same way a regular blog works.

Apple has suspiciously added a form of video blogging support to its latest iTunes iteration. This is the first corporate endorsement of the fad/trend/media-revolution that I've seen so far. One of the biggest hurdles to the success of Vlogging has been the complexity and difficulty of taking video clips and getting them onto the web quickly. Traditional DV Cams require capturing, editing, encoding, and uploading before a finished video clip is online and ready for distribution. Webcams offer some relief but usually produce low quality video in tiny onscreen windows. The mobile aspect of blogging and photoblogging is another stymie for the video blog . In the U.S. today very few mobile devices offer decent video recording with the ability to upload or publish content to the web.

The issue of bandwidth is also a key to the success of the video blog. Traditional and photo blogs require very little bandwidth, as text and basic images are small in size. Video files are comparatively massive, especially when you consider syndicating these videos all over the web. The bandwidth costs associated with running a videoblog are potentially exponential compared to a text-only we.

Can video blogging displace TV news reporting? Will America be tuning in to bedroom versions of 60 Minutes on their PCs while televisions begin to collect dust? Could Google Video solve Vlogging's bandwidth woes? Comment wars in 3,2,1…

This week, The Final Cut takes a closer look at two of this weekends most anticipated releases, The Skeleton Key with Kate Hudson and Four Brothers with Mark Wahlberg. Also out nationwide this Friday are Deuce Bigalow: European Gigolo with Rob Schneider and Eddie Griffin, and The Great Raid with Benjamin Bratt and James Franco. In limited release, look for Asylum, Pretty Persuasion, and Grizzly Man. As always, if you've seen one of this weekends new releases, feel free to comment with your opinion. See The Final Cut's recommendations after the jump.
Click to continue reading The Final Cut: A Closer Look At Skeleton Key, Four Brothers
Posted by Rob Stevens Categories: Accessories, Features, Home Entertainment, Product Reviews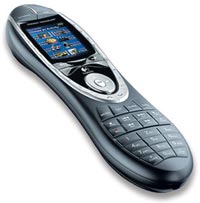 If you're anything like me, your living room is probably cluttered with remotes. OEM remotes, "universal" remotes, and remotes for the air conditioner you left behind when you moved. Men love 'em; there's nothing like the feel of a plastic remote (or five) in your hand to make you feel like you're in control. Women, on the other hand, see the remote as a bone of contention and the more of them there are, the more contentious the bone.
We asked our friends at Logitech if they could solve the problem, and they sent us their top-of-the-line programmable remote: The Harmony 880. Logitech has designed the remote to be used in conjunction with HDTV and PVR devices, and makes the process of doing things like changing the aspect ratio of your HDTV from 16x9 when on a DVD source, to 4x3 Expanded when on a TiVo. Most importantly, they tout the remote as being easy to set up and easy to use. We'll just see about that.
Click to continue reading Logitech Harmony 880 Advanced Universal Remote Review
Posted by Edwin Soto Categories: Features, Mods / Hacks, Podcasts, Portable Audio / Video, Software, Video Games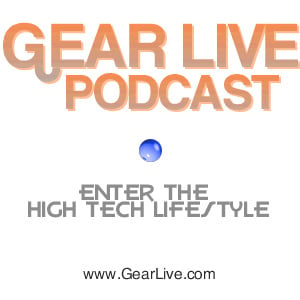 As techies who yearn for the newest, hottest, next big thing, we love to speculate about what's to come. In this week's podcast, we mostly focused on technology that is on the horizon:
XBOX 360 QWERTY Controller
Miyamoto Revolution Controller
iPod video
Pretec 4MB SD
Russian Spammer Killed
Click here to download the MP3, or you can just subscribe to the Gear Live Podcast feed. You can also subscribe to us directly through iTunes as well.
Voices: Edwin Soto, Sparky
Length: 32:52, 30.1 MB
Don't forget to vote for us on Podcast Alley! Also, be sure to check out the Gear Live Odeo Channel, and subscribe there are well. You can even tag each episode with keywords.
Listen | Gear Live Podcast
© Gear Live Inc. – User-posted content, unless source is quoted, is licensed under a Creative Commons Public Domain License. Gear Live graphics, logos, designs, page headers, button icons, videos, articles, blogs, forums, scripts and other service names are the trademarks of Gear Live Inc.