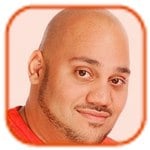 Posted by Andru Edwards Categories: Cameras, Features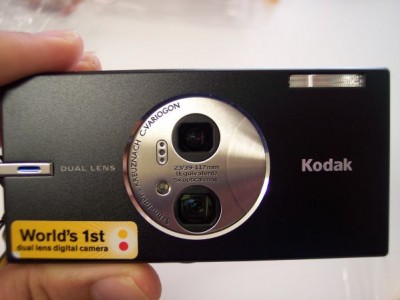 We just received a Kodak EasyShare V570 camera, and figured we would share the love. This is the one that Kodak was trying to pimp hardcore at CES, touting it as the world's first dual lens digital camera. So far, we are very impressed with the build, responsiveness, and overall quality of this particular EasyShare camera. In the past, it seemed that the Kodak EasyShare line was geared towards the budget consumer, but the V570 looks like it can definitely compete with the best of them. Check out a couple more images after the jump, or head on over to the gallery to check out the whole set. Stay tuned for our full review.
Click to continue reading Unpacking The Kodak EasyShare V570
Posted by John Goulden Categories: Accessories, Features, Peripherals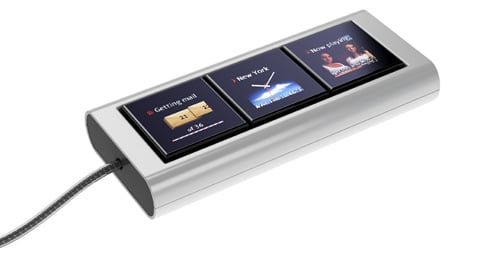 Imagine if you will a keyboard that changes the look of its keys to fit the software you are using. Such a keyboard could be used in any country with no modification as the keys could display whatever character set is required by the local language. The possibilities are endless. Gear Live first reported on such an amazing device back in July, 2005, and the concept was met with equal amounts of curiosity, disbelief, and a passionate
need
want to have one. Time passed and eventually we were rewarded with a tidbit of information that "Good things come in small packages", a few sample pictures of a 3-key device and a teaser date of February 1, 2006. The date has finally arrived and product availability and pricing have been announced although its not quite what everyone was hoping for…yet. The initial concept was for a full-sized keyboard with tiny OLED (organic light-emitting diode) screens replacing the top of each key at a price "less than a good mobile phone".
Every company with a great idea has to start somewhere, and Art Lebedev Studio chose to start with a smaller scale device - the Optimus Mini Three. The Mini Three will utilize 3 keys, each with a 20x20mm (96x96 pixels) OLED display capable of a 5 second refresh rate. The tiny OLED displays have a lifespan of 5000 hours (roughly 208 days if used non-stop) and will have a screen saving mode to extend their life. Although the Optimus Mini Three is currently shipping with Windows-based configuration software only, the company expects to release versions for MacOS and Linux shortly thereafter. Three keys is a bit limiting (six would have been better), so shift states have been implemented which will allow the keys to display other functions. Even though shift states aren't going to speed up the use of shortcuts (what normally would take one hand will now take two), they will make the Mini Three more useful to some extent.
The keyboard will be available for pre-order later this week at a price of $100 with an expected ship date of May 15th. Modders, early-adopters, and gadget freaks rejoice.

Read More

| Art Lebedev Studio
Posted by Edwin Soto Categories: Accessories, Features, Portable Audio / Video, Product Reviews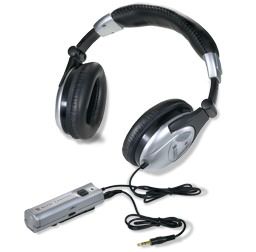 Altec Lansing is known for giving audiophiles the quality in detail that they seek. The AHP712i headphones were designed with those of us that love ear-cupped style headphones and refuse to migrate to the possibly more comfortable and stylish earbuds. Considering you can get a semi-decent pair of headphones for about $30 these days, we decided to put these through a rigorous amount of testing to determine whether or not they are truly worth $150. Check out the review after the jump.
Click to continue reading Altec Lansing AHP712i Headphones Review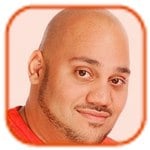 Posted by Andru Edwards Categories: Features, Internet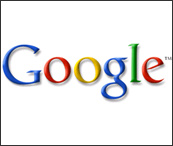 It is no secret that search engines have earned their way into the very core of Internet usage. Everyone has used Google, Yahoo!, or MSN Search. Sure, between those three and the virtual unending hoard of others out there, search results might be different, logos might be different, as might a few other small features. However, I have been thinking more and more about something I have started referring to as "predictive search" over the last couple of weeks.
Knowing that there are obviously a lot of limitations to the approach, wouldn't it be convenient if, say, in the sidebar of a search results page, MSN Search predicted the result of the search you might perform next?
Click to continue reading Search Engines: Where Is Predictive Search?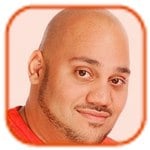 Posted by Andru Edwards Categories: Apple, Features, Mods / Hacks, PC / Laptop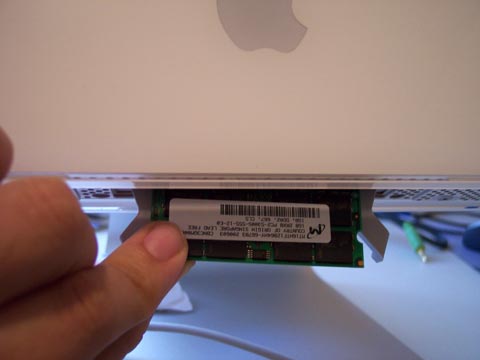 Yesterday, we gave your our impressions of the new iMac Core Duo. In the article, we mentioned that we desperately needed to upgrade from the stock 512 MB RAM the system ships with, up to 2 GB because of the kind of work we do. After thinking about it, we realized that the RAM installation for the new iMac is the easiest we have ever done. Apple has truly made it easy to upgrade the latest iMac - and it is exponentially easier than the last one, where installing RAM frustrated us to no end.
As seen in the image above, the RAM slot is at the bottom of the computer. All you need to do is unscrew a small panel, insert the RAM, and screw the panel back on. It really couldn't be simpler. We removed the 512 MB stick, and installed two 1 GB chips in under a minute. We applaud you, Apple. We have a better image of the RAM slot after the jump.
Click to continue reading iMac Core Duo: Easiest RAM Installation Ever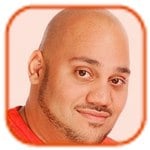 Posted by Andru Edwards Categories: Announcements, Design, Features, PC / Laptop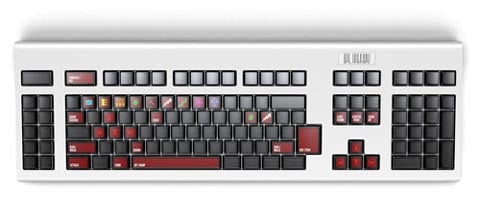 So, back in July we were the first to report on the Optimus OLED keyboard. After we posted it, everyone and their mother picked it up - just check out the press clippings area on the Optimus site (notice - we are the earliest!). This is the keyboard that took the Internet by storm. In just a few days, the precursor to the Optimus Keyboard will be unveiled - that being the Optimus Mini Three.
We will be chatting with Art Lebedev, the designer of the Optimus keyboard, and wanted to be sure to get in as many of your questions as possible. If there is anything you would like to know about Optimus Keyboard, the Mini Three, or Lebedev Studios itself - let us know here.

Posted by Jesse Easley Categories: Features, Home Entertainment, Portable Audio / Video, Product Reviews
We recently got our hands on the Oregon Scientific iBall Speaker System for the iPod. The iBall is a wireless speaker that is about the size of a bowling ball which features an LCD screen and iPod controls. Read our impressions and check out more images, after the jump.
Click to continue reading Oregon Scientific iBall Speaker System Impressions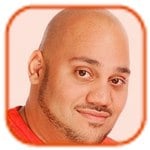 Posted by Andru Edwards Categories: CES, CES 2006, Features, Microsoft, Software, Videocasts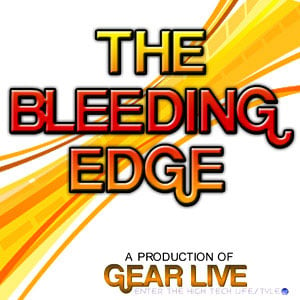 We were able to spend a few minutes chatting it up with a Microsoft employee going over some of the more interesting changes we can expect when Windows Vista ships. We recorded a video of the demonstration that we got while going hands on with Vista at CES. In it, we talk about:
Animation effects
Legacy metadata for 2000 legacy games built-in to the OS
The new PC performance rating replacing "system requirements"
Vista desktop search
Vista's way of alerting you of potential system problems
The new Windows Defender Antivirus and Antispyware program
The three official Windows Vista SKUs
The new Breadcrumb Bar
Here's how to get the video:
|iTunes| - Subscribe to our iTunes video feed
|RSS| - Subscribe to our video RSS feed
|Download| - iPod-formatted H.264
|Download| - MPEG-4
Here's how to get the show:
|
Download
| - iPod-formatted H.264
|
Download
| - MPEG-4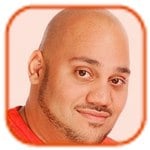 Posted by Andru Edwards Categories: CES, CES 2006, Features, Video Games, Videocasts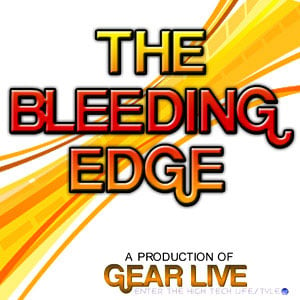 We had the opportunity to catch up with our friend Larry Hryb - Major Nelson to the layperson - to ask him about what his CES experience was like. Major had been pretty much tied to the Xbox area in the Microsoft booth, but he took a few minutes to talk to us about Fight Night 3, Dead Rising, and Street Fighter II on Xbox Live Arcade. Here are your downloads for the video:
Bleeding Edge iTunes Feed: Subscribe
Bleeding Edge Video Feed: Subscribe
iPod Video: Download Here
H.264: Download Here
Here's how to get the show:
|
Download
| - iPod-formatted H.264
|
Download
| - MPEG-4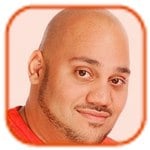 Posted by Andru Edwards Categories: CES, CES 2006, Features, Home Entertainment, Podcasts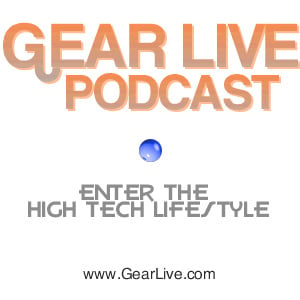 We got some quality hands-on time with the forthcoming TiVo Series 3, TiVo's first HD-capable DVR. The Series 3 unit has some cool new features, including a single-color, two-line OLED LCD display on the front of the unit that shows you what's being recorded on each tuner. We interviewed Bob Pony of TiVo (TiVoPony on the TiVo Community forums) about what we can expect in the Series 3, so be sure to check out the video interview as well.
Click here to download the MP3. We also have an enhanced AAC version as well - or you can just subscribe to the Gear Live Podcast feed:
Voices: Andru Edwards, Chris Cardinal, Bob Pony of TiVo
Length: 13:36, 15.6 MB
Don't forget to vote for us on Podcast Alley! Also, be sure to check out the Gear Live Odeo Channel, and subscribe there are well.
LISTEN | Gear Live Podcast
© Gear Live Inc. – User-posted content, unless source is quoted, is licensed under a Creative Commons Public Domain License. Gear Live graphics, logos, designs, page headers, button icons, videos, articles, blogs, forums, scripts and other service names are the trademarks of Gear Live Inc.