Posted by John Goulden Categories: Wearables, Design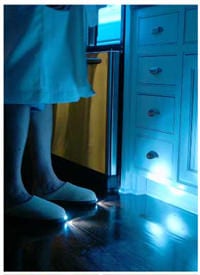 With better ergonomics than strapping two Maglites to your feet, the BrightFeet Lighted Slippers are designed to provide you with the necessary illumination you need to avoid going "bump" in the night. Essentially a pair of headlights for your feet, the BrightFeet are motion-activated so they turn on when you slip into them and will supposedly
illuminate a path 20-25 feet in front of you. A sensor in each prevents the lights from coming on during the day, and a timer allows them to remain on for a short period after you have removed them, to facilitate you stumbling toward the bed. They sell for an MSRP of $39.95.

Read More

| BrightFeet via Luxury Housing Trends

Posted by Frank Bisono Categories: Accessories, Apple, Design, Peripherals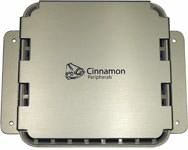 So you got that tight little Mac mini because you are a clutter freak and wanted to minimize what you have on your desktop. Somehow, as small as the mini is, the mere sight of it is bugging the heck out of you, so you want to hide it even more. Your wish has been granted by Cinnamon Peripherals with their CinnaRack for Mac mini.
The Mac mini is one of the smallest computer desktop ever made, but you can reclaim even more desktop space by mounting your Mac mini under your desk or under a shelf!
Now be forewarned, this is a limited edition prototype, and there will only be 50 made available for purchase. Nonetheless, it looks like a decent product and is sure to be a hit with that minimalist crowd.
The CinnaRack for Mac mini is designed to allow maximum airflow for the Mac mini. If your computer is hanging in the air, why limit its air intakes to the sides, like on a desk?

This is a limited edition, production protype. It lacks the ability to connect to our future accessories but is available at a special discount price. It's also the only Cinnamon Peripheral that will ever have our complete company name silkscreened on it. Grab a piece of history!

The CinnaRack for Mac mini production prototype is made from anodized aluminium to closely match the look of the Mac mini.
Read More

| Cinnamon Peripherals
Posted by John Goulden Categories: Design, Household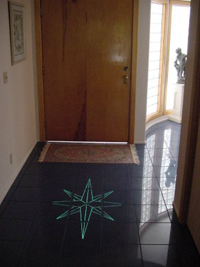 Fiber optics, in their various forms, are everywhere these days. From communications cabling to fabric materials, children's toys to lighting and custom home theater ceilings with star fields, the proliferation of the product can be a bit overwhelming. Leave it to Fiberoptic Floors, Inc. to find a way to install fiber optics in your tile floor. They utilize a waterjet process to drill holes into ceramic tile and a halogen or LED-based light source for powering the fiber. Designs can be as simple or complex as you desire, and animations are even within the realm of possibility. No word on price, but this sounds like one of those products where, if you have to ask…

Read More

| Fiberoptic Floors, Inc. via Luxury Housing Trends
Posted by Edwin Soto Categories: Accessories, USB, Design

These USB sticks takes the "stick" part quite literally. Available in flavors of 128MB to 1GB, this is one of the most interesting designs in electronics we've seen in a while. You can get a quote on one of these on the OOMS Product Page. While you're there, check out their wireframe chairs.

Read More

| OOMS Product via Treehugger
Posted by John Goulden Categories: Design, Home Entertainment, Music, Portable Audio / Video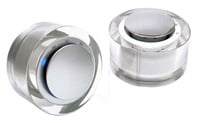 Satellite radio has me spoiled. I can't remember the last time I listened to normal terrestrial radio and I have no intentions of going back. However, there are those of you who still partake of FM broadcasts, and for that there's the Acrilan Radio. The Acrilan is a 4 inch diameter piece of acrylic whose outer body controls the volume, and pop-up center button handles power and volume. Not much going on in the color choice department with only white and silver up for grabs but that's a minor quibble. A mono speaker and blue LED lighting round out the package. Only one major problem - since it's made for the Japanese market the frequency range (76.1 - 96.3 MHz) doesn't match up with that of the U.S.

Read More

| AssistOn (jp) via The Red Ferret
Posted by John Goulden Categories: Design, Household, Transportation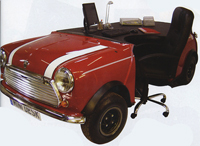 What do you get for the person who seems to have everything? How about a desk made out of a Mini Cooper (the original, not the BMW remake). If you're willing to part with $4,500, you too can own (or gift) a nostalgic piece of automotive history. Of course, for around that same amount of money you can buy yourself a whole Mini Cooper to actually drive.

Read More

| Uber-Review

Posted by Frank Bisono Categories: Apple, Design, Software
I know there are a lot of Mac users reading the blog, so for those of you (like me), who use Adobe apps as part of your daily workflow, you may want to read this. The following is from an Adobe employee blog written by John Knack.
We've posted an FAQ concerning Adobe's plans to ship Intel-native (Universal) Mac applications. Highlights:

Yes, we are working on Universal versions of our tools. The FAQ includes a list of those being converted.
No, we don't plan to update CS2/Studio 8 to be Universal. That means native support will come in a future version, which is some time off. (The FAQ cites an 18-24 month historical cycle for product updates. CS2 shipped in April 2005, Studio 8 in September.)
Yes, most of today's applications will run in Rosetta (the emulation layer for PowerPC code running on Intel), though that's not a configuration Adobe has tested extensively. The Version Cue server component won't run on Rosetta.

The Lightroom beta, made available first on Mac, will be available in Universal form very soon.
It's important to make a few things clear: We're working really hard, together with Apple, to make this conversion. Apple staff are on site at Adobe every day and have been for quite some time, helping our teams make the required move to the Xcode development environment & taking our feedback on how to make Xcode support large projects like Photoshop.

Everyone—Mac users, Adobe, and Apple—wants to get Adobe apps running natively on Mactel as soon as possible, but doing so while maintaining their quality will take time. If we knew how to do this more quickly, we would do it.

I'd like to make one other point: in the first 18 months that Mac OS X was in the market (starting with the shipment of 10.0.0), Adobe released (by my recollection) 13 OS X-native applications. That averages out to better than one release every six weeks for a year and a half. Name another company that showed up for the game on that scale. Please bear that history in mind the next time someone on a user forum starts raising doubts about Adobe's commitment to the Mac.
So the short of it is, if you are working as a professional designer or anyone who uses Adobe's apps fairly frequently, make sure you know what you are getting into when buying that new Mactel. I for one am looking forward to a new MacBook Pro soon - real soon - but I absolutely must have Adobe's apps work on my machine from day one. I hope they pound this out pronto.

Read More

| John Knack Blog
Posted by John Goulden Categories: Design, Misc. Tech, Peripherals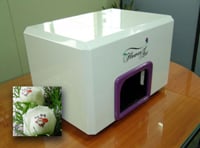 So there you are, trying to decide what to get for your loved one this Valentine's Day, and the thought hits you that a flower with your picture on it would be just swell. Now, how do you go about accomplishing this feat? Enter our beloved Asian brethren to save the day. The aptly named "Flower Printer," allows you to print a graphic image of your choice on a flower. Yes, apparently a real, live flower. The details are sketchy, but for a mere $1250 you too can
creep out
impress the person you hold dearest with a personalized flower just for them.

Read More

| Compact Impact via Gearlog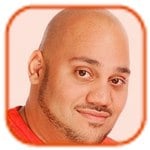 Posted by Andru Edwards Categories: Announcements, Design, Features, PC / Laptop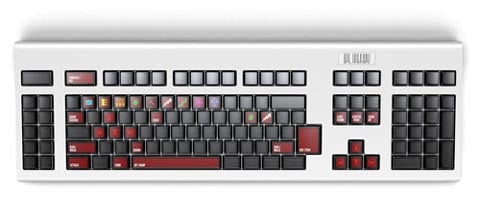 So, back in July we were the first to report on the Optimus OLED keyboard. After we posted it, everyone and their mother picked it up - just check out the press clippings area on the Optimus site (notice - we are the earliest!). This is the keyboard that took the Internet by storm. In just a few days, the precursor to the Optimus Keyboard will be unveiled - that being the Optimus Mini Three.
We will be chatting with Art Lebedev, the designer of the Optimus keyboard, and wanted to be sure to get in as many of your questions as possible. If there is anything you would like to know about Optimus Keyboard, the Mini Three, or Lebedev Studios itself - let us know here.
Posted by John Goulden Categories: Design, Portable Audio / Video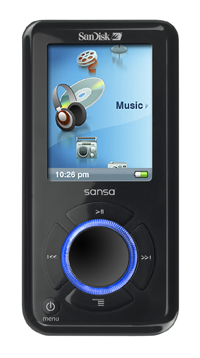 The bandwagon - it's that thing every manufacturer seems to jump on when it comes to product design. Original concepts and thinking take a backseat to minimal R&D costs and the ability to kick the product out the door as quickly as possible. Take the SanDisk Sansa e200 for example. It certainly isn't an outright clone, but it doesn't deviate too far in looks from Apple's iPod nano. It's got the requisitive blue glowy lights that are so popular today, and feature-wise it does have the nano beat on a number of points. Unlike the nano it comes in 2, 4 and 6GB versions, includes an FM radio (with recording), native support for WMA files, and has video playback capability (although the nano can be hacked for video). For those craving even more storage space, the e200 also includes a microSD slot which could net you an additional 1GB of storage (the largest size microSD at the time of this writing). In an apparent dig at Apple's problems with the nano, the Sansa has the following - "Strong Liquidmetal® back casing provides excellent durability and scratch resistance". News flash for SanDisk - it's the FRONT of the nano scratching easily that has everyone up in arms, not the back. Barring any issues with the user interface, the Sansa e200 sounds like a great little player when it arrives at the end of March. It's hard to argue with what's popular, but it's a shame a little more thought wasn't given to the exterior to differentiate the e200 from it's competition.

Read More

| SanDisk via ubergizmo
© Gear Live Inc. – User-posted content, unless source is quoted, is licensed under a Creative Commons Public Domain License. Gear Live graphics, logos, designs, page headers, button icons, videos, articles, blogs, forums, scripts and other service names are the trademarks of Gear Live Inc.