Posted by Frank Bisono Categories: Accessories, USB, Design, Peripherals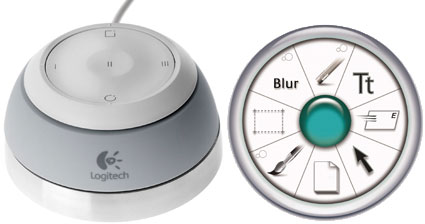 Holy gizmos Batman, Logitech has gone loopy. Check out this new designers tool:
Logitech (SWX: LOGN) (NASDAQ: LOGI) and Adobe Systems Incorporated (NASDAQ: ADBE) today announced the results of a collaboration to provide creative professionals and design enthusiasts new levels of control when using Adobe® Creative Suite 2 (CS2) and standalone CS2 applications: the NuLOOQ™ Professional Series. The new Logitech product line comprises the NuLOOQ navigator™, an innovative device used in conjunction with a mouse and a keyboard to manipulate images and documents, and the NuLOOQ tooldial™, customizable on-demand interface software that provides quick access to design tools. Both are designed for use with the Mac® versions of Adobe Creative Suite 2, Adobe Illustrator® CS2, Adobe InDesign® CS2, and Adobe Photoshop® CS2.
So here's the breakdown. Think of this as the Adobe super-gizmo. I'm not really sure what the heck Logitech is thinking here, but they have some good intentions. Most of us that are designers already use a mouse/trackball, keyboard and a tablet. So to add yet another tool to the arsenal seems like a bit of overkill, but I can see what they are trying to accomplish. Similar to how there are devices for video editors, this would be akin to a Countour Shuttle Pro (used by video peeps), but for designers. This is essentially a 2-part device. You have the actual hardware piece which can be used on it's own, but it also works with software that is specifically designed for use with the Adobe CS2 Suite of apps. NuLOOQ tooldial software is completely customizable and configuration is pretty straight-forward. My only concern is that it will be a bit overwhelming for most people. If you have been used to doing things by using the toolbars and menus and keyboard shortcut's, this device may actually slow you down, which defeats it's purpose. Hard to really say without testing one out in a production environment for a while.
The NuLOOQ Professional Series (which is the harware and software package) has a suggested retail price in the U.S. of $149.99 and will be sold beginning in March. The NuLOOQ tooldial can be purchased separately online for a suggested retail price of $49.99. A 30-day free trial is also available for download at the NuLOOQ Web site.

Read More

| Logitech
Posted by John Goulden Categories: Design, Transportation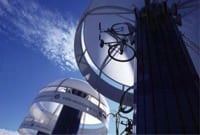 You've seen it before. A bike rack with a cut chaincable laying on the ground, or a locked up wheel being the only portion of the bike left behind. To combat this, people resort to different approaches. Some use the latest in super-duper, titanium-impregnated, hardened-steel locks, and others remove a seat or a wheel (or two). Whatever your method, if somebody wants your bicycle badly enough, they're going to get it. Unless of course, they can't reach it. The Bike Tree is a Swiss invention that lifts your bicycle overhead and stores it under a protective canopy. Not only is your bike now protected from theft and vandalism, but from Mother Nature as well. A non-contact smart card allows an authorized user to retrieve their bicycle and go about their merry way. The Bike Tree can also be utilized as a bike rental facility, and since it can be solar powered, is easy to implement no matter the location.

Read More

| Bike Tree via Random Good Stuff
Posted by John Goulden Categories: Design, Household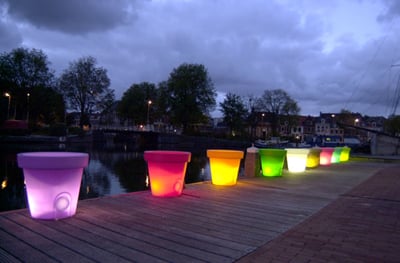 LEDs (light emitting diodes) are literally everywhere today. In fact, if you were to turn off the lights in just about any room in your home, odds are that a little glowing LED would be emanating from some object. With the theory that a little excess never hurt anyone, BLOOM! introduces their lineup of LED flower pots that are designed to light up your boring old plants with a splash of color. Although you can get their smallest pot with low-voltage halogen lighting (why even bother?), their two larger pots (26-inches and 41-inches in diameter) are both fitted with LEDs. There are four, 1-watt, white LEDs (Luxeons maybe?) utilized in the 26-inch pot, whereas the larger pot has twelve colored LED's installed in a rotating ring. Should the need arise, the LEDs are even replaceable, but with a listed lifespan of 50,000 hours, their demise won't be anytime soon.
A steep $199 is the price to pay for the privilege of owning the 26-inch pot, and we can only wonder what the 41-incher will set you back.

Read More

| Bloom! via Luxury Housing Trends
Posted by John Goulden Categories: Design, Household
No, that's not a periscope sticking up out of the cooktop above, it's the pop-up ventilator for Gaggenau's Modular Cooktop System. A short time ago we brought you the Kuppersbusch Cooktop which was smooth and sleek, but as some of you pointed out, lacked the one thing professional and aspiring chefs prefer - gas burners. Well, the Gaggenau system isn't nearly as svelte, but it does have the versatility factor covered. You can assemble your own cooktop design with everything from gas burners to glass-ceramic cook surfaces, steamers, deep fryers, dedicated wok burners, griddles, and even a conventional downdraft system should the pop-up ventilator prove too strange looking.
Prices aren't listed, but if it's anything like the Kuppersbusch system, if you have to ask, you can't afford it.

Read More

| Gaggenau via Trendir
Posted by John Goulden Categories: Design, Transportation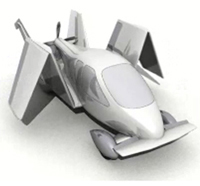 Flying cars aren't exactly science fiction, but they certainly aren't something you see every day either. While there have been many attempts, and many failures, some concepts have had rudimentary success at least in function if not in sales (Moller SkyCar as an example). A start-up company called Terrafugia is determined to create a flying car that is street legal, flyable as a light sport craft, has practical value, and is marketable to a wide audience. Known as the Transition, the car currently only exists on paper and in the minds of it's designers, but is slated to be available in prototype form by 2008. With heavy backing from MIT, Terrafugia appears to be aware of the pitfalls associated with the concept of flying cars, and plans on marketing the Transition by telling prospective buyers both the pros and cons.
With the need for a sport pilot license and an estimated street price of $148,000 the Transition won't be for everyone, but may open the doors to future concepts that are.

Read More

| Terrafugia via C|Net
Posted by John Goulden Categories: Design, Transportation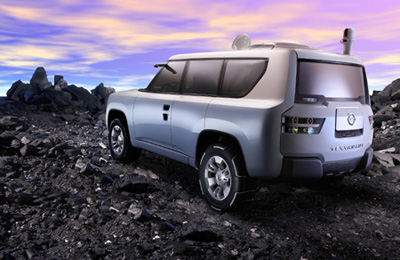 When you absolutely, positively have to take the laboratory with you, then the Nissan Terranaut is the way to go. Okay, it's the way to go, if you want to go in style. Nissan recently unveiled the SUV and aimed it squarely at scientists, explorers, and the true geeks at heart. Despite it's size, the Terranaut only seats three people because of the center seat which swivels 360 degrees into a lab/communications center which can only be described as something out of Star Trek. Only a concept vehicle for now, and given it's limited target market, not likely to ever reach production. Still - we can dream.

Read More

| Transport Trends
Posted by John Goulden Categories: Wearables, Design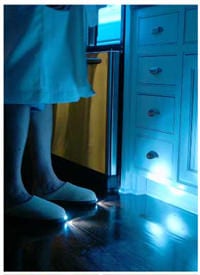 With better ergonomics than strapping two Maglites to your feet, the BrightFeet Lighted Slippers are designed to provide you with the necessary illumination you need to avoid going "bump" in the night. Essentially a pair of headlights for your feet, the BrightFeet are motion-activated so they turn on when you slip into them and will supposedly
illuminate a path 20-25 feet in front of you. A sensor in each prevents the lights from coming on during the day, and a timer allows them to remain on for a short period after you have removed them, to facilitate you stumbling toward the bed. They sell for an MSRP of $39.95.

Read More

| BrightFeet via Luxury Housing Trends

Posted by Frank Bisono Categories: Accessories, Apple, Design, Peripherals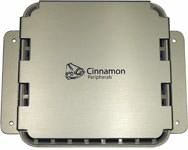 So you got that tight little Mac mini because you are a clutter freak and wanted to minimize what you have on your desktop. Somehow, as small as the mini is, the mere sight of it is bugging the heck out of you, so you want to hide it even more. Your wish has been granted by Cinnamon Peripherals with their CinnaRack for Mac mini.
The Mac mini is one of the smallest computer desktop ever made, but you can reclaim even more desktop space by mounting your Mac mini under your desk or under a shelf!
Now be forewarned, this is a limited edition prototype, and there will only be 50 made available for purchase. Nonetheless, it looks like a decent product and is sure to be a hit with that minimalist crowd.
The CinnaRack for Mac mini is designed to allow maximum airflow for the Mac mini. If your computer is hanging in the air, why limit its air intakes to the sides, like on a desk?

This is a limited edition, production protype. It lacks the ability to connect to our future accessories but is available at a special discount price. It's also the only Cinnamon Peripheral that will ever have our complete company name silkscreened on it. Grab a piece of history!

The CinnaRack for Mac mini production prototype is made from anodized aluminium to closely match the look of the Mac mini.
Read More

| Cinnamon Peripherals
Posted by John Goulden Categories: Design, Household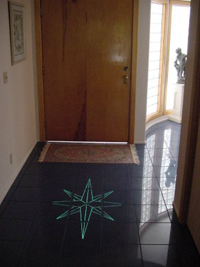 Fiber optics, in their various forms, are everywhere these days. From communications cabling to fabric materials, children's toys to lighting and custom home theater ceilings with star fields, the proliferation of the product can be a bit overwhelming. Leave it to Fiberoptic Floors, Inc. to find a way to install fiber optics in your tile floor. They utilize a waterjet process to drill holes into ceramic tile and a halogen or LED-based light source for powering the fiber. Designs can be as simple or complex as you desire, and animations are even within the realm of possibility. No word on price, but this sounds like one of those products where, if you have to ask…

Read More

| Fiberoptic Floors, Inc. via Luxury Housing Trends
Posted by Edwin Soto Categories: Accessories, USB, Design

These USB sticks takes the "stick" part quite literally. Available in flavors of 128MB to 1GB, this is one of the most interesting designs in electronics we've seen in a while. You can get a quote on one of these on the OOMS Product Page. While you're there, check out their wireframe chairs.

Read More

| OOMS Product via Treehugger
© Gear Live Inc. – User-posted content, unless source is quoted, is licensed under a Creative Commons Public Domain License. Gear Live graphics, logos, designs, page headers, button icons, videos, articles, blogs, forums, scripts and other service names are the trademarks of Gear Live Inc.