Posted by John Goulden Categories: Accessories, Design, Household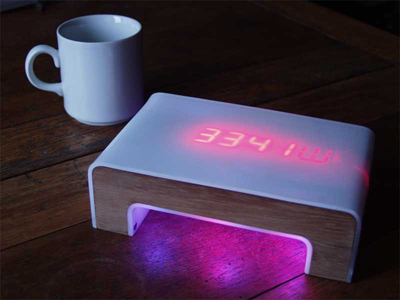 Curious as to how much power you use throughout your home? Do family members traipse through the house, flipping on light switches and leaving a blazing trail of wasted energy in their wake? If so, maybe the Wattson can help educate them as to the tangible change in power usage when electrical items are left on (or off as the case may be). Wattson delivers the information in numerical and non-verbal modes, and can also be connected to your computer for charting energy usage over time and sharing the data with a community of Wattson users.
The numerical display shows you exactly how much power your home is using at that very moment, and can display the result as an annual monetary cost, or in watts. This mode can help demonstrate what the real impact is of high-wattage bulbs instead of energy saving fluorescents, or how much power (and money) your SLI-equipped gaming rig really consumes. The non-verbal method uses colored lights and patterns to display the changing status of power consumption, and is useful for children and as a "quick glance" status indicator.
The Wattson device itself is wireless, and receives information from a sensor that is installed near the electrical panel in your home. The sensor is said to be easy to install, "with no need for any expert knowledge or assistance", although the company does offer installation services.
Built to order, the £350 (~ $610 USD) device requires 8 weeks prior to shipping and is currently available only in the UK.

Read More

| DIY Kyoto
Posted by Jared Hislop Categories: Apple, Design, Software
The iAlertU is like a car alarm, but for your MacBook Pro. The product uses an IR remote, special software for your Mac and the MacBook Pro's built-in motion sensor. Basically, you arm your MacBook by pressing a button on the remote, and the computer chirps twice to notify you the alarm is armed. If a would be thief comes along and attempts to tamper with - or take - your MacBook, the alarm goes off. Not only is the alarm pretty loud, the screen flashes too! The alarm can't be disabled without a special pass code or the IR remote (or, perhaps, turning the Mac off?). While there is currently no pricing set, you can check out a video of the product in action above.

Read More

| iAlertU
Posted by Jared Hislop Categories: Design, Handhelds, Misc. Tech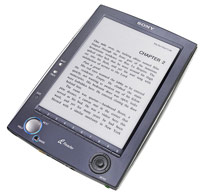 It seems that even though digital reading devices have not gained popularity since the inception of the e-text, Sony is willing to give eBooks another chance. The Sony Reader PRS-500 will debut in Borders and more than 30 Sony Style stores around the United States, as well as online. The device will be about the size of a paperback novel, but is considerably thinner at about a half inch thick. Sony will allow users to carry as much reading material as they like by including both Memory Stick and Secure Digital flash memory slots. Content will not be limited to only eBooks either - Sony plans on allowing Adobe® PDF documents, BBeB Books, and other text file formats to be placed on the Reader. These electronic reading devices have historically not been very popular, but perhaps this time around Sony will get it right.

Read More

| Sony Style

Posted by Kristin Wenzel Categories: Design, Google, Misc. Tech, PC / Laptop


The One Laptop Per Child program was started at MIT and features truly innovative and inexpensive designs, meant to make technology accessible to everyone, and put laptops in the hands of children and communities in developing countries, and rural areas all over the world. The program, backed by Red Hat and Google, would make use of bleeding edge innovations in the technology world, including wireless broadband, DVD capability, and flash memory instead of a hard drive. And, it's electricity-optional, since it charges with a manual crank, not unlike some emergency flashlights and similar items.
The proposed $100 machine will be a Linux-based, with a dual-mode display—both a full-color, transmissive DVD mode, and a second display option that is black and white reflective and sunlight-readable at 3× the resolution. The laptop will have a 500MHz processor and 128MB of DRAM, with 500MB of Flash memory; it will not have a hard disk, but it will have four USB ports. The laptops will have wireless broadband that, among other things, allows them to work as a mesh network; each laptop will be able to talk to its nearest neighbors, creating an ad hoc, local area network. The laptops will use innovative power (including wind-up) and will be able to do most everything except store huge amounts of data.
This project should be one to watch - it's great to see technology being put to a use that can contribute to the greater good.

Read More

| One Laptop Per Child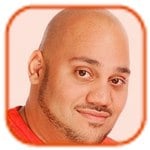 Posted by Andru Edwards Categories: Accessories, Apple, Design, Portable Audio / Video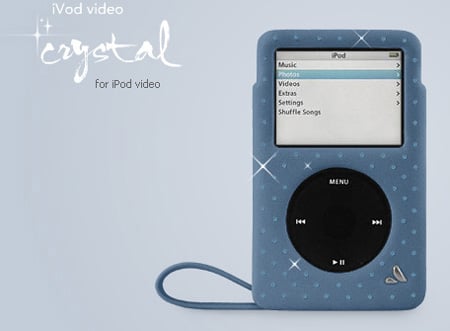 The iVod Video Crystal is the latest high-end iPod case from our friends over at Vaja. Available in ten unique color combinations (for both the leather and the crystals,) the iVod Video Crystal is a sturdy leather case for your 5G iPod or iPod nano. These cases feature Swarovski crystals encrusted into the leather, a leather strap with silver appliques, padded interior, and access cutouts enabling the usage of all ports and touch functions. Of course, glamor does come at a price - in this case, $340 USD.

Read More

| iVod Video Crystal Customization Page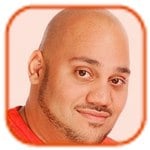 Posted by Andru Edwards Categories: Cell Phones, Design

Motorola has announced that the PEBL will be available in four new colors. If black just isn't your thing, you will soon have the pleasure of choosing from pink, green, blue, or (what we like to refer to as) Gear Live orange. Naturally, we expected to see a pink version, just because Motorola seems to want to make sure all of their unique phones have a version for the female demographic (see pink SLVR) - but seeing the other colors announced actually pleases us.
We've gone from pink to "whoa" - leveraging our leadership in color and design to make the PEBL expressive and refreshing. This is a product you choose because you want it, not because you need it." says Jim Wicks, Motorola VP and Director of Consumer Experience Design.

Read More

| Gadget Candy via Gizmodo

Posted by Kristin Wenzel Categories: Design, Household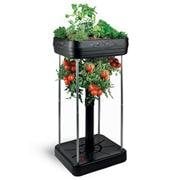 File this under "weird-but-cool." Most of the time, tomatoes are notoriously hard to grow. However, the Upside Down Tomato Garden could change that - and it looks "space age" at the same time.
This ingenious planter takes the toil out of growing tomatoes by elevating the planting bed and allowing your vines to grow downward from holes in the bottom.
And, as a bonus, the top side of the planter can be used to grow herbs, flowers, or anything else you might think of putting up there.

Read More

| Hammacher Schlemmer

Posted by Kristin Wenzel Categories: Design, Household

Amazing in it's simplicity, here's a suprisingly innovative solution for keeping your plants happy and healthy. Not exactly "high tech" but it does add a certain "steampunk" or "cyber" look to your indoor garden, with all that hose.
This device automatically waters up to 20 plants for up to 40 days without the need for a spigot or power outlet. Up to 20 drippers attach to a 32' PVC hose that runs from the systems reservoir to your plants and then back again; a single dripper placed in each plant takes care of watering, or you can use several drippers in larger plants. A washable polyamide filter removes rust, dirt, and other impurities so drippers wont clog.
It sells for $99.95 at Hammacher Schlemmer.


Read More

| Hammacher Schlemmer
Posted by John Goulden Categories: Corporate News, Design, Misc. Tech, PC / Laptop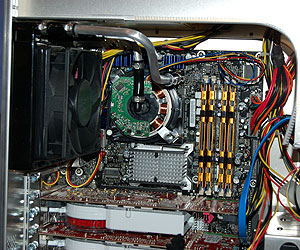 Watercooling was once a niche market enjoyed only by those with a knack for tinkering, but in the last year or so has begun to invade the mainstream. Even Intel has taken notice and decided to get in on the action with their Advanced Liquid Cooling prototype. The cooler was designed by enthusiasts in Intel's engineering department, who would like to see the company shy away from their current view toward overclocking (that it's evil). The team wanted a watercooler that was robust, reliable and efficient enough for mainstream use and that differed from current kits on the market, which were viewed as complex and flimsy.
What they came up with was a centrifugal pump that uses a brushless DC motor, a CPU block with a copper core, and a radiator cooled by a 120mm fan. All of the items are tied together with solid metal tubing, with the pump residing on top of the CPU block. Everyone has their own opinions as to the optimal location of the pump in a watercooling loop, but apparently this design works well for Intel. Their test system, which houses a 3.8GHz EE CPU, was overclocked to 5.01GHz. Although we have no idea what the ambient temperature was during the test, the CPU remained stable at 62 degrees Celsius which is well within spec limits.
Intel is looking to have the cooler go from prototype stage to actual production, and because commonly available parts were used to build it, they expect it to sell for less than $50 USD. Watercooling enthusiasts may argue design specifics and compromises made, but watercooling for the masses is a notable goal.

Read More

| Bit-Tech
Posted by John Goulden Categories: Design, Household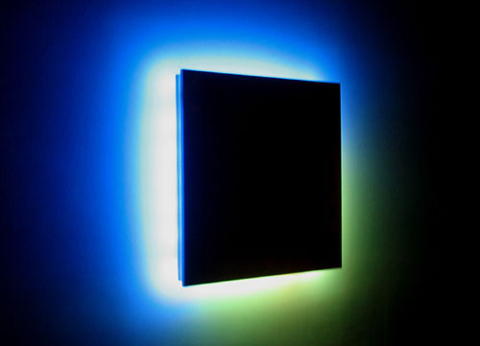 The Square Eclipse is a wall light that uses a series of LEDs to provide illumination. Control is exerted over the lighting scheme with a micro-controller, which can cause its cluster of 24 full spectrum LEDs to display a dizzying array of colors for your enjoyment. The lights move in a pattern suggestive of an eclipse and to quote Orange22, "shift the focus from the center of the object to it's perimeter." Considered to be a Limited Edition, each light is signed by the designer and carries a price tag to reflect the intended eliteness. $3000 USD of eliteness to be exact.

Read More

| Orange22 via Luxury Housing Trends
© Gear Live Inc. – User-posted content, unless source is quoted, is licensed under a Creative Commons Public Domain License. Gear Live graphics, logos, designs, page headers, button icons, videos, articles, blogs, forums, scripts and other service names are the trademarks of Gear Live Inc.