Find Our Latest Video Reviews on YouTube!
If you want to stay on top of all of our video reviews of the latest tech, be sure to check out and subscribe to the Gear Live YouTube channel, hosted by Andru Edwards! It's free!
Posted by Alex Grahmann Categories: Corporate News, Portable Audio / Video,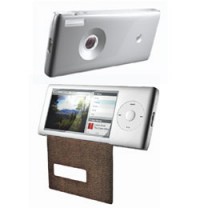 Apple has recently updated the full description of its iPod trademark to include the handling of video files. The old trademark described iPods as "portable and handheld digital electronic devices for recording, organizing, transmitting, manipulating, and reviewing text, data, and audio files." However, the new trademark, as of July 18th, tacks on a few words at the end so that it now reads, "…reviewing text, data, audio, image, and video files." This change could be seen as a direct confirmation of the much-rumored Video iPod, but may also simply be Apple hedging its bets for unspecified future expansion. If I were Apple, I'd go ahead and change the trademark to finish with "…reviewing text, data, audio, image, video, brainwave, metabolic, and three-dimensional files, as well as any file leading to Apple's ultimate world domination." Apple is just that hot right now.
Read More

| Mac Rumors

Posted by Alex Grahmann Categories: Corporate News, Music,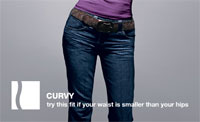 Gap has announced plans for a fall promotion in which a customer will receive a free song download from iTunes for trying on a pair of jeans at any of their stores around the country. The campaign, entitled "Find Your Favorite Fit," is designed to draw awareness to Gap's new jean cut options – Curvy, Straight, and Original for women and simple Straight for men. Be sure to visit a local gap between August 8-31 to try on some pants and receive your download. I can tell you from personal experience that nothing compliments my curvy cut like a free song.
Read More

| Gap Online
Posted by Alex Grahmann Categories: Accessories, Corporate News,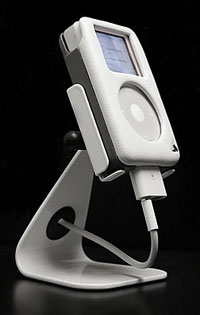 What had been known as the Thought Out "iPed" will now be simply known as the "Ped," thanks to a cease-and-desist order issued to the company by Apple. The Ped line of accessories consists of pedestal-style stands for various versions of the iPod, several of which have gotten favorable reviews from online vendors. While many, many other companies are getting away with putting a lowercase "i" in front of product names in order to sell a few thousand more units than they would otherwise, the one-letter difference between "iPod" and "iPed" doesn't seem to be a big enough gap to avoid the scrutiny of the almighty Apple. In their letter, Apple explained that the name confusion could weaken the iPod brand strength. In a way, this could be taken as a sort of compliment to Thought Out, who probably had no idea that their little pedestals would cause such a stir.
Unfortunately, I have a friend named "Ted" who is now suing Thought Out on similar grounds. He says that "Ped" weakens his brand strength with the ladies.
Read More

| Thought Out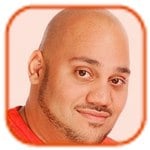 Posted by Andru Edwards Categories: Corporate News, Software,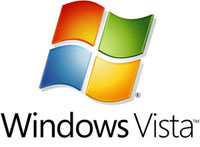 Surprising just about everyone, Microsoft has begun distribution of the Windows Vista Beta 1 software. Many expected the product to go out on August 3, which is actually a date given by Microsoft themselves. Apparently, they are trying to show that they will do whatever it takes to get this thing out on time - that being the end of 2006. About 500,000 developer subscribers will receive the beta, and I assume thousands more will find it via other methods. Vista Beta 1 includes Internet Explorer 7 beta, a built-in desktop search tool that appears just above the Start button, translucent desktop appearance, and improved power management. Beta 2 will add web search from the desktop, communications features, and a one-click hibernation feature above the Start button.
(Thanks Veronica!)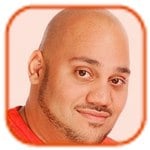 Posted by Andru Edwards Categories: Corporate News, Software,
Yesterday, Microsoft launched Windows Genuine Advantage, a worldwide program it hopes will combat software piracy. During a customers first visit to Microsoft Download Center, Windows Update or Microsoft Update they will be asked to download an ActiveX control which checks your Windows to see if it is authentic and, if it is, stores a special download key on your computer for future reference. If your software turns out to be pirated, Microsoft gives you two options. The first allows you to submit a piracy report, provide proof of purchase, and mail in your counterfeit discs, and in turn they will send you a genuine copy of the software absolutely free. The second option, for those who only submit a piracy report, but provide no proof of purchase or counterfeit discs, allows the user to purchase a genuine copy of XP Home Edition for $99, or XP Professional for $149 with their choice of receiving it online, or in the mail on a CD.
"Microsoft has created a program that is fair to customers and reseller partners," said Michael Cherry, lead analyst, Windows and Mobile, at Directions on Microsoft. "While Microsoft is requiring customers to validate, they're putting their best foot forward to help customers out, in terms of simplifying the process, creating software incentives and offering to help customers replace counterfeit software they acquired unwittingly."
Read More

| Tech News World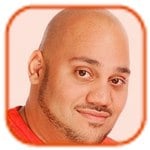 Posted by Andru Edwards Categories: Corporate News, Internet, Software,

You know, it was only a matter of time before Konfabulator was snapped up by someone big, and it has finally happened. Yahoo! has bought the product, along with the company behind it - Pixora. Yahoo! didn't delay on rebranding it as soon as they could, as there is already a Yahoo! Widgets site up and running. They are keeping the product free, and already have the library of PC and Mac widgets available for download. This is a smart move for Yahoo! in our opinion, a great way for them to get back on the desktops of computer users via information delivery.
Read More

| Yahoo! Widgets
Posted by Alex Grahmann Categories: Corporate News, Internet, Wireless / WiFi,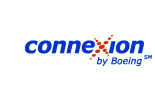 Several tech-minded journalists were invited this week to take Boeing's new broadband service for an test flight. The on board service, dubbed Connexion, would service the plane with 20Mbps of bandwidth. Taking advantage of the connection would cost anywhere between $10 and $30, depending on the type and length of the flight. While this all may sound wonderful, especially for those living the traveler's high-tech lifestyle, the down side is that none of the major airlines have shown any official interest in purchasing the service. In the era of budget and service cuts in the airline industry, it may be a while until we can join the mile-high web surfing club.
Read More

| PC World
Posted by Devin Categories: Corporate News, Internet,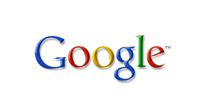 According to research conducted by Nielsen Netratings, Google is still king of the mountain in internet searches, but it appears AOL and Ask Jeeves are gaining ground. Google still has a comfortable lead over its competitors with a 47% market share, followed by Yahoo(22%), MSN (12%), AOL(5%) and Ask Jeeves (2%). AOL and Ask Jeeves have a long way to go before posing a threat to Google, but they are gaining steadily. During the second quarter of 2005, searches performed on AOL rose 15% and those performed on Ask Jeeves rose 16% while those on Google only rose 6%.
"Google's performance has remained consistent, so it appears AOL and Ask Jeeves are gaining at the expense of those below them," said Nielsen analyst Ken Cassar, noting that because of Google's massive user base, it is harder for the company to gain share than it is for the competition. "It's far too early to say that Google needs to watch its back, but a resurgent AOL makes the game a lot more interesting," he said. The survey results indicate that AOL might be on the right path as it moves toward providing more free content on the Web, said Cassar.
Read More

| Top Tech News

Posted by Kristin Wenzel Categories: Corporate News, PC / Laptop, Software,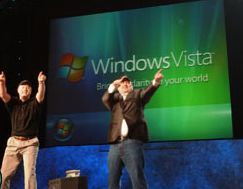 The powers that be at Microsoft have decided on an official name for their long-overdue follow-up to Windows XP: "Windows Vista."
Microsoft employees and lay-people like myself alike stood back stunned for a moment at the sheer… monumental… absurdity of the name. As if "Longhorn" wasn't easy enough to snicker about, "Vista" is such a "fluffy" sounding name that it's hard to believe that they are serious. It's hard to say without sounding like you have a serious lisp, implies a frothy nothingness, and conjures mental images of vast, empty space stretching for miles. Granted, I'm not the biggest fan of the Windows OS, but seriously. "Vista?!" Watch the announcement here.
Straight from the horse's mouth — I can't make stuff like this up.
Read More

| Windows Vista
Posted by Alex Grahmann Categories: Corporate News, Music, Portable Audio / Video,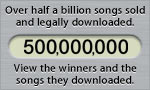 While every visitor to the Apple homepage will be greeted today by a huge banner proclaiming the company's monumental sales achievement, only one will be receiving the huge iPod-based prize package for downloading the 500 millionth song from iTunes. Amy Greer of Lafayette, Indiana pushed Apple over the mark with "Mississippi Girl" by Faith Hill and will be rewarded with 10 iPods, 10000 free songs, and a trip for four to see a Coldplay concert. While this is an amazing milestone for legal digital music downloads, it's even more amazing to think that iTunes has sold an average of almost 7 songs to every single living person in the 19 countries it services (feel free to check my math).
Read More

| iTunes 500 Million
© Gear Live Inc. – User-posted content, unless source is quoted, is licensed under a Creative Commons Public Domain License. Gear Live graphics, logos, designs, page headers, button icons, videos, articles, blogs, forums, scripts and other service names are the trademarks of Gear Live Inc.