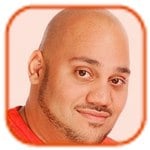 Posted by Andru Edwards Categories: Corporate News, Video Games

Back atcha, EA! In light of recent developments in the game industry, many thought that Electronic Arts was going to have the whole world of sports gaming locked down. Take Two decided not to let that happen, as they just signed a deal with Major League Baseball granting them exclusive third party rights to make games based on the franchise. What this means is that first parties (Microsoft, Sony's 989 Sports, and Nintendo) may still makes games based on MLB, but no other third parties - including Electronic Arts - may do so. The deal begins in 2006, and lasts for seven years. Just hours after the news was announced, Take Two announced the purchase of Visual Concepts, Sega's sports dev house. This is just getting nasty.
Read More

| IGN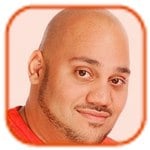 Posted by Andru Edwards Categories: Corporate News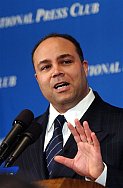 Federal Communications Commission Chairman Michael Powell has turned in his resignation after a four year stint in the position. What I liked about Powell was that he wasn't all for strict telecommunications regulation. However, it was a pain in the past year seeing products like TiVo, the Sony Clie, and a myriad of cell phones have to go through hell to get things approved for use in the United States. Maybe the next person to take the seat will be a bit more lenient. Powell, who is a huge advocate of Broadband over Power Lines (BPL), will work his final day as FCC Chairman on March 10, 2005.
Read More

| Forbes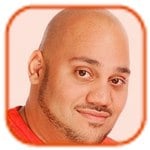 Posted by Andru Edwards Categories: Corporate News, Portable Audio / Video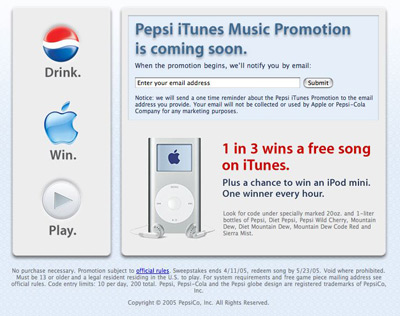 While many thought last years promo was a flop, apparently Pepsi and Apple did not. They are joining up for another "Drink. Win. Play." promo, where 1 in 3 Pepsi branded soda caps will have a code which you can redeem on iTunes for a free download. Check stores if you are into this kind of thing, as bottles have reportedly already started showing up.

Posted by Oscar M. Cantu Categories: Corporate News

Apple has done it again. Once again they have suceeded in producing a product so hot that it is now backordered after just one week of it being announced. The iPod shuffle has gotten so popular that now there is a 2-3 week waiting period for its $99 512 MB model and a 3-4 week waiting period for its $149 1 GB model according to the company's website. Could it be that Apple just knows how to come up with products the public is eager to buy as soon as they can? Or does Apple not know how to judge how many of these "hot" products they will sell? One has to wonder, does Apple just under-deliver their new products to spark consumer frenzy?
Read More

| Reuters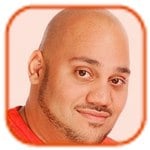 Posted by Andru Edwards Categories: Corporate News, Video Games

EA has been on a rampage as of late. First, they sign an exclusive deal with the NFL giving them sole rights to make games based on the NFL for the next five years. Then they do the same with the AFL for four years. Now, it seems they pulled off the coupe de grace - EA has signed an exclusive deal with ESPN which makes Electronic Arts the only publisher with the ability to make sports games under the ESPN brand. This means that the days of Madden vs ESPN NFL are over. While the deal is signed for 15 years, there is a clause that says that the option of ending it after 10 years is a possibility. Sucks to be Sega right about now.
Read More

| Gamespot
Posted by Categories: Corporate News
Comcast Cable follows Time Warner and Cox Cable in a move to increase bandwidth to users from speeds of 3000/256 to 4000/384 - all at no additional charge to their customers (for now). These cable companies not only hope to further distance themselves from the telphone companies with DSL, but also because many users have found needs for the higher bandwidth abilities, such as video e-mail, video chat, and the transfer of HD content. Some Comcast users have already received the speed upgrade.
Comcast is also scheduled to roll out their VOIP service later on this year. The advantage of using Comcast's VOIP service over one like Vonage is that Comcast will have a separate infrastructure that the service will run on, thereby not affecting your internet service speed at all.
Read More

| CNet News

Posted by Oscar M. Cantu Categories: Corporate News

HP has stopped placing orders with Apple's manufacturer for iPods. This is because HP wants a price protection policy from Apple. Since they have no price protection policy, HP is vulnerable to financial loss if Apple suddenly cuts the price of the Apple iPod. HP has refused to place any further orders for Apple's iPod until Apple is willing to discuss the issue and agree on a solution. Could this be the end of iPod + HP?
Read More

| Apple Insider

Posted by Oscar M. Cantu Categories: Corporate News

Motorola, Inc. announced that they are working with Oakley Inc. to develop new Bluetooth-enabled wearable wireless communications devices. Motorola wants to combine their Bluetooth technology with Oakley's eyewear style. The products will be unveiled by mid-year. Imagine the possibilities these two companies will come up with. We have already seen MP3 player sunglasses. The most obvious product the two might come up with is probably sunglasses that can connect to your cell phone to eliminate the need to carry around a headset and sunglasses.
Read More

| Reuters

Posted by Oscar M. Cantu Categories: Corporate News, PC / Laptop

The moment that many a Mac user has been waiting for seems to be arriving very shortly. Quanta Computer, the manufacturer of Apple's Powerbook notebook PC line, has received massive orders for Powerbooks with G5 processors in them. The expected shipping date? Q2 2005. You know what that means - start saving now to be one of the first to get your paws on one of these babies. Also, iBook G5s will ship around the same time. Let's just hope they don't melt all over our laps.
Read More

| Digitimes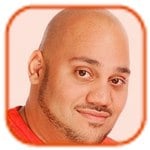 Posted by Andru Edwards Categories: Corporate News
We will update notes as the conference progresses. Go ahead and start refreshing!
This is the first MacWorld to use HD projection. Apple has exactly 101 Apple Stores, garnering 1 million visitors per week. That is equal to 20 MacWorld Expos' worth of visitors according to Steve Jobs. I personally have never gone through any sort of turnstile when visiting an Apple Store, but, whatever.
The iMac G5 debuted last autumn, and has become Apple's best selling Mac.
Mac OS X Tiger, which was announced last June, is still on schedule to ship in the first half of 2005, which is "Long before Longhorn." Again, according to Jobs. This guy loves sticking it to Gates, doesn't he?
Jobs demoed the Spotlight feature of the Tiger OS. Since the search is built-in to the core of the OS, it is supposed to be much better than Microsoft and Google's foray into the desktop search arena. Cool search features, but the program did crash during the demo. Hot damn.
A demonstration of Tiger Mail's new capabilities followed, garnering a nice response from the audience when Jobs showcased how photos attached to an email can be instantly viewed as a slideshow, or imported into iPhoto with a single click.
QuickTime 7 is set to ship with Tiger. The main upgrade here is the H.264 video codec which is scalable from cell phones to high definition TV. QuickTime 7 features 24 channels of surround sound, and live resizing. Using the H.264 codec, you can transcode movies for the PSP.
Jobs showed of some of Dashboard's widgets. The apps Jobs demonstrated showed currency conversion, yellow pages, eBay auction tracking, and weather reports. They used OpenGL graphics. Nice effects.
Steve called 2005 "The year of HD video editing". That being the case, he introduced Final Cut Express HD. Animated titles, custom soundtracks, integration with iMovie. Available in February at $299 new, or $99 for an upgrade.
iLife 2005 was talked about, with every app in the package getting an upgrade this year (aside from iTunes). If goes on sale January 22, 2005 at a price of $79. It will be pre-packaged on new Macs for free.
iPhoto now supports MPEG-4 and RAW images. Nice touch. It has a new calendar view, letting you view photos by day, week, month, etc. New book designs and new book sizes also included. Apple has also cut the price of printing images from iPhoto using a professional service to $.19 per print. Prices on books range from $3.99 to $29.99 depending on the amount of content.
GarageBand has been updated. Realtime music notation from Garageband. Multrack recording at up to 8 tracks. Pitch & timing fixing. Create your own loops. John Mayer played live, and GarageBand recorded it in realtime, producing 4 separate tracks.
iWork is the successor to AppleWorks. Now we can talk about it without getting sued I guess. Keynote 2 uses 10 themes designed by Apple, animated text, new animated builds, a presenter display control panel (notes, countdown timer, progress to next slide, etc.), interactive slideshows and autopilot keynote slideshows. Can export in QuickTime and PDF.
Pages is the word processing program. Includes 40 Apple designed templates. Drag & drop rearrangement of templates text and image placeholders. Phil Schiller came up to demonstrate the new Pages app. Designed by the Keynote 2 team. Pages supports PDF, AppleWorks, and PDF.
The Mac mini was introduced, and looks very cool. This thing is about as tall as the iPod mini, and about as wide as three iPod mini's next to each other. It features a slot-loading CD-RW/DVD-ROM Combo drive, USB 2.0, FireWire 400, DVI and VGA connectivity and a headphone jack. Big Steve says the Mac mini is BYODKM: Bring Your Own Display, Keyboard and Mouse for the laymen. The Mac mini works just fine with Apple's peripherals, or you can use other industry-standard peripherals. The price just blew me away: The 1.25GHz 40GB G4 system is $499, and the 80GB 1.42GHz G4 system is $599. Both include Panther and iLife 2005. You can find them in stores on January 22, 2005. I think we will see a lot more Mac owners in the very near future.
230 million songs have been sold through iTunes to date. Steve projects that iTunes will eventually sell 1.25 billion songs per year, giving it a 70% market share of online music sales.
Apple sold 4.5 million iPods last quarter, while they sold 733,000 in Q4 2003. This is a 500 percent increase in sales. The 10 millionth iPod was sold on December 16th, which Steve kept for himself. Selfish bastard. He held it up for all to see.
Mercedes Benz, Volvo, Scion, Ferrari, Alfa Romeo, and Nissan will be introducing iPod adapters for their factory-installed music systems this year.
Jobs mentioned Motorola's upcoming iTunes-enabled cell phone. No hardware was shown.
iPod shuffle flash MP3 player was introduced. Very tiny (about the size of a pack of gum) with no display screen. Focuses on playing random music. Has a click wheel similar to larger iPods. The rechargeable battery lasts about 12 hours per charge. They are shipping today. 512 MB for $99, 1 GB for $149.

© Gear Live Inc. – User-posted content, unless source is quoted, is licensed under a Creative Commons Public Domain License. Gear Live graphics, logos, designs, page headers, button icons, videos, articles, blogs, forums, scripts and other service names are the trademarks of Gear Live Inc.