Posted by Kristin Wenzel Categories: Corporate News, Music, Portable Audio / Video

Those pesky music industry execs are at it again - and this time they're looking not to take on file-swapping college kids or bootlegged CDs. Their next target? Apple's wildly popular iTunes music service, which revolutionized and breathed life back into the (legal) music market with their simple pricing scheme (.99 per song, no matter what song it is) and easy-to-use service. The industry, who once hailed iTunes as a savior of sorts, now seem to have changed their… well… tune.
A sore point for some music executives is the fact that Apple generates much more money selling iPod players than it does as a digital music retailer, leading to complaints that Mr. Jobs is profiting more from tracks downloaded to fill the 21 million iPods sold so far than are the labels that produced the recordings.

Andrew Lack, the chief executive of Sony BMG, discussed the state of the overall digital market at a media and technology conference three months ago and said that Mr. Jobs "has got two revenue streams: one from our music and one from the sale of his iPods."

"I've got one revenue stream," Mr. Lack said, joking that it would require a medical professional to locate. "It's not pretty."
Excuse me while I laugh myself stupid. I'm sure Mr. Lack is nowhere near the soup kitchen, if he's the chief executive of Sony BMG. I read things like this and just about always fail to see where these top-dollar executives find the sense of entitlement they always seem to develop as soon as anyone besides them is making any money.
Read More

| NY Times

Posted by Kristin Wenzel Categories: Corporate News

According to Motley Fool, Apple ranks as a "gas proof" stock, unlikely to be affected as much by soaring gas prices. Not bad!
Apple is second among the Motley Fool's list of seven "gas-proof" stocks. While many organizations—from petroleum companies to Wal-Mart—have been affected by, or blamed for, the soaring cost of crude oil, there are are also "plenty of stocks sitting pretty, miles away from the nearest pump." For example, the iPod is "the gadget of choice for active pedestrians and public-transportation commuters," according to the report.
You know it.

Read More

| MacNN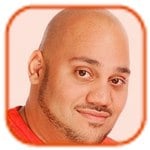 Posted by Andru Edwards Categories: Corporate News, Home Entertainment, Movies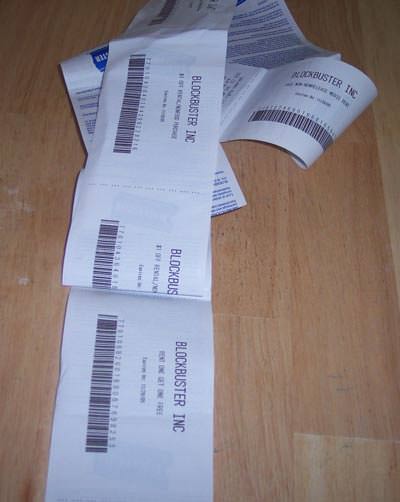 I just walked out of Blockbuster with a total of eight coupons due to the class action settlement from way back in 2002. Apparently, the more late fees you paid, the more coupons you receive. I guess I must have paid quite a bit. This is what I walked away with:
Two Free Non-New Release Movie Rentals
Five $1 Off Rental/Nonfood Purchase
One Rent One Get One Free
It's a nice gesture and all, but the fact is that I am a Blockbuster Online member. This means I get unlimited rentals by mail, plus two free in-store rentals each month. The only coupons that I will likely use are the two free non-new movie rentals. If you paid late fees to Blockbuster in the past, you should also have coupons due if you haven't received them already. Let us know what you get!
Posted by Edwin Soto Categories: Corporate News, Home Entertainment, Internet, PC / Laptop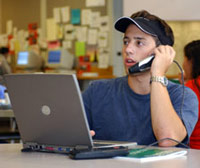 Dartmouth's Class of 2009 will enjoy converged living for the next four years. The Hanover, NH location has an extraordinary wired and wireless network that spans over the entire campus. Students will be able to use their laptops to make phone calls, watch television, email, and access the Internet. All incoming freshmen will be given a security key to use over the various computers, enforcing that security is a priority at the school. I think I would prefer this over a school iPod.

Read More

| Dartmouth News
Posted by Edwin Soto Categories: Corporate News, Internet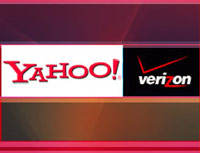 Verizon and Yahoo! have joined forces to create a low cost broadband service project. The service will include 10 email address with 2GB of storage each, unlimited commercial-free streaming radio, on-demand music videos, unlimited photo storage, and more. The package will be available for $14.95 per month, promising speeds of 768k downstream and 128k upstream. There will also offer faster packages varying in price from $19.95 to $37.95. No word yet on when this will start, but rest assured that MSN can't be happy since they have been partners with Verizon years now.

Read More

| BetaNews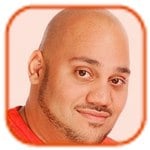 Posted by Andru Edwards Categories: Corporate News, Internet
Oh yes, we may have just seen the first nail in the coffin of AOL. The company was fined $1.25 million by the State of New York due to complaints from users about how absurdly difficult it is to cancel the service after signing up. While the $1.25 million looks like a large amount, this is really chump change for the very large America Online. What will hurt them though, is the fact that they will be refining their procedures for handling customer cancellations. Up until now, service agents received bonuses if they had a 50% or better retention rate - some agents made tens of thousands of dollars on this program alone. The new program will no longer have a minimum quota. You can probably say goodbye to the "if you stay, I will give you another free three months" spiel.

Read More

| ZDNet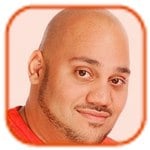 Posted by Andru Edwards Categories: Corporate News, Home Entertainment
Great news today for the TiVo folks. Despite the drastic increase in both open-source and commercial PC DVR software, today TiVo was able to announce their very first profit. They walked away with a second-quarter net income of $240,000. Compared to the same period last year, it's a sharp increase. In second the second quarter of 2004 TiVo has a net loss of $10.8 million. What a comeback. Maybe they can spend some of that money whipping up a Tiger-compatible version of TiVo Desktop?

Read More

| Yahoo! Business via PVRWire
Posted by Edwin Soto Categories: Corporate News, Home Entertainment

In this amazing promotion to rebrand itself, EchoStar Communications Corporation, owners of DISH Network satellite TV has started a contest that could provide millions of dollars in DISH Network services and products. The campaign invites cities in the US to officially change their name to "Dish". In return, DISH Network will provide them with free programming for 10 years in every household. The deal states that you must change everything in the town, from the town sign to municipal buildings to schools in order to comply with the contest. They must even file state and federal documentation to make it official. Want to enter you town? Drop an email to citymakeover@dishnetwork.com before November 1st, 2005 to qualify. Click below for more details.
Click to continue reading Rename Your Town "Dish" and Get Free DISH Network for 10 Years

Posted by Sparky Categories: Corporate News, Handhelds
Intel's CEO Paul Otellini promised today that his company would be producing chips for the market by 2010 that would enable a user to run Windows Vista on a handheld. With 2gz+ systems recommended for advanced features and Intel's focus on performance per watt things are looking positive. Part of this announcement states that Intel will be combining their chip lines into a single series of performance chips aimed at both mobiles and desktops. With news like this reaching the public, it's no wonder Apple has decided to make the switch to Intel - imagine in 4 years when we can run OS 10.6 (and Vista service pack 2) on a slate form factor handheld.

Read More

| The Register
Read More

| Reuters
Posted by Alex Grahmann Categories: Corporate News, Internet
Jason Smathers, a 25-year-old ex-AOL employee, will spend 15 months in prison for stealing 92 million screen names and email addresses of AOL users and selling them to spammers. The spammers reportedly used the information to send up to 7 billion unsolicited advertisements for online gambling. Smathers got a lighter sentence than first expected due to his willingness to hand over all the spamming information he had to the government. AOL is claiming that Smathers caused over $300,000 of damage to the company.

Read More

| Baltimore Sun
© Gear Live Inc. – User-posted content, unless source is quoted, is licensed under a Creative Commons Public Domain License. Gear Live graphics, logos, designs, page headers, button icons, videos, articles, blogs, forums, scripts and other service names are the trademarks of Gear Live Inc.