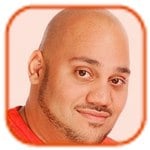 Posted by Andru Edwards Categories: Corporate News, Hot Deals, Internet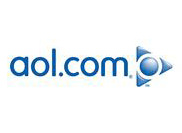 AOL has just launched AOL Pictures, a digital photo solution for consumers who want an easy way to view, share, store, print and protect all of their favorite images. The free photo sharing website offers consumers unlimited online digital photo storage in original resolution, tools that make it easier to create photo albums, and all the other standard photo sharing fare. According to a new AOL survey, Americans expect to take more than 137,000 photos in their lifetime with three-quarters sending photos to friends and family over the holidays. That being said, AOL Pictures is offering consumers 100 free 4x6 glossy or matte prints.

Read More

| AOL Pictures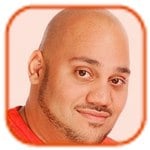 Posted by Andru Edwards Categories: Cell Phones, Corporate News, Software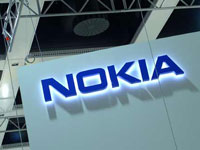 Nokia and Intellisync announced they signed a definitive agreement for Nokia to acquire Intellisync, a leader in platform-independent wireless messaging and applications for mobile devices. By acquiring Intellisync, Nokia is positioned to deliver the industry's most complete offering for the development, deployment and management of mobility in the enterprise. Intellisync makes wireless e-mail, synchronisation and device management software and the company supports a wide range of mobile devices. The acquisition may also provide an opening for Nokia to sell to CDMA operators. Nokia's strongest customer base comes from the GSM community but Intellisync has customers, including Verizon Wireless, in the CDMA market. Read on for the full press release.
Click to continue reading Nokia Acquires IntelliSync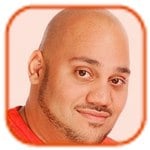 Posted by Andru Edwards Categories: Corporate News, Internet
What in the…? Is AOL seriously doing things so horribly wrong that t heir subscribers are turning away in droves? Or is this a case of customers finally having an easy way to get out of their AOL membership since AOL's recent revamp of their cancellation procedures?
As of September 30, the AOL service totaled 20.1 million U.S. members, a decline of 678,000 from the prior quarter and 2.6 million from the year-ago quarter. In Europe, the AOL service had 6.1 million members, a decrease of 98,000 from the previous quarter and a decline of 170,000 from last year's quarter.
Now, average that out, and you find that AOL lost 300 members every hour in that three month period. Wow.

Read More

| Light Reading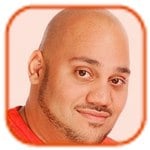 Posted by Andru Edwards Categories: Corporate News, Video Games
There is a ton of information that has been made public over the past couple of days on the Xbox 360 front. First, Microsoft has finally released the official list of 18 games that will be available on or before the November 22 launch date. Furthermore, the company has also let us know which current generation games will be compatible with the Xbox 360. Finally, PlayFeed has a few images of Hanger 703 in Palmdale, California. This is the spot where Microsoft will be holding the Xbox 360 Zero Hour launch event. As you can see in the images, construction is steadily under way.
Posted by Gavin Choate Categories: Corporate News, PC / Laptop, Software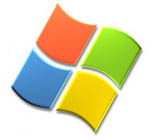 You heard me right. Microsoft is working on a new operating system dubbed Singularity. Built from scratch using a new language, it aims to be very dependable. Apparently Microsoft is willing to sacrifice some performance for stability. Could this be an attempt to quiet the *nix VS. Windows stability debate? Here is the technical report (PDF) from Microsoft. For those less into tech jargon or who don't want to sift through the document, Dark Side Programming has a nice overview.

Read More

| Microsoft
Posted by Mark Harrison Categories: Corporate News, Home Entertainment, Internet, Portable Audio / Video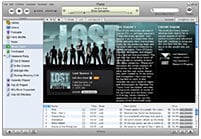 Yesterday, Apple announced that they have sold more than one million videos via the iTunes music store in the brief time since they began selling them. For the moment, Apple has proven the doubters wrong once again. This is interesting news, but it begs further discussion. Will Apple begin selling higher quality content for a broader audience?
We believe that they will. Apple helped legitimize legal music downloading and they seem poised to do the same for television and movies. With more and more people going to broadband and tapping into things like BitTorrent, content providers have to start think about solutions that will continue to generate revenue. Apple has mindshare right now and they also have a successful infrastructure in place. They have already shown that even with a small video library that they have a viable business model.
One thing is clear though. To continue being a trailblazer in this area, Apple has to greatly increase the size of its offerings; both in quantity and in quality. What remains unclear is whether or not the industry will follow Apple's lead. With the the way the music executives are chomping at the bit, it is far from certain if their counterparts will be so eager to get into bed with Apple. What do you think?

Read More

| Apple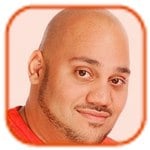 Posted by Andru Edwards Categories: Corporate News, Internet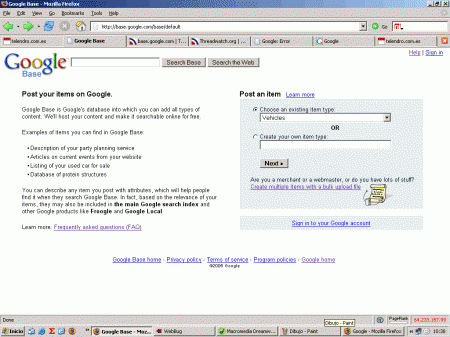 Click image for larger view
Okay, it looks like Google is set to unleash yet another viral service on us. Google Base seems to be a database where anyone can add any type of content, but I bet people are going to be all over this thing as if it was the new, national Craigslist. Think about this for a moment, with Google Base being a free service, and with Google set to launch the Google Wallet online payment service, we might have a free version of eBay/Paypal with Craigslist functionality on our hands - completely ad-supported. In fact, Google even states:
...based on the relevance of your items, they may also be included in the main Google search index and other Google products like Froogle and Google Local.
So I can put up an item for sale, and have it potentially show up when someone searches for that item under Google Local? Sign us up.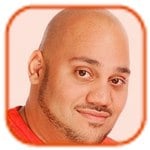 Posted by Andru Edwards Categories: Corporate News, Internet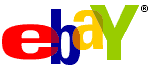 Okay, so we all know that Google is set to unleash their online payment system, probably called Google Wallet, any time now. Coincidentally, eBay has just updated their "Safe Payments Policy," which includes the following statement:
Not permitted on eBay.com: Sellers may not solicit buyers to mail cash. Sellers may not ask buyers to send cash through instant cash transfer services (non-bank, point-to-point cash transfers) such as Western Union or Moneygram. Finally, sellers may not request payment through online payment methods not specifically permitted in this policy.
Basically, they are saying that if you are a seller, you can ask for check, money order, or Paypal payment (including credit cards) - you can not ask your buyer to pay you through Google Wallet when it launches. Odd - my experience with Paypal, along with horror stories from others, lead me to believe that if you were creating a "safe payments" plan you would stay the hell away from Paypal. What's that? Oh, yeah - eBay owns Paypal. I get it now.

Read More

| eBay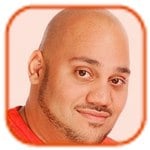 Posted by Andru Edwards Categories: Cell Phones, Corporate News, Wireless / WiFi

Good to see Cingular taking action by turning on their HSDPA service in a couple of techno-centric cities. Seattle, WA and Phoeniex, AZ are the first areas to get receive the HSDPA love here in the United States. While no HSDPA phones are available for purchase here in the US just yet, I commend Cingular for taking the leap to show that they are ready to jump into this space. Also nice to see Seattle get first dibs compared to how long it took Verizon to get EV-DO turned on here. Cingular's new networks were up and running in Seattle and Phoenix using Lucent Technologies and in the Dallas/Fort Worth area using Ericsson equipment. They plan to have the network in up to 20 markets by year's end, which is also when they would make enabled phones and laptop cards available to consumers.

Read More

| Telegeography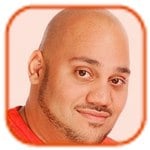 Posted by Andru Edwards Categories: Corporate News, Portable Audio / Video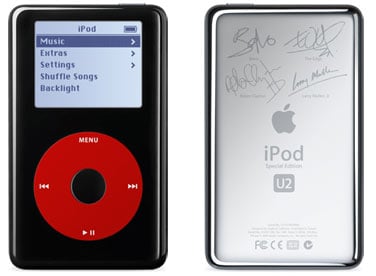 Not major news, but worth mentioning nonetheless, with the release of the brand new 5th generation iPod with video support, it looks like Apple has quietly discontinued the U2 branded iPod that they have been selling for the past twelve months. Could it be due to the face that the new iPod is already available in black, and adding a red click wheel just isn't enough of a difference? Judging by the fact that Apple and U2 still are on great terms as evidenced by Bono's face being displayed on just about every iPod screen image that doesn't have a track by the Gorillaz playing, I would say so.
© Gear Live Inc. – User-posted content, unless source is quoted, is licensed under a Creative Commons Public Domain License. Gear Live graphics, logos, designs, page headers, button icons, videos, articles, blogs, forums, scripts and other service names are the trademarks of Gear Live Inc.