Posted by John Goulden Categories: Corporate News, Home Entertainment

It's hard to imagine watching television without the use of a PVR. Whether it be a set-top box provided to you by your cable/satellite provider, or a media center of some kind, the ability to easily record your favorite shows (and skip the endless commercials) is quite liberating. Cablevision, who services areas of New York, New Jersey and Connecticut, is testing a system that would allow subscribers to utilize PVR functionality, but rely on off-site storage at Cablevision's facilities. Existing set-top boxes would continue to be used, thereby eliminating the cost of PVR units, and the necessary service call required to install them. Hypothetically speaking, with all content stored remotely, Cablevision would have complete control over what you could record and when you could record it. Control eerily similar in nature to the broadcast flag.
Current plans are for the system to go live by the end of the year (with a paltry 45-hours of recording capacity).

Read More

| Cablevision via Newsday
Posted by John Goulden Categories: Corporate News, Storage

Over a year ago we reported about InPhase Technologies and their holographic storage technology. At the time, 200GB per square inch was the capacity limit, but technology marches on and today that capacity has been increased over 2.5 times to 515GB per square inch! Originally slated for release in 2006, it appears that InPhase is still on track, and they expect to have product available later this year. The first generation drives won't hold nearly as much as the prototypes, but will have a 300GB capacity with a 20MB per second transfer rate. As product development continues the sizes will naturally increase, with projected sizes of 800GB to 1.6TB. Sort of makes Blu-ray and HD-DVD look like the proverbial poor cousins doesn't it?
Although no pricing estimates have been given, it's sure to be painfully expensive and therefore confined to the corporate market on its initial release.

Read More

| InPhase Technologies via DailyTech
Posted by Jared Hislop Categories: Corporate News, Google, Internet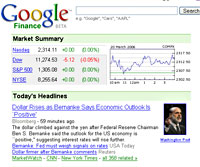 Google has introduced a new feature, Google Finance, which promises to provide up-to-the-minute quotes, financial news, charts, data, and groups. Once again Google, goes head to head with rival Yahoo!, and while Yahoo!'s finance portal offers a few things that Google Finance does not, the product is still in beta. Google Finance still lacks the polished look we have come to expect of Google's pages, but the information supplied there is formatted in a pleasant manner. Google does not plan on coming up with its own information about financial matters, rather opting to rely on sources such as Reuters, Hoovers, and Morningstar, to provide charts and data.

Read More

| Google Finance
Posted by John Goulden Categories: Cell Phones, Corporate News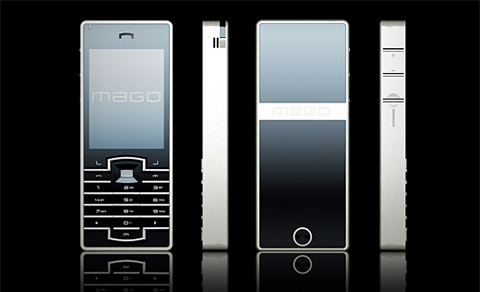 A new Windows Mobile 5 Smartphone, that may or may not ever see the light of day, is the Mago Premium Smartphone. Developed by Tancher for Mago Mobile, the phone is made from titanium, stainless steel and magnesium, and sports an Intel xScale 624MHz CPU. A stylized candybar format hides a host of fairly common features (by comparison to other smartphones) with the exception of a fairly large battery (1950mAh Li-Ion), a touchscreen, and 128MB RAM/ROM. The touchscreen is of note because Microsoft does not officially support a touchscreen for a WM5 Smartphone . . . yet.
• Windows Mobile 2005 OS
• Quad-band 850/900/1800/1900MHz
• Class 2 Bluetooth ver.1.2
• Wi-Fi (802.11b)
• 240x320 2.8'' LTPS Transflective TFT LCD (262k colors)
• Touch screen
• Intel xScale PXA27X 624MHz CPU
• 128MB Mobile SDRAM
• 128MB Intel StrataFlash 32bit
• 1950mAh Li-Ion Battery
• 2.5mm Stereo Audio Jack
• USB 2.0 (Full Speed) Interface
• SD/MMC/mini-SD support
• Overall Size - 134x55x15mm
• Advanced materials, hi-tech aerospace technologies and special scratch resistant coatings for housing and mechanical parts (Grade 5 Titanium, Stainless Steel, Magnesium)
Note that the picture shown is of the prototype model, and some sites are reporting that it may never be released for public consumption. Another site, in Russian of course, claims the phone will be released mid-2006 for around €3000 (~ $3,600 USD). With a price like that, they may as well just keep it.

Read More

| Tancher via phoneArena.com
Posted by John Goulden Categories: Corporate News, Microsoft, Rumors, Software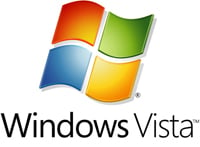 It came as no surprise to anyone when Microsoft announced that the consumer versions of Windows Vista would be delayed until January 2007. Following swiftly was news that Microsoft is reshaping its Platforms & Services Division (Windows and Windows Live) by bringing Senior Vice President Steven Sinofsky over from the successful Office Division, where he has worked since 1994. Steven was picked to bring the misguided division back on track and on schedule.
Today we have more news that Office 2007 will be purposely delayed to coincide with the 2007 launch of Vista, and a disturbing rumor that 60% of the Windows Vista code will need to be rewritten prior to its release. Luckily, Robert Scoble posted earlier that this rumor was completely false, killing the notion that employees were being pulled from the Xbox division (among others) to help with the rewriting of code.

Read More

| Smarthouse (60% code rewrite)
Read More

| Microsoft (restructuring details)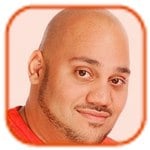 Posted by Andru Edwards Categories: Corporate News, Microsoft, Software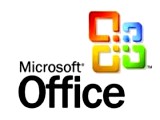 On the heels of their announcement of the delay of Windows Vista, Microsoft issued a statement today which states that Office 2007 will be delayed as well. Originally expected to hit the market by the end of the year, Microsoft is choosing to delay the launch of the new Office suite until January 2007 to coincide with Windows Vista's retail debut. Microsoft Office 2007 will still be finished in October 2006, and will be available to business customer who purchase bulk licenses at that time. Malina Johnson, a spokeswoman with Microsoft's public relations firm Waggener Edstrom, said in an e-mail that the decision to delay the release of the retail version is "simply an indication of our desire to provide an easy retail experience by coordinating delivery with Windows Vista." Looks like Office 2007 will end up living up (or down) to it's name.
(Thanks Veronica!)
Posted by John Goulden Categories: Cell Phones, Corporate News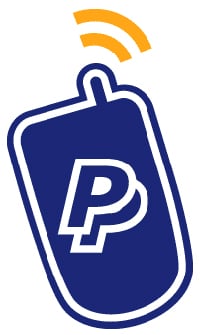 We've previously blogged about TextPayMe, a service that allows you to send money via SMS from your mobile phone. Apparently PayPal wants in on the action and is introducing their own mobile payment service entitled PayPal Mobile. PayPal Mobile works very much like that of TextPayMe, but also adds an additional service called Text to Buy. If you see an item you wish to purchase that carries the Text to Buy logo, you simply text the included number and someone from PayPal will call you back to confirm your order.
Love 'em or hate 'em, PayPal has some deep pockets considering they're owned by eBay, and they'll certainly give TextPayMe some competition. Sadly, no Xbox 360 or signup incentives are forthcoming from PayPal, which isn't much of a surprise.

Read More

| PayPal via ExtremeTech
Posted by John Goulden Categories: Corporate News, Transportation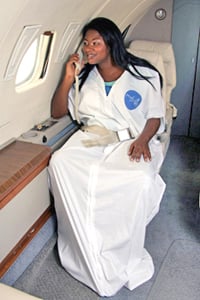 You're all packed for your trip and ready to board the airplane for the long flight to your destination, when you suddenly realize with horror that you've forgotten your sleeping bag. Your what? Yes, poshAir has introduced their one and only product - a sleeping bag intended for use while traveling by plane, train, automobile and, um, yacht. The self-titled poshAir is complete with a zipper for sealing yourself in, a hood to cover your noggin, an internal pocket, openings for your arms so you're not completely cocooned, and belt loops to make it really difficult to untangle from your seat
for the seat belt to pass through. Billed as a "hygienic and cost-effective solution for sleeping on a plane during long flights", the poshAir will certainly garner a few looks from other travelers. Available in five different sizes, the company will even custom design one to your tastes (is invisible an option?).
So, as you sadly board your flight without your beloved poshAir, you can rest assured knowing that at least you won't
look like a total moron
be alone. Available for $99 USD for adult sizes and $69 USD for the child size.

Read More

| poshAir via Strange New Products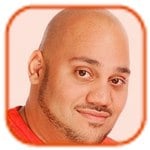 Posted by Andru Edwards Categories: Corporate News, PC / Laptop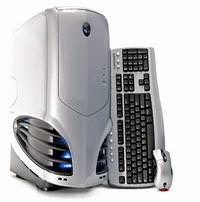 Despite all the denials, previous reports have turned out to be true - Dell is buying Alienware for an undisclosed amount of cash. Alienware's high-end computers are both clamored for by gamers, and scoffed at because of their high prices. According to Dell, Alienware will continue to operate as a wholly-owned subsidiary of the parent company. Dell revamped its XPS line in 2001, looking to tap into the PC gamer market, but they never quite got there. With the purchase of Alienware, it appears that they have finally arrived. No word yet on how this affects the XPS line.
The other interesting part of this story is that, with the acquisition of Alienware, Dell finally sells AMD-based computers. This puts Apple in the position of being the only computer manufacturer building Intel-based machines, with no AMDs in their product line.

Read More

| Seattle PI
Posted by John Goulden Categories: Corporate News, PC / Laptop, Storage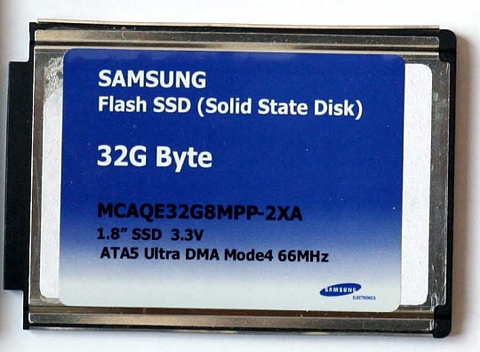 As computers get faster, one item has always been the bottleneck in the quest for ultimate speed - the hard drive. Great strides have been made to bring hard drive speeds up including denser platters, increased rotational speed, and faster interfaces. Yet it still comes down to the inherent limitations of moving parts. Solid State Disks (SSD), which are drives with no moving parts and are composed entirely of memory chips, are the equivalent of storage nirvana.
Samsung is a major player in the memory industry, and their NAND chips are in devices of all kinds. They've now released their new 32GB SSD for the mobile market, with read speeds 3X faster and write speeds 1.5X faster than traditional drives. Weighing only half of a comparably sized hard disk drive and consuming only 5% as much power, the drives will be a boon to laptop users everywhere. There's no word on pricing as of yet, but don't expect them to be inexpensive.

Read More

| Samsung (kr) via Akihabara News
© Gear Live Inc. – User-posted content, unless source is quoted, is licensed under a Creative Commons Public Domain License. Gear Live graphics, logos, designs, page headers, button icons, videos, articles, blogs, forums, scripts and other service names are the trademarks of Gear Live Inc.