Posted by John Goulden Categories: Corporate News, Portable Audio / Video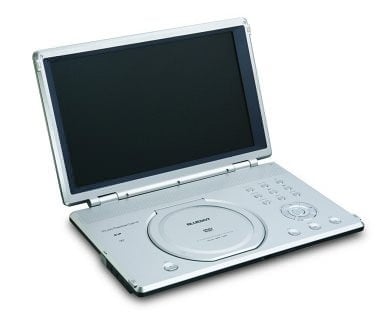 Of dubious value due to its size (12.1 x 8.0 x 1.5 inches) and weight (3.5 pounds), BlueDot has given birth to a portable DVD player with a 12-inch widescreen LCD. Not limited to playing DVD movies, the BDP-1200 also includes USB, MemoryStick and SD card functionality, which help facilitate the playback of MPEG1, MPEG4, DivX, and Xvid videos as well as MP3 audio files.
No word on pricing or availability, but unless this thing is dirt cheap, it makes an ultra-portable notebook a much more useful and appealing choice.

Read More

| BlueDot (jp) via Akihabara
Posted by John Goulden Categories: Cameras, Corporate News, Portable Audio / Video, Wireless / WiFi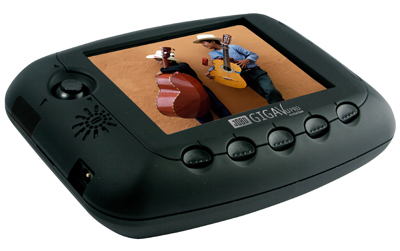 Originally slated for an April 2006 release, the Giga Vu Pro evolution launch date has been pushed back to May 2006. "What in the heck is a Giga Vu Pro evolution" you ask? Think of it as a portable media storage/player device on steroids. Although it can function as a portable media player, its main goal in life is to store digital images and provide the necessary controls and information for critical reviewing. Targeted at professional and prosumer photographers, the GVPe is much more than a standard media storage device with specialized features like a calibrated 3.7-inch widescreen LCD (that can be re-calibrated as necessary), RAW decoding, DVI and analog outputs with sound, RGB and luminance histograms with blown highlights warning, and a built-in FTP server for Wi-Fi capable cameras. Of course, all work and no play isn't very fun so the GVPe does include MP3 and video playback functionality as well.
Three different versions will be offered with the hard drive capacity as the only distinguishing variable. Suggested list prices are as follows: $495 (40GB), $695 (60GB), and $895 (120GB). All pricing shown is USD.
Full specifications after the jump.

Read More

| JOBO AG via Rob Galbraith DPI (adjusted launch date)
Read More

| Rob Galbraith DPI (GVPe overview)
Click to continue reading Giga Vu Pro Evolution
Posted by John Goulden Categories: Corporate News, PC / Laptop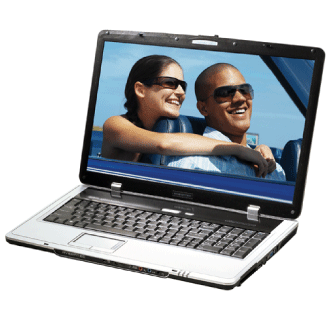 By virtue of their large LCD, 17-inch laptops tend to be, well, portly. In an effort to buck the trend, Averatec is introducing what they claim to be the industry's lightest 17-inch widescreen notebook. The new 7100 Series weighs in at 7.2 pounds, features a super-bright 17-inch WXGA+ LCD with a crystal-clear screen, and is powered by either an AMD Sempron or Turion depending on model choice. Averatec is also quick to point out that the 7100 Series is Windows Vista-capable, which is Microsoft's way of reminding customers that they should feel free to buy a notebook now, and pay to upgrade to Vista when it's released next year.
A brief rundown of the main specifications is as follows:
• AMD Turion™ 64 and Mobile Sempron™ Processors
• 17" WXGA+ Display Supporting up to 1440x900 Hi-def Resolution
• 512MB or 1GB System RAM Upgradeable to 2GB
• 80GB or 100GB Hard Drives
• ATI Radeon® Xpress 200M Graphics
• Dual Layer DVD Burner
• 802.11 b/g Wireless LAN
• 5-in-1 Media Card Reader (MMC/MS/MSPRO/SD/xD)
• PCMCIA and PC Express Expansion Slots
• Full Size Keyboard and Numeric Keypad

Read More

| Averatec
Posted by John Goulden Categories: Corporate News, PC / Laptop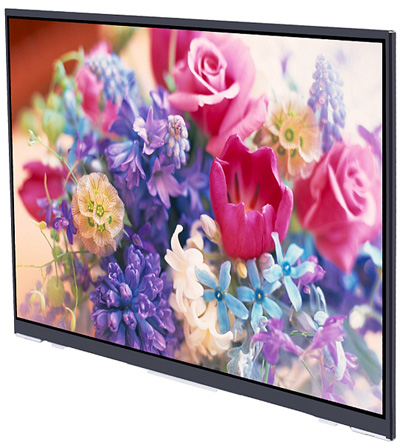 When bigger isn't necessarily better, then it's all about how small something can be made. For this example we have the world's thinnest LCD at only 2.9mm thick (less than 1/8" thick). Developed by Toshiba Matsushita Display, a joint venture between two of the world's largest electronics manufactures, the screen is intended for use in the laptop industry. Offering a brightness of 300cd/m2, the 12.1" Poly-Si LCD uses LED backlight technology and delivers a resolution of 1280x800.

Read More

| Toshiba Matsushita Display (jp) via Akihabara News
Posted by John Goulden Categories: Corporate News, PC / Laptop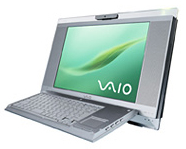 This week Sony introduced a slimmer and sleeker model in their desktop VAIO lineup. The L Series VAIO machines are all-in-one models where the main hardware for the computer is built into the back of the display. In essence this gives the systems a look similar to that of Sony's flat-panel displays, and is intended to be sleek and modern.
Two models are available for the initial rollout: The LA and LB Series. The LA models deliver a 19" widescreen display, wireless keyboard, 200GB hard drive, 512MB RAM, built-in video camera, TV recording functionality, and your choice of an Intel Core Duo processor (T2300) or a Celeron M 420. The LB Series offers a smaller 15.4" widescreen display, 80GB hard drive, 512MB RAM, Celeron M 420 processor, an attached keyboard, and are sans the TV recording ability. The keyboard on the LB Series folds up when not in use and is designed to cover most of the display. The folding keyboard design isn't new to Sony, as they have used the feature before on previous VAIO models.
One feature that is available on the entire L Series lineup is the FeliCa e-money reader, an RFID system that is widely used in Japan. Intended to help impulse buyers drain their bank accounts and max out their credit cards even faster.
Sony has not indicated if the VAIO L Series will make an appearance in the U.S. and for now they're limited to Japan only. Pricing will start at $1,400 USD for the base model system.

Read More

| C|Net News
Posted by John Goulden Categories: Corporate News, Storage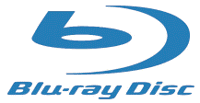 In the neverending quest for bigger and better, TDK is starting their intial R&D process for eight-layer Blu-ray discs with a 200GB capacity. Barely a year ago in May 2005, TDK was showing off prototypes of their 100GB discs which have a total of four layers. Those aren't expected to ship till the middle of next year at the earliest, which leaves the timeline for the 200GB variety up in the air.
The dust hasn't even settled on the single-layer, 25GB BD-R discs of which manufacturers are just starting to ship. Oh, and dual-layer discs that hold 50GB? Nope, they're not available yet either, and aren't expected till much later this year. Innovation certainly is a harsh and demanding mistress.

Read More

| TDK via The Register
Posted by John Goulden Categories: Corporate News, Home Entertainment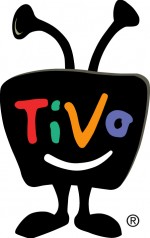 When it was announced in the fall of 2004 that DirecTV would be ending their relationship with TiVo, many saw it as the writing on the wall for the beleaguered PVR maker. Indeed, they appeared to be floundering in a market that they helped create and once dominated, despite earning a profit for the first time in late 2005.
DirecTV eventually rolled out their own line of PVRs to replace the TiVo units, and was met with underwhelming enthusiasm. As a likely result, the two companies have announced that they will be extending their relationship, originally scheduled to end in 2007, for another three years. TiVo chief executive Tim Rogers said, "We are pleased to have reached an agreement with DIRECTV that will allow us to continue to provide our service to the more than 2 million DIRECTV TiVo households." "Pleased" probably doesn't even begin to describe his joy at another three years of recurring revenue on those 2 million households. This "shot in the arm" will bolster TiVo's bottom line, and give them some much needed revenue.
Feeling rather chummy all the way around, both companies also agreed to forgo any patent disputes against one another till the agreement was concluded. Naturally this means that the moment the agreement terms are up, the gloves will come off and patent suits will start flying.

Read More

| ExtremeTech
Posted by John Goulden Categories: Corporate News, Peripherals, Storage

You can't judge a book by it's cover, and the same applies to external hard drives, but you can quickly discern if it's going to be something you'll want visible on your desk, or hiding in a dark corner somewhere else. Freecom is introducing their new line of external hard drives that come in a sleek aluminum case with minimalist styling. A blue LED glows softly through the front panel, illuminating the drive's capacity, and no noisy fans are present due to the passive cooling nature of using the case as a heat sink. Moving to the inside, the drives are standard fare, spinning at 7,200 RPM with rather small 2MB buffers. The external interface of choice is the commonplace USB 2.0, with no other options currently available (eSATA would have been nice). Looking to offer more value to the drives, Freecom is bundling their Freecom Media Suite which offers 256-encryption to help protect your data, and back-up via a synchronization utility.
Specs are as follows:
• Contents: Freecom Hard Drive, Freecom Personal Media Suite software, USB connection cable, manual on CD, Quick Install Guide
• Weight: 750 grams
• Dimensions: 11.5 x 4 x 20 cm (~ 4.5 x 1.6 x 7.9 inches)
• Speed: 7,200 RPM, Buffer 2 MB
• Warranty: 2-year manufacturer's guarantee and unlimited helpdesk support
List pricing for the drives is set at approximately $108 (80GB), $144 (160GB) and $168 (250GB). All pricing is USD.

Read More

| Freecom via BIOS Magazine
Posted by John Goulden Categories: Corporate News, Internet, Software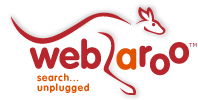 Webaroo is software that lets you download "web packs" of information, that you can later search and browse offline. Products that allow you to download and store Internet content are already available, but Webaroo claims that their software and methodology are different than the norm. Buzz words like "Content Density" and "Smart Caching" are at the core of Webaroo's approach to saving only the relevant content, with none of the junk.
Content Density as explained by Webaroo is where their servers ". . . crawl the web, analyze web pages and select the subset of pages that maximize Content Density (i.e. the most content value in the least storage size). Webaroo determines the content value based on the diversity and quality of the pages. The more diverse the set of pages, the more queries they are likely to be able to answer. The more high quality the pages, the more likely they are to contain meaningful information for users. Our content density software can be focused on the whole web, or on those parts of the web having to do with a specific topic (baseball, for example). The subset of pages it selects is packaged into a "Web Pack"."
Smart Caching works as an update mechanism for the Web Packs. By downloading only the items that have changed, and discarding cahced items that are out of date and no longer relevenat it uses less resources and saves space. Even if a user disconnects in the middle of a download, it will resume where it left off when connectivity is restored.
The software, currently in beta phase, can be downloaded not only for use on a PC, but for PocketPC and Smartphone devices as well.
Read More

| Webaroo via Top Tech News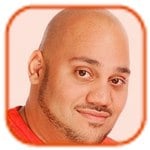 Posted by Andru Edwards Categories: Announcements, Cell Phones, Corporate News, Features, Software, Video Games, Videocasts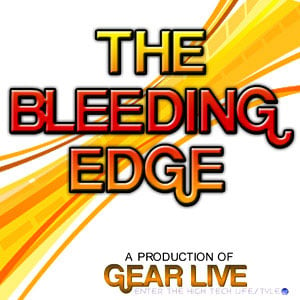 In this episode we give away an Xbox 360, talk with TextPayMe, go over the Windows Vista delay, and more:
THE WIRE
Dell Buys Alienware
Windows Vista Delayed
WEB GEMS
TextPayMe Interview
GIVEAWAY
We give away an Xbox 360!
BREAKIN' STUFF
We destroy an LG C1300
Here's how to get the show:
Subscribe: iTunes iPod / H.264 | iTunes MPEG-4 | RSS iPod Feed | RSS MPEG-4 Feed
|Download| - iPod-formatted H.264 (Mirror)
|Download| - DivX
|Download| - MPEG-4 (Mirror)
|Download| - PSP
Length: 33:34

IMPORTANT: We are surveying the viewers of our show to see what it is that people like, and more importantly, what they don't like. It is anonymous, and just takes a couple of minutes. If you have the time, we would appreciate it! As always, feel free to let us know what you think in the comments.
Here's how to get the show:
|
Download
| - iPod-formatted H.264
|
Download
| - MPEG-4
© Gear Live Inc. – User-posted content, unless source is quoted, is licensed under a Creative Commons Public Domain License. Gear Live graphics, logos, designs, page headers, button icons, videos, articles, blogs, forums, scripts and other service names are the trademarks of Gear Live Inc.