Find Our Latest Video Reviews on YouTube!
If you want to stay on top of all of our video reviews of the latest tech, be sure to check out and subscribe to the Gear Live YouTube channel, hosted by Andru Edwards! It's free!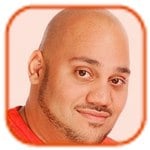 Posted by Andru Edwards Categories: Apple, Corporate News, Features, Microsoft, PC / Laptop, Software,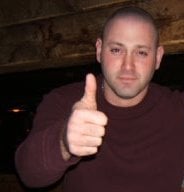 Parallels Desktop has quickly replaced VirtualPC in the eyes of many a Mac user, as the product works (and works well) on Macs running on Intel chips. Throughout it's beta period, the Parallels Desktop for Mac software grew due to the dedicated help from the Mac community. The product is now out of beta and ready for purchase. We caught up with Parallels' Benjamin Rudolph to talk about how to they to where they are today:

Ben, thank you for taking some time to talk with us today. Tell us a little about what you do at Parallels.
Good to be here! I'll keep this short since I'm the least interesting thing we'll be talking about today….I lead our marketing and communications efforts here at Parallels, including PR, product marketing, and partner relationships.

How soon after the announcement of the Intel Macs did development of Parallels Desktop for Mac begin?
We started thinking about a Windows-on-Mac solution when Apple made the announcement that they were moving to Intel chips. Since our virtualization engine was already compatible with the x86 chipset, it was simply a matter of porting the code over to the Mac, refining the API, and getting devices working.
Click to continue reading Gear Live Interview: Benjamin Rudolph, Parallels
Posted by John Goulden Categories: Broadband, Corporate News, PC / Laptop, Wireless / WiFi,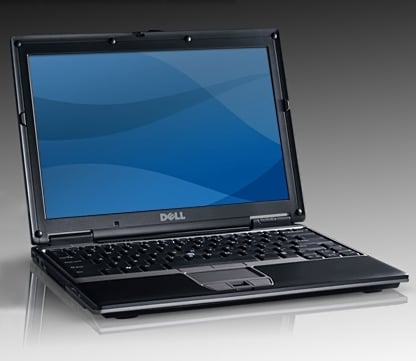 Today Dell introduced the Latitude D420, designed to succeed their Latitude X1 as the company's premier ultraportable notebook. While slightly heaver and larger than the X1, the D420 offers more features and options like a D-family docking port, optional integrated broadband (HSDPA or EVDO), an optional biometric fingerprint reader, greater memory capacity (1.5GB), a PC Card slot (Type I and II), and dual-core processors which will be available later this summer.
Dell claims over seven hours of battery life on the D420, but be aware that their testing was performed not with the base 4-cell battery, but the optional 9-cell battery which adds almost one-half pound to the total weight. Still, a 3.5 pound notebook that can operate for around seven hours is nothing to be ashamed of.
The most notable absence on the D420 is the lack of an optical drive, a trait shared with the X1. However, as if to reward us for good behavior, the new model comes with a much needed PC Card slot which was sorely lacking on the X1.
The Latitude D420 is available now and pricing starts at $1,149 USD.
Latitude D420 Specifications
SYSTEM
Processor:
Intel Core Solo U1300 Processor (1.06GHz)
Memory:
One Memory slot offering up to 1.5GB
Memory Bandwidth:
533MHz
Graphics:
Intel Graphics Media Accelerator 950 (Up to 224MB shared memory)
Display:
UltraSharp WXGA (1280 x 800 resolution)
Additional specifications after the jump.
Click to continue reading Dell Latitude D420 Offers 7 Hours Of Battery Life
Read More

| Dell
Posted by John Goulden Categories: Cameras, Corporate News, Internet, PC / Laptop, USB,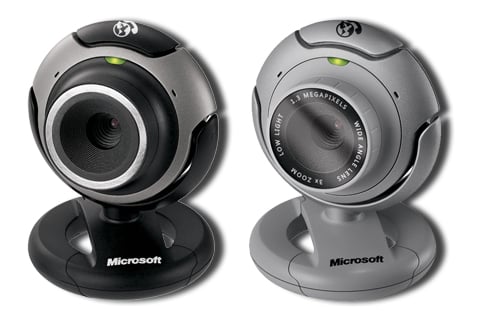 It's no secret that Microsoft wants to integrate PC and Xbox 360 users together when Vista debuts later this
millenium
century
decade. One step towards that goal is the integration of instant messaging between the two disparate platforms, and with the release of the Xbox 360 Live Vision Camera a short time ago, Microsoft is partway there. Keeping the momentum going, Microsoft is now releasing two new webcams aimed at the PC market, the VX-3000 and VX-6000 LifeCams.
The first two available webcams, the Microsoft LifeCam VX-6000 and Microsoft LifeCam VX-3000, bring a new dimension to Windows Live Messenger and feature exclusive industry firsts that streamline the webcam experience: • Windows Live Call Button. Located on the top of each LifeCam, the Windows Live Call Button makes placing a video call a breeze by eliminating the usual multiple steps. Just one touch brings up the Buddy Picker, a tool that shows users only current online buddies. They simply select their contact's name and they are on their way to making a video call. • LifeCam Dashboard. Built right into the Windows Live Messenger window for easy access during video calling, the LifeCam Dashboard provides simple access to the controls people need most, including pan, tilt and zoom. Now users' attention stays where it should be — on their video conversation. • One-touch blogging. Windows Live Spaces is one of the fastest-growing blog communities in the world, with more than 50 million individual Spaces. Now, users can post High Definition LifeCam pictures directly to their Windows Live Space blog with one click from within the LifeCam window. The new Microsoft LifeCam VX-6000 is a top-of-the-line wired webcam providing the highest quality still photography on the market (5.0 megapixels interpolated), High Definition video (1.3 megapixels)3 and 3x digital zoom. A 71-degree wide-angle lens allows enough room for up to three people to join in the conversation. The Microsoft LifeCam VX-3000 offers High Definition still photography (1.3 megapixels interpolated) and brilliant video (640x480 pixels). Both LifeCams feature a built-in acoustic noise-canceling microphone to ensure crystal-clear audio performance without adding clutter from extra headsets or external microphones. In addition, both new LifeCams come with fun Video Effects, such as falling snowflakes and twinkling stars, to personalize and enhance the background of video conversations. The LifeCams also have a Universal Attachment Base for easy and secure attachment to virtually any size monitor.
The webcams are available now with USD list prices of $99.95 (VX-6000) and $49.95 (VX-3000).

Read More

| Microsoft via bit-tech
Posted by John Goulden Categories: Corporate News, PC / Laptop,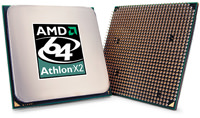 In an effort to simplify their product lineup, and simultaneously bolster the sales of their FX series processors, AMD will spend the next few months reducing their product lineup. On the chopping block are all processors with 1MB L2 cache, with the exception of their FX models. This product subset includes the Athlon 64 X2 4000+, 4400+ and 4800+ processors.
This will allow AMD to re-focus 1MB L2 parts back into their flagship FX line of processors. If you sit down and really look at the benchmarks, 1MB L2 cache parts basically come in equal to a comparable parts with 512KB L2 cache but with a 200MHz core frequency bump.
If you've been hankering for an AMD processor with copious amounts of L2 cache, and don't feel the desire to sell body parts to raise money for an Athlon 64 FX, then now is the time to act. It's unlikely the aforementioned processors will stay in the channel for too long before being snapped up.

Read More

| [H]ard|OCP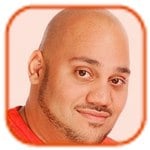 Posted by Andru Edwards Categories: Corporate News, Features, Internet, Podcasts,
Okay, hold on. Over a year ago, we reported that AOL would make it easier for customers looking to cancel their accounts. Apparently, someone didn't get that memo. Vinny over at Insignificant Thoughts made the decision to cancel his AOL account, figuring that $14.95 per month could be spent in a much more beneficial way than giving it to AOL. He recorded his conversation with "John at AOL" and has made it available for all to hear. Truth be told, we got upset just listening to the atrocious service that Vinny received. Be sure to download the clip below to hear for yourself.
Here's how to get the show:
|Subscribe| - iTunes
|Subscribe| - RSS
|Download| - Enhanced AAC [Mirror]
|Download| - MP3 [Mirror]
Voices: Andru Edwards, Vinny of Insignificant Thoughts
Length: 05:58, 2.87 MB

IMPORTANT: We are surveying the listeners of our podcast to see what it is that people like, and more importantly, what they don't like. It is anonymous, and just takes a couple of minutes. If you have the time, we would appreciate it!
Don't forget to vote for us on Podcast Alley! Also, be sure to check out the Gear Live Odeo Channel, and subscribe there are well.
Posted by John Goulden Categories: Corporate News, PC / Laptop,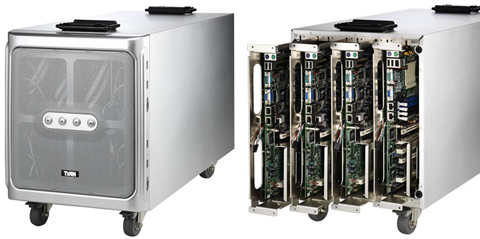 Okay, so "personal supercomputer" is a bit of a misnomer as there aren't many individuals that would have need of a 16-core server, but there are plenty of research labs, medical facilities and other small companies that could make use of the number-crunching power provided by Tyan new Typhoon.
Speaking of power, the Typhoon gets its groove on courtesy of four removable motherboards, each sporting a pair of dual-core Intel Xeon 5100-series LV processors, up to 12GB of DDR2 SDRAM memory, dual Gigabit NICs, and a single, lonely SATA device. The four motherboards are capable of working in concert via clustering sofware on Windows and Linux platforms.
As always, with great power comes a little sacrifice and Tyan is estimating that purchasers will need to place at least $10,000 USD on the sacrificial altar to obtain a Typhoon. It may be pricey, but it would certainly get your Folding@home, or other distributed computing project, well underway. The various models in the Typhoon lineup will be available this Fall.

Read More

| Reg Hardware
Posted by John Goulden Categories: Corporate News, PC / Laptop,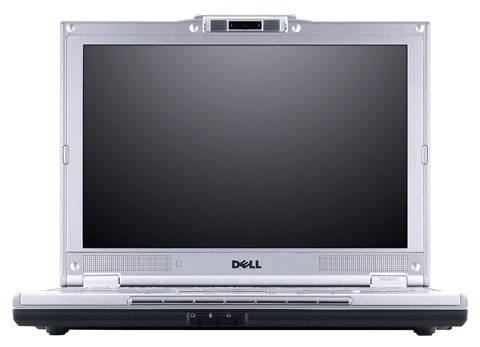 About a month ago, leaked pictures of Dell's newest ultra portable notebook, the XPS M1210, hit the Web. Unlike the average ultra portable notebook, the M1210 sports a dual core Intel processor, and an optional graphics system consisting of NVIDIA's GeForce Go 7400. Sure, the notebook isn't as light as Dell's X1, but it is a lot more powerful and should allow for some decent mobile gaming.
System specs are as follows:
• Intel Core Duo Processor T2600 (2.16GHz/667MHz FSB/2MB Cache)
• Up to 4GB of Dual Channel DDR2 memory
• 12.1" Widescreen WXGA (1280 x 800) TrueLife display
• Integrated Intel Media Accelerator 950 Graphics with optional 256MB NVIDIA GeForce Go 7400
• High definition integrated stereo sound
• Up to 100GB 7200RPM or 120GB 5400RPM SATA hard drive
• 24x/10x/24x CD Burner and 8x DVD-ROM combo drive or 8x DVD/CD Burner (DVD+/-RW)
• Integrated 1.3 mega pixel web cam, premium noise isolation ear buds, SKYPE, integrated mobile broadband antenna, and a directional microphone system (with optional A/V Communications Package)
• Ports: IEEE 1394, USB 2.0, Ethernet, Modem, VGA, S-Video, Component Video, S/PDIF Digital Audio Out, Headphone, Microphone
• Windows XP Home, Pro or Media Center 2005
• Starting at 4.37 pounds
Pricing for the XPS M1210 starts at $1,300 USD.

Read More

| Dell
Posted by John Goulden Categories: Corporate News, Video Games,
Nintendo has finally released pricing information for their next generation game console, the Wii. Although no specific details were given in regards to bundled games, hardware configuration, or accessory pricing, Nintendo has stated that the Wii's price "will not exceed $250 in America, or ¥25,000 in Japan."
The console is expected to be available sometime in the fourth quarter of this year, and an exact launch date and launch titles are still forthcoming.

Read More

| Playfeed
Posted by John Goulden Categories: Corporate News, PC / Laptop, Storage,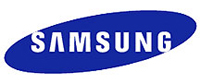 A couple of months ago we talked about Samsung taking their NAND flash memory modules and incorporating them into Solid State Disk (SSD) drives that operate faster than conventional hard drives and use less power in the process. Now they're taking those same 32GB SSD drives and stuffing them into their new Q1 and Q30 portable devices.
The Q1 has a form factor and feature set similar to an Origami device with a 7" 800x480 display and an Intel Celeron M running at 900MHz. The Q30 is a laptop, sporting a 12.1" LCD with a 1280x768 resolution, and an Intel Celeron M at 1.2GHz. Both models feature 512MB of memory and a 32GB SSD drive. The Q30 is said to load Windows XP fifty percent faster and access data three times faster than a hard drive equipped model. Samsung has neglected to mention what the power saving features of the drive translate into for real world use.
All good things come at a price, and the Q1 and Q30 are no exception to the case. They're scheduled for release in Korea next month with the Q1 priced at $2,430 USD and the Q30 at $3,700 USD.

Read More

| Samsung via Ars Technica
Posted by John Goulden Categories: Corporate News, Microsoft, Software,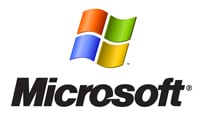 With WinHEC (Windows Hardware Engineering Conference) in full swing this week, it's not unusual that we see new builds of beta products float to the surface. This time around we have new builds of Loghorn Server and Windows Vista, both at build 5384, as well as Beta 2 of Office 2007.
Office 2007 Beta 2 is available as a public preview, and if you opt for the Professional Plus version, weighs in as a 550MB download. Per Ars Technica, "Office 2007 uses the new Microsoft Office Open XML file format, and will be broken down into seven different editions: Office Basic, Office Home and Student, Office Standard, Office Small Business, Office Professional, Office Professional Plus, and Office Enterprise.
* Basic includes Word, Excel, and Outlook
* Home and Student includes Word, Excel, PowerPoint, and One Note
* Standard includes Word, Excel, Outlook, and PowerPoint
* Small Business is the same as Standard plus Publisher and Outlook with Business Contact Manager
* Professional includes everything from Small Business plus Access
* Professional Plus comes with Word, Excel, Outlook, PowerPoint, Publisher, Access, InfoPath, and Communicator. It also includes Integrated Enterprise Content Management, Electronic Forms, and Advanced Information Rights and Policy Capabilities
* Office Enterprise adds OneNote and Groove 2007 to the Professional Plus package."
Unlike Office 2007, the new builds of Windows are not available to the public and can only be had from MSDN, Technet, or the beta program.

Read More

| Microsoft via Ars Technica
Read More

| Office 2007 Public Preview Site
© Gear Live Inc. – User-posted content, unless source is quoted, is licensed under a Creative Commons Public Domain License. Gear Live graphics, logos, designs, page headers, button icons, videos, articles, blogs, forums, scripts and other service names are the trademarks of Gear Live Inc.