Find Our Latest Video Reviews on YouTube!
If you want to stay on top of all of our video reviews of the latest tech, be sure to check out and subscribe to the Gear Live YouTube channel, hosted by Andru Edwards! It's free!
Posted by Mark Harrison Categories: Corporate News, Home Entertainment, Internet, Portable Audio / Video,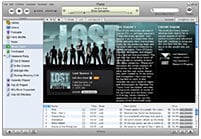 Yesterday, Apple announced that they have sold more than one million videos via the iTunes music store in the brief time since they began selling them. For the moment, Apple has proven the doubters wrong once again. This is interesting news, but it begs further discussion. Will Apple begin selling higher quality content for a broader audience?
We believe that they will. Apple helped legitimize legal music downloading and they seem poised to do the same for television and movies. With more and more people going to broadband and tapping into things like BitTorrent, content providers have to start think about solutions that will continue to generate revenue. Apple has mindshare right now and they also have a successful infrastructure in place. They have already shown that even with a small video library that they have a viable business model.
One thing is clear though. To continue being a trailblazer in this area, Apple has to greatly increase the size of its offerings; both in quantity and in quality. What remains unclear is whether or not the industry will follow Apple's lead. With the the way the music executives are chomping at the bit, it is far from certain if their counterparts will be so eager to get into bed with Apple. What do you think?

Read More

| Apple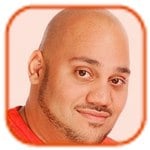 Posted by Andru Edwards Categories: Corporate News, Internet,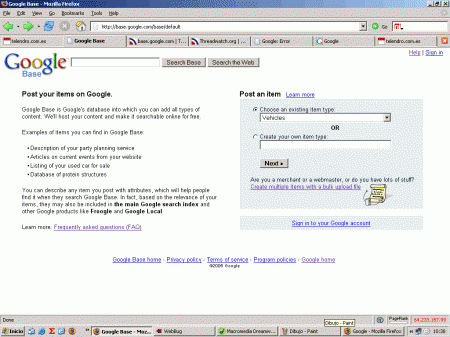 Click image for larger view
Okay, it looks like Google is set to unleash yet another viral service on us. Google Base seems to be a database where anyone can add any type of content, but I bet people are going to be all over this thing as if it was the new, national Craigslist. Think about this for a moment, with Google Base being a free service, and with Google set to launch the Google Wallet online payment service, we might have a free version of eBay/Paypal with Craigslist functionality on our hands - completely ad-supported. In fact, Google even states:
...based on the relevance of your items, they may also be included in the main Google search index and other Google products like Froogle and Google Local.
So I can put up an item for sale, and have it potentially show up when someone searches for that item under Google Local? Sign us up.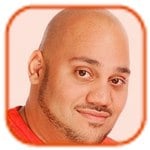 Posted by Andru Edwards Categories: Corporate News, Internet,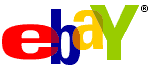 Okay, so we all know that Google is set to unleash their online payment system, probably called Google Wallet, any time now. Coincidentally, eBay has just updated their "Safe Payments Policy," which includes the following statement:
Not permitted on eBay.com: Sellers may not solicit buyers to mail cash. Sellers may not ask buyers to send cash through instant cash transfer services (non-bank, point-to-point cash transfers) such as Western Union or Moneygram. Finally, sellers may not request payment through online payment methods not specifically permitted in this policy.
Basically, they are saying that if you are a seller, you can ask for check, money order, or Paypal payment (including credit cards) - you can not ask your buyer to pay you through Google Wallet when it launches. Odd - my experience with Paypal, along with horror stories from others, lead me to believe that if you were creating a "safe payments" plan you would stay the hell away from Paypal. What's that? Oh, yeah - eBay owns Paypal. I get it now.

Read More

| eBay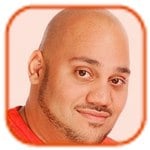 Posted by Andru Edwards Categories: Cell Phones, Corporate News, Wireless / WiFi,

Good to see Cingular taking action by turning on their HSDPA service in a couple of techno-centric cities. Seattle, WA and Phoeniex, AZ are the first areas to get receive the HSDPA love here in the United States. While no HSDPA phones are available for purchase here in the US just yet, I commend Cingular for taking the leap to show that they are ready to jump into this space. Also nice to see Seattle get first dibs compared to how long it took Verizon to get EV-DO turned on here. Cingular's new networks were up and running in Seattle and Phoenix using Lucent Technologies and in the Dallas/Fort Worth area using Ericsson equipment. They plan to have the network in up to 20 markets by year's end, which is also when they would make enabled phones and laptop cards available to consumers.

Read More

| Telegeography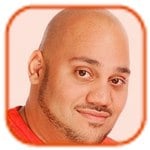 Posted by Andru Edwards Categories: Corporate News, Portable Audio / Video,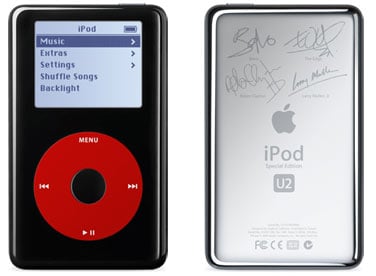 Not major news, but worth mentioning nonetheless, with the release of the brand new 5th generation iPod with video support, it looks like Apple has quietly discontinued the U2 branded iPod that they have been selling for the past twelve months. Could it be due to the face that the new iPod is already available in black, and adding a red click wheel just isn't enough of a difference? Judging by the fact that Apple and U2 still are on great terms as evidenced by Bono's face being displayed on just about every iPod screen image that doesn't have a track by the Gorillaz playing, I would say so.
Posted by Devin Categories: Corporate News, Portable Audio / Video,

How's this for convenience? By the time this month ends, 7-Eleven stores in Japan will be offering up iPods right along side Big Gulps and Slurpees. While the 5 different iPods the chain plans to sell won't be sitting back behind the counter next to the cigarette case, customers will be able to place an order for Apple's popular MP3 player, then return 2-3 later to pick up their new toy. I'm all for doing things the easy way, but I'm also impatient- if I'm going to have to wait 3 days for my Nano to arrive at the local 7-Eleven, I think I'd just head on down to the nearest electronics store an get it right then, no?

Read More

| MacWorld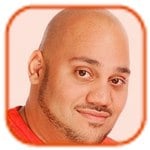 Posted by Andru Edwards Categories: Corporate News, Home Entertainment,
DirecTV have finally started making it known to the masses that they are dumping TiVo in favor of their own homegrown DVR unit by way of a $30 million advertising campaign.
DIRECTV, the satellite television operator, is introducing a $30 million advertising campaign on Monday to promote its highly anticipated digital video recorder.
The campaign, created by the New York office of BBDO Worldwide, is DirecTV's first widespread public effort to distance itself from TiVo. Of DirecTV's 14.7 million customers, 2.3 million now subscribe to TiVo. DirecTV, which pays TiVo a monthly fee of $1.13 per TiVo subscriber, hopes those users will switch to its own service.
Even better, the unit is free after rebate through a special promotion right now, and even results in a free DVD player as well. The HD DirecTV DVR still seems to be a DirecTiVo unit.
Read More

| DirecTV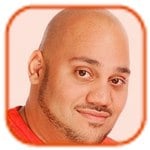 Posted by Andru Edwards Categories: Corporate News, Portable Audio / Video,

Steve Jobs has done it again, and has come out with a product that is simply going to sell a ton. While many of us expected an addition to the iPod line, Apple has instead opted to make what we might have referred to as the iPod video, simply - the iPod. The new iPod is available in 30GB and 60GB models and has a wider 2.5-inch color 320x240 TFT screen. Apple is also making the new standard iPod available in what we like to call "nano Black." All other features of the iPod remain the same, with the addition of the ability to play MPEG-4 and H.264 encoded video. The price point is not too shabby here either, with the 30GB model costing $299 (holding 75 hours of video) and the 60GB model hitting $399 (holding 150 hours of video.) The new iPods are thinner than the previous models, with the 30GB being 31% thinner than the 20GB iPod, and the 60GB version being 12% thinner than the 20GB iPod (Thank God!)

Read More

| Apple iPod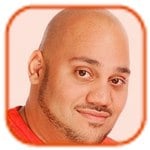 Posted by Andru Edwards Categories: Corporate News, PC / Laptop, Portable Audio / Video, Rumors,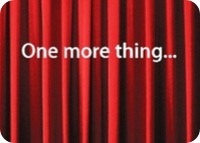 What did we tell you? Sources told us that another iPod announcement wasn't too far off - although we thought it wouldn't come until November. That may still be the case, as ThinkSecret believes that Apple is just priming everyone for a PowerBook and Power Mac spec update. That would leave November open for us to be 100% right - but analysts are a-buzzin', and many believe that the iPod movie or iPod video or Video iPod is a sure bet for the 12th. I mean, why else have theater curtains on the invitation? That being said, there is no reason that Apple can't make more than one announcement. How about an iVideo Movie Store integrated into iTunes while we're at it?

Read More

| ThinkSecret
Read More

| iLounge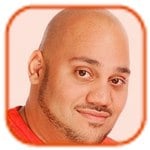 Posted by Andru Edwards Categories: Corporate News, Home Entertainment,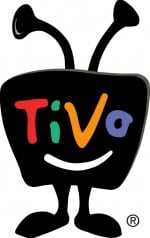 It looks like the official death of the VCR will be happening later this month at DigitalLife in New York. You see, TiVo has taken it upon themselves to make funeral arrangements, and be in charge of the funeral itself. Even better, if an attendee brings a video tape and hands it over to TiVo, they will walk away with a free TiVo unit (after agreeing to sign up for a service contract.) Interestingly enough, I find it odd that TiVo has the gall to call another technology dead. I mean, isn't this like the whole pot-kettle-black thing?

Read More

| PR Newswire
© Gear Live Inc. – User-posted content, unless source is quoted, is licensed under a Creative Commons Public Domain License. Gear Live graphics, logos, designs, page headers, button icons, videos, articles, blogs, forums, scripts and other service names are the trademarks of Gear Live Inc.