Posted by Hector Martinez Categories: Accessories, Cell Phones, Wireless / WiFi
Wires on our devices are still a pain. Just last week, someone accidentally snatched my headphones right out my ear when they walked too close to me. If that wasn't enough, people who wear sunglasses are even more limited, because generally only one device can loop around your ear at any one time. Today at 3GSM Motorola and Oakley announced their new line of premium Bluetooth wireless technology, sure to keep you connected and cool at the same time. The Oakley RAZRWire is simply a pair of Oakley's that have an earpiece attached to the frame, allowing you to talk on your cell phone wirelessly. The device is expected in the second half of 2005, and will be available in three different frame colors. No word on the pricing, but the word "premium" should hint to that.
Read More

| Mobile Mag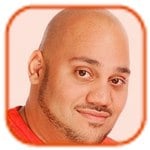 Posted by Andru Edwards Categories: Cell Phones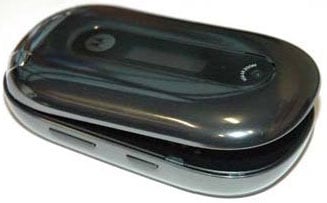 The 3GSM is going on today, and that means there are a crapload of new cell phone announcements to talk about - one of which is the new Motorola PEBL V6. What's so exciting about it? Before we get into the specs, Motorola continues pushing the cool factor of their new phones with this one with its double-hinged mechanism which enables you to open the phone easily and stylishly with one hand. The phone has integrated Bluetooth, EDGE support, a 262k color display, 5 MB on board memory, an MPEG4 VGA video camera, a POP3/IMAP email program, MP3 ringtone support, and it measures 49mm x 86.5mm x 20mm. Look for the 110 gram stone-shaped PEBL V6 in the second half of 2K5 (that's 2005 for the layperson).
Read More

| MobileBurn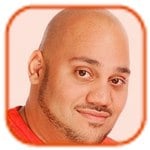 Posted by Andru Edwards Categories: Cell Phones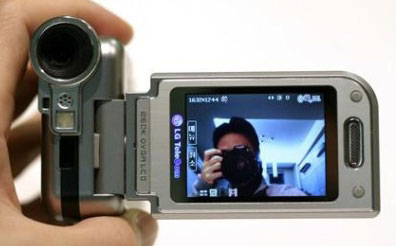 Continuing on with the whole "2005 is the year of convergence" thing that the tech industry is currently into, take a look at Pantech & Curitel's PH-L4000V camcorder/cell phone. It includes a 2.1 megapixel camera, and is supposed to be able to record camcorder quality video clips to mini MMC. Of course, many people can have a different idea of what camcorder quality actually means.
More Images

| engadget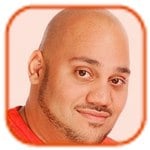 Posted by Andru Edwards Categories: Cell Phones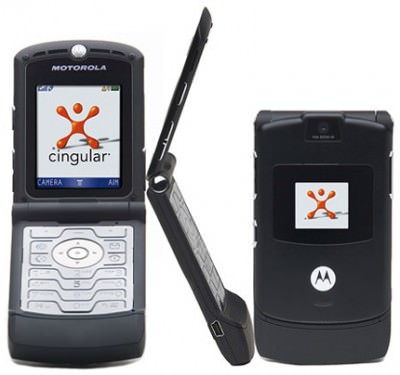 A few days ago we told you about how Motorola is planning on releasing multiple colors and maybe even form factors of their uber popular RAZR V3 phone. Just a couple of days later, and here is an image of the new black RAZR V3. It was reported on CNBC earlier this morning that all Oscar nominees will receive one of these new phones. No word on when, or if, we can expect to see them at retail.
Posted by Categories: Cell Phones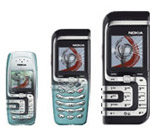 Texas Instruments has been working with Nokia to create even smaller cellular phones. By integrating all of a cell phone's main functions into a single TI chip, Nokia will be able to make cell phones that are smaller, faster, and better. With more room to spare in the phone, Nokia can focus on integrating features into their phones, such as digital media, GPS, and wireless LAN. The smaller chips will consume less power, allowing for longer battery life. While Nokia's main target demographic for these phones will be China and India, its not difficult to believe that this technology will soon show up in American phones.
Read More

| Internetnews.com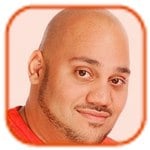 Posted by Andru Edwards Categories: Cell Phones

Unless you have been locked away somewhere, you have got to know that the Motorola RAZR V3 is the hottest phone on the market right now (despite having quite a few flaws).With the RAZR V3, it's all about the look. Motorola is looking to capitalize on the immense popularity of the phone by releasing a few more versions. We can expect more releases of the same phone in an assortment of colors, as well as what has been described as a candy bar styled phone called the RAZR Silver.
Read More

| MobileTracker
Posted by Hector Martinez Categories: Cell Phones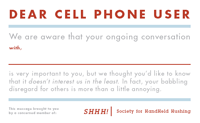 You know the situation: You're riding on a bus or waiting for your dinner at a restaurant, and you hear an entire conversation you have no interest in. Why do people feel they need to talk so much louder on their cellphones? While we ponder the answers, a couple of designers from the Society of Handheld Hushing (SHHH!) put together a solution that's starting to catch on. Basically, it's a series of cards you can print out and hand to the gabber when they're starting to get on your nerves. They're free, and feature comments like "The rest of us don't care what he/she said to you" and "The world is a noisy place. You aren't helping things." You can download the pdf file here.
Read More

| Wired News
Posted by Hector Martinez Categories: Cell Phones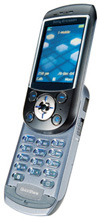 The great new phone announcements just keep coming in. Actually this one was announced at last week's CES. Meet MobilePC's pick for Best New CES Product. This beauty features a landscape screen with a numerical pad that swings out from behind it, reminding me a little bit of the SideKick series. Other similarities include email and MMS, plus WAP support. A few more things: an integrated camera, mp3 and mp4 playback, Memory Stick Pro support, and a touch sensitive screen with handwriting recognition software. Still want more? You get Bluetooth, USB, a sound recorder, and can also capture and send video.
Read More

| SonyEricsson.com

Posted by Oscar M. Cantu Categories: Cell Phones, Software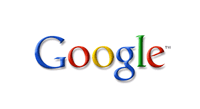 Imagine doing a search using a picture taken from your camera enabled cell phone. Does it sound too good to be true? Hatmut Neven doesn't think so. He is currently working on a way to make this happen. Image-recognition software is already being tested for used in various tasks. Using that technology he hopes to make it happen. The following is a quote of what this service could do for you:
"You take a picture of something, send it to our servers, and we either provide you with more information or link you to the place that will. Let's say you're standing in front of the Mona Lisa in the Louvre. You take a snapshot with your camera phone and instantly receive an audio-visual narrative about the painting. Then you step out of the Louvre and see a cafe. Should you go in? Take a shot from the other side of the street and a restaurant guide will appear on your phone. You sit down inside, but perhaps your French is a little rusty. You take a picture of the menu and a dictionary comes up to translate."
Read More

| TheFeature.com
Posted by Categories: Cell Phones
Nokia has announced that the Nokia 7710 widescreen multimedia smartphone with pen input is now officially available in the US. The 7710 has a widscreen display of 640 x 320 pixels. The phone has 128 MB internal memory (80-90 MB available to the user) and 128 MB external memory on the included multimedia card (MMC). The N7710 includes an Internet browser, integrated MP3 music player with stereo audio, a set of video features, 1 megapixel camera with 2x digital zoom, presentation viewers, word processor and sheet converters, FM radio and a touch screen. Also, keeping up with the times, there is integrated Bluetooth as well.
Read More

| TechTree
© Gear Live Inc. – User-posted content, unless source is quoted, is licensed under a Creative Commons Public Domain License. Gear Live graphics, logos, designs, page headers, button icons, videos, articles, blogs, forums, scripts and other service names are the trademarks of Gear Live Inc.