Posted by Edwin Soto Categories: Cell Phones, Video Games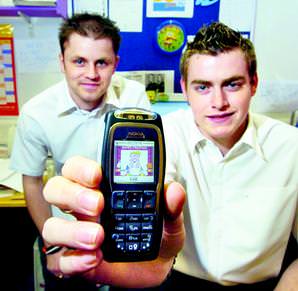 With all the advantages of not actually having a physical baby in tow, BabyGrow is designed to be a Tamagochi (remember those?) for your cell phone. You get it all as far as responsibility goes - feeding, entertaining, medicating, and even cleaning. What happens when you don't comply with these needs? Anges, the Social Worker comes to claim the baby. It's like a low budget version of Nintendogs! Trust me when I say this: cleaning a virtual diaper is much better than the real thing.
Read More

| Evening Telegraph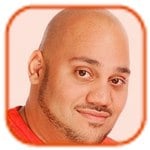 Posted by Andru Edwards Categories: Cell Phones, Features, Podcasts, Video Games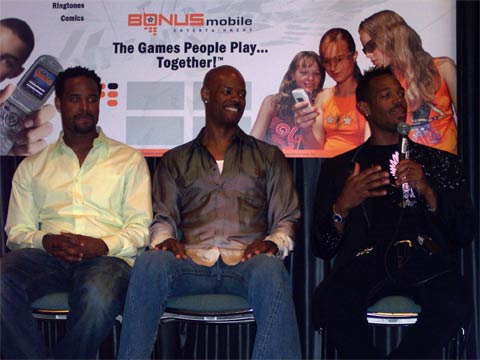 So the Wayans Brothers are here at E3 to promote their new trading card/cell phone game "The Dozens". It is basically a game where you swap "Your momma" jokes with a friend (or stranger for that matter), and score points based on the originality or hilarity of the diss. We got a few moments to speak with Shawn and Marlon Wayans about The Dozens, but they were more interested in making fun of all the E3 schwag I had on me. Click here to download the MP3, or you can just subscribe to the Gear Live Podcast feed. Pardon the yelling - E3 is loud.
Voices: Shawn Wayans, Marlon Wayans, Andru Edwards
Length: 4:15, 2 MB
Listen

| Wayans Brothers Interview
Posted by Troy Categories: Cell Phones

An impressive piece of work, the Motorola Razr V3 is finally being challenged after being on the market for more than 8 months. While lacking more advanced features like a 1+ megapixel camera, which Samsung's phone will feature, the Razr's slim design has attracted much attention. Keeping the same thickness of the Razr when closed (14.5mm) and only weighing 3 grams more, the Samsung SCH-V740 is set to have Bluetooth, MP3 playback capabilities, and a file viewer - features not available on the current Razr.
Read More

| Telecoms Korea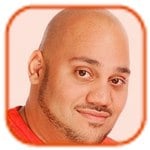 Posted by Andru Edwards Categories: Cell Phones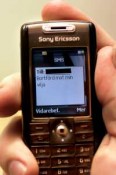 Today you now have the ability to receive AMBER Alert messages via SMS on your mobile device. In fact, in a chat with Sprint earlier it seems that soon you will even be able to be sent an image of the missing child. Almost the whole country is covered by the service, and thusly can subscribe at no cost. Of course, the standard text messaging fees of your mobile carrier still apply - but aren't those virtually non-existant nowadays?

Posted by Jesse Easley Categories: Cell Phones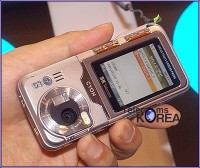 LG has finally released their delayed 5 MP camera phone today. The LP5500 (Model number may vary) is a 5 MP Camera phone with auto focus lens, strobe flash, self-shot, and a twist-pad which will rotate the camera lens and phone keypad around for easy access. The price was not disclosed, but it's announced to hit Korea some time next month. If/when it will hit the US we don't know, but we do know that Samsung is already a step ahead of the game because they've had a 5MP camera out for a while and have just unveiled the first 7.1 MP Camera Phone.
Read More

| Telcom Kora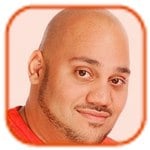 Posted by Andru Edwards Categories: Cell Phones, Internet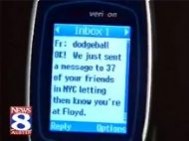 I have been messing around with Dodgeball.com for a couple of weeks in the Seattle area, and I think the service is pretty cool. I haven't done much more than test it, but I like the idea behind it. Apparently Google liked it to - so much so that they have acquired the company, making Dodgeball.com the thirteenth company that Google has picked up. If you are unfamiliar with Dodgeball's service, it is simple. Sign up is free, and you are then able to send a text message to yourcity@dodgeball.com whenever you are somewhere that you want to meet people. For example, if I am at Pike's Place Market hanging out, I can text seattle@dodgeball.com with the message @pikes place. Now anyone on my contact list that happens to be in a 10 block radius will get an email and/or text message which says "Andru is at Pikes Place". Very cool. Dodgeball is available in most major cities. Congrats to Google for picking this one up.
Read More

| Dodgeball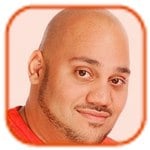 Posted by Andru Edwards Categories: Cell Phones, Handhelds, Software

Microsoft has finally announced Windows Mobile 5.0, a.k.a. Magneto, at the 2005 Microsoft Mobile & Embedded DevCon. The software looks fantastic - I am most stoked about the upgraded network support with 3G optimization. Other features include a new mobile office suite (Word, PowerPoint, Excel), a one-handed navigation scheme, improved WiFi, improved BlueTooth, persistent memory to ensure your data will remain safe in the even of battery failure, video calling, push-to-talk calling, external drive support, and USB 2.0. This will all go into the next generation of Windows Mobile Smartphones and handheld devices.
Read More

| Windows Mobile 5.0 Page
Click to continue reading Windows Mobile 2005 Becomes Windows Mobile 5.0
Posted by Edwin Soto Categories: Cell Phones, Corporate News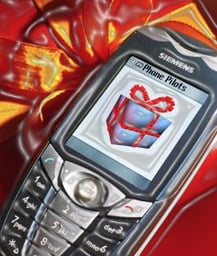 German electronics giant Siemens is planning to doing away with their mobile division. It seems that the approximate loss of almost $2 million a day, which can be attributed to the mobile division, is reason enough to justify its sale. So far none of the other popular mobile companies (LG, Motorola, Nokia, etc.) seem interested in investing in Siemens technologies.
Read More

| Yahoo! News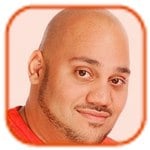 Posted by Andru Edwards Categories: Cell Phones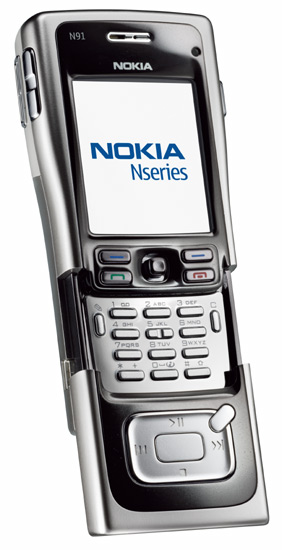 While we continue to wait for the iTunes phone from Motorola to show its face, others are taking a more proactive approach to this whole music phone thang. Take Nokia for example, with their N91. In fact, it almost seems silly to buy an iTunes phone when Nokia's N91 supports the playback of MP3, AAC, WMA, and M4A audio tracks, all of which can be stored on its 4 GB hard drive. Of course, there is the 3.5mm headphone jack, but check this. The phone supports drag and drop over USB 2.0, no fancy syncing software needed. The N91 also supports 3G and includes integrated WiFi and Bluetooth.
Read More

| Nokia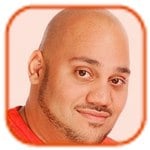 Posted by Andru Edwards Categories: Cameras, Cell Phones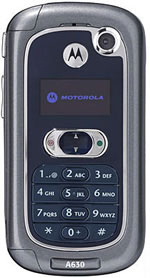 While it sounds surprising, when you think about it, it makes perfect sense. Research firm Strategy Analytics has found that in 2004 there were 257 million camera phone sold, versus 68 million digital still cameras. Camera phones sold four times as well as digital still cameras. Obviously, cell phones are the number one accessory right now. With more onboard memory becoming available, along with higher resolution cameras, digital camera makers are going to have to start rethinking their stance in all this.
Read More

| GigaOm
© Gear Live Inc. – User-posted content, unless source is quoted, is licensed under a Creative Commons Public Domain License. Gear Live graphics, logos, designs, page headers, button icons, videos, articles, blogs, forums, scripts and other service names are the trademarks of Gear Live Inc.