Posted by Sparky Categories: Cell Phones, Portable Audio / Video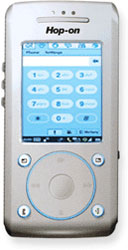 Hop-On - a virtually unknown cellphone manufacturer - launched the biggest iPod phone rip off ever. The Hop-On features a touch sensitive screen, and click wheel control device. The phone is aimed at the MP3 phone market, yet fails to list internal memory to story MP3's on. The Hop-On does manage to have a Mini-SD slot, so at least 1GB of storage will be able to be bought for the phone. Dan Gannon, the CEO of Hop-On, is quoted as saying "Our market research studies showed that this design will be extremely successful" - I wonder if their market research studies also indicated that the design had been patented by Apple computer as well?
Read More

| SlashPhone

Posted by Sparky Categories: Cell Phones, Internet
Are you unhappy with your cell reception? Are you trying to figure out if your new home will have good cell reception? What about the hotel at the resort you are about to head to? Well this new website promises to answer these questions for you. They have obtained information on tower location from the FCC and performed a great Google Maps hack to present you with a birds eye view of any neighborhood and the cell towers it contains. It's great to see so many Google maps hacks emerging after the API was released by Google. We think interactive web applications like this are going to become very prominent in the near future.
Read More

| Cell Reception via BoingBoing

Posted by Sparky Categories: Cell Phones
Motorola just announced the Q - their RAZRberry phone. It looks like the Franklin is upon us - albeit in a slightly different form. The Q features a 240x320 screen, full QWERTY keyboard, and will be the first launched phone running Microsoft's new Windows Mobile 5.0 operating system. The Windows Mobile 5.0 operating system will work out of the box with Exchange, and offer speaker independent voice recognition - a great feature for anyone using a Bluetooth headset. The Q will measure in at 4.6 x 2.5 x 0.45 inches making it a very small handheld - a great form factor for having a high resolution screen and full keyboard. The phone will have individual raised keys unlike the Franklin prototype which will make typing emails and SMS much easier. The Q will feature a 1.3MP camera, Bluetooth, and a MiniSD slot. Because the phone features MiniSD it will theoretically be possible to add WiFi or other technologies to the Q. No word on the data yet - I'm assuming at least EDGE support, but UMTS would be very nice - with an expected Q1 2006 launch date Cingular should have their UMTS network running by then. Aimed squarely at the business customer I can see this email-centric device becoming a solid winner in the marketplace - perhaps even a Treo killer in the Microsoft court.

Read More

| Motorola Q at Slashphone
Read More

| Motorola Q at Phonescoop
—Update—
Read More

| Engadget scores some Q on Treo on 7100v Action - check it out!
Posted by Devin Categories: Cell Phones, Portable Audio / Video
So we reported yesterday that the MOTONOW event held Monday night was supposed to bring forth the unveiling of the iTunes phone, but, like all the all the other events that were scheduled to reveal the Motorola phone, this one was a bust as well. We were however introduced to the Motorola ROKR family, a couple of phones that feature an integrated MP3 player (the one on display was powering the intro. music at MOTONOW). Not many more details are known about the ROKR phones yet- the display was removed immediately after Motorola CEO Ed Zander finished his presentation. So the question still remains…when will the Motorola iTunes phone make its public debut? Stay tuned…
Read More

| MobileTracker

Posted by Sparky Categories: Cell Phones, Handhelds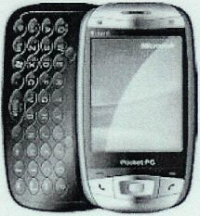 The rumored HTC Wizard has just emerged with a grainy image from a French website. The Windows Mobile 5.0 powered device would have a QVGA screen, 1.3MP camera, and feature GSM, GPRS, EDGE, and Wifi. I was a little surprised to not see Bluetooth on the list, but it is early yet and the specs might change. It looks like this PDA phone will be sized much more like a wide candy bar style phone rather than a large bulky PDA with a supposed size of 4.2 x 2.2 x 0.9-inches. Without Bluetooth or UMTS I'm not sure if this will be a winner or not - but its certainly worth keeping an eye on for a fully featured QWERTY phone.
Read More

| HTC Wizard
Posted by Devin Categories: Cell Phones, Portable Audio / Video

This obviously isn't the first time we've heard the iTunes phone was supposed to be announced, and I don't think anyone is holding their breath this time around, but MobileTracker is reporting that the elusive handset will be announced Monday night at an event called MOTONOW. Rumor even has it that Steve Jobs himself will make an appearance at the event. MOTONOW will be lead by Motorola CEO Ed Zander. If they don't plan to announce the phone at this event, I'd hate to be Zander, being bombarded with questions as I'm sure everyone there will want to know why the phone hasn't been announced yet.
Read More

| MobileTracker
Posted by Alex Grahmann Categories: Cell Phones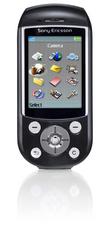 In a move reminiscent of overly-strict high school teachers, the organizers of the Edinburgh Film Festival have announced that they will confiscate every cell phone that is brought to any of the festival's film screening. The decision is intended by the organizers to eliminate the possibility of any festival attendee using their phone to aid the cause of film piracy. On the other hand, the companies presenting films may simply want to avoid subjecting their movies to being captured and shown in the terrible image quality utilized by most phones. I guarantee almost no one would want to see a pirated movie filmed with my Treo 650. Regardless, with the advent and advancement of higher-quality video recording capabilities in mobile devices, we will most likely only be hearing more and more about these types of restrictions.
Read More

| Scotsman

Posted by Sparky Categories: Cell Phones, Handhelds, Internet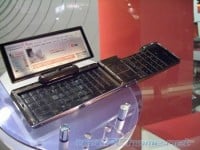 Slashphone has a pic of an interesting concept phone. The thing has an enormous screen for web browsing, and the keyboard folds out to reveal what appears to be a full QWERTY keyboard, trackpad, and a number pad. I'm not sure how practical this would be as a phone, but for a PDA/web browsing terminal on the go I might be interested in one. Not too confident on how I would fit it in a pocket though.
Read More

| Superphone concept

Posted by Sparky Categories: Cell Phones, Internet, Software
Adisasta has jumped on the bittorrent bandwagon by developing a Windows Mobile/Pocket PC bittorrent client. While I do think this is a nifty innovation and surely serves a purpose for someone, I am at a loss as to what most people would use it for. Bittorrent is highly bandwidth intensive and most people are using a PocketPC over a weak WiFi antenna or chained to a mobile phone over Bluetooth. Do they honestly expect people to need to access large bittorent files while on the go? Since bittorrent is usually used for very large files I'm also wondering if they plan to have the users carry around an array of SD cards to store their content on. I read a while back that bittorrent made up 30% or more of internet traffic - will the same be true of tomorrow's 3G cellular networks now? The one faint glimmer of hope for this technology is for Podcasting - it does seem conceivable to me that II might want to grab the latest podcast on the go and that is a small enough file to perhaps make this practical. Well if you do have the need to bittorrent from your PDA then head on over to Adisasta and give them $20 and they will hook you right up!
Read More

| WinMobile Torrent via PC Magazine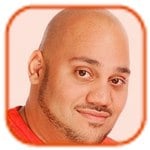 Posted by Andru Edwards Categories: Cell Phones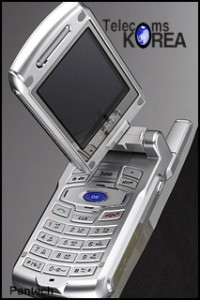 Pantech has launched their PH-S8000T smartphone, the first Microsoft smartphone available in Korea. It ships with Windows Mobile 2003 Second Edition and an Intel Mobile processor. It has a nice 2.2" QVGA (240 x 320) LCD screen, and will be aimed at mobile professionals and multimedia enthusiasts.
Read More

| Telecoms Korea
© Gear Live Inc. – User-posted content, unless source is quoted, is licensed under a Creative Commons Public Domain License. Gear Live graphics, logos, designs, page headers, button icons, videos, articles, blogs, forums, scripts and other service names are the trademarks of Gear Live Inc.