Posted by Kristin Wenzel Categories: Cell Phones, Misc. Tech

On March 8th, a 12 year old girl was walking home from school on a rural road near Yelm, WA when she was blindfolded, bound and dragged into the woods. The kidnapper might have gotten away with it, too, if it wasn't for his cell phone. When it rang, the girl recognized her assailant's unique ringtone and identified him, causing him to run off. She freed herself and went to authorities — the would-be kidnapper is being held on $250,000 bail with a trial scheduled in May. That'll make you think twice about picking out that ultra-unique ringtone if you are considering a life of crime…

Read More

| KOMO News
Posted by John Goulden Categories: Cell Phones, Corporate News, Google, GPS, Portable Audio / Video, Transportation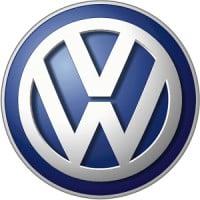 Convergence. It's been one of the holy grails of the electronics industry for quite some time. The idea is simple enough - empower one device to act as a central point of reference for multiple devices and/or incorporate those multiple devices into one mega unit that does it all. Depending on what portion of the industry you look at, the ideal concept of convergence might be a single point of control or reference, for multiple devices. By approaching convergence as a many-to-one scenario, it allows individuals to choose their own devices according to preference or need. Instead of being forced into using an all-in-one device that may not have all the features desired, a control device would simply make use of what devices the user has brought with him or her.
As a case in point, Volkswagen has been working on an automobile computer that takes devices such as the iPod and Treo, and provides a single point of control for them. The concept, named Gypsy, is a separate project from the in-car media center project that Microsoft and Volkswagen introduced at CeBIT. Volkswagen's Electronics Research Lab (ERL) is working with Google to utilize Google Earth as the mapping system of choice, and sees the system as being extensible through the use of widgets. C|Net has an interesting, if lightweight, video of the Gypsy product in action. It only scratches the surface of what is possible, but it brings to mind what will one day be possible. The roadblocks to successfully implement such a wide-reaching device are abundant, but given a common set of communication standards, and a lot of luck, we can hope for the best.

Read More

| C|Net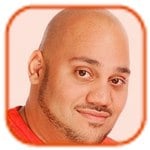 Posted by Andru Edwards Categories: Cell Phones, Features, Handhelds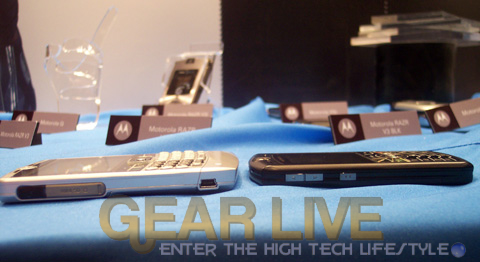 We have received a few messages over the past month or so where you readers have been asking about the thinness of the Motorola Q. We know that telling you the dimensions, which happen to be 4.57" x 2.52" x 0.47", may not exactly make it easy to visualize in your head. To compare it to a phone that is out and available, we took the Motorola Q that we went hands-on with and put it next to the Motorola SLVR. Now, the SLVR is insanely thin, but as you can see in the image above, the Q definitely holds its own in the size area. We will give you more on the Q and the SLVR soon on The Bleeding Edge.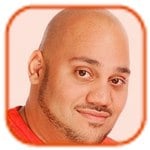 Posted by Andru Edwards Categories: Cell Phones, Design

Motorola has announced that the PEBL will be available in four new colors. If black just isn't your thing, you will soon have the pleasure of choosing from pink, green, blue, or (what we like to refer to as) Gear Live orange. Naturally, we expected to see a pink version, just because Motorola seems to want to make sure all of their unique phones have a version for the female demographic (see pink SLVR) - but seeing the other colors announced actually pleases us.
We've gone from pink to "whoa" - leveraging our leadership in color and design to make the PEBL expressive and refreshing. This is a product you choose because you want it, not because you need it." says Jim Wicks, Motorola VP and Director of Consumer Experience Design.

Read More

| Gadget Candy via Gizmodo
Posted by John Goulden Categories: Cell Phones, Editorial, Features, Internet, Misc. Tech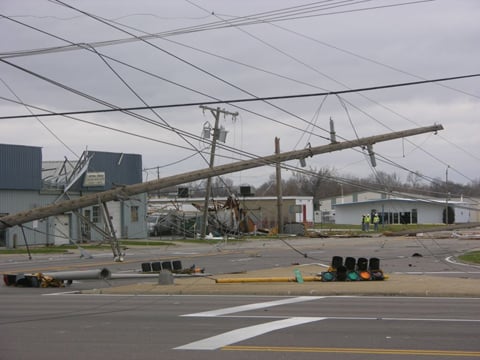 As you may or may not be aware, a severe storm ripped through the Midwest and caused an as-of-yet untotaled amount of damage, as well as personal injury and loss of life. One such city, that in the past seemed immune to tornado-generating storms, is Springfield, Illinois, the state's capital.
A pair of tornados ripped through the city late Sunday night, leaving a trail of destruction in their wake. At one point, most of the city was without power, and there are still areas where electrical service has not been restored (my house being one of those.) Initially the lack of electricity didn't appear to be a big deal till it became obvious that it was not coming back anytime soon.
Click to continue reading Technology Is Wonderful - When It Works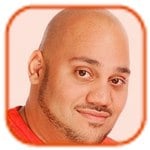 Posted by Andru Edwards Categories: Cell Phones, Corporate News
All you chic guys out there that just had to have that Motorola RAZR, looks like you may experience some regret, starting - now. T-Mobile and Cingular Wireless have pulled the Motorola RAZR from their shelves as of today, citing a defect in the build of the phone. Turns out that part of the phone is faulty, resulting in dropped calls because the phone thinks you have flipped it closed despite your fleeting attempts to continue your conversation by saying "Hello?" at two-second intervals. No recalls are being issued, but if you are experiencing the problem, you can head to a Cingular or T-Mobile dealer for an exchange. If you have the Verizon version of the RAZR, you are in the clear. Sales of the GSM RAZR should resume within a week.

Read More

| Chicago Tribune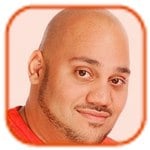 Posted by Andru Edwards Categories: Broadband, Cell Phones, Music, Portable Audio / Video
As it turns out, Shakira's new music video and single Hips Don't Lie (which we can actually vouch for - we have yet to be lied to by any pair of hips) will be debuting exclusively on Verizon's V-CAST network. This will give V-CAST subscribers the jump on viewing the new video, even before any television distribution outlet gets the chance. The package also includes behind-the-scenes footage, ringtones, and the like. The video will be made available to traditional channels at a later date. We expect to see mainstream entertainment hit mobile devices in limited-exclusivity fashion more and more, especially as ultra-portable devices become the norm.

Read More

| TV Envy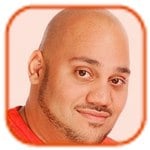 Posted by Andru Edwards Categories: Cell Phones, CES, CES 2006, Features, Podcasts, Software, Video Games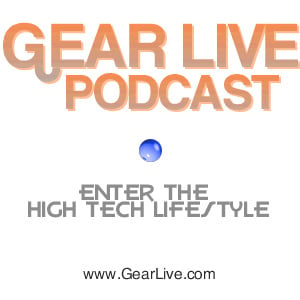 Today we feature the next audio version of our Bleeding Edge video show, featuring:
Here's how to get the show:
|Subscribe| - iTunes
|Subscribe| - RSS
|Download| - Enhanced AAC [Mirror]
|Download| - MP3 [Mirror]
Voices: Andru Edwards, Sparky
Length: 35:25, 17.1 MB

IMPORTANT: We are surveying the listeners of our podcast to see what it is that people like, and more importantly, what they don't like. It is anonymous, and just takes a couple of minutes. If you have the time, we would appreciate it!
Don't forget to vote for us on Podcast Alley! Also, be sure to check out the Gear Live Odeo Channel, and subscribe there are well.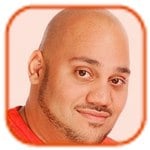 Posted by Andru Edwards Categories: Cell Phones, Corporate News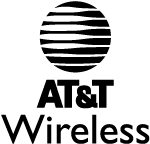 While it isn't officially official just yet, all signs point to AT&T acquiring BellSouth to the tune of $67 billion. The two companies currently jointly run Cingular Wireless, which happens to be the largest wireless provider in the US. With the purchase, gone will be the Cingular Wireless and BellSouth brands. So all you AT&T Wireless subscribers who were re-branded into Cingular customers, it's time to go back. Of course, the potential benefit here is that AT&T can offer a bundle of discounted services, since they offer more than just wireless phone service. The downside to all this is the cutbacks that will take place. AT&T claims that they will eliminate 36,000 positions between 2006 and 2008, stemming from both the original Cingular merger, and the new acquisition.
(Thanks, Benjamin!)
Read More

| NY Times
Posted by John Goulden Categories: Cell Phones, Microsoft, Portable Audio / Video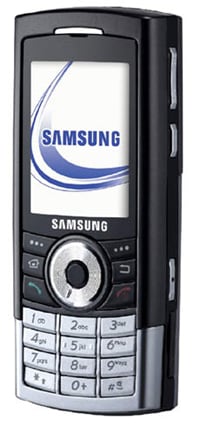 It seems one can barely turn around before a new cellphone has been released to supplant an older model. In this case, Samsung is releasing their SGH-i310 with 8GB of memory and Windows Mobile 5, to replace their 3GB model the SGH-i300. With it's whopping 8GB it can hold 2,000 songs and has dedicated keys for music playback functions. Music features aside, the phone also has a 2MP camera, Bluetooth with A2DP support, a microSD memory card slot, and EDGE.
Scheduled for release to the European market in the second half of 2006, there's a good chance that the phone will make it's way over the big pond and land here in the US. After all, it has EDGE support, and here in the US, that means Cingular.

Read More

| Chosun via Digital Tech News
© Gear Live Inc. – User-posted content, unless source is quoted, is licensed under a Creative Commons Public Domain License. Gear Live graphics, logos, designs, page headers, button icons, videos, articles, blogs, forums, scripts and other service names are the trademarks of Gear Live Inc.