Posted by Chris Cardinal Categories: Accessories, CES, CES 2006, Corporate News, Internet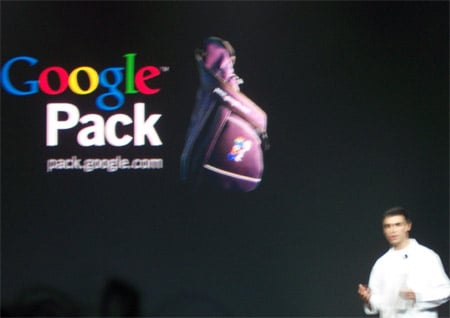 We're live at the Larry Page keynote for Google. We'll do our best to make note of the cool stuff…
4:15 Very cool Google Earth demonstration video, featuring a bunch of National Geographic pictures overlayed, showing sheep and such. And the Grand Canyon.
4:20 Google's Larry Page has come on stage
with
on Stanley, the winning DARPA entry.
4:22 Larry's showing us the results of a collaborative effort with VW to develop Google Earth into a car dashboard… Perhaps this is the beginning of Google in embedded devices…
Now, he's showing us Google Maps on a live cell phone… AJAX over cell? He's showing scrolling on a satellite map. google.com/glm
4:27 I'm noticing Page sounds sort of like Ernie from Sesame Street…
(The rest, after the jump…)
Click to continue reading Live From CES: Larry Page Keynote Address Liveblog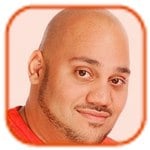 Posted by Andru Edwards Categories: CES, CES 2006, Corporate News, Portable Audio / Video
Okay guys, we are sitting in the auditorium, primed and ready to take in the keynote of Google Larry Page. We just got a peek at the TelePrompter, which an employee shut off when he noticed me trying to grab an image. Anyway, we can confirm that Google will be announcing a paid video download service - the rumors are true. The service will offer a wide range of entertainment, sports and news programming. Users will need to download a Google video player to take advantage of the service. We will have more from the keynote when it starts.

Posted by Chris Cardinal Categories: CES, CES 2006, Peripherals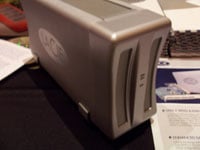 The LaCie "Two Big" [sic] enclosure is pretty fun, and includes two SATA IIe drives in configurations of either 500 GB (total capacity) or 1 terabyte. It's user-configurable with RAID 0, RAID 1, Big Disks or JBOD. (And, although the configuration is set by a dial in the back that requires a screwdriver to change, it's not recommended you go shift from RAID 0 to 1 after you've put your most precious data on it.) Coming in at $470 and $950 for the 500GB and 1TB sizes, it also includes a PCI-X SATA IIe card that lets you plug in and get going right away. It's hot-swappable (although I'm guessing only in a few configurations) and thus, easy to boost the capacity when larger drives come out, even if it does weigh the same as a cinder block. (...almost.)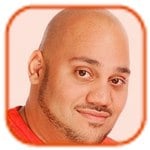 Posted by Andru Edwards Categories: Announcements, CES, CES 2006, Features
Alright peeps, check it. We know that all of those who can't be here want to see as much as they can of the event. That being the case, we just set up a CES 2006 Gallery/Moblog that you can all check out to see what we are seeing. We have just a few things in there now, but we will definitely be updating throughout the rest of the conference with product images, random Vegas musings, and anything else we might want to show (note to self - throw up an image of the "Foldaway Bed of Doom") to y'all.

Read More

| Gear Live Gallery

Posted by Chris Cardinal Categories: CES, CES 2006, Peripherals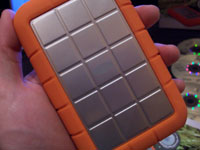 It's true. LaCie announced yesterday a few new drive enclosure systems, including their Rugged Hard Drive (in stunning day-glo orange, above) and their LaCie Two Big SATA IIe RAID system. The Rugged can survive at least a three foot fall (when shut down) and has a nice rubber grip and a neat design. As my Jewish step-grandmother would say, "it's a bit much," coming in at $170 for the 80 GB 5,400 rpm, all the way up to $400 for the 100 GB 7,200 rpm drive. Now to get some gefilte in here to shut my step-grams up. (Another pic, of the rugged's USB 2.0 and FireWire interfaces, after the jump.)
Click to continue reading Live From CES: LaCie Launches—Get This—More External Hard Drives

Posted by Chris Cardinal Categories: Announcements, Cell Phones, CES, CES 2006, Software
Another Showstopper hit, Netomat's hub software really piqued our interest. It's best to watch my interview (above, special thanks to Andru for starting on a frame that makes me look like a giant douche.) for the full scoop on this unique software that launched just last night, but here's the basics: After creating a free netomat account, you are sent their software client to your phone. The phone software works on Java using WAP or GPRS data services, so you don't pay per message. Once you accept the client, it's time to invite some friends to your hub. After your friends join up, quite a few features come out of the woodwork. For one, you're able to see if your friends are online, offline or on a call. Any time you take a picture with your camera phone, with one click, you can send it to everyone in your hub. Using something called WAP push, your friends running the netomat software will instantly receive a prompt asking if they want to see what you're pushing.
Netomat also features some really fun desktop software, including a small system tray-based widget that notifies you on your computer when a post to the hub has been made. Even better, you can quickly and simply drag and drop any RSS feed from your browser to the netomat software and create a hub around it that your friends can subscribe to. You'll receive every RSS clip that comes into the feed, straight to your phone, at your leisure. Additionally, their web site lets you send images from your PC to your hub and lets you see all the activity on the feed. Best of all, it's all free.
Also, be sure to look for our feed to be featured on netomat through an exciting co-branding with them.
Check out the full interview in the video above to get a better feel for how simple and fun the software is.

Read More

| Netomat Hub

Posted by Chris Cardinal Categories: Accessories, CES, CES 2006, Portable Audio / Video
At Showstoppers, an after-CES press-only event, we got some hands on experience with h20 audio's waterproofing kit for the iPod. Offering models for the mini, nano, shuffle and standard iPod, the kit includes a locking mechanism to ensure that no water seeps in, and an innovative scroll wheel that allows you to twist and select even underwater. They say it's perfect for snowboarding, skiing, hot tubbing or even those pleasant bubble baths that the Gear Live staff is so fond of. We interview Kristian from h20 who tells us more about the included waterproof headphones and the price points. (Around $70.00, depending on your pod's size.)
Another still of their display unit submerged, after the jump.
Click to continue reading Live From CES: h20 audio iPod Waterproofing Kit

Posted by Chris Cardinal Categories: CES, CES 2006, Peripherals, Portable Audio / Video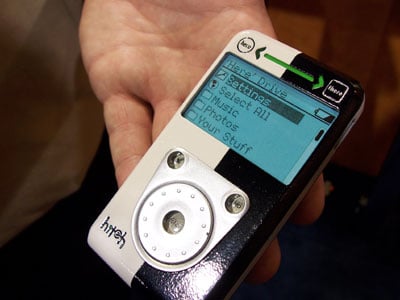 Down in the depths of the South Hall, Sima Products Corporation was telling stories of their forthcoming "Hitch" device. The Hitch allows you to quickly and easily transfer songs, files and photos amongst your myriad iPods, or any other USB device. The Neat: Hitch interfaces with the iPod library so that you can select only the songs you want to actually transfer. The nature of the device also lets you transfer from a digital camera straight to your iPod, from thumb drive to thumb drive or any other crazy combination you can come up with. The anti-neat: It doesn't circumvent FairPlay, Apple's less-than-pleasant DRM solution. Thus, you can't transfer your iTunes songs… However, the box is built on Linux, which means that it's "upgradeable," according to the sales rep, but if you're enterprising enough, you could probably read that as "hackable."
Rumor has it it'll launch on April 1st, to coincide with ThinkGeek's joke last year, the iCopulate. Unfortunately, he said the street price will be around $120-$150, which seems a bit pricey, but useful if you frequently find yourself in the middle of USB ménage-à-trois. You know you like it.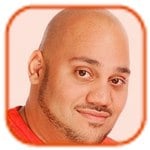 Posted by Andru Edwards Categories: Cell Phones, CES, CES 2006, Features, Portable Audio / Video
The other night we were able to pull a Motorola representative aside to give us the down low on the new ROKR E2 music phone. I guess they were worried that I might snuff the guy, take the ROKR, and run, because another Motorola person had to come along to ensure that no funny business went down. Nonetheless, we were able to get quite a few details about the follow up to the original disappointment. First, the phone runs Linux, which allows for an all new interface. The screen is a nice 320x240 262k color display, and the only limitation to the number of tracks that can be played is the amount of space you have. The phone doesn't run iTunes, so you are free to fill it with all the content you want. Once done listening to those, you can use the built-in FM tuner (with 30 presets) to keep on listening. You can even browse the web using Opera. This is a slick phone. Check the video above for more details about the phone. If you want to download it, look for our new video show that we will be launching after CES.

Read More

| ROKR E2 Product Page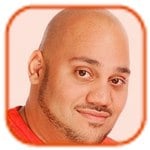 Posted by Andru Edwards Categories: Cell Phones, CES, CES 2006, Features, Handhelds, Wireless / WiFi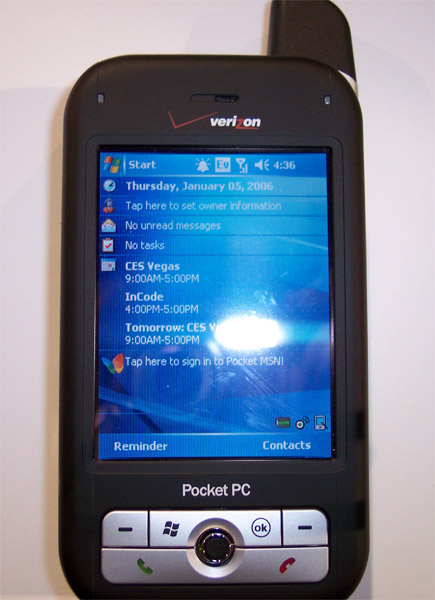 We just got our hands on the new Verizon XV6700 UTStarcom Windows Mobile device. This is the other WM 5.0 device available on Verizon's network, and we are actually quite a bit more impressed with this one than with the Treo 700w, which launched yesterday. This one sports EV-DO, WiFi, Bluetooth, a 2.8-inch 65k color 240x320 display, 1.3 megapixel camera/MPEG-4 camcorder, MiniSD card support, and 64MB internal RAM. It also has a sliding QWERTY keyboard, which when opened, changes the display from portrait to landscape on the fly. The phone is available now to Verizon Wireless Business customers, and will be available to general consumers on January 19th at a price of $299 USD after $100 rebate and a two-year agreement. We have a few more images of the XV6700 after the jump.
Click to continue reading Live At CES 2006: Hands On With Verizon UTStarcom XV6700 Windows Mobile 5 Device
© Gear Live Inc. – User-posted content, unless source is quoted, is licensed under a Creative Commons Public Domain License. Gear Live graphics, logos, designs, page headers, button icons, videos, articles, blogs, forums, scripts and other service names are the trademarks of Gear Live Inc.