Posted by Chris Cardinal Categories: Accessories, Apple, CES, CES 2007, Features, Portable Audio / Video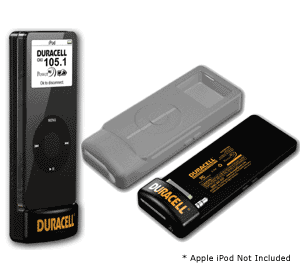 The Duracell PowerFM package is a simple lithium-ion battery expander for your iPod nano or video. It will easily double the battery life for your device, but includes a few cool features that set it apart from similar products in the market already. As per its name, it includes an integrated FM transmitter, that allows you to specify which frequency you wish to transmit on. It also includes a pass-through dock and headphone port on the bottom of it, so you can still use other iPod accessories or charge it in a normal charger/docking station (if its able to accommodate the extra depth). Oh, and they throw in a silicone case for the hell of it, to keep your nano shiny and fresh. My only real gripe with the design is that its emblazoned with DURACELL's copper-top logo, both on the front of the device itself, and on the FM configuration screen itself. It seems to detract a bit from the cool, minimalistic Apple approach, while turning you into a walking battery ad at the same time. Still, integrating FM transmission into a significantly expanded battery life for just $79 is a nice touch. Available now.
Read More

| Duracell Direct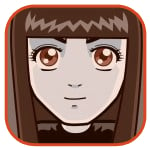 Posted by Sheila Franklin Categories: CES, CES 2007, Home Entertainment, Internet, Misc. Tech, Movies, Music, Video Games, Wireless / WiFi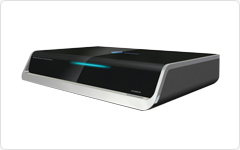 Ubicod has been awarded a CES 2007 Best of Innovation in Home Network honoree with its HDTV STB (set-top box.) Get the Internet anywhere in your home, remotely record your home entertainment center, utilize its live TV playback function, or plug it into your PC or laptop. You can also transfer multimedia files to other A/V devices and create a UTV photo slide show. Just don't ask it to play the violin. The STB supports ATSC (U.S., Canada, Korea, Taiwan) and DVB-T/s (Europe,) and utilizes MPEG-4 encoding.
Check out the UMH700H's demo and contact Ubicod for price and availability.
Read More

| Ubicod via CES 2007 Awards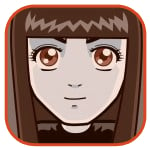 Posted by Sheila Franklin Categories: Accessories, CES, CES 2007, PC / Laptop, Portable Audio / Video, Wireless / WiFi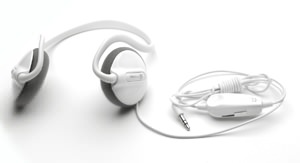 Able Planet has won 6, count 'em, 6 awards at this year's CES. The winning products are:
Clear Harmony Noise-canceling Headphones
Able Talker and Clear Harmony Noise-canceling Wireless Headphones
Able Talker Assistive Listening Device
Clear Harmony voiP Headsets
Clear Harmony Headphones 200 Series
Clear Harmony Gaming Headphones
The devices utilize LINX technology which the company claims enhances sound and speech quality, filters out background noise, reduces distortion, restricts electromagnetic interference, and increases loudn ess perception without increasing volume. Able Planet's headphones/sets can be used in computer and language labs, PCs, stereos, and CD, DVD, and MP3 players.
Read More

| Able Planet via CES 2007 Awards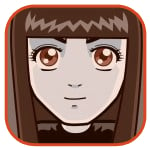 Posted by Sheila Franklin Categories: CES, CES 2007, Misc. Tech, Movies, Music, Video Games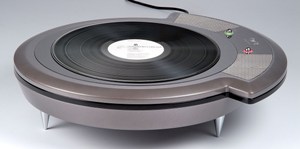 Furutech has won a CES 2007 Best of Innovation award for its deMag, which demagnetizes LPs, CDs, DVDs, game and photo CDs, SACDs, and MDs. It also works on power cords and their connectors, as well as interconnects, to prevent distortion. The deMag measures 19 x 2.7× 18.5-inches and weighs 24 lbs.
The company claims that pigment added to plastic during the manufacturing process causes a minute amount of ferrous material which causes discs to become magnetized. At a price of $1,800.00, check with Furutech for availabilty of its Limited Edition deMag.
Read More

| Furutech via CES 2007 Awards

Posted by Chris Cardinal Categories: Accessories, Cell Phones, CES, CES 2007, Features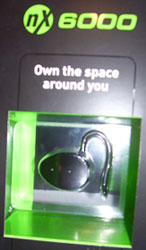 Gennum showed off their newest "extreme noise cancellation" Bluetooth headset, the nX6000. The headset is comfortable and incredibly small and light. It doesn't protrude downward at all from your ear, but maintains some pretty intense, advanced-DSP-based noise cancellation. It'll be available by Q2 of this year and will cost $129.99. With 6 hours talk time and 90 hours standby, it looks to be a nifty solution for using a headset in a very noisy place, or even just on the freeway.

Posted by Chris Cardinal Categories: Cell Phones, CES, CES 2007, Features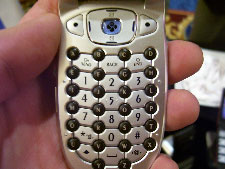 Digit Wireless was also present at CES Unveiled, showing off their innovative approach to cramming a full alphabetic key-set on a regular phone keypad called Fastap. If you haven't seen it already, (it's available on several LG phones, including the LG AX490) the alpha keys are placed as raised buttons in between the numeric keypad digits. The design is intelligent in that, if you try to mash down, say, five of the buttons at once, only the center key will be pressed. It's pretty intuitive, and works with T9. It's a pretty nice solution for budget phones that don't have the complexity for a swivel qwerty-style keyboard, but nothing we haven't seen before.

Posted by Chris Cardinal Categories: CES, CES 2007, Features, Portable Audio / Video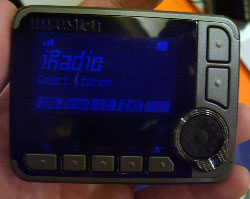 Torian Wireless showed us their InFusion portable internet radio device, for those of you who cannot get enough of… well… I don't really know anyone who listens to internet radio with any regularity. The InFusion supports SD/MMC cards and can play MP3, AAC and OGG, along with a built-in FM radio. Its raison d'état, of course, is internet radio and as such, it has 802.11b (yes, b) support to play back internet radio wherever a Wifi access point exists. It allows for time-shift recording and scheduled recordings, but as far as I'm concerned, podcasts handle this behavior a lot more gracefully, and internet radio is really rather stumbling around and looking for its place. The device itself was a bit awkward, and felt like another also-ran late-coming MP3 player with a low contrast screen that should do a hell of a lot more for the $229.99 asking price. But maybe it'll find its place in Torian's native Australian. I'll be honest: I'm really not sure about internet radio penetration here or abroad.

Posted by Chris Cardinal Categories: CES, CES 2007, Features, Home Entertainment, Wireless / WiFi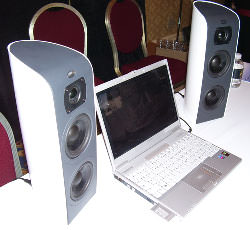 Avega Systems was at CES Unveiled tonight, showing off their Aios Networked Audio Platform. The concept is simple and eloquent: Wi-fi enabled speakers that allow for synchronized playback of music or any other audio source, throughout your house. It sounds a bit like Sonos, and it has its similarities. However, the Aios system is a hardware platform, and Avega won't be manufacturing their own speaker systems. Instead, they're working with several different speaker manufacturers, and you'll likely see Aios-capable speakers in retail channels by mid- this year. Better yet? They say that you'll see two- and four-speaker sets in the sub $200 range.
The Aios platform includes software that allows you to configure your Aios speakers. The system is intuitive—if you add speakers to an existing setup, the software will detect them and let you create a profile for them. Each speaker attaches to the network with its own IP address, and elects a "leader." One of the points that stand out with the Aios system is the incredibly low latency—under 5 ms, which allows for distributed real time DVD playback and gaming, along with some innovative UPnP capabilities, that allow for streaming audio through other devices, like your cell phone, without an active PC on the network.
Some very cool things to look for, and hopefully a relatively affordable, customizable and easily expandable distributed audio solution for your house.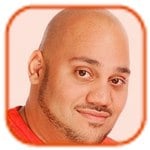 Posted by Andru Edwards Categories: Cameras, CES, CES 2007, Features, HDTV, Home Entertainment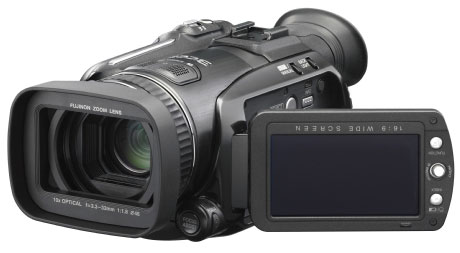 JVC has just given out the details on their HD Everio camcorder. Recording at a full 1920 x 1080i resolution, the GZ-HD7 Everio outputs at a full 1:1 pixel ratio to high definition displays, which in turn results in an even higher quality image. The camera also features three 1/5-inch CCDs, USB 2.0, iLink / FireWire / IEEE 1394, and HDMI. Everios are also known for their built-in hard drives, allowing for tapeless recording. This one doesn't disappoint, as it includes a 60 GB hard drive - not a ton of storage for recording 1080i video, but definitely enough for the average consumer/prosumer. This all comes to you at the price of $1,799.95 USD, and is scheduled for an April 2007 release.
UPDATE: Check out our video look at the JVC Everio GZ-HD7.

Posted by Chris Cardinal Categories: Accessories, CES, CES 2007, Features, Portable Audio / Video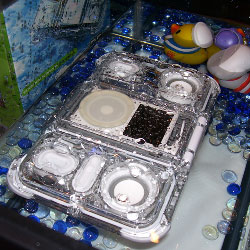 H20Audio has a waterproof case for your iPod, so that you can go snorkling or swim laps at your leisure, with your iPod in tow. Atlantic Inc. showed us their EGO Waterproof Sound Case—A floating, waterproof iPod hard case that includes built-in speakers, driven by four AAs (30 hours of playback time). It floats! And its silicon membrane allows you to control the click wheel with relative ease, straight from the bathtub. Oh, and the speakers spit water up as they bump to your… mad tunes. Or something. It sounded pretty cool, and it would be a fun addition to the above-ground pool behind your friend's house that he got from Sam's Club on discount, in its quirky way. It fits the iPod nano, and the 4th and 5th gen iPods, with inserts that allow you to get a nice, snug fit for each. Available for $130-ish. Soon-ish.
© Gear Live Inc. – User-posted content, unless source is quoted, is licensed under a Creative Commons Public Domain License. Gear Live graphics, logos, designs, page headers, button icons, videos, articles, blogs, forums, scripts and other service names are the trademarks of Gear Live Inc.