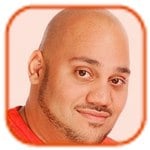 Posted by Andru Edwards Categories: Apple, Features, Internet, Mods / Hacks, Movies, PC / Laptop, Video Games, Videocasts, Wireless / WiFi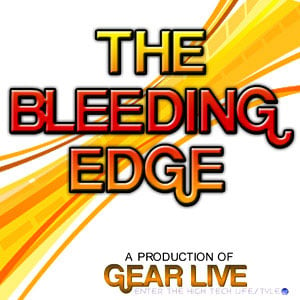 This week we go over PlayStation 3 news, 802.11n, and put the MacBook Pro against the Dual G5 PowerMac:
THE WIRE
PlayStation 3 News
802.11n Interference
Windows XP On Intel iMac
HEAD TO HEAD
MacBook Pro vs Dual G5 PowerMac
GIZMATIC
Archos AV700
Vaja Choice 5G and nano Cases
WEB GEMS
Make My Day DVD Interview: Enter contest here.
GIVEAWAYS
Don't forget - in Episode 005, we told you about two giveaways we are doing on the show. If you didn't see it, go download it to find out how you can enter to win an Xbox 360. Also, we have the results of the OHSO giveaway.
Here's how to get the show:
Subscribe: iTunes iPod / H.264 | iTunes MPEG-4 | RSS iPod Feed | RSS MPEG-4 Feed
|Download| - iPod-formatted H.264 (Mirror)
|Download| - DivX
|Download| - MPEG-4 (Mirror)
|Download| - PSP
Length: 30:58

IMPORTANT: We are surveying the viewers of our show to see what it is that people like, and more importantly, what they don't like. It is anonymous, and just takes a couple of minutes. If you have the time, we would appreciate it! As always, feel free to let us know what you think in the comments.
Here's how to get the show:
|
Download
| - iPod-formatted H.264
|
Download
| - MPEG-4
Posted by Jared Hislop Categories: Apple, Cell Phones, Portable Audio / Video, Rumors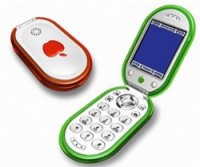 Recently there have been rumors that Apple is planning to release an iPod with phone features, some say within the next few months. Insiders at cell phone maker BenQ say that Apple executives have begun talking to various Taiwanese manufacturers about supplying parts for a new product. Apple has not commented on the possibility of an iPod with phone features. Some market analysts believe that if Apple does go through with its plans for an iPod with phone features, that it will have the biggest impact on Motorola, the leading cell phone maker in the United States.

Read More

| SmartHouse

Posted by Kristin Wenzel Categories: Apple, Internet, Music, Software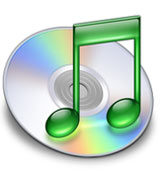 Ever wonder how it is exactly that iTunes works? Well, we have your hookup — no need to wonder any longer. HowStuffWorks has published a complete, exhaustive, in-depth article explaining in detail how iTunes actually works.
The iTunes Music Store is composed of XML-based pages, lots of them encrypted using 128-bit AES in CBC mode. AES-CBC is a type of symmetric-key encryption. AES ("advanced encryption standard") basically takes a 128-bit block of code and reorganizes it into a 128-bit block of "ciphertext" using a particular key (an encryption algorithm). CBC mode ("cipher block chaining") is a method of disguising any encryption patterns that might reveal the key.
It's really quite an interesting read, covering all the aspects of what iTunes does, how it works, and why. Great for the inquisitive mind, the Apple geek, or anybody with an inquisitive nature.

Read More

| HowStuffWorks
Posted by John Goulden Categories: Accessories, Apple, Portable Audio / Video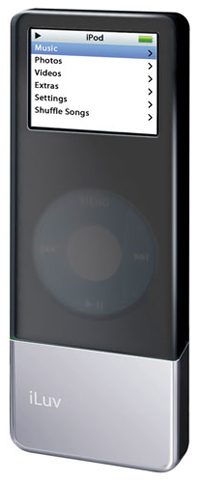 Apple's iPod nano was a runaway hit when it was released, combining small dimensions with an LCD and their intuitive interface. Even the battery life is pretty good at around 14 hours, but sometimes that's just not good enough. There are external battery packs for just about all of the iPod lineup but most add on so much extra in the way of physical dimensions that they're simply annoying. iLuv has a series of add-on battery products for the iPod nano and video models that use Lithium Polymer batteries to radically increase their battery life. The best part about them, especially for a small player like the nano, is that they're diminutive as well.
Each version comes attached to a silicon case for your iPod, and matches the width and depth of the player they're designed for. In the case of the nano, there are two versions available with total battery capacities of up to 36 hours and 56 hours (including the stock battery), and each includes pass-through ports for the dock connectors and headphone jack. The silicon sleeves come in four colors as well including black, white, pink and blue.
The 36-hour i601 retails for $59.95 USD and the 56-hour i602 is $65.95. Both products are currently available.

Read More

| iLuv via productdose.com
Posted by John Goulden Categories: Accessories, Apple, Portable Audio / Video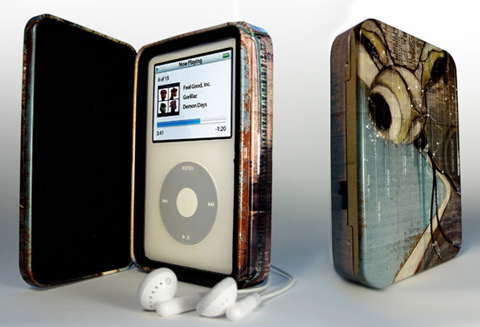 A popular case for the iPod nanos (and shuffles) when they first arrived, was a modified version of the ever handy Altoid's tin. The size was just right, and they made for a discrete way to cart the iPod around. Of course, not everyone wants to make their own carrying case, and some prefer something with a bit more panache, and that's where the Tinpod enters the scene. The Tinpods are lined with 3mm of neoprene to protect and cushion your iPod (3G, 4G and 5G), have ports for your headphones, and come in three different graphic patterns. Each pattern is part of a limited edition set with only 5,000 of each available.
Not as inexpensive as an Altoid tin, but arguably more appealing. Available now for $16.95 USD each or get a pair for $29.95.

Read More

| Tinpod via Techie Diva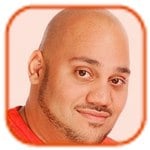 Posted by Andru Edwards Categories: Accessories, Apple, Portable Audio / Video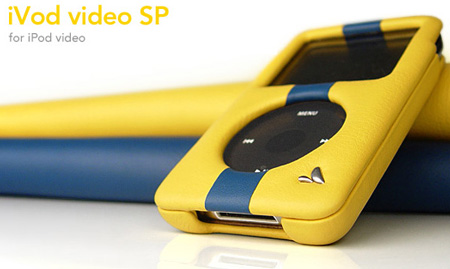 Vaja has just announced their new iVod Video SP case for the 5G iPod and iPod nano. The only difference between the SP and the standard iVod Video case is the color scheme layout. The standard version allows you to have two different colors for the front and back of the case. On the SP, the front and back are the same color, but you get to choose an alternate color to use as a racing stripe that goes down the front of the product. Yeah, it's sporty, but is it worth the extra $20 USD above the standard version? There lies your conundrum.

Read More

| Vaja Choice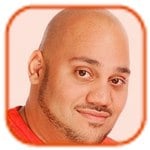 Posted by Andru Edwards Categories: Accessories, Apple, Design, Portable Audio / Video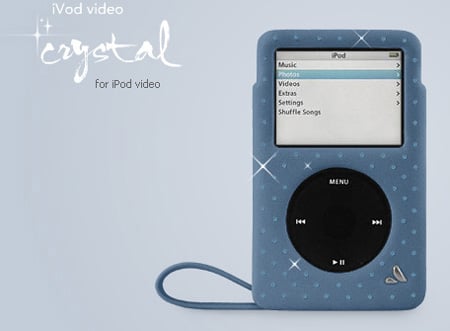 The iVod Video Crystal is the latest high-end iPod case from our friends over at Vaja. Available in ten unique color combinations (for both the leather and the crystals,) the iVod Video Crystal is a sturdy leather case for your 5G iPod or iPod nano. These cases feature Swarovski crystals encrusted into the leather, a leather strap with silver appliques, padded interior, and access cutouts enabling the usage of all ports and touch functions. Of course, glamor does come at a price - in this case, $340 USD.

Read More

| iVod Video Crystal Customization Page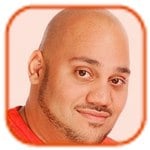 Posted by Andru Edwards Categories: Apple, Microsoft, Mods / Hacks, Software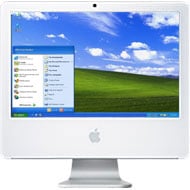 We had a few people write in who were salivating over the video we posted yesterday of Windows XP being installed and running on an Intel iMac. Your wait is over, dear friends. narf2006 and blanka have claimed the championship, and will soon be the proud recipient of $13,854. In the meantime, you can download the instructions and files needed to get Windows XP up and running on your Intel-based Mac (be it an iMac, MacBook Pro, or mini) here.

Read More

| XP on Mac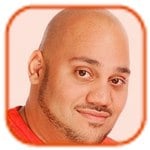 Posted by Andru Edwards Categories: Apple, Microsoft, Mods / Hacks, Software
So, narf2006 seems to have cracked the code, so to speak, on getting Windows XP to run on an Intel Mac. Using one of the new iMacs, narf recorded a video of the installation of Windows XP, followed by the rebooting of the platform, creating user accounts, logging in, and checking out the Device Manager. We must say, this one is very convincing. He goes out of his way to prove that this is authentic, and has sent his instructions to Colin Nederkorn (who has raised over $10,000 to award to the first person to get this figured out.) Once they are validated, and the check is cut, we can all hack up our iMacs to dual boot, despite all the roadblocks we have faced.
Back to reality for a moment. We don't see what the practical, real-world benefit of this is. In our offices, we have Macs and PCs right next to each other. If we need to get to something in the other OS, there is no need to shut down, and reboot. What we need is a version of Virtual PC that is fast, and runs on the Intel Macs. Better yet, we need to be able to run Windows programs on the Mac. When that happens, give us a call. We will squeal like schoolgirls.

Read More

| OnMac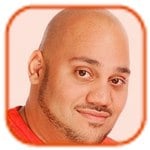 Posted by Andru Edwards Categories: Accessories, Apple, Mods / Hacks, PC / Laptop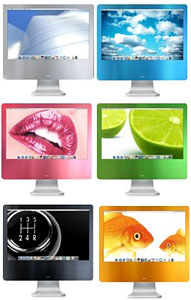 Apple fans do know that there really isn't much variety as it pertains to the color of their desktop computers. In the past, if you wanted to add stunning color to your iMac, ColorWare PC happened to be your only option. We have talked about ColorWare's service in the past, and we have been genuinely impressed. However, getting them to paint your iMac will run you over $400. Instead, why not go the cheap man's route? Mactallic aims to pretty up your iMac using overlays that are available in silver, blue, pink, green, black, and orange. The price is $39.95 for the 17-inch iMac, and $44.95 for the 20-inch iMac.

Read More

| Mactallic via
Gizmodo
© Gear Live Inc. – User-posted content, unless source is quoted, is licensed under a Creative Commons Public Domain License. Gear Live graphics, logos, designs, page headers, button icons, videos, articles, blogs, forums, scripts and other service names are the trademarks of Gear Live Inc.