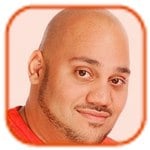 Posted by Andru Edwards Categories: Apple, Mods / Hacks, PC / Laptop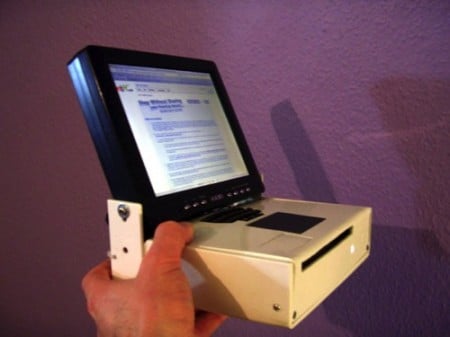 When you want to take your computer on the go, unless you have a notebook, your options are pretty limited. I mean, do you know anyone that could hook you up with the Pimp My Ride guys so that they can take your Dell Dimension and throw it into the back of your vehicle? Neither do we. Instead, one must get creative. With the immediate freebie that the Mac mini offers of having an insanely small chassis, Peter Green took it to the next level, by incorporating a screen and battery solution, making the Mac mini a portable powerhouse. Yeah, it is certainly huge, but that is all relative. Why not just carry around a MacBook Pro? Well, it just isn't as cool.

Read More

| MMP MkII
Posted by Jared Hislop Categories: Accessories, Apple, Peripherals, Portable Audio / Video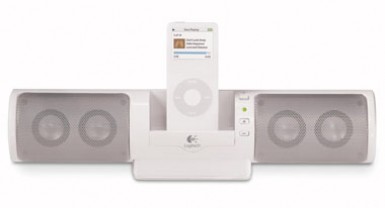 Logitech's new cylindrical portable iPod speakers are due out next month. The speakers are designed to provide up to 10 hours of playback off of 4 AA batteries. An AC adapter will also be provided in case you want to leave the unit on a shelf. Logitech has branded this speaker system the mm32, and this unit measures 28.5cm long by 6cm in diameter. Basically this device has cylindrical speakers on either side of a cradle capable of recharging your iPod. The speakers receive sound via the iPod's headphone socket, and Logitech claims that with some creative cabling other MP3 players can use the speakers. The mm32 will be available in black or white, and is expected to retail for $80.00 USD.

Read More

| Reg Hardware
Posted by John Goulden Categories: Apple, Microsoft, Mods / Hacks, Software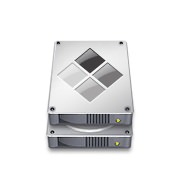 Recently we brought you word that Apple had released software enabling Windows XP to be installed in a dual-boot configuraiton on Intel-based Macs. Shortly after the release, some enterprising users had successfully installed Linux as well. Fast forward a few more days, and a couple of industrious individuals have coaxed Boot Camp into installing Vista. In one case, the EFI partition that Boot Camp creates had to be deleted, and in the other, all of OS X. So, no dual boot for now, but we suspect it's only a matter of time.
Considering the rate of progress, the next thing you know they'll be installing operating systems that don't even exist yet. Oh wait, that's Vista.

Read More

| OSx86 project via Personal Tech Pipeline
Posted by Jared Hislop Categories: Apple, Design, Software
The iAlertU is like a car alarm, but for your MacBook Pro. The product uses an IR remote, special software for your Mac and the MacBook Pro's built-in motion sensor. Basically, you arm your MacBook by pressing a button on the remote, and the computer chirps twice to notify you the alarm is armed. If a would be thief comes along and attempts to tamper with - or take - your MacBook, the alarm goes off. Not only is the alarm pretty loud, the screen flashes too! The alarm can't be disabled without a special pass code or the IR remote (or, perhaps, turning the Mac off?). While there is currently no pricing set, you can check out a video of the product in action above.

Read More

| iAlertU
Posted by John Goulden Categories: Apple, Corporate News, Microsoft, PC / Laptop

Apple has quietly released the beta version of Boot Camp, a software package that allows its new Intel-based systems to run Windows XP. The next major revision of Mac OS X, v10.5, will have the software incorporated into it, and therefore the beta software will only work for a limited time.
The software doesn't act as an emulator but allows Windows XP to run natively, thereby reducing any bottlenecks and performance issues. It works by creating a partition on the hard drive just for Windows XP, and includes all of the required drivers thereby making the install much easier than the unofficial methods that are currently floating around. A graphical interface walks the user through the process of creating the partition and burns the drivers to a CD/DVD. Upon completing the install, users will have the option of dual-booting into either Windows XP or OS X.
Requirements for Boot Camp include the obvious Intel-based Mac, plus a USB keyboard and mouse (or integrated keyboard/trackpoint for laptop users), Mac OS X v10.4.6, the latest firmwares, 10GB of free space, one blank CD/DVD, and Windows XP Home or Professional with SP2 or later.
"We think Boot Camp makes the Mac even more appealing to Windows users considering making the switch" said Philip Schiller, Apple's senior vice president of worldwide product marketing. Indeed, this may be just the impetus that some Windows users were waiting for.

Read More

| Apple via Computerworld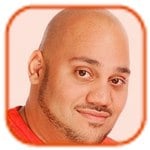 Posted by Andru Edwards Categories: Apple, PC / Laptop, Product Reviews, Software, Videocasts
Technorati Tag: videobloggingweek2006
In this Bleeding Edge Byte, David Geller of WhatCounts.com invites us to his office to show off his new MacBook Pro. While playing around with the machine, we decided to put it head-to-head against his Dual G5 PowerMac to see which computer would come out on top. We set up both Macs to compile Java, and filmed the results. This is the full version of the edited clip that was a part of Bleeding Edge Episode 7.
Here's how to get the show:
Subscribe: iTunes iPod / H.264 | iTunes MPEG-4 | RSS iPod Feed | RSS MPEG-4 Feed
|Download| - iPod-formatted H.264 (Mirror)
|Download| - DivX
|Download| - MPEG-4 (Mirror)
|Download| - PSP
Length: 06:17

IMPORTANT: We are surveying the viewers of our show to see what it is that people like, and more importantly, what they don't like. It is anonymous, and just takes a couple of minutes. If you have the time, we would appreciate it! As always, feel free to let us know what you think in the comments.
Here's how to get the show:
|
Download
| - iPod-formatted H.264
|
Download
| - MPEG-4
Posted by Jared Hislop Categories: Apple, PC / Laptop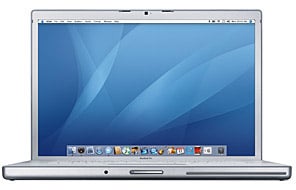 Several early adopters of the Apple MacBook Pro have been noticing issues with their new machines. The first problem users are complaining about is that AirPort does not automatically rejoin a preferred network after waking up from sleep mode. Also, at the lowest screen brightness setting, the LCD's backlight flickers noticeably. That not enough? How about a high-pitched squeal coming from the processor and/or the LCD? Finally there is an issue with heat, which can result in the MacBook being too hot to handle. Apple has admitted to the issues and has begun replacing mainboards in affected units. Apple is also rectifying the situation by replacing units that the recommended fix does not solve. Starting with revision D (serial number W8611), Apple states that these problems should be a thing of the past. If you are experiencing any issues, they will replace your unit with one of the newer models.

Read More

| Daily Tech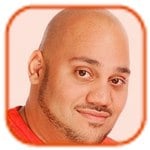 Posted by Andru Edwards Categories: Apple, PC / Laptop, Software

Apple has just released an update to Mac OS X. Apple users can fire up Software Update to download 10.4.6. If you are on a PowerPC machine, the download is 45.3 MB. Those on newer Intel-powered Macs get a 108 MB download. Here are the version notes:
The 10.4.6 Update is recommended for all users and includes general operating system fixes, as well as specific fixes for the following applications and technologies:

- login and authentication in a variety of network environments
- file access and byte range locking with AFP file sharing
- network access when using proxy server automatic configuration files
- connecting to Cisco VPN servers using IP/Sec
- using Bluetooth wireless devices
- searching iWork '06 and Microsoft Office documents with Spotlight
- saving Word documents automatically when using a network home directory
- creating Automator workflows for iPhoto 6
- synchronizing contacts and calendars to .Mac and mobile phones
- mounting and unmounting iDisk volumes
- compatibility with third party applications and devices
- previous standalone security updates

Read More

| OS X 10.4.6 Notes
Posted by John Goulden Categories: Accessories, Apple, Portable Audio / Video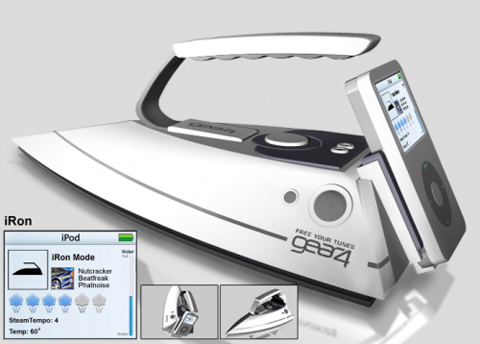 The Gear4 Store has an iPod accessory for sale that positively has to be an early April Fool's joke. The iRon is a clothes iron and iPod dock all rolled into one. A cradle on the back of the iron accepts all iPod models (except for the Shuffle), and 6-watt stereo speakers pump out the tunes. The reason the Shuffle isn't supported is because all iron controls are accessed using the iPod's interface and LCD screen. Water level, battery life and temperature are shown on the LCD and steam control is handled by "SteamTempo". SteamTempo is a unique process that ties in with your choice of music where soft, smooth music delivers low amounts of steam and tracks with heavy bass delivers lots of steam. The iRon comes with a travel case and doesn't requires batteries or recharging.
Why do we believe this to be a fake bit of kit? Let us count the ways:
It's a ludicrous concept.
It's supposed to use the battery on the iPod for power. Yeah, right.
Gear4 can't seem to decide whether the speakers are 2 x 3-watt or 2 x 6-watt.
The product picture is a render. Real products deserve real pictures.
The real clue? The price. £104.06 (1st of April 2006)
It'll be interesting to see what other "real" products are introduced today that sound too good (or too stupid) to be real.

Read More

| Gear4 Store via MobileWhack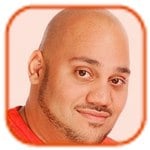 Posted by Andru Edwards Categories: Apple, Corporate News, Internet, Portable Audio / Video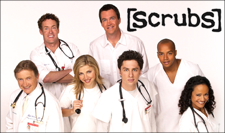 For those keeping tabs, Scrubs is now the latest show that is available for purchase on the iTunes Music Store. While there is no Season Pass option as of yet, you can purchase Season 5 episodes starting now. The back story on this one is unique as well, since NBC has made the Touchstone Television (owned by Disney-ABC) produced series available on the Internet. This marks the first such partnership for a prime-time series to be made available for commercial purchase via download. Snazzy.

Read More

| TV Envy
© Gear Live Inc. – User-posted content, unless source is quoted, is licensed under a Creative Commons Public Domain License. Gear Live graphics, logos, designs, page headers, button icons, videos, articles, blogs, forums, scripts and other service names are the trademarks of Gear Live Inc.