Posted by Edwin Soto Categories: Apple, Corporate News, Software
Steve Jobs and the gang are busily working on the next build of 10.4, but that's not stopping them from advertising the fact they need some help with the next version of Finder. That is, the one for OS X 10.5, or Leopard. This ad was published on Apple's site:
- Participate in all of the various stages of feature development from design brainstorms, through feature development, all the way to fixing that last critical elusive bug under a tight release deadline.
- You will be required to produce clear designs, excellent implementation and tight code.
- Deliver tight, well implemented features, fix bugs and develop Finder into the best file browser on the planet.
- Work on performance and responsiveness of the Finder, making it feel lightweight, fast, snappy and pleasant to use.
Mac Rumors tell us that one of the things that have been said about 10.5 is "extensive use of Spotlight alongside an improved user interface and performance improvement." My application was just rejected because they said I was a "fanboy."

Read More

| Apple via Mac Rumors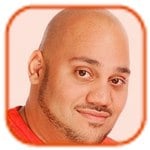 Posted by Andru Edwards Categories: Apple, PC / Laptop, Product Reviews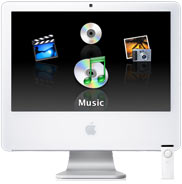 I have had a 2.0 GHz Intel Core Duo iMac for a 7 days now. A few observations:
The stock 512 MB RAM was not enough to keep up with my tasks - that being 15 or so Safari tabs open, iTunes, iMovie, and Garageband open and doing their thing, plus Photoshop, Mail, and NetNewsWire open as well. I know, I am not the "average" user. Truly, even with just the browser and Mail open, I felt the lag. Impressively though, on the G5 my processor would run at about 60% (with 2 GB RAM) when I had all that running. With the 512 MB RAM, the processor was running at 16%. Amazing.
Yesterday I upgraded this thing to 2 GB RAM. It FLIES. I am more than impressed. iMovie and ffmpegx encode video swiftly compared to the G5. You would not believe how many applications I have open right now. In addition to the ones listed above, I also have Adium, Transmit, Windows Media Player, Quicktime, and ffmpegx all running. I have tons of windows open (the 20″ screen makes this manageable). My processor is currently running at 17%! Unreal. I have about 120 MB RAM available as well.
Really - the new iMacs are a thing of beauty if you need an elegant workhorse of a PC.

Posted by Kristin Wenzel Categories: Apple, Wearables, Design, Misc. Tech, Portable Audio / Video, Toys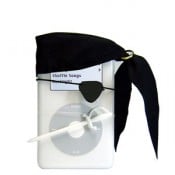 We really thought we'd seen just about everything - we were wrong. We came across iAttire, a company devoted to outfitting…your iPod. Their selection ranges from the feminine to the masculine, from the cute to the absurd, and there's a costume to fit any iPod - even the Shuffle and Nano. These aren't the silicone wetsuits you're used to - these are actual, honest-to-goodness costumes for the iPod, including a whole line of "Valentines Day" themed outfits like a chiffon negligee, boxer shorts, or even a corset.
The rest of the line covers just about every fashion you'd think to, er, dress your iPod in, from Pop Diva to Fairy Princess. And for the boys (is your iPod a boy or a girl?) there are a variety of manly disguises, like the Pirate, Cowboy and even Santa Claus - and here we were, thinking the iPod madness couldn't get any crazier. We'll give points for creativity and good fit, however, who'd have thought to make iPod costumes?!
The best part? They're planning on releasing a series of iPod Portraits painted on velvet. Oh, the cheese of it! While my iPod is perfectly happy lounging about naked (that perverted iPod!), we've got to admit, iAttire has a great idea - it sure brought a smile to our faces.

Read More

| iAttire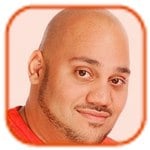 Posted by Andru Edwards Categories: Apple, Corporate News, PC / Laptop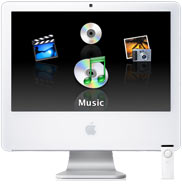 Earlier today, in addition to the new MacBook Pro, Apple announced the first desktop Mac to take advantage of the Intel Core Duo chip - the iMac. While a lot of the hardware remains the same, the G5 processor has been replaced by the Intel Core Duo, which runs at either 1.83 GHz or 2.0 GHz. The new iMacs also feature an ATI Radeon X1600 graphics processor, and keep the built-in iSight camera. The iMacs are available in 17 and 20-inch models, and now include the newly announced iLife '06. You can pick up the 17-inch 1.83 GHz model (160 GB drive, 512 MB RAM) for $1,299 USD, while the 20-inch 2.0 GHz version (250 GB drive, 512 MB RAM) sells for $1,699 USD.

Read More

| iMac Product Page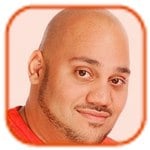 Posted by Andru Edwards Categories: Apple, Corporate News, PC / Laptop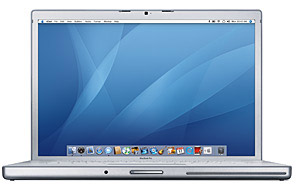 During today's MacWorld keynote, Steve Jobs let the world know that they had been trying to showhorn a G5 processor into the PowerBook for quite some time, only to fail miserably due to the way the G5 consumed power. That being the case, Jobs announced the official end of the PowerBook line. In its place comes the MacBook Pro, powered by an Intel Core Duo processor. According to Jobs, the MacBook Pro is the thinnest and fastest Mac notebook ever. It runs 4-5 times faster than the G4 PowerBook, and is just 1-inch thin. The unit also features a 15.4-inch widescreen display that is said to be as bright as the cinema displays, as well as an iSight built right in to the unit. Rounding it out, you also get an IR sensor with remote, Front Row software, and a new magnetic power adapter technology called MagSafe. Basically, if someone trips over your power cord, the cord will just pull right off, rather than taking your notebook to the ground. As far as pricing, the 1.67 Core Duo with 512 MB RAM, 80 GB hard drive, and 4x SuperDrive will run you $1999 USD. The faster 1.83 GHz model will go for $2499 USD. Both are available to order today, and will ship in February.
© Gear Live Inc. – User-posted content, unless source is quoted, is licensed under a Creative Commons Public Domain License. Gear Live graphics, logos, designs, page headers, button icons, videos, articles, blogs, forums, scripts and other service names are the trademarks of Gear Live Inc.