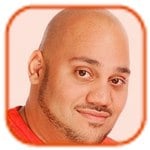 Posted by Andru Edwards Categories: Apple, Corporate News, Design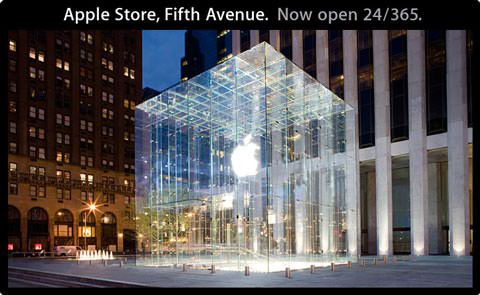 If you are in New York City, you owe it to yourself to head on down to the new Fifth Avenue Apple Store. Apple's new flagship retail location opened for business just a couple of hours ago, and it is a beauty. Customers braved horrible weather to be one of the first to enter the magical glass cube, including guests from as far away as Scotland. Aside from the glass cube structure, the other unique feature of the store is that it is mostly underground. The subterranean levels feature iPod, Mac computers, and a large array of accessories for customers to mess around with before they buy. The Genius Bar will have dedicated Studio and iPod sections with full-time staff of 96 people available to help. The store will be open 24 hours per day, 365 days per year.
As for the glass - let's just hope that the Apple Store Fifth Avenue isn't as prone to scratches as the iPod, kay?

Read More

| Apple Store Fifth Avenue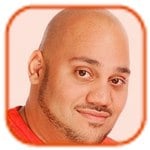 Posted by Andru Edwards Categories: Apple, Corporate News, PC / Laptop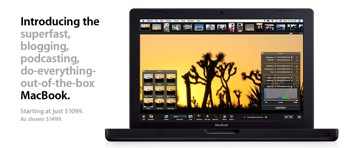 Apple has unveiled the second-to-last computer in their hardware line to transition from PowerPC to Intel architecture (unless, of course, you count Xserve.) The consumer-level MacBook has replaced the aging iBook line, and for the price, it look impressive. The MacBook has an Intel Core Duo processor that clocks in at either 1.83GHz OR 2.0GHz depending on your configuration. The screen is 13.3-inches and sports a glossy finish. According to Apple, the screen is 79% brighter and has 30% more viewing area that the iBook did. Not too shabby. The product is rounded out by Front Row, the Apple Remote, built-in iSight, and MagSafe power adapter. The MacBook is available in three configurations. You can get the 1.83GHz model with a combo drive for $1099, or the 2.0GHz version with a SuperDrive for $1299. There is also a black-colored model that sells for $1499 and includes an 80GB hard drive - an upgrade from the standard 60GB drive found in the other models.

Read More

| MacBook Product Page
Posted by John Goulden Categories: Apple, Microsoft, Software

In a move that will disappoint some users, and leave others caring not one whit, Apple has closed down the ability to roll your own kernel for the Intel-based build of OS X. This news comes purportedly from Apple's fear of piracy, which sadly seems justifiable when one looks at how quickly the Intel version spread in the wild.
Macworld had the following not-so-encouraging words to say on the subject (Note: my emphasis). "The Darwin open source Mach/Unix core shared by OS X Tiger client and OS X Tiger Server remains completely open for PowerPC Macs. If you have a G3, G4, or G5 Mac, you can hack your own Darwin kernel and use it to boot OS X. But if you have an Intel-based Mac desktop or notebook, your kernel and device drivers are inviolable. Apple still publishes the source code for OS X's commands and utilities and laudably goes several extra miles by open sourcing internally developed technologies such as QuickTime Streaming Server and Bonjour zero-config networking. The source code required to build a customized OS X kernel, however, is gone. Apple says that the state of an OS X-compatible open source x86 Darwin kernel is 'in flux.'"
As a Windows user, the remote possibility of OS X being available for non-Apple hardware was only intriguing as something to tinker with. Windows is my platform of chioce because it's what I'm comfortable with, it runs all of the software I need/want, and there's no impetus to make me migrate to something new. However, Apple's hardware is a different story with its sleek lines and fantastic build quality, and it's that portion of Apple's business model that will drive new growth for them in the years to come.

Read More

| Macworld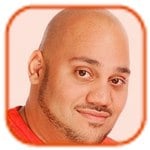 Posted by Andru Edwards Categories: Apple, Features, PC / Laptop
So, the Gear Live crew is back from E3, and we hope you enjoyed the coverage we have brought you thus far. You can look forward to a bunch more video footage over the coming week. For now, I wanted to let you guys in on a horrible Apple Store customer service experience I had a few weeks ago, and how the LA Grove Apple Store went above and beyond to fix it. During E3, my MacBook Pro went belly up, and I was left with a useless computer at one of our biggest coverage events of the year. Below is the email I am sending to the LA Grove store, as well as the Seattle store that I made the original purchase at:
Dear Grove and UV Apple Store staffs,
I recently had encounters at your stores that I wanted to tell you guys about.
I live here in Seattle, and frequent the University Village Apple Store often, spending probably close to $8-10,000 per year on Apple products. I am one of your bleeding edge consumers who knows the ins and outs of all Apple products, probably before the stores know about them themselves, as I am also a CEO and journalist who has close ties to Apple PR and has attended multiple Steve Jobs keynotes.
Click to continue reading A Horrible Apple Store Experience Turns Good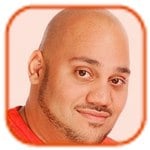 Posted by Andru Edwards Categories: Apple, Internet, PC / Laptop, Rumors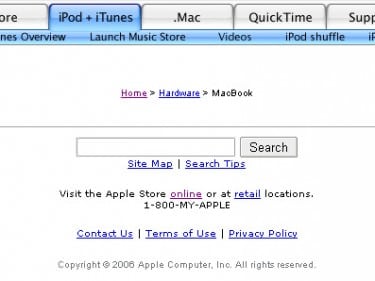 Someone over at Apple may have let the cat out of the bag as it pertains to what everyone believes will be the Intel replacement to the iBook line. Earlier this morning, if you went to the official iPod product page at http://www.apple.com/ipod/, instead of being blasted with an iPod silhouette, you would instead see a mostly empty page with a breadcrumb featuring the MacBook. Notice - there is no "Pro" verbiage anywhere. Even better, MacRumors is saying that Apple retail stores are getting signage that is marked with "Do not open until Tuesday, May 9th." Are the new MacBooks upon us?

Read More

| MacRumors
Posted by John Goulden Categories: Apple, PC / Laptop, Rumors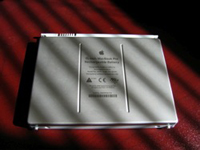 Amid a handful of other oddities that seem to be causing havok among the ranks of MacBook Pro owners, comes a new issue relating to the battery. As per Christopher Price, "Symptoms of battery failure include battery cutting off power to the system at very early stages, sporadic ampere hour reporting (coconutBattery), and the battery failing to respond when pressing the charging status button (after being charged and only slightly drained)." AppleCare has allegedly indicated that there is a known issue with early MacBook Pro batteries and are cross-shipping replacements to customers with afflicted laptops.
The problem is said to potentially effect only MacBook Pros shipped during the first two weeks or so of production, with serial numbers up through W8608. Keep in mind that Apple is quite mum on the subject, and there is no word on how widespread the problem may be. While other sites are happy to imply that a "silent recall" is in the works, the reality of the situation is, if you don't currently have a problem there is no problem and Apple will disavow any knowledge of the aforementioned issue.

Read More

| Christopher Price via ZDNet
Posted by John Goulden Categories: Apple, Corporate News, Handhelds, Portable Audio / Video, Wireless / WiFi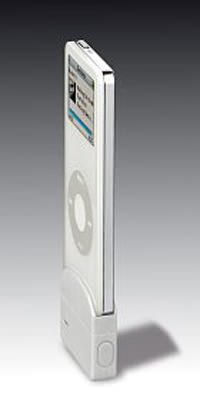 When you've got a sleek, lightweight audio player like the iPod nano, you don't want to clutter it up with all kinds of bulky or cumbersome attachments. That's why the ANYCOM Bluetooth adapter, dubbed the BluNa, is so nice. Weighing only 10 grams, the BluNa slips onto the bottom of the nano, adding a negligible amount of length, and provides Bluetooth audio support in the form of A2DP and AVRCP profiles. The BluNa gets its power from the nano, which is good for weight savings, but will diminish your battery life to some degree.
Available in June 2006 for approximately $100 USD.

Read More

| ANYCOM via I4U News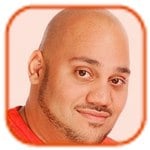 Posted by Andru Edwards Categories: Apple, PC / Laptop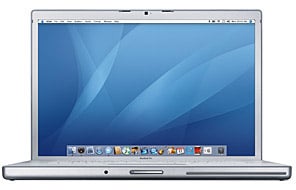 Apple loyalists are passionate, devoted people. When Apple makes a great product, their fan base support shines in a way that rarely happens for any other company. However, when Apple messes up, their buyers are just as passionate about making sure the company steps up to the plate to fix the issues. The latest problem to arise the whining MacBook Pro. Yeah, despite Apple's lame attempts to cover up the problem simply by stating that the decibel level of the noise is "within spec," a smart consumer can tell otherwise. Hell, we are on our third MacBook Pro here at Gear Live because of the problem. On May 20, MacBook Pro owners plan to unite, declaring that the official "End The Whine" campaign is in full effect. Buyers plan on calling Apple support to let them know what they think of the whine, with the goal being that if thousands upon thousands call on that one day, Apple will be forced to deal with the issue.
On May 20th, everyone with a MacBook Pro that has whining and heat issues should call Apple Support and tell them about it. If thousands of affected MBP owners call on the same day on the same topic, Apple will be forced to address the issue (not to mention the press such an effort will get!). There is safety - and problem solving - in numbers. A unified group of concerned MBP owners will get the attention of those in charge.
Yeah - we are so there.

Read More

| OSx86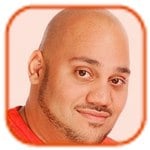 Posted by Andru Edwards Categories: Apple, Corporate News, Portable Audio / Video
Wow - the nostalgia of it all. Steve Jobs keynotes used to be so low key. Nowadays, a new iPod announcement wouldn't be made with such little fanfare. Then again, back then, iPods were only compatible with Macs, and they just weren't as cool (looking) back then. Still, the unveiling of the first iPod was a huge moment in the history of digital entertainment. For that reason alone, this is worth a look.
Posted by Jared Hislop Categories: Apple, Corporate News, Portable Audio / Video, Rumors

It seems that some companies are attempting to pass off counterfeit iPods to unsuspecting consumers. Apple warns that the two players that are most likely to be ripped off are the iPod nano and the iPod shuffle. It has been noted that several of the fakes are even stamped with legit serial numbers, one of which is 6U545TK2TJT. The fake iPods also lack a dock connector, and often have non standard headphone jacks. Apple said that the counterfeit nanos also ship without the standard USB cable, and have a screen that is slightly longer than that of the real thing.
One key mark to look out for is a play/pause symbol on the center select button. The players that are similar to the shuffle lack a battery or status indicator light, and have a power switch that lacks a repeat option. The counterfeit packaging is the same as Apple packaging except that the counterfeit package has the words "Digital Music Player" on the top of the box. Some of the counterfeit players have also known to have documentation included that asks the user to copy their music to a directory on the device rather than using iTunes. Apple is taking this matter very seriously and has released a bulletin to its service providers asking them to photograph the fake iPod, find out where the buyer purchased the fake iPod, document the serial number, and pass the information along to Apple's technical support group.

Read More

| Apple Insider
© Gear Live Inc. – User-posted content, unless source is quoted, is licensed under a Creative Commons Public Domain License. Gear Live graphics, logos, designs, page headers, button icons, videos, articles, blogs, forums, scripts and other service names are the trademarks of Gear Live Inc.