Posted by Yuan Zhao Categories: Apple, PC / Laptop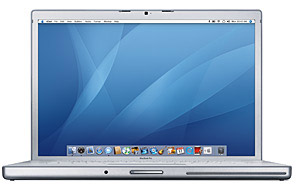 Today, Apple secretly released the new Macbook Pros featuring Intel Core 2 Duo "Merom" microprocessors. Although they still sport the same recognizable aluminum exterior, the new MacBook Pros come in 2.16 and 2.33 GHz for the 15-inch and 2.33 GHz for the 17-incher. To make things better, the 15-inch MacBook Pro now also comes with a Firewire 800 port, a small detail Apple neglected in the original releases. Additionally, all MacBooks now ship with a dual-layer superdrive, with a 6x drive for the 15-inch model and 8x for the 17. The 17 inch model saw significant spec bumps too, with the stock hard drive at 160 GB while the 15-inch model comes stock with a 120 GB 5400 rpm drive. Perhaps most significant is the new max memory capacity of Apple's premier lineup of notebooks, topping out at 3GB of 667 MHz RAM. The wait is finally over.
Read More

| Apple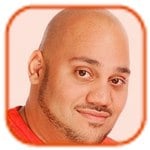 Posted by Andru Edwards Categories: Apple, Cameras, Peripherals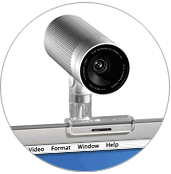 According to Robert Scoble, who had every intention of picking up a new iSight at a California Apple Store, apparently the peripheral is quite the popular gadget.
So, we went down to the Apple store and tried to buy an iSight. Turns out they are sold out. The salesperson said they can't keep them in stock. A customer behind me was looking for one too and said that they are sold out everywhere.
This one is absolutely amazing to us, seeing as how just about every new Mac out there (save for the Mac Pro and Mac mini) comes with an embedded iSight. Of course, this could just mean that Apple is getting ready to refresh the iSight line - after all, it's long overdue and could use an overhaul. At the very least, Apple needs to get the things to comply with EU standards.
Read More

| Scobleizer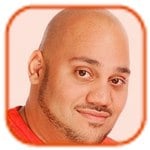 Posted by Andru Edwards Categories: Accessories, Apple, Portable Audio / Video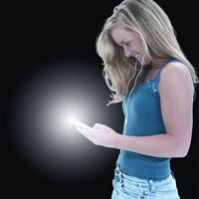 There are so many iPod accessories out there that aim to make your music and video enjoyment using the portable media player a much better experience - and then there are items like Blinkit. Blinkit connects to your iPod's dock connector, and provides a steady stream of light from the two LEDs on the unit. Instant flashlight action is fantastic, but even better, there are caps that let you change the color of the light, and you can use the iPod wheel to make the light pulsate as well. For $29.95, we think the price is a little much for something that must be considered a novelty at best for most people out there. Of course, if you are one who could use such a thing, head on over to the Blinkit site, and let us know how it works for you.
Read More

| Blinkit Product Page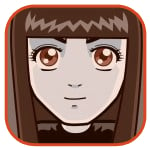 Posted by Sheila Franklin Categories: Apple, Corporate News

Apple has announced that "a fraction" (less than 25, in their words) of video iPods sold after September 12 contained a virus that affects Windows Systems. The virus, known as RavMonE.exe, spreads through external data storage devices. The company adds, "The iPod nano, iPod shuffle and Mac OS X are not affected, and all Video iPods now shipping are virus free." Apple also is offering free downloads of trial programs that can remove it. Although only the video iPods are affected, perhaps the next commercial for Apple will feature Justin Long with a slight cough.
Read More

| Apple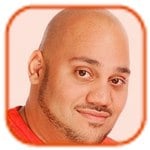 Posted by Andru Edwards Categories: Apple, PC / Laptop, Rumors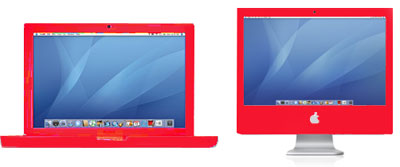 Okay, so a few days ago we had to give props to Apple for launching the RED iPod nano, because we can appreciate a company doing what it can to make the world a better place. Continuing in that trend, the rumor mill has been churning in regards to how Apple might follow up the RED nano. Word on the street is that they may possibly release RED Macbooks and iMacs as well. Our thoughts? Go for it. Seeing people carrying around RED Macbooks would rock our world, as Apple would be giving a portion of the purchase to the Global Fund to help HIV/AIDS afflicted women and children in Africa.
Read More

| ThinkSecret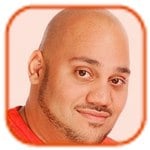 Posted by Andru Edwards Categories: Apple, Microsoft, Portable Audio / Video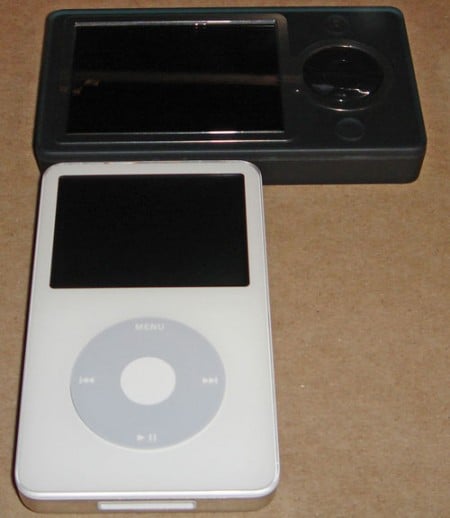 Co-host of Gear Live's video show, The Bleeding Edge, Jake Ludington recently took our Zune video coverage a step further by taking a few images of the device side-by-side next to one of the new 80 GB 5.5G iPods. You will see that the device is quite a bit bigger and thicker (it does house both an FM and WiFi antenna), and that the screen is nice and vibrant. Jake makes mention of the fact that the 30GB Zune is lighter than the 80GB iPod, but we aren't thinking that is as important as how comfortable these things feel in your hand. From our impressions, it wasn't too good.
Read More

| Jake Ludington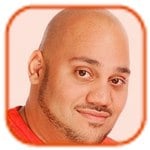 Posted by Andru Edwards Categories: Apple, Movies, Music, Software
Apple has just released iTunes 7.0.1, just over two weeks from the time iTunes 7 was released at the It's Showtime keynote. With all the bugs that have been reported in recent weeks, it's good to see a quick update out of Cupertino. Here are the iTunes 7.0.1 highlights:
With iTunes 7 and the new iTunes Store, preview and purchase high-quality hit movies plus new and classic games designed exclusively for the Fifth Generation iPod. Flip through your collection by album cover with Cover Flow, protect your iTunes library by backing up to CDs or DVDs, and much more.

iTunes 7.0.1 addresses stability and performance issues with Cover Flow, CD importing, iPod syncing, and more.
Good to see the iPod syncing issues have been addressed, along with Cover Flow. You can all stop emailing us about those now.
Read More

| iTunes 7.0.1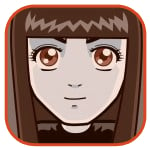 Posted by Sheila Franklin Categories: Apple, Music, Portable Audio / Video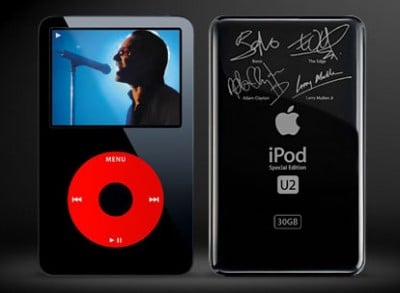 We have good news for all of you U2 groupies. Apple has gone in the closet to quietly drop the price of its U2 iPod Special Edition from $329 to $279, possibly to keep it in line dollarwise with its standard 5G iPod, which retails for $249. This 5.5g iPod features 3.5 hours of video playback, a brighter screen, 640 X 480 game support, quick scroll, and an extended battery playback life of up to 14 hours. It also has 30GB storage space with room for 7,500 songs, up to 25,000 photos, and up to 75 hours of video.
Offered under its new model number (MA664LL/A), the U2 iPod is still stylishly sheik in black with a red click wheel and U2 signatures, and comes with an iTunes Store coupon which is redeemable for a 30-minute package of U2 music and band interviews. We're thinking that for the $30 extra, we'll wait for the Signature Rolling Stones iPod.
Read More

| U2 iPod Product page via iLounge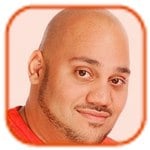 Posted by Andru Edwards Categories: Apple, Features, Portable Audio / Video
We just picked up one of the new 2G iPod nanos for your unboxing pleasure. The little bugger is definitely sexy, and the brighter screen helps out quite a bit. Jump on over to our 2G nano unboxing gallery for a bunch of images, and feel free to let us know what you think. Oh, and why the pink nano? We can't explain it, but while perusing the new models at the Apple Store, this one kept calling our name. Go figure.
Read More

| Pink iPod nano Unboxing Gallery

Posted by Brian Viele Categories: Apple, HDTV, Home Entertainment, Movies, Music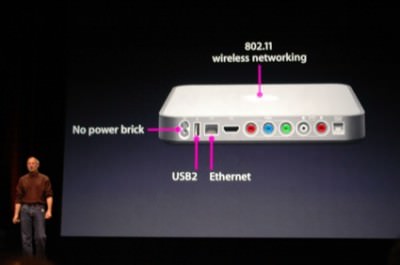 Apple has revealed that it is working on a new set-top box codenamed iTV. At half the size of a Mac Mini, it will look minuscule next to your other HD devices, especially if you opt for a PS3. The iTV will be able to stream HD audio and video from your iPod or PC with connectivity through USB 2.0 and both wired and wireless ethernet.
The iTV is packed with all the expected HD interfaces including HDMI, component RCA video and optical digital audio outputs. Additionally, the iTV is rumored to include the capability to function as a cable box and there is also talk of the possibility of HDTV downloads to the device. Details of these capabilities have not yet been released, but expect to hear more soon since the device is planned to be released in about six months.
Read More

| Daily Tech

© Gear Live Inc. – User-posted content, unless source is quoted, is licensed under a Creative Commons Public Domain License. Gear Live graphics, logos, designs, page headers, button icons, videos, articles, blogs, forums, scripts and other service names are the trademarks of Gear Live Inc.