Find Our Latest Video Reviews on YouTube!
If you want to stay on top of all of our video reviews of the latest tech, be sure to check out and subscribe to the Gear Live YouTube channel, hosted by Andru Edwards! It's free!

Posted by Steve Van Neil Categories: Action, Adventure, Corporate News, PlayStation 3, Ubisoft, Xbox 360,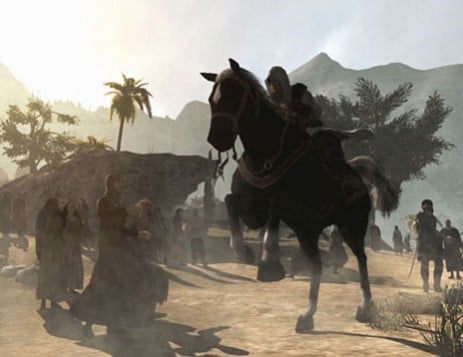 The game that nobody thought would actually come out this year is officially done and on its way to be pressed, boxed, and shipped out to game stores. Yes, that's right. Assassin's Creed, the long-in-development Crusades sandbox epic has gone gold for production.
"We've been working very hard for nearly four years to make Assassin's Creed a reality and now there is a confirmed date when players will get to experience the results of our efforts," shared Jade Raymond, producer of Assassin's Creed. "This is a huge event for the team. Our biggest reward will be everyone having a lot of good solid fun."
Assassin's Creed hits the Xbox 360 and PS3 on November 13th.
Read More

|
Ubisoft

Posted by Steve Van Neil Categories: Action, Adventure, PC, PlayStation 3, Trailers, Ubisoft, Xbox 360,
The developers of Assassin's Creed have always boasted of their game's high level of environmental interaction. They claim that every wall, object, or person in their highly anticipated Xbox 360/PS3/PC action-adventure game can be scaled, moved, or shoved. And now here's the video to prove it. Watch Altair (the game's featured assassin) try to escape the city's guards by running, climbing, and jumping all over this Middle Aged playground, and kindly ignore the futuristic glitches and flashes that hint at a more mysterious storyline that Ubisoft will not divulge. Gape at the mind-boggling geometry that for once actually does permit the level of interaction promised by its enthusiastic creators. Raise an eyebrow at the anachronistic Hans Zimmer-esque musical score. Breathe a sigh of relief that this long in development game looks like it could conceivably hit that once nigh-unhittable November release date.
Read More

| IGN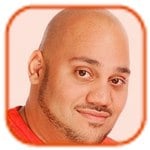 Posted by Andru Edwards Categories: Adventure, Culture, Nintendo,
Now this is something any hardcore gamer would enjoy, we think. A couple of guys got together to figure out how to use Mario's awesome jumping skills to beat Super Mario 64 in under 7 minutes. While you may watch it in awe of the lightning-quick hand-eye coordination of the person behind the controller, this is actually a tool-assisted speed run. What they did was run the game in an emulator with slow speeds, and went frame-by-frame looking for exactly what to do to accomplish what they did. It is totally not meant to show off gaming skill, but rather, a game pushed to it's limit. What you end up with is a run through the game with Mario collecting just one star, and using a glitch that allowed the character to pass through a couple of doors without the need for stars or a key. Definitely an interesting look at what can be done with a game using tools the designers never intended their game to run on.

Posted by Paul Hamilton Categories: Action, Adventure, Konami, Nintendo DS, PlayStation 3, Wii, Xbox 360,
Koji Igarashi, creator of the popular Castlevania franchise, is featured in an interview with Game Informer where he talks about what's next for the series.
[Next,] I will be working on a DS version, but I am thinking of moving to the home consoles for the future. I will continue to use 2D for the DS version, but I'm still trying to figure out which console to do the home console versions. I think the Xbox 360 would be the best platform for the U.S. market.
Another DS Castlevania wasn't really a bold prediction, but focusing on the 360 is a little unexpected. Igarashi goes on to clarify, "The U.S. market is the biggest market for the Castlevania series, so I will give the first priority to the U.S. market. The platform will be the Xbox 360, since the PS3 isn't doing well everywhere in the world." He does later suggest that he thinks Metal Gear Solid 4 could easily increase the PS3 base in the US which would make it more attractive as a target for a Castlevania game.
As for the Wii, which represents an even larger market than 360, Igarashi says he hasn't quite figured out how to make the gesture controls work with the game saying that the motion for cracking a whip might be too hard on users but some kind of abstraction would be "not so good." "I will have to think about a way to accomplish this," he concludes.
Read More

| Game Informer

Posted by Paul Hamilton Categories: Action, Adventure, Portable/Mobile, PSP, Sony, Special Editions,
The next installment in the popular Sony franchise God of War, subtitled Chains of Olympus and a prequel to the original God of War, will be debuting on the PSP March 4, 2008. The news may be a little disappointing for some hoping to add the flagship first party title to Sony's handheld this Christmas, but Sony has also announced that it will be putting out a demo at the end of this month. When the game's official website launched back in April, Sony included the opportunity for North American gamers to sign up for a special UMD-based demo version prior to the game's release.
The limited edition demo will include part of a playable level plus extra goodies including behind-the-scenes footage. A copy of the demo without the extras will be released later this year.
Read More

| GameSpot

Posted by Paul Hamilton Categories: Action, Adventure, Hardware, PlayStation 3, Portable/Mobile, PSP, Sony,
A PlayStation 3 and PSP owner has discovered that Liar is playable via the PS3's Remote Play feature on the PSP. This is the first time a Blu-Ray based game is able to take advantage of the feature and is reportedly quite responsive and playable. It has even been suggested that in light of all the flak Lair has taken over its Sixaxis controls, the use of the PSP's analog stick is actually preferable.
What's most curious about the revelation is that it is a revelation at all. This sounds like something Sony would have jumped all over, especially once the disappointing reviews started pouring in.
Read More

| PSP Fanboy

Posted by Paul Hamilton Categories: Adventure, PlayStation 3, Sony,
New videos for the upcoming PS3 game Folklore show some interesting footage of the game's combat including some idea of how the epic boss fights will unfold. The game has a remarkable style and art direction that is visible here especially in the brief pre-combat cinematics.
Folklore looks a little like Kameo crossed with Fable and Pokemon as players control one of two characters who use the game's "folks" as summoned creatures to do the grunt work of fighting foes. A follow-up to Genji, developers Game Republic are promising better Sixaxis controls and an online mode.
Folklore is scheduled for a North American release on October 12.
Click to continue reading New Folklore Videos Show Gameplay and Story Bits

Posted by Steve Van Neil Categories: Action, Adventure, Corporate News, Microsoft, Release Dates, Role Playing Games, Xbox 360,
The long wait for Mass Effect is about to come to an end. Microsoft has announced that Bioware's highly anticipated sci-fi RPG will release on November 20th in North America, exclusively for the Xbox 360. The game, which incorporates GRAW-style action with role-playing elements familiar to anyone who played Knights of the Old Republic, has been one of the 360's most-wanted games since the day it was unveiled. Until now, it had been pegged with the precarious and open-to-delay release time frame of "November." So the news that the game will officially be here in just a few short months is definite cause for celebration.
Read More

| Microsoft's Gamerscore blog

Posted by Steve Van Neil Categories: Action, Adventure, Eidos, Nintendo, Role Playing Games, Screenshots, Wii,
What's this now? A third-party Wii game that (a) isn't a lazy PS2 port and (b) actually looks pretty cool? Yes, it looks like Zach and Wiki will have some company on the Wii in the near future. Backbone, the developers of Death Jr. for the PSP, are cooking up a brand new IP exclusively for Nintendo's Wii. Monster Lab is a story-driven Action RPG that's all about customization. Indeed, the object of the game is to build, enhance, and accesorize monsters to fight against each other in turn-based combat. The Wii's motion control comes into play in the creation process through minigames, where players will throw brains into empty heads, hoping to maximize their monster's power. On hand to make sure that it all doesn't devolve into complete minigame aimlessness is comic book writer Adam Beechen, who is scripting the game.
The very promising Monster Lab will be published by Eidos and is being groomed for a Summer 2008 release.
Read More

| NeoGAF

Posted by Steve Van Neil Categories: Action, Adventure, First Person Shooters, PC, Puzzle, Take2, Xbox 360,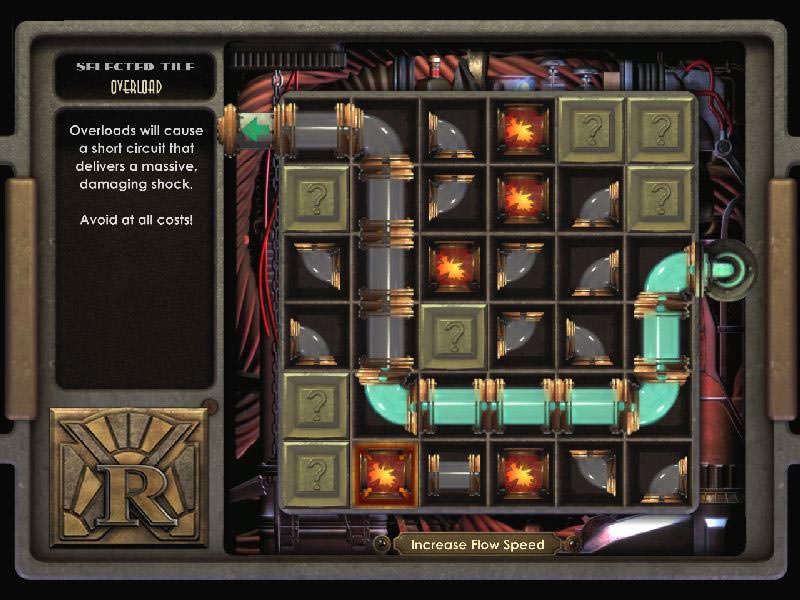 Everybody loves BioShock. From the whale-like moans of the Big Daddy to the thrill of smashing a frozen Splicer into little bits, the game is quality. However, one aspect of the game that isn't thrilling everyone is its hacking mechanism; if you want to break into a safe or turn enemy turrets into your own mechanized defense force, you first must succeed at a hacking minigame that plays a lot like the Lucasfilm Games classic, Pipe Dream. Well, as it turns out, BioShock's own big daddy, Ken Levine, is also not in love with the mechanic. Shacknews sat down with Levine for an interview and got his take on it.
It's a little out there. That's why it was important that you could bypass it in two ways; you can buy it out or you can use the hack tools—or you can just ignore it. There's only one hack you have to do in the game.

But I think if we could go back and do it again, we would have maybe rethought that a little bit. I think it was more a function of our limitations at the beginning of the project when we had a very limited budget, and then we zoomed in so many other areas that we sort of forgot to go back to that area.
The purely non-spoiler interview, linked below, goes on to cover all things BioShock and is well worth reading.
Read More

| Shacknews
© Gear Live Inc. – User-posted content, unless source is quoted, is licensed under a Creative Commons Public Domain License. Gear Live graphics, logos, designs, page headers, button icons, videos, articles, blogs, forums, scripts and other service names are the trademarks of Gear Live Inc.