Posted by Edwin Soto Categories: Accessories, Portable Audio / Video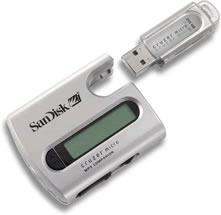 If you bought a 1GB drive in the past few months, you're kicking yourself in the pants right about now. Sandisk now offers their smallest flash drive in 2GB format for $199.99. Of course, this item is currently backordered on their site, and probably will remain that way for some time. This version of the Micro complies with their MP3 companion (shown above) that allows you to listen to your mp3's that you've dragged and dropped from your computer. Very cool.
Read More

| Sandisk
Posted by Edwin Soto Categories: Accessories, Portable Audio / Video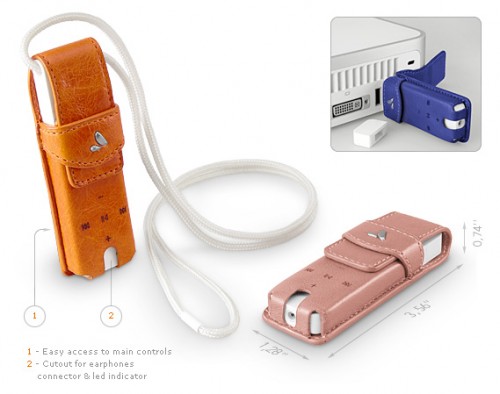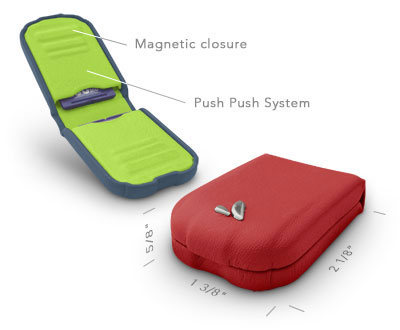 You probably know how much we rave about Vaja leather cases. We've covered their Rio cases as well as their well as their Treo 650 cases. We even interviewed them about their high end products. As portable gear becomes part of the daily lives of more and more people, Vaja is staying ahead of the game with a high-quality iPod shuffle case. If that isn't enough (these things never are), they have also developed a case to hold your SD/MMC cards. Looking for the ultimate cash-in, they plan to release leather PSP cases, as well as a model for the newer Blackberry.
Read More

| Vaja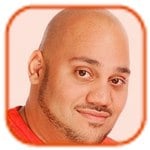 Posted by Andru Edwards Categories: Accessories, Video Games
Saitek brought a slew of new PC video game controllers with them to E3, and Playfeed has a rundown of all three. Basically, they give you the standard, the rumble, and the wireless models - all are very high quality from their appearances. Saitek has decided to focus all of their controllers on first person shooters, which becomes apparent when you see that all three controllers have an FPS button.
Read More

| Saitek P2900 Wireless
Read More

| Saitek P2600 Rumble
Read More

| Saitek P990 Dual Analog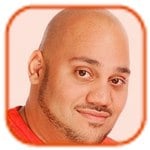 Posted by Andru Edwards Categories: Accessories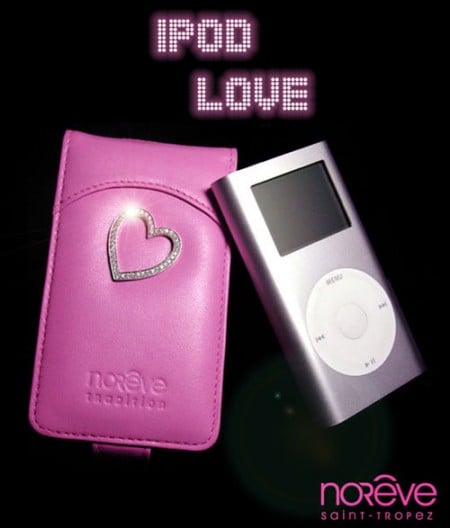 Okay, I realized that purchasing an iPod really is an investment for most. Having it get destroyed because you were careless enough to drop it by accident is not a nice feeling after dropping a few hundred bucks on the MP3 player. Seriously though, why would you pay up to six times the cost of an iPod for a case? Noreve is trying to convince iPod owners to do. Their iPod Love case is an extremely limited edition, as only 20 will be manufactured. It is a leather case with a velvet interior, adorned with a white gold heart which is encrusted with 44 WSI quality diamonds. It is manufactured upon order (hence, the 25 day wait), making you feel that much more special, and signed and numbered by S. Schaming - Saint-Tropez Schaming Jewlery - Place de Lices - Saint-Tropez. If you really want one, they are available in black, white, gray, pink, beige, baby blue, ocean blue, or red. Oh, and they are kind enough to remind you that although the price is extravagant, the iPod is not included. I expect Paris Hilton to buy all 20, while I stick with the cheaper cases.
Read More

| Noreve iPod Love
Posted by Edwin Soto Categories: Accessories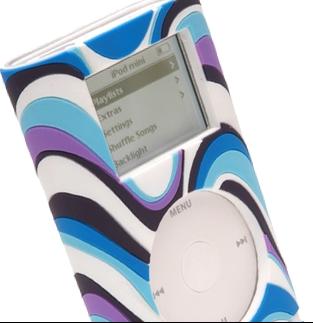 Each Slappa Shockshell case is given a three-foot drop test, which is good because this is approximately the height from which I drop mine every day. They come in a variety of colors and textures that are pretty unique, albeit unattractive, such as the blueberry swirl in the image. No blandness detected here. They run you about $30 bucks a pop.
Read More

| Slappa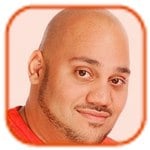 Posted by Andru Edwards Categories: Accessories, Product Reviews, Video Games
I know how elusive the 1 GB Pro Duo Memory Sticks have been, but it looks like we will soon have one in to review for you all. Until then, check out this review of SanDisk's 256 MB Pro Duo and how it works with the PSP.
Read More

| PlayFeed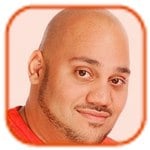 Posted by Andru Edwards Categories: Accessories, Portable Audio / Video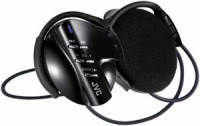 JVC has jumped head first into the "low storage space MP3 'phones" arena. The XA-A50 headphones provide a whopping 128 MB of storage, supporting both the MP3 and DRM-protected WMA formats. At least it's power conscious, providing 20 hours of play time via one AAA battery. Looks like this thing will cost about $150 USD - or you can just take that and buy an iPod shuffle which holds ten-times the content.
Read More

| DAPreview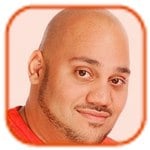 Posted by Andru Edwards Categories: Accessories, Portable Audio / Video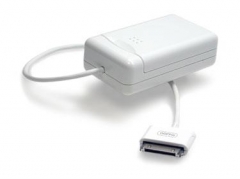 If your iPod seems to be running out of steam at the most inopportune moments, then the Griffin TuneJuice might be your kind of thing. Simply put, it is a backup battery for dockable iPod/iPod mini units which is powered by a 9 volt battery. I can't even name the last time that I actually purchased a 9 volt battery, but maybe that's just me. The TuneJuice will provide another 8 hours of life to a partially charged iPod, but only 4 hours if the iPod is completely drained. You can pick one up for $20 bucks.
Read More

| Griffin TuneJuice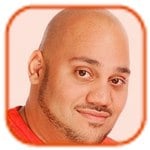 Posted by Andru Edwards Categories: Accessories, PC / Laptop, Wireless / WiFi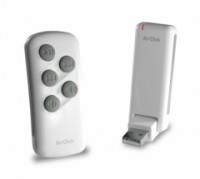 Griffin has started shipping the AirClickUSB remote control for PC's and Macs for $39.99 USD. The remote works from within a 60 foot range, and does not require a line of sight for operation. The AirClickUSB ships with the ability to control a number of popular applications, including: iTunes (Mac/PC), Windows Media Player (PC), PowerPoint (Mac/PC), Keynote (Mac), QuickTime (Mac/PC) and DVD Player (Mac). Future software updates will provide support for additional applications.

Posted by Jesse Easley Categories: Accessories, Portable Audio / Video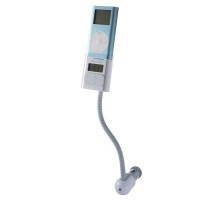 We recently got a new toy to try out with our iPod Mini - the iPod Mini TuneBase from Belkin. The item looks a little odd at first, but don't let the odd looks fool the value of this accessory. The TuneBase is a charger/dock and FM Modulator for your car. This item is easy to set-up and get working. You plug it right in to your cigarette lighter, attach your iPod Mini, and tune the TuneBase to the desired radio station using the digital tuner. That's it! Now you can enjoy your iPod in the car. All in all the Belkin TuneBase is a good accessory for anyone who wants to listen to their iPod Mini through their car radio. The Belkin TuneBase cost $79.99 and is available now.
Read More

| Belkin.com
© Gear Live Inc. – User-posted content, unless source is quoted, is licensed under a Creative Commons Public Domain License. Gear Live graphics, logos, designs, page headers, button icons, videos, articles, blogs, forums, scripts and other service names are the trademarks of Gear Live Inc.